This recipe for Curry Chicken Salad with Grapes is highly versatile! It can be used to make delicious party appetizers, as a sandwich filling, or as salad toppings!
I've always loved a good chicken salad. And this curry chicken salad takes that love even one step further!
Curry Chicken Salad is a super EASY, FAST, DELICIOUS dish. It can be served as an appetizer, for lunch, or for dinner. If you use store-bought rotisserie chicken, you can make this dish in less than 20 minutes!
Kitchen Tools and Equipment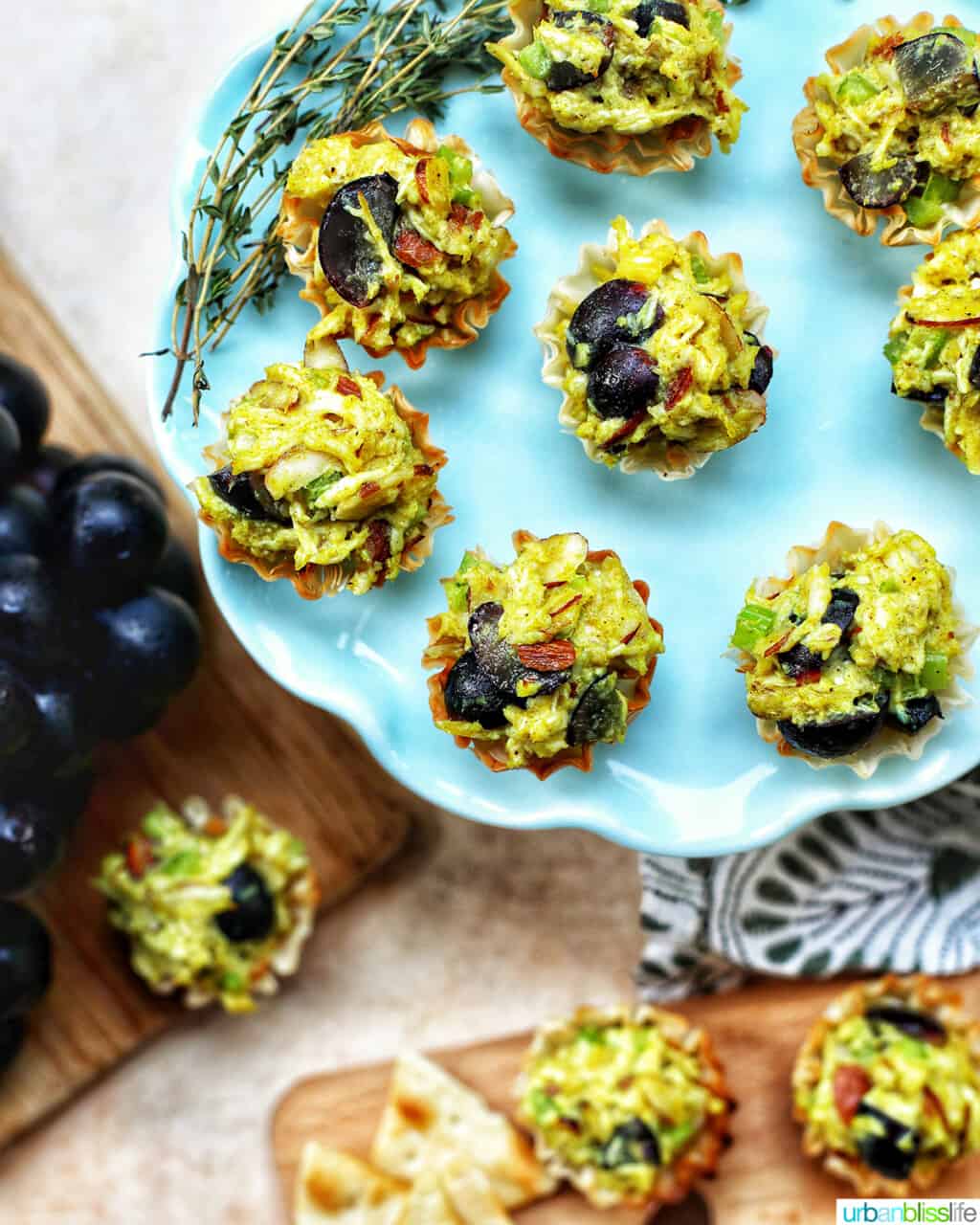 Mixing bowlWooden spoon or spatulaBaking sheetParchment paper
One of the MANY reasons I love this recipe: it only requires one bowl to mix all of the ingredients! Well, except the phyllo shells – you don't mix those into the bowl. But everything else goes in the bowl! Mix, then fill the shells and bake!
Ingredients
You just need less than 10 ingredients to make this delicious dish!
Phyllo shells – if you're using this curry chicken salad as sandwich filling, you can obviously substitute bread or pita for phyllo shells. If you're making these as appetizers, as seen in these photos, you'll need one package of 15 phyllo shells. These are normally pre-baked. If the only ones you can find are not pre-baked, you'll want to bake the shells for at least 10-15 minutes before filling with the chicken salad, and then baking all together for 5 more minutes.
Chicken – use store-bought or homemade rotisserie chicken, shredded or cubed.
Grapes – you can use green, red, or black grapes. I prefer to quarter the grapes into smaller pieces, but you can also halve them for slightly larger pieces.
Almonds – this recipe is one of many reasons it's smart to keep a package of sliced almonds in the pantry!
Celery – finely chop the celery stalks into small pieces.
Mayonnaise – use your favorite mayo. I usually make this with my favorite vegan mayo.
Curry powder – the heart of flavor in this dish!
Salt & pepper – I use kosher salt.
How to make these party appetizers
Line a baking sheet with parchment paper. Set aside.
In a large bowl, mix together all of the ingredients except for the phyllo shells. That's the chicken, grapes, almonds, curry powder, mayonnaise, celery, salt, and pepper.
Toss together with a spoon until all of the chicken is fully coated with the seasoning and all ingredients are well-combined.
Scoop a heaping tablespoonful of the curry chicken mixture into each phyllo cup.
Bake at 350°F for 5 to 8 minutes, just until the centers of the curry chicken mixture are heated through.
How to serve curry chicken salad with grapes
There are three amazingly delicious ways that I like to serve this curry chicken salad:
Spread the chicken salad onto bread or inside a pita for a yummy sandwich.
Top off a big bowl of mixed greens for a hearty salad.
The main serving option in the recipe: scooped out onto phyllo baking shells for easy, fast appetizers.
Recipe FAQs
Wine pairing for curry chicken salad
The spice of the curry powder adds a depth of flavor that is balanced nicely by a bright and lively wine. Try this with a dry or off-dry Riesling or an Albariño.
More holiday party appetizer recipes
Meatballs with Romesco Sauce
Antipasto Skewers
Classic Hummus Dip
Tomato Bruschetta with Balsamic Vinegar
Garlic Rosemary Focaccia
Marinated Feta Cheese
Pin it:
For more information please see the list of Chicken curry salad recipe with grapes
Detail: 🔗