easy berry smoothie recipe: this quick & easy berry smoothie is ready in 5 minutes! refreshing, packed with antioxidants and delicious. paleo, dairy-free, healthy.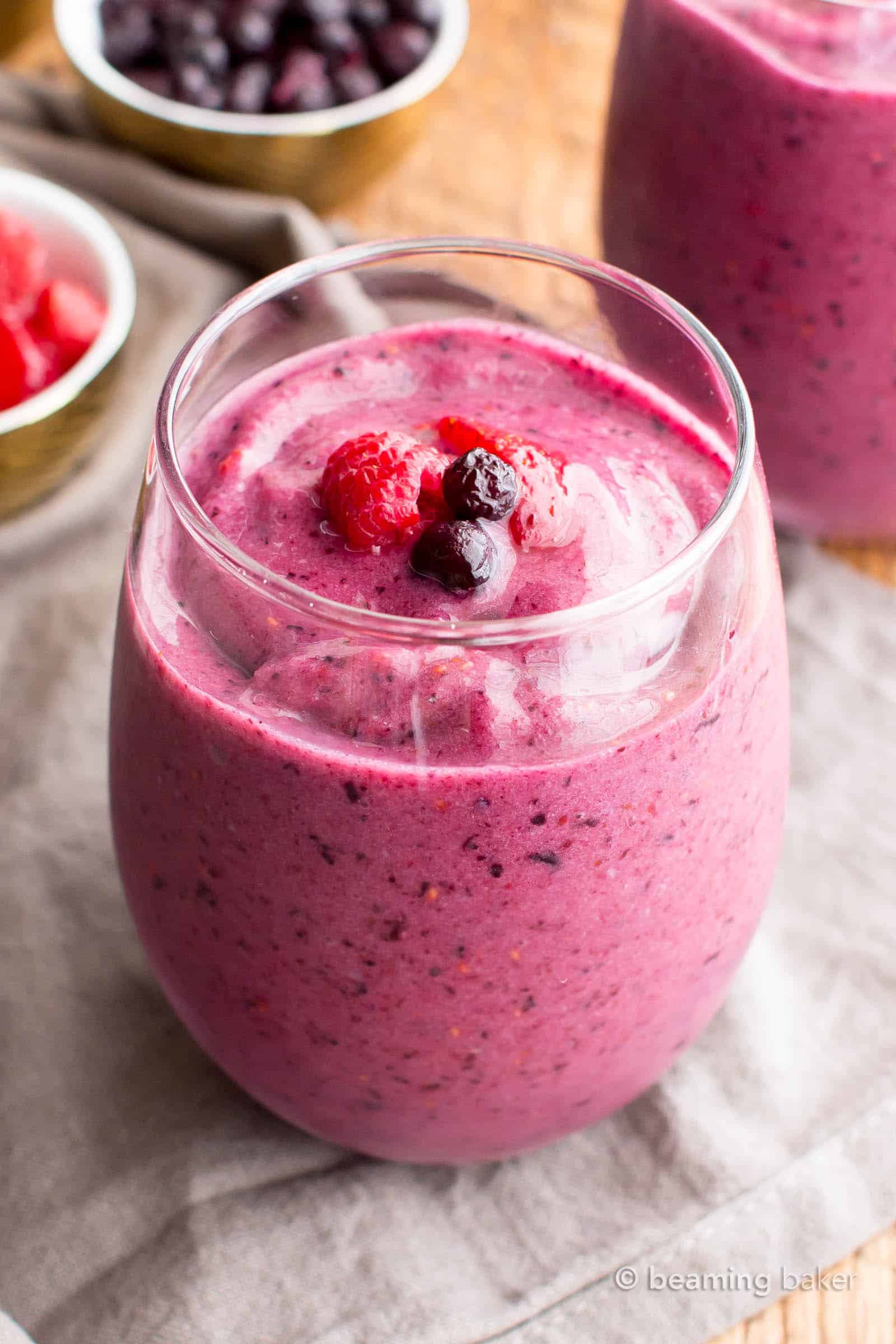 How was your Mother's Day weekend? Did you do something extra special for the mom or dad or super special person in your life? 🙂
Reading: dairy free berry smoothies
This past weekend, Erik and I did a nice facetime with my mom and the rest of the kiddos—Monica, Penny and Jenny. We were just glad to see my mom, put on all the Bitmoji animal heads to make her laugh, and just reconnect about everything.
In honor of my mom, we also did a little brunching and more than a little treat-making with this vegan gluten free blueberry crisp, these super yummy no bake chocolate coconut bars and my mom's fave best moist chocolate chip banana bread. So today, I thought it'd be the perfect time to lighten things up a bit and blend up something a bit fresher, a bit lighter, and a lot more packed full of fruits…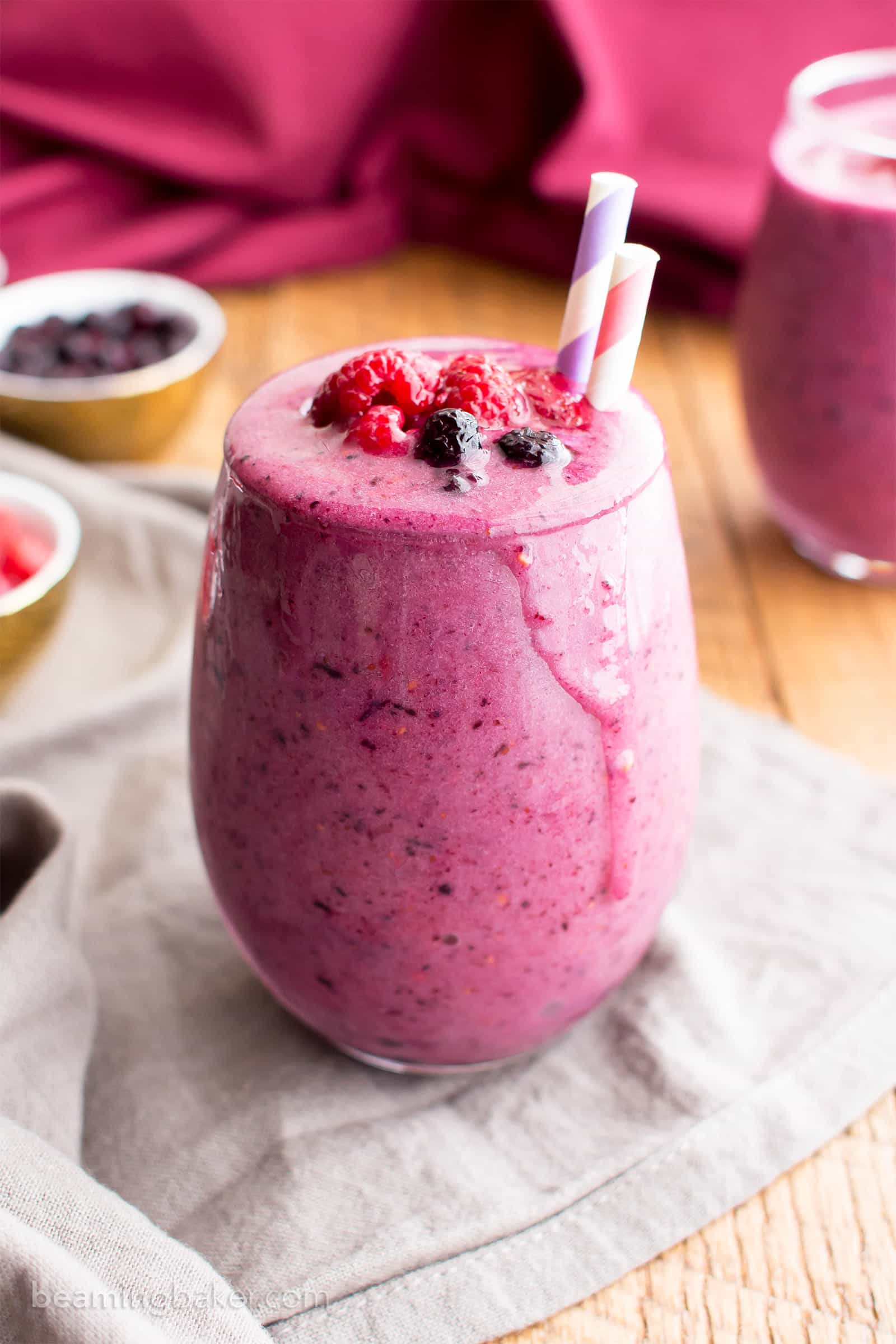 Quick 'n Easy Berry Smoothie Recipe
Have you tried my easy berry smoothie recipe yet? This recipe's an oldie, but a goodie! I originally published this recipe as a Triple Berry Smoothie back in May of 2017, and now, just 3 years later, it's my most popular smoothie recipe.
Read more: Simple Green Smoothie
This quick & easy berry smoothie recipe is made with just 5 simple ingredients: bananas, almond milk (or your favorite non-dairy milk), strawberries, blueberries and raspberries. Feel free to substitute in your favorite berries (I'm looking at you, blackberries!), or use more of the one you prefer.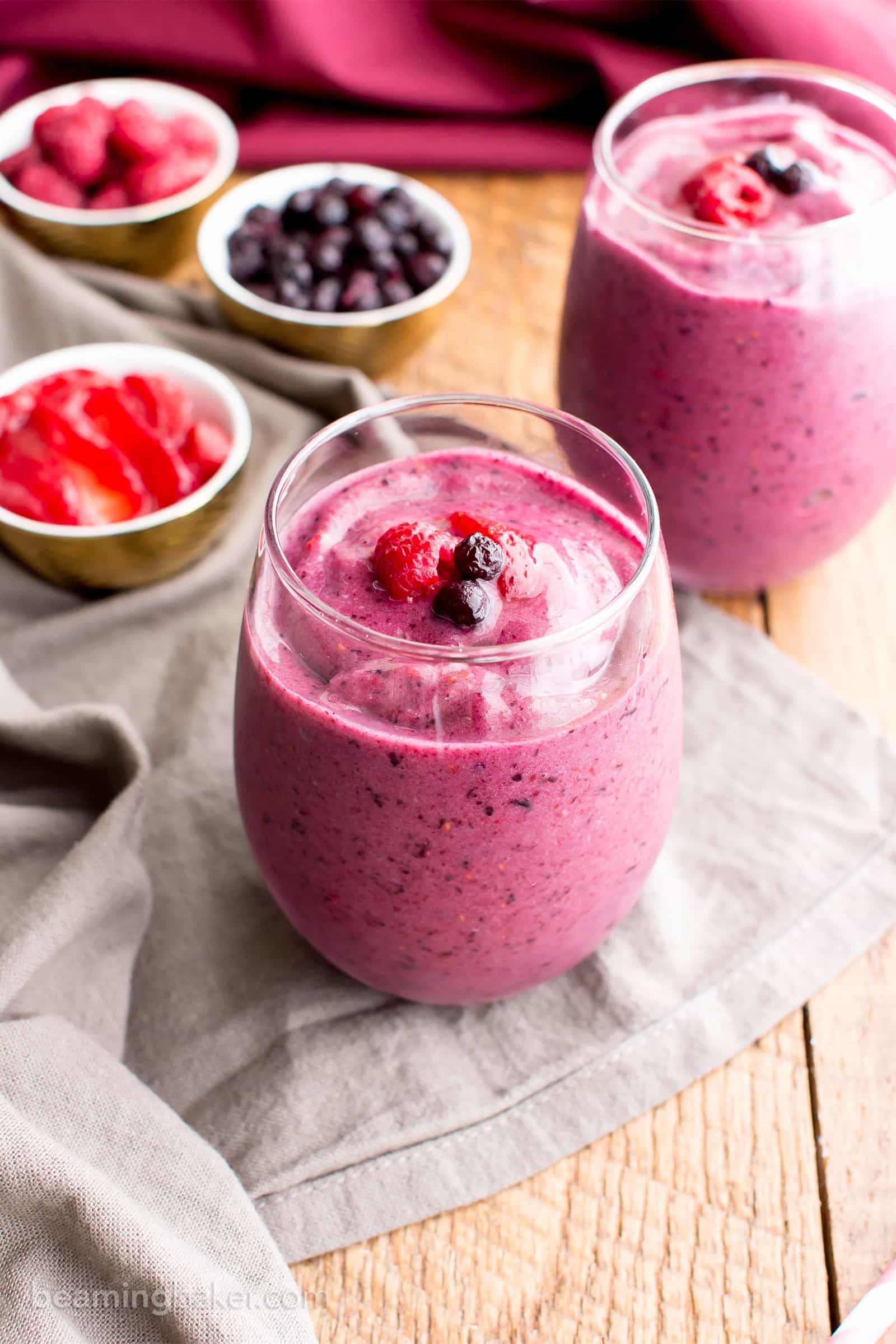 How to Make a Dairy-Free Berry Smoothie
Making this dairy-free berry smoothie is super easy! Just add frozen bananas, strawberries, blueberries and raspberries into a personal blender. Blend until smooth and creamy. Serve and enjoy your very own homemade berry smoothie! You can also try it with this Berry Avocado Toast from A Mind "Full" Mom! Or, try my reader-favorite Cranberry Chia Gluten Free Vegan Snack Bars.
Is this Berry Smoothie Paleo? Healthy? Vegan?
Yes, yes and yes! This berry smoothie is paleo, healthy, vegan, and gluten free. If you're looking for a whole food, plant-based smoothie, this is it!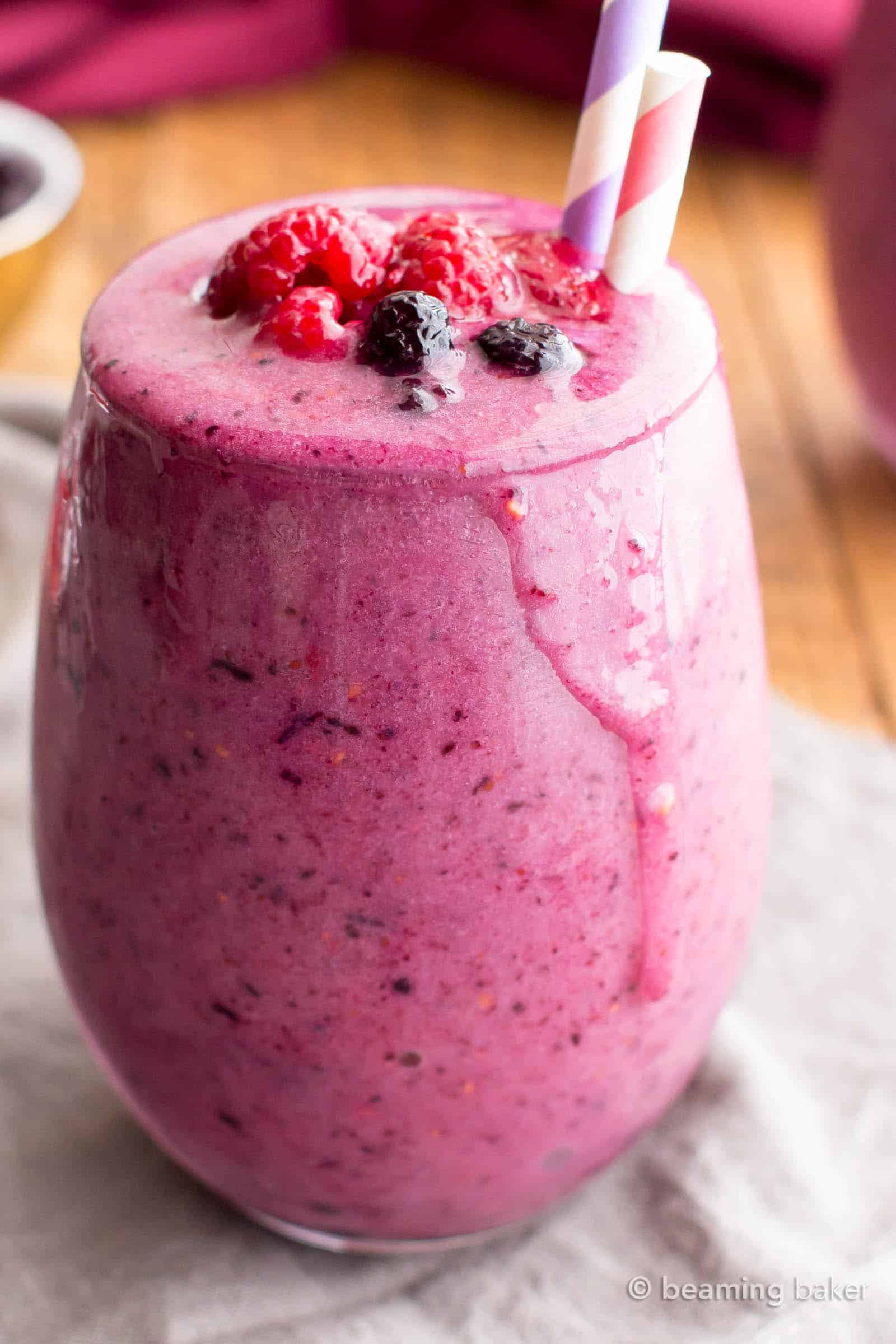 Best Tools for this Easy Berry Smoothie Recipe
My Favorite Food Processor – a super easy-to-use food processor that also works wonderfully for making smoothies. It does a phenomenal job blending up all the frozen fruits to give you the perfect smoothie consistency. 😉
Silicone Spatulas – such a staple in my kitchen! I use them all the time, and they haven't shown any signs of wear or tear!
Vegan Protein Powder – if you're hankering for a big protein boost, add a scoop of vegan vanilla protein powder to your easy berry smoothie.
I can't wait to hear what you think of my easy berry smoothie recipe! Thank you so much for stopping by and sharing in these delicious kitchen moments with me. 'Til the next kitchen adventure…
Read more: can you use frozen spinach in green smoothies
Sending you all my love and maybe even a dove, xo Demeter ❤️
☀ Click below to Pin ☀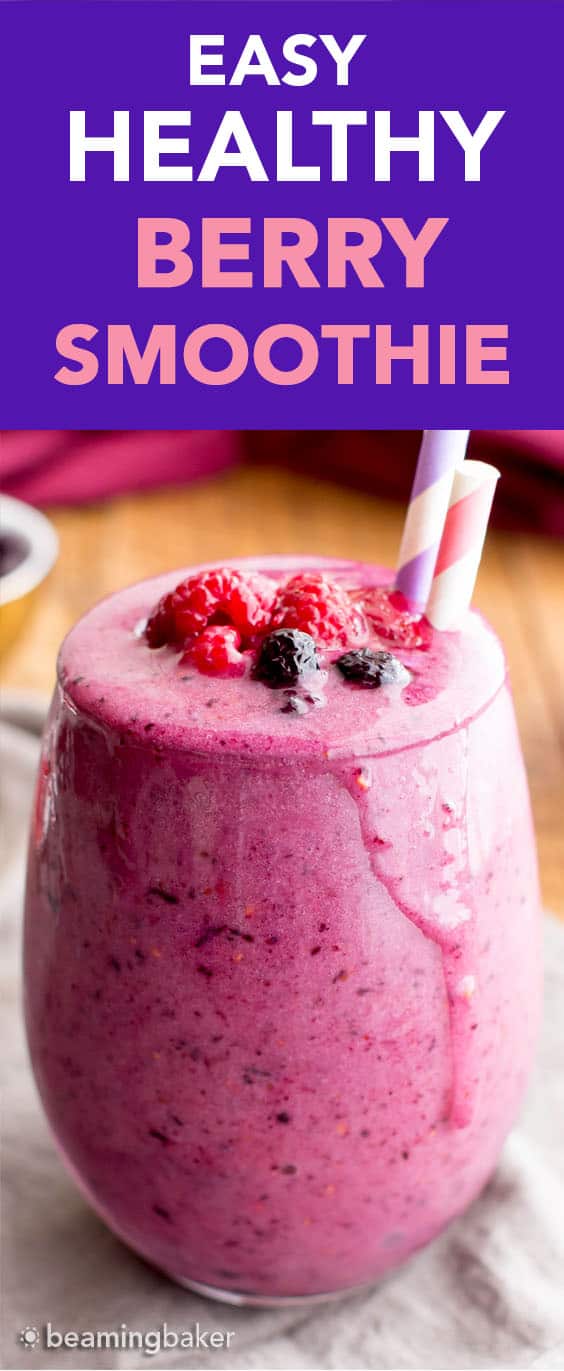 📸 Did you make this easy berry smoothie recipe? Take a pic and share it on Instagram with the hashtag #beamingbaker & tag @beamingbaker. I'd love to see it! 📸
Easy Smoothie Recipes & Berry Treats
Refreshingly Simple Strawberry Pineapple Smoothie
Mango Chia Seed Smoothie
Vegan Pumpkin Smoothie
Coconut Chocolate Keto Smoothie
Blueberry Spinach Smoothie
Keto Berry Coconut Smoothie
Strawberry Peach Smoothie
Mango Smoothie – 3 Ingredients
Blueberry Smoothie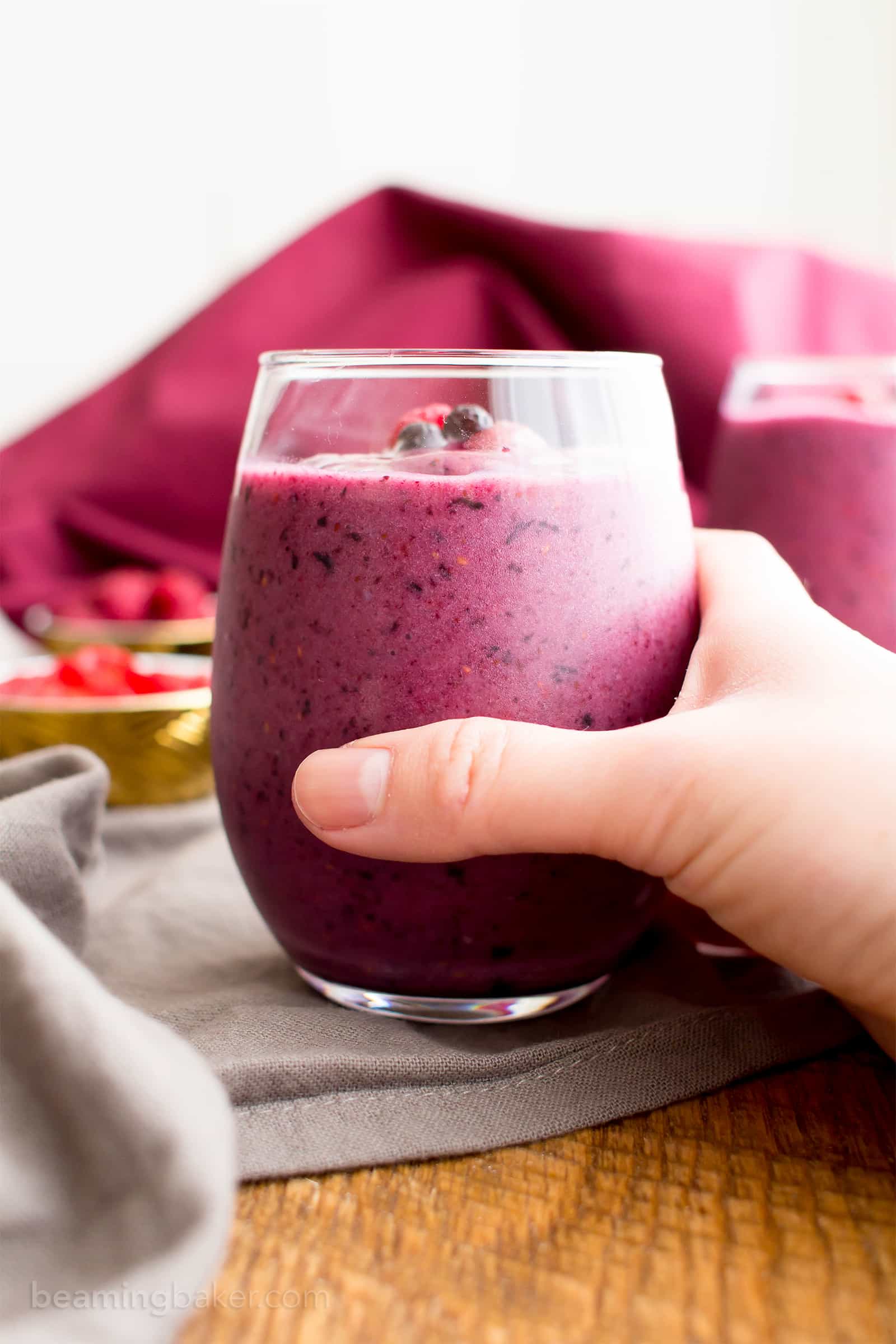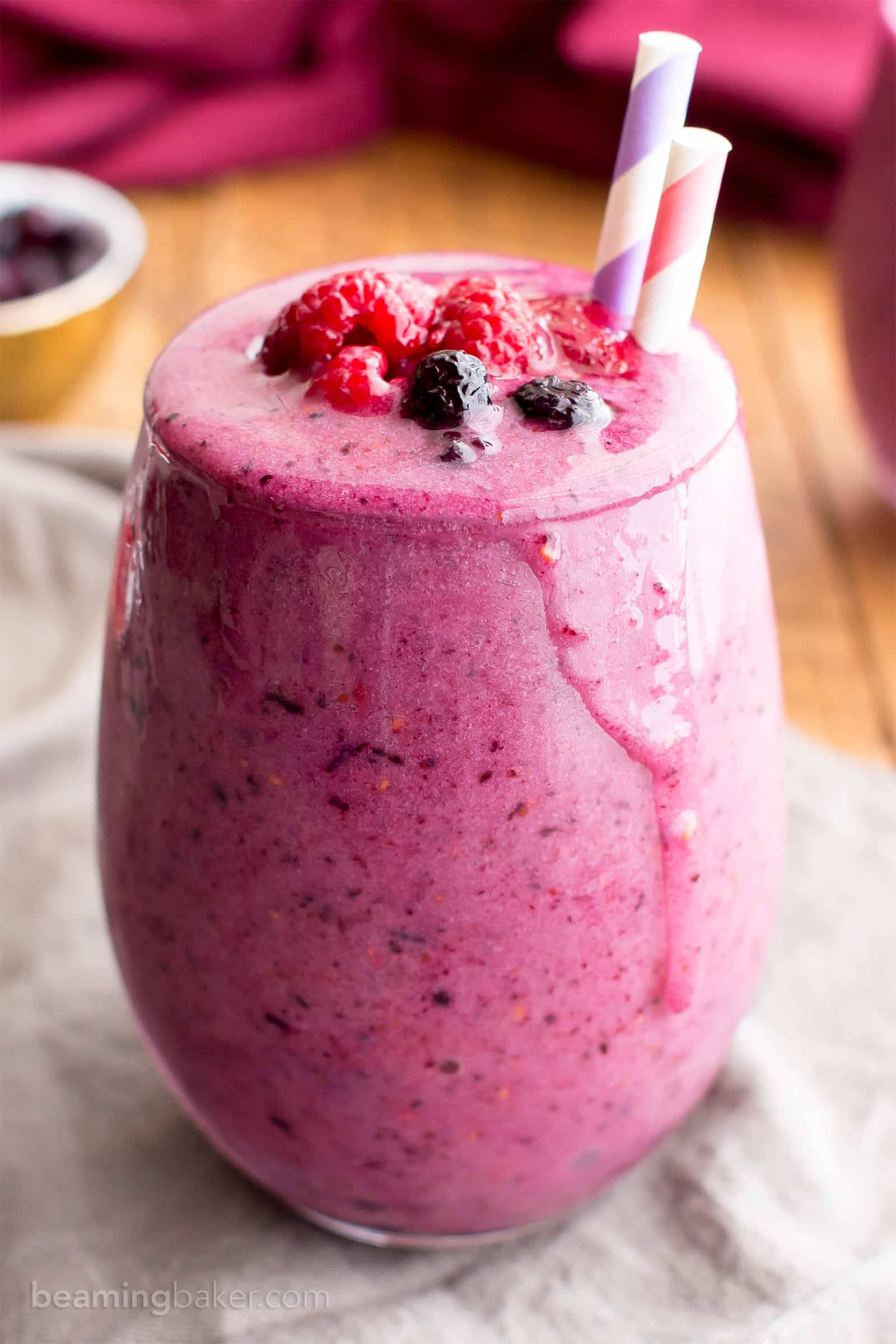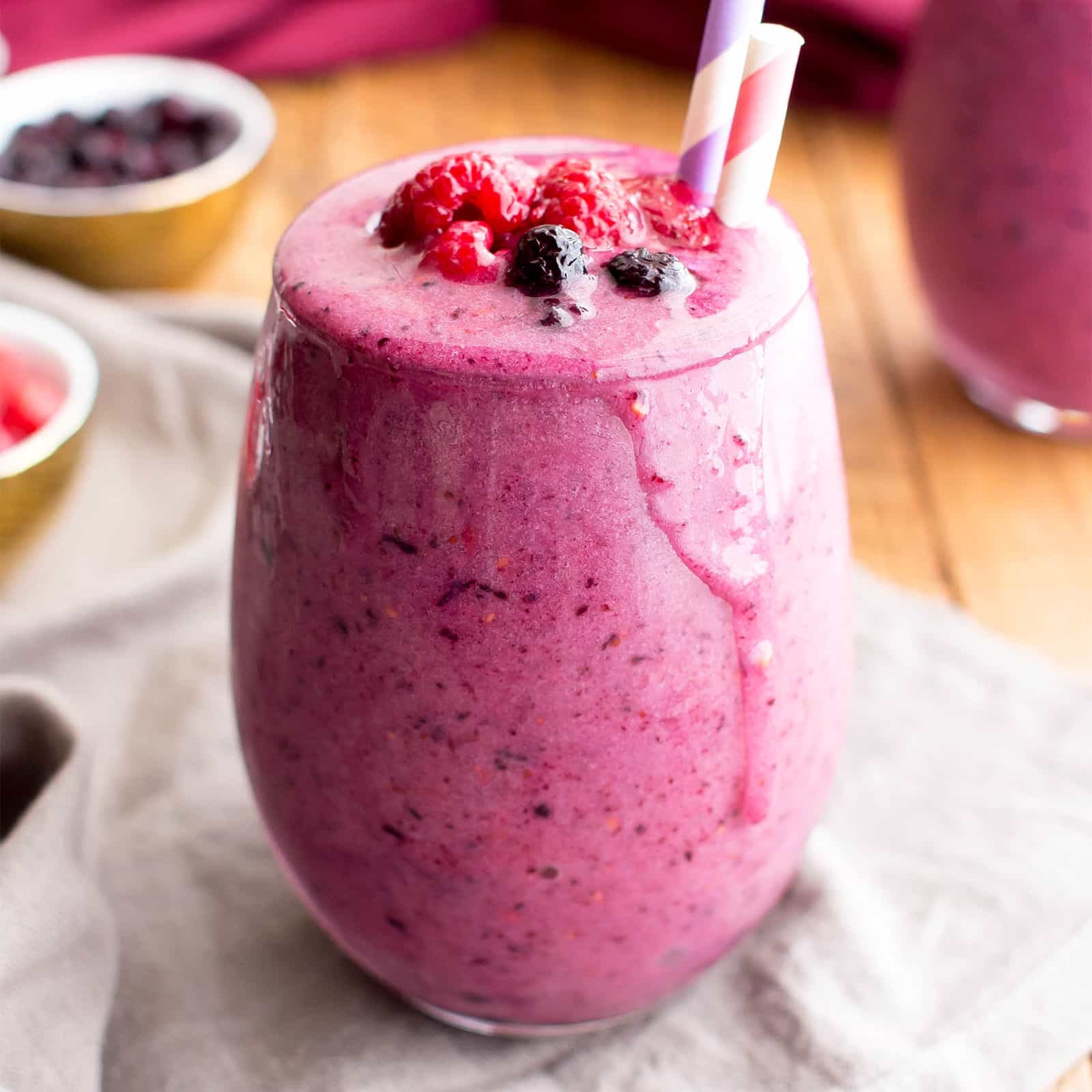 This post may contain affiliate links, which allow me to make a small commission for my referral, at no additional cost to you. Thank you for supporting Beaming Baker.