Fruit and Vegetable Smoothie This post may contain affiliate links. Please read my disclosure.
A nutritious fruit and vegetable smoothie that's super tasty and refreshing and has 3 servings of fruits and veggies in each glass.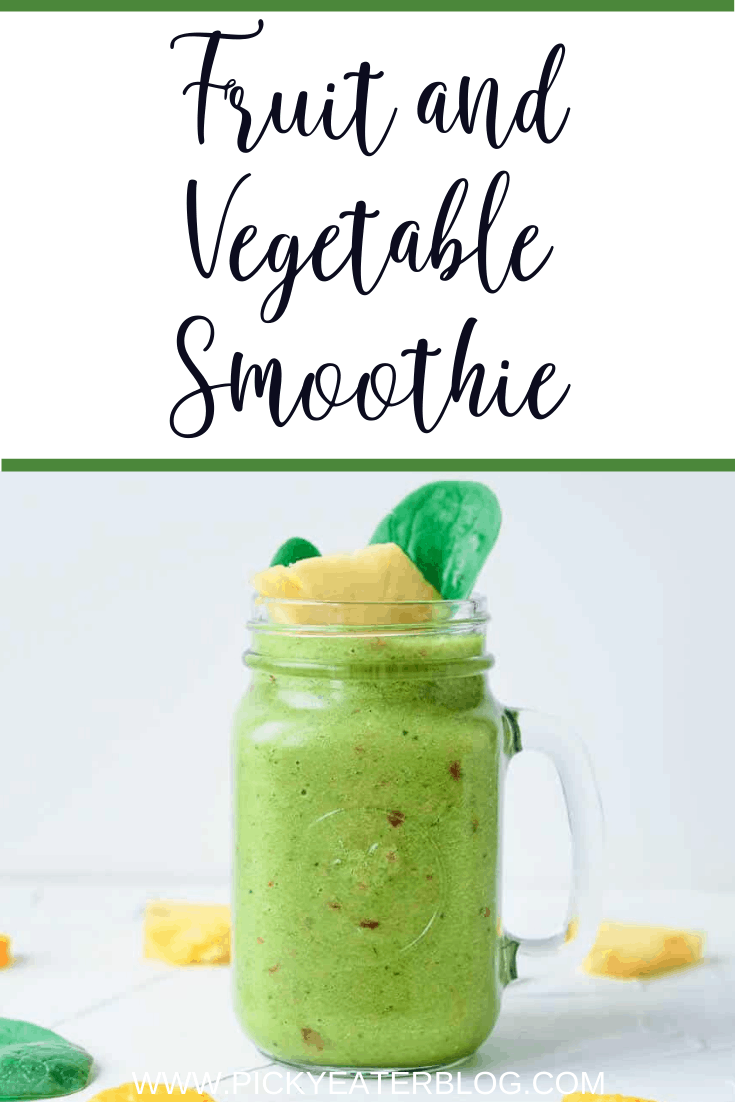 I am a huge fan of green smoothies. It's the easiest way to get a ton of fruits and veggies (especially green veggies which are the best for you!) into your diet in an easy, quick, and effortless way.
Reading: diet fruit and vegetable smoothies
A few years ago I bought myself a Vitamix because I wanted a more powerful blender with the ability to make food in bulk and with easier cleanup for when I made homemade baby food – and it was worth every penny! It literally pulverizes all of the fruits and veggies you might want to add to your smoothie – creating a smooth, thick, creamy consistency that is super satisfying!
This particular smoothie recipe is awesome. It has 3-4 cups of spinach in it, but you won't be able to taste it at all! If you have picky kids who won't eat their veggies, this is a great recipe to have for breakfast or a snack to sneak in some extra veggies into their diet.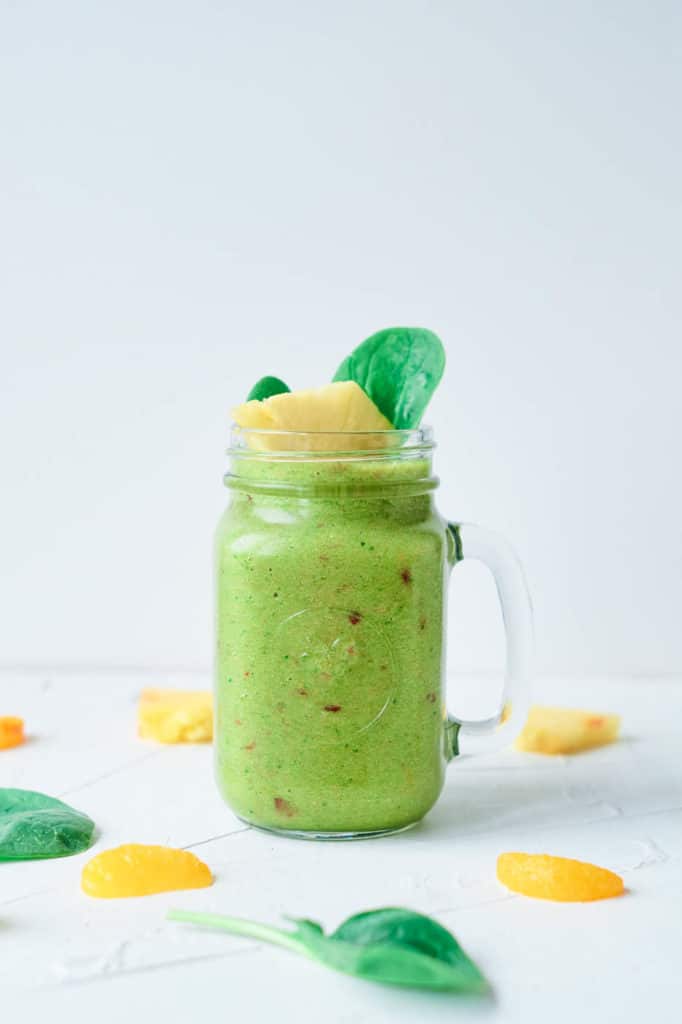 Tools and Equipment You'll Need
A super smooth and creamy smoothie requires an excellent blender. Here are a few of my favorite!
The Ninja Countertop Blender: Most affordable, Under $100, really effective
The Breville Fresh & Furious Blender: Under $200 with a few more features than the Ninja
The Vitamix!: Most expensive, but top of the line – will literally pulverize anything and the most versatile blender of them all! Makes "Jamba Juice style smoothies." It also lasts forever. This is the one I have!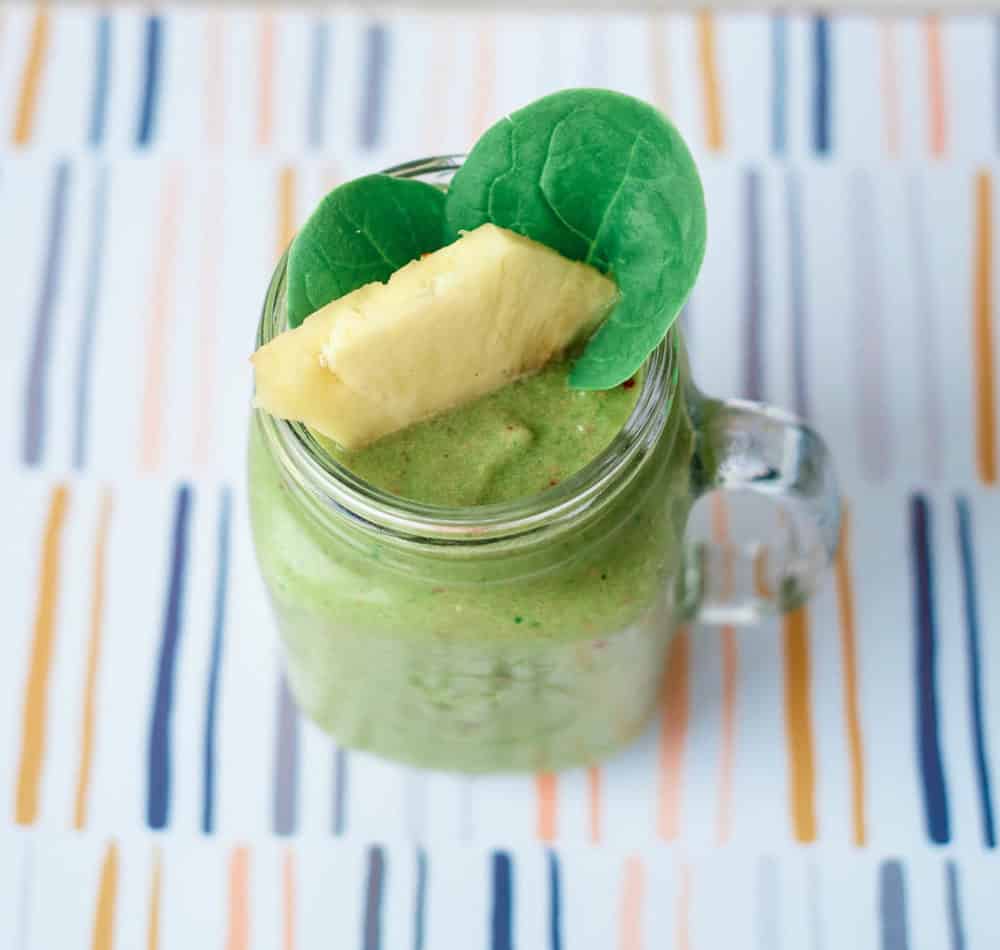 How to Make this Fruit and Vegetable Smoothie – Step by Step
Step 1: Put all ingredients into your blender (or Vitamix if you have one) in the order listed and secure the lid.
Read more: How to make coffee with a tea kettle
Step 2: Turn your blender on to it's lowest speed setting, and slowly increase the speed to high. Blend for 1 minute or until all of the ingredients have been pureed and the smoothie is the consistency you want it to me (our ideal consistency: no clumps, no grainy texture, totally smooth).
Serve cold and enjoy! It's a smoothie with the consistency of a milkshake that you can feel great about drinking 🙂
What makes this Fruit and Vegetable Smoothie healthy?
High in Nutrients: This smoothie is made entirely of fruits and vegetables, which means it is chock full of vitamins and minerals. Spinach is rich in vitamins A, C and K, magnesium, iron and manganese. Carrots are high in beta carotene, fiber, vitamin K1, potassium, and antioxidants.
High in Fiber: With so many fruits and veggies rolled into this super smoothie you also get a good dose of your daily fiber with 4 grams of the 12 recommended per day.
No Sugar Added: Unlike many smoothies, this one has no added sugar. It is naturally sweetened by the added fruit.
Low in Calories: With all natural ingredients this smoothie is under 120 calories per serving!
Will the kids enjoy this Fruit and Vegetable Smoothie?
This spinach makes this smoothie bright green in color, but all the added fruit makes it naturally sweet, while the banana adds creaminess. It's light, refreshing, and kid approved!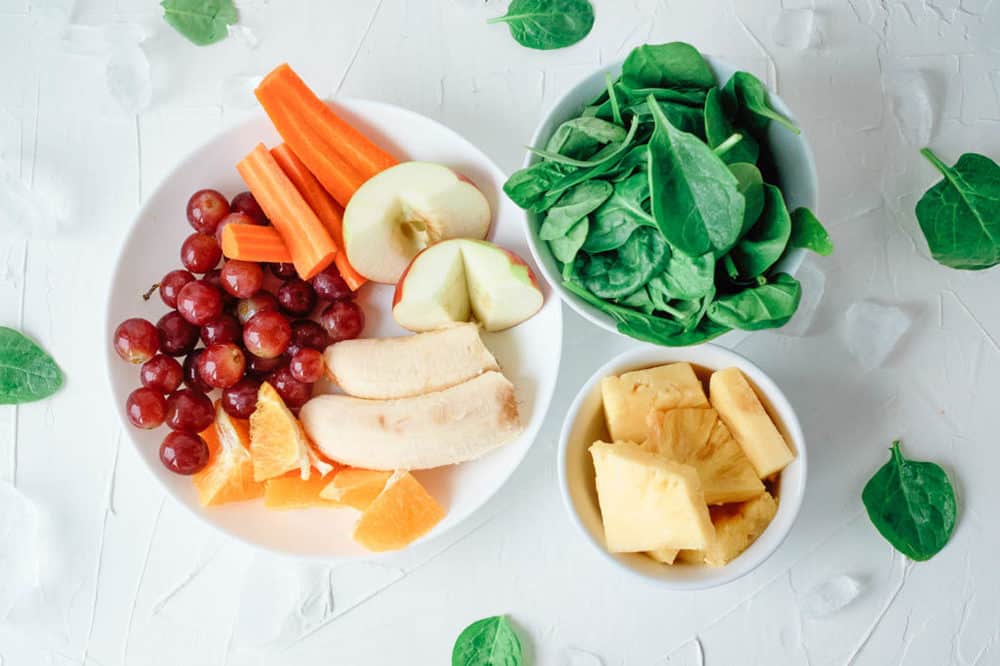 What are good vegetables to put in a smoothie?
This smoothie includes spinach and carrots. Spinach is excellent to put in your smoothie because it blends easily, it's high in vitamins and minerals, and it has a mild taste that isn't overpowering.
Along the same line as spinach, kale is a nice addition to your daily smoothie. High in nutrients it easily blends to create a green power smoothie.
Carrots are also a nice addition as they are naturally sweet, and when blended well create a nice texture.
Read more: How to make your own booze | Family Cuisine
Beets are perfect for smoothies. Naturally sweet with an earthy flavor they create bright red smoothies that are delicious and tempting.
What are the healthiest ingredients to put in smoothies?
If you're looking to create your own healthy smoothie there are some ingredients you should include, and others you should leave out.
Include fruits that are low on the glycemic index. This will help decrease the amount of sugar in your smoothie. Low glycemic fruit include berries, grapefruit, pear, and apples to name a few. High glycemic fruit includes pineapple, mango, and bananas. While it's fine to use these higher glycemic fruits in moderation, it's best to limit these in your smoothies as much as possible.
Also, consider adding more veggies to your smoothie. As mentioned above, spinach, kale, carrots, and beets are excellent choices. Also try pumpkin, and even cabbage!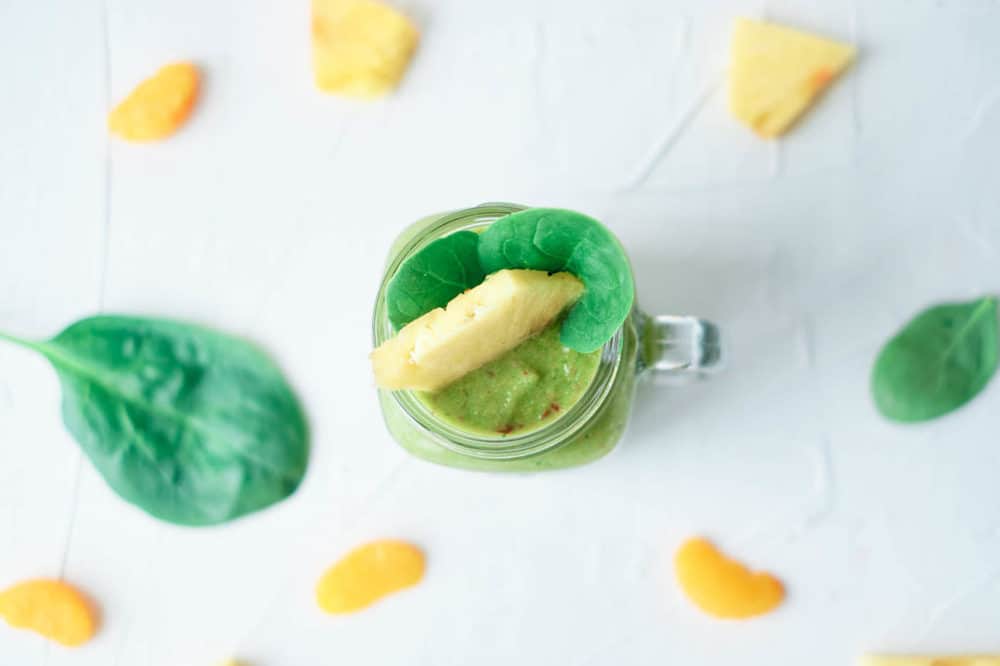 Top Tips for Making a Fruit and Vegetable Smoothie
Use a high speed blender. You are adding all these ingredients in their whole natural form, and want to blend them into a creamy smoothie without chunks. A high speed blender will do the trick!
Feel free to use the fruits and veggies you have on hand. At the end of the week, you may have some veggies and fruits that need to be eaten, throw them in to create your own fruit and veggie smoothie.
Try using frozen fruit! Freezing your banana and pineapple will create a cool smoothie without the need to add any ice!
To increase the protein in this recipe, add in 1/2 cup-1 cup of Greek Yogurt and/or your favorite protein powder.
How do you serve this smoothie?
This smoothie creates 4 small servings or two large servings. Pour into 4 glasses. Garnish with a few chia seeds if you like, and serve.
You can also pour this smoothie in your to-go cup to take with you on your way to work for a healthy breakfast on the go!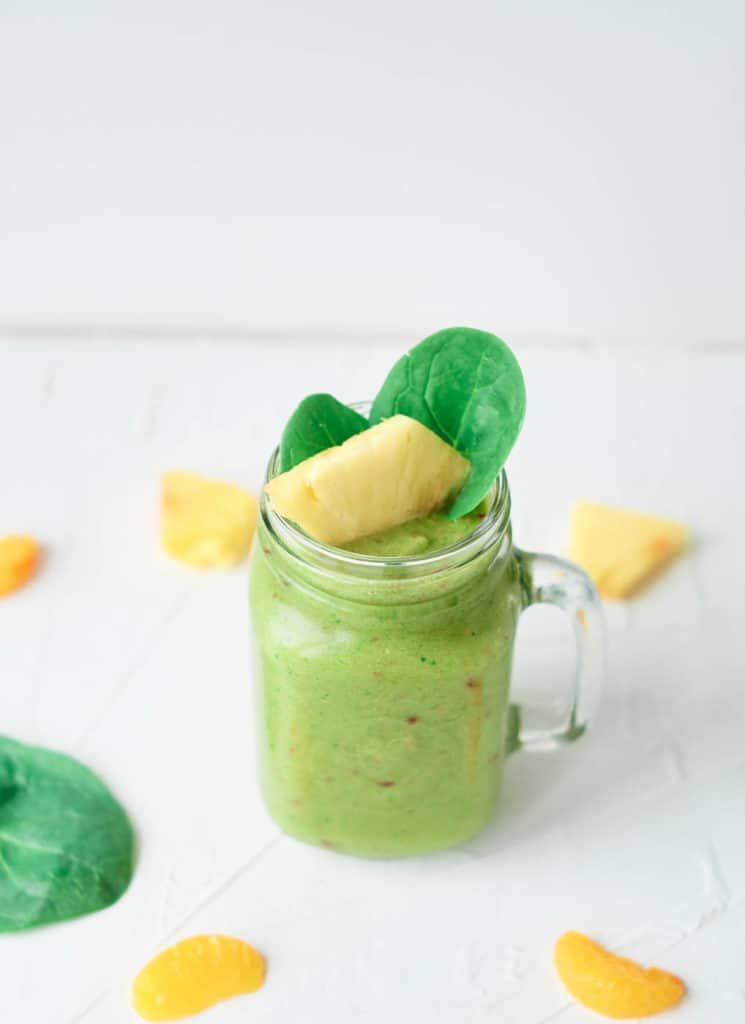 Check out these other healthy smoothie recipes!
Spinach Banana Smoothie with Peanut Butter
Blueberry Banana Blast Smoothie
Daily Harvest Strawberry + Peach Smoothie
Ginger Spice Smoothie
Easy Mixed Berry Smoothie
Avocado Smoothie by Simple Vegan Blog
If you have tried this Fruit and Vegetable Smoothie recipe, or any other recipe on my blog, then please rate it and let me know how it turned out in the comments below! You can also FOLLOW ME on FACEBOOK, TWITTER, INSTAGRAM and PINTEREST to see more delicious, healthy, family friendly food!
Read more: How to make lemonade from lemon juice concentrate