Creamy, cool Dill Pickle Pasta Salad with crunchy bites and salty-sour dill pickles is a delicious bite for potlucks, picnics, and grilling!
Dill Pickle Pasta Salad
This dill pickle pasta salad is different from any other pasta salad you've tasted. Packed with a cool creamy dressing, and tangy, sour dill pickle bites.
If salty-sour pickles are your thing, then this is the pasta salad for you.
The tangy, salty dill pickle flavor is infused into the whole pasta salad from the noodles to the cheese and the pickles themselves. There's even a little bit of fresh dill to brighten and freshen things up.
The flavors all meld together to create a cool, creamy, tangy bite that is the epitome of a summer picnic.
What Pickles Should I Use for Dill Pickle Pasta Salad?
Since this is a dill pickle pasta salad, the most important aspect of the pickle you choose is that it's dill. So choose any dill-flavored pickle, not sweet or bread and butter.
You can use spears, slices, whole pickles, homemade pickles, gherkins, or whatever your favorite type of dill pickle may be. As long as it's dill!
I personally usually use gherkins and slice them myself. That's what in the pictures. They taste great, and I just think they look adorable.
What are Gherkins?
They're just pickles made from tiny whole cucumbers. Baby dill pickles, if you will.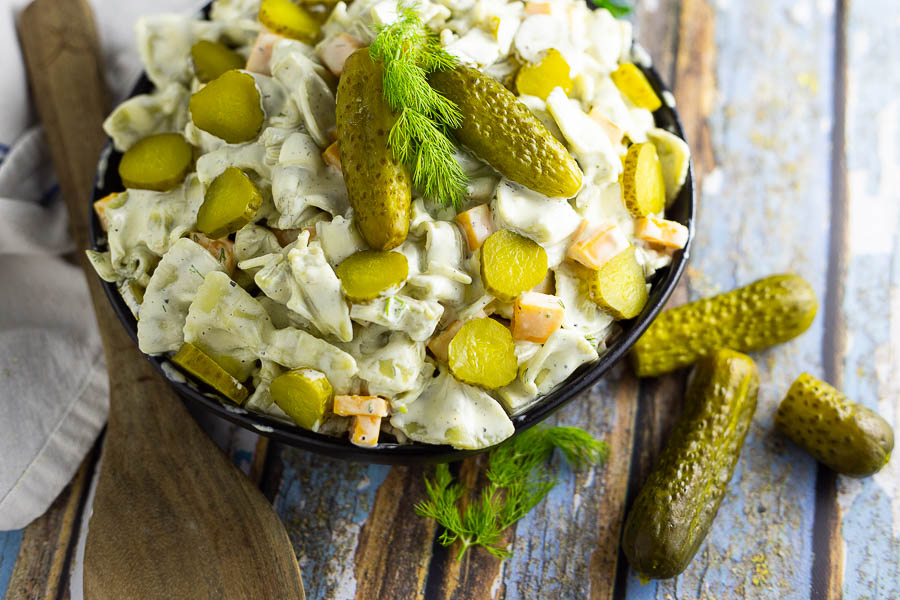 Where Do You Get the Pickle Juice?
The pickle juice that's called for in the recipe is just the liquid from the pickle jar! No need to buy anything special!
Be sure not to get any spices from the bottom of the jar. Just the liquid!
What Pasta is Best for Pasta Salad?
I've called for farfalle, or bowtie pasta, in this recipe. But you can really use any type of pasta.
Since different pastas have different shapes, different amounts will fit in a measuring cup, depending on which type you choose.
It's easiest to use weight to eliminate this problem. For example, this recipe calls for 8 ounces of farfalle. Simply use a kitchen scale to measure 8 ounces of the pasta of your choosing!
Side note: Kitchen scales are a fairly cheap and extremely useful kitchen tool. This is the one I have. (Less than $15 and I've had it for over 4 years!)
Here are some other pasta types that you can use in pasta salad!
Rotini – my other pasta salad favorite!
Mini Shells
Penne
Elbow Macaroni
Ziti
Cavatappi
The only ones I don't recommend are the long string noodles, like spaghetti, vermicelli, linguine, or fettuccine.
What Cheese is Best for Dill Pickle Pasta Salad?
Opt for a mild cheese such as mild cheddar or mozzarella.
I also recommend using cheese cubes over shredded cheese for this recipe. The cheese cubes absorb the dill flavors and turn into these soft, creamy, tangy bites of goodness that you'll wish there was even more of.
Can I Make Dill Pickle Pasta Salad without Mayo?
Yes! While I think the recipe does come out best when using mayo, you can substitute with plain Greek yogurt for a reduced fat option. I would not recommend using Miracle Whip, as it will alter the flavor.
Can You Make Dill Pickle Pasta Salad Ahead of Time?
Yes! In fact, it's recommended. Making this pasta salad a day ahead and allowing it to chill for 24 hours allows the flavors to marry, making it even more delicious than right after you whip it up.
Definitely trust me on this one. It is SO MUCH BETTER the next day.
More Picnic Recipes You'll Love
Pizza Pasta Salad – flavorful pasta salad with Italian dressing and everything you love on a pizza!
Deviled Egg Potato Salad – creamy twist on classic potato salad, packed with hard boiled eggs in a tangy dressing.
Creamy Southern Coleslaw – my hubby's southern granny's all-star recipe. We make this at least once per week in the summer!
Best Ever Fruit Salad – simple ingredients, healthy salad that tastes like dessert! You'll love every bite.
Southern Deviled Eggs – these are a must-have for grilling out and picnics. Perfect, creamy cold bites of perfection.
For more information please see the list of Recipe for dill pasta salad
Detail: 🔗