Introduction
Dill pickle soup, also known as zupa ogórkowa in Polish, is an extraordinary yet delightful traditional Polish soup. This tangy and creamy dish is made with pickled gherkins and is the perfect vegetarian comfort food, especially on a cold winter day.
A Tasty Surprise
Every winter, I look forward to trying out new soup recipes, and my experience with dill pickle soup was a delightful surprise. Even though it may sound unusual, I assure you that this veggie soup is incredibly tasty.
Zupa ogórkowa, or dill pickle soup in English, stays true to its name by featuring pickled gherkins, potatoes, and fresh dill. It follows the Eastern European tradition of adding sour cream for a creamy texture.
The result? A soup that will pleasantly surprise your taste buds without overwhelming them. A bowl of dill pickle soup is not only comforting but also satisfying.
Ingredients for Creamy Dill Pickle Soup
To prepare this creamy dill pickle soup, you will need the following ingredients:
Butter: Use unsalted butter to avoid excessive saltiness.
Onion, Carrot, and Celery: Dice these vegetables finely, with the carrot and celery on the smaller side.
Pickled Gherkins: A jar of pickled gherkins in brine is essential for achieving the authentic flavor of this Polish soup.
Potatoes: Both yellow and red potatoes work well. Cut them into 1-inch cubes or smaller for faster cooking.
Vegetable Stock: Homemade or store-bought vegetable stock can be used. If you prefer, chicken stock is also an option.
Sour Cream: A versatile ingredient in Eastern European cuisines, sour cream adds creaminess to the soup. Remember to temper it with hot soup before adding it to prevent curdling.
Fresh Dill: Dill is a must-have ingredient for zupa ogórkowa, and there are no suitable substitutes.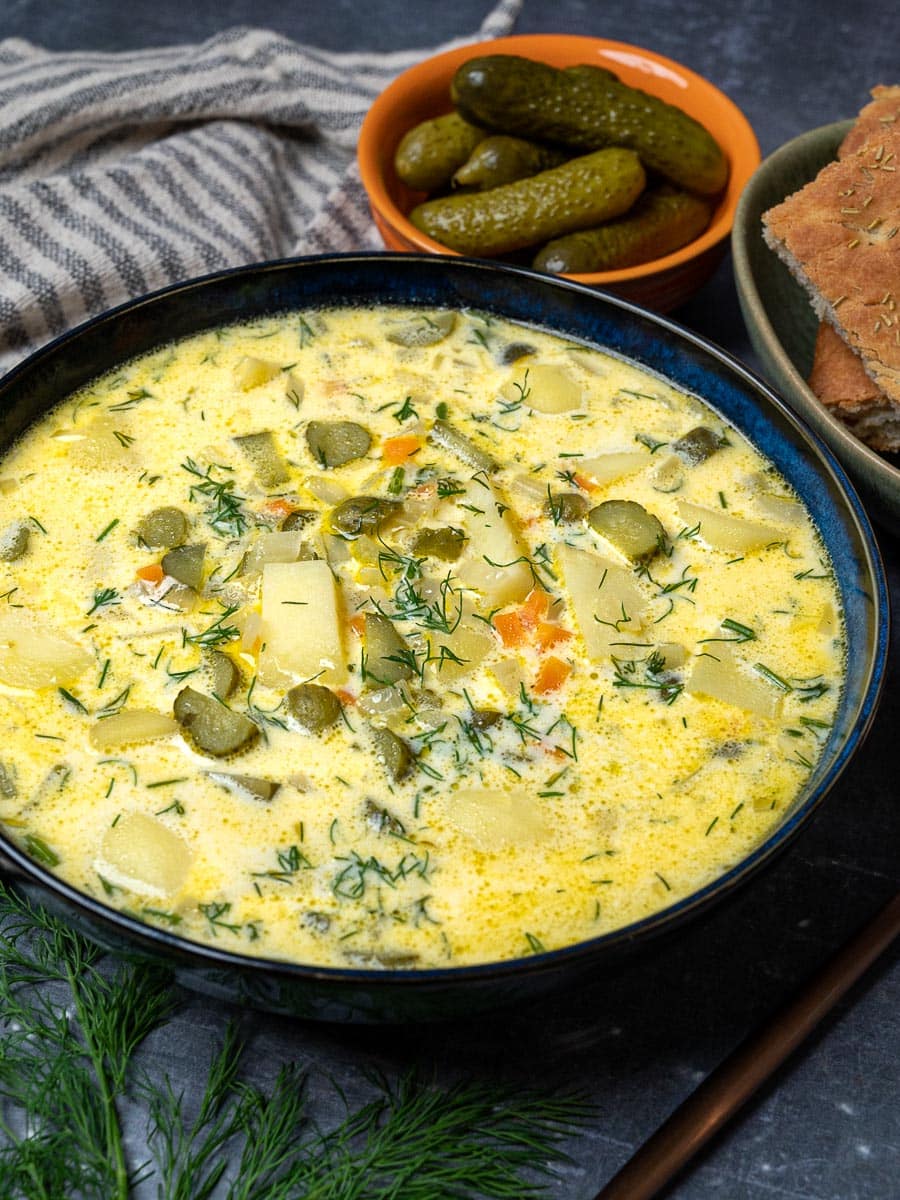 Cooking Instructions
Follow these simple steps to make zupa ogórkowa:
In a large pot or Dutch oven, melt the butter over medium heat. Add the finely diced onion, carrot, and celery, and cook for 5-6 minutes until the vegetables begin to soften.


Stir in the pickled gherkins, pickle juice, potatoes, and vegetable stock. Bring the mixture to a boil, then reduce the heat and simmer for 20 minutes or until the potatoes are tender when pierced with a fork.


In a separate bowl, mix a couple of tablespoons of soup with the sour cream to temper it. Then, whisk this mixture into the soup. Stir in the fresh dill and season the soup to taste.


Serve the dill pickle soup with extra fresh dill, sliced dill pickles, and your favorite crusty bread such as rye bread.
Recipe Notes and Tips
Here are a few helpful tips to enhance your dill pickle soup:
Avoid adding extra salt until the end, as the pickles and pickle juice can vary in saltiness.
If you prefer a thicker soup, you can mix 1 tablespoon of plain flour into the sour cream mixture before adding it to the pot.
Grate the pickled gherkins using the large holes of a grater if you prefer smaller pieces.
This soup can be refrigerated for up to three days in an airtight container. Reheat it in the microwave or on the stovetop.
Note that freezing this soup is not recommended due to the sour cream content.
If you enjoy this creamy dill pickle soup, you may also like some of my other easy soup recipes, such as Vegetarian Dumpling Soup, Chunky White Bean and Pancetta Soup, Easy Italian Meatball Soup, Easy Barley Soup with Vegetables, and Butter Bean Soup with Bacon.
For more delicious inspiration, follow Family Cuisine on Instagram, Facebook, and Pinterest!
(Article based on the original content from Skinny Spatula)