Smoked ham on the pellet grill is the way to go! I call this double smoked ham because technically the ham was pre-smoked when we purchased it, so you smoke it again on your grill. Two ingredients are all you need for a flavorful, juicy, and tasty smoked ham to feed your crew.
Learn how to smoke a ham on the pellet grill! This is our go-to way for our holiday hams. You will be impressed with this pellet grill ham.
Why Double Smoke A Ham
The reason why we smoke our ham is because of the flavors that infuse into the ham as it cooks on the grill. My husband buys mesquite wood pellets for cooking ham, it blends nicely with the ham.
A savory smoked ham with a shiny sear on the outside for a pretty presentation. We would be lost without our Green Mountain Grill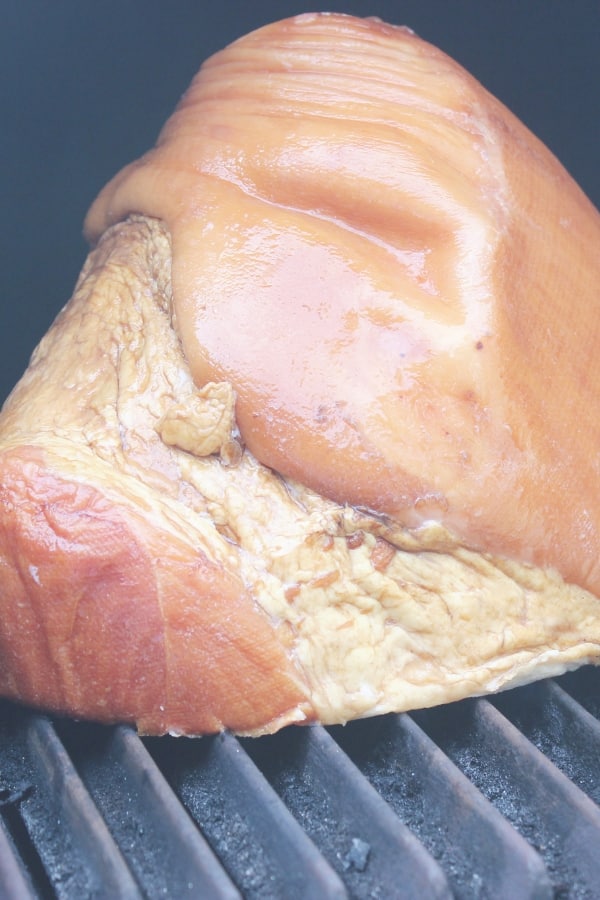 ! Try my Memphis Dry Rub BBQ Chicken as well, on the pellet grill.
Ingredients
Also read: How To Smoke Ham On Pellet Grill?
Cured Ham – So you can buy any cured ham that you have at your grocery store. The one I used was a Cook's bone-in ham. Depending on the time of year you will find they have different cuts.
Pepsi – Pepsi is our go-to soda for flavoring the ham. It is sweet enough to add a hint of sweet and pairs well with the smoke flavor. You could also use Coca Cola if you wanted.
What Does Double Smoked Mean
You will find that most ham you purchase in the stores have been cured already and are pre-cooked and ready to eat. Also, almost all hams will be labeled that they are "smoked" and you could technically slice it up and eat it cold.
Because your pre-cooked smoked ham is classified as "smoked" that is why I call this recipe a double smoked ham. I am not just warming the ham up to serve warm, I am smoking the ham and adding in more smoke flavor to really amplify the flavors.
How To Cook
Also read: Juicy Traeger Smoked Ham Recipe (Boneless, Butter Basted)
Full directions are in the printable recipe card at the bottom of the post. This is a quick walk through.
Step One: Preheat your pellet grill to 500 degrees. Let it get nice and hot, as this will create a nice sear on the outside of the ham.
Step Two: Now place your ham on the hot grill, we use man grates, this helps infuse more smoke into the meat. You do not need these.
Step Three: Cook each side of the ham for 10-20 minutes per side, that way you get an even cook all over.
Also read: Smoked Ham – Immaculate Bites
Step Four: Now you will remove ham and place in a pan, we used an aluminum throw away style. Pour in the Pepsi, and reduce the heat to 225 degrees.
Step Five: Cook your ham for 4 hours or until the internal temperature reads 140 degrees. We go out and baste our ham in the Pepsi every 30 minutes.
Slice up that ham and serve it however you would like! While it takes some time to cook your ham and infuse the smokey flavors, it will be totally worth it when you go to carve it up and serve your guests or family.
We get asked all the time how do you make such flavorful ham.. and this is exactly how!
Common Questions – FAQs
What To Serve With Double Smoked Ham
Fresh Veggie Salad (this is what is pictured in this recipe next to ham)
Coleslaw
Dinner Rolls
Cowboy Baked Beans
Farro Salad
Christmas Salad
Or any other favorite side dish
Please see more list about Smoked ham on pellet grill