This hearty Dump and Start Instant Pot Chicken Stew recipe is full of pantry staples and super quick to make thanks to the InstantPot.
Plus it's suitable for gluten free diets and Weight Watchers friendly.
Folks, there's nothing quite like a delicious and hearty chicken stew to fill you up. The ultimate comfort food, dump and start Instant Pot chicken stew is an easy recipe, inexpensive meal that's sure to satisfy on those chilly winter nights.
Also read: Country Chicken Stew Recipe – Pinch of Yum
I am sharing this Irish chicken stew recipe just in time for your upcoming St. Patrick's Day celebration, or anytime you want to serve up a satisfying and filling chicken stew quickly and without a lot of prep.
As this is as delicious as this Instant Pot Chicken Pot Pie and this Instant Pot Chicken Gnocchi Soup.
I'm a huge fan of dump and start meals, and this one is sure to become one of your all-time faves.
Also read: The Best Chicken Cabbage Soup Recip | Healthy Fitness Meals
All you need are some everyday pantry and refrigerator staples, your trusty Instant Pot, and my secret weapon for maximum flavor (aka caraway seeds), and this pressure cooker chicken stew is ready to serve in just a handful of minutes.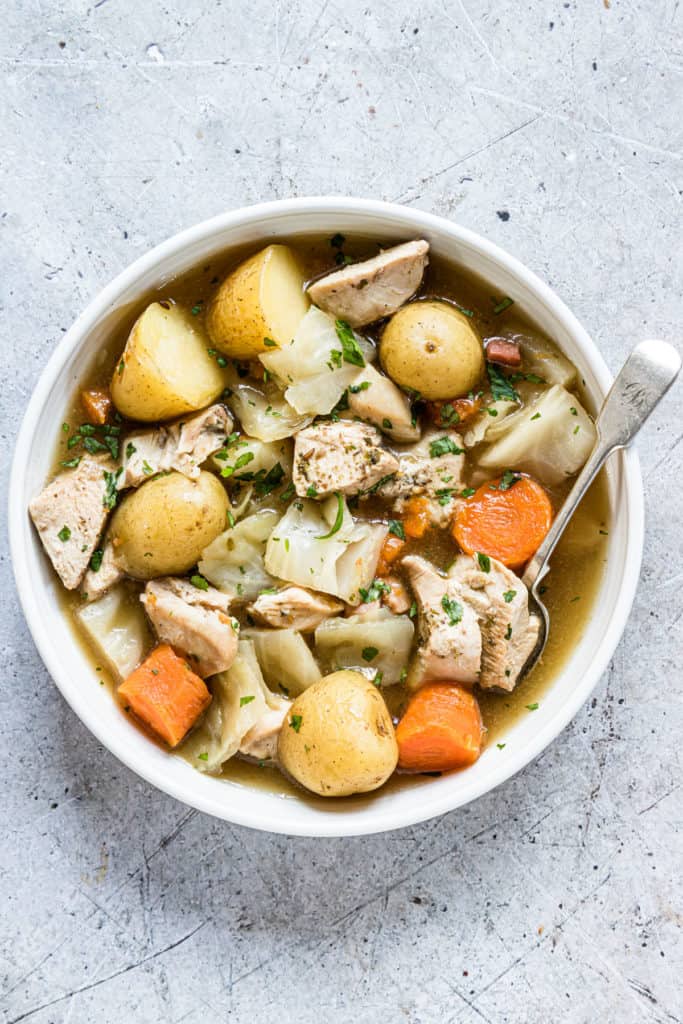 Why Make This Recipe
Quick and easy – Just dump the ingredients into your Instant Pot, press start and walk away.
Budget friendly – Made with affordable ingredients, most of which you have already.
Great flavor – full of simple yet great flavor thanks to the addition of caraway seeds and ground coriander.
Dietary – suitable gluten free diets.
Ingredients Notes
Chicken – This recipe calls for skinless boneless chicken breast but you can use skin-on breasts. You can also use boneless chicken thighs.
Veggies – a selection of fresh veggies such as baby potatoes, carrots, and cabbage make this stew. Cut the vegetables into thicker chunks than you normally would so they retain their shape. This is especially important for the cabbage. You can add in other firm veggies too.
Chicken stock – feel free to use homemade or store-bought stock and you can substitute in some, chicken broth, veggie stock or vegetable broth instead.
Seasonings – This has a selection of flavorings like onion powder, garlic powder, ground coriander, bay leaves thyme, salt and pepper, and the secret ingredient that makes all the difference caraway seeds. Feel free to omit any you don't like and add a little more of those you do like.
That extra flavor – yes smoked bacon, you only need a small amount but it makes a world of difference. Smoked ham should work too.
How To Make Instant Pot Chicken Stew
Get the complete ingredients list and instructions from the recipe card below.
Add all of the ingredients into the Instant Pot insert, then add chicken on top. Do NOT mix.
Close the Instant Pot lid, turn the valve to the sealing position, and set to high pressure, pressure cook/manual cook for 6 minutes.
When done, allow for a natural pressure release (NPR) of 4-5 minutes, then perform a quick pressure release to release the remaining pressure.
Open the lid, adjust seasonings as needed, and serve.
Important note: the cook time listed does not include the time needed for the Instant Pot to come up to pressure or for the pressure to release.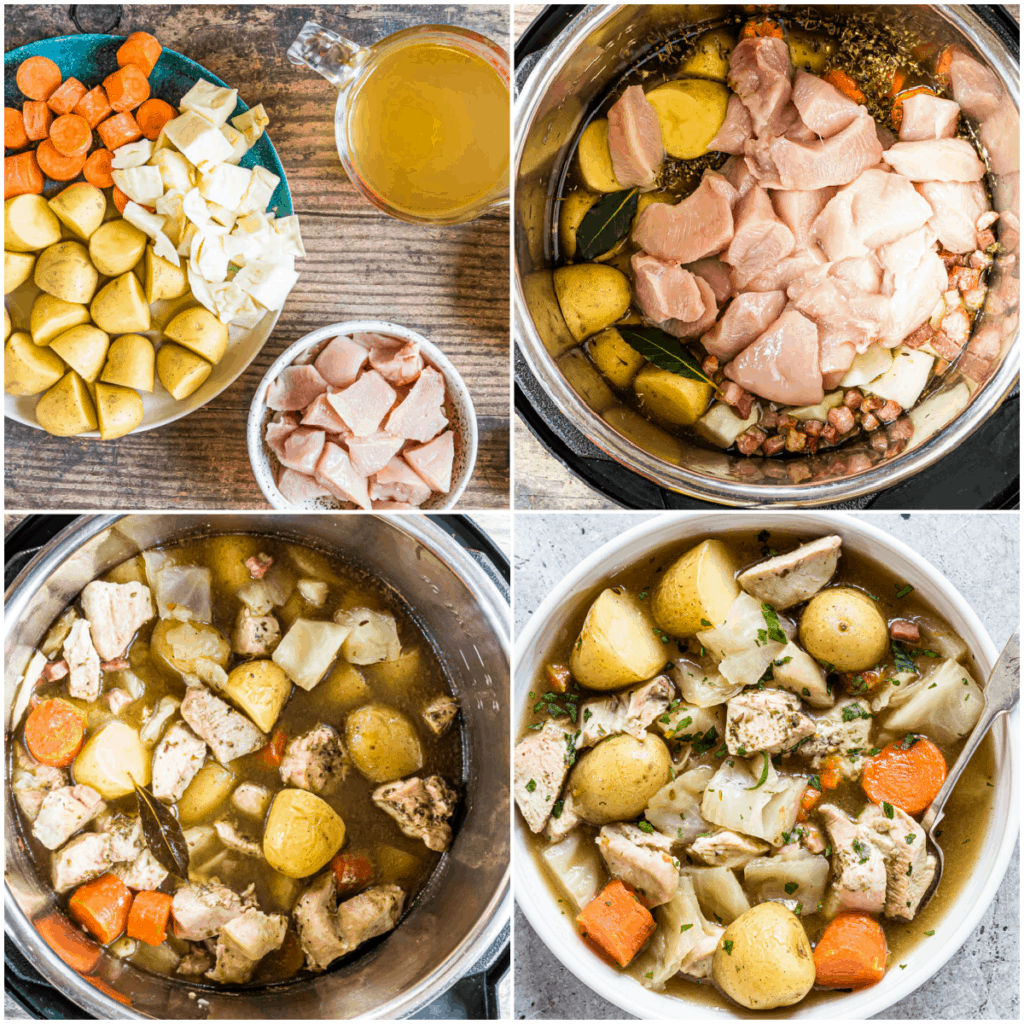 Recipe Tips For Success And Variations
You can add up to another cup of chicken stock for more liquid if needed.
Cut the chicken breast into larger pieces so that it does not overcook.
Feel free to use boneless skinless chicken thighs meat instead – it is fattier and has a bit more flavor.
For those who like a little heat, add some red pepper flakes or chipotle.
Add tomato – some tomato sauce adds colour and sharpness.
Use different herbs, like fresh rosemary and oregano, Italian Seasoning etc. Basically add more or less seasoning to your preference.
This is great garnished with fresh chopped parsley.
If you want you can used browned chicken which can be cooked using the saute function with some olive oil.
If you want to thicken the stew a bit, then do so using a cornstarch slurry.
Vary the potato – you can use red potatoes, russet potatoes or sweet potatoes instead.
I love serving this with a squeeze of fresh lemon juice.
Budget Friendly Tips
Also read: Chicken Stew – Cooktoria
This is already a super frugal dish since you only need 2 chicken breasts, but there are a few more ways to make it even more economical:
Double the veggies – add twice as many veggies and double the rest of the ingredients, excluding the chicken, and you can have it for 2 meals.
Bulk it out by adding beans for more affordable protein instead of chicken.
You can make this with leftover chicken instead. Omit the chicken and cook everything else, then at the end add in leftover, precooked chicken.
Add leftover rice or pasta to make it even more hearty.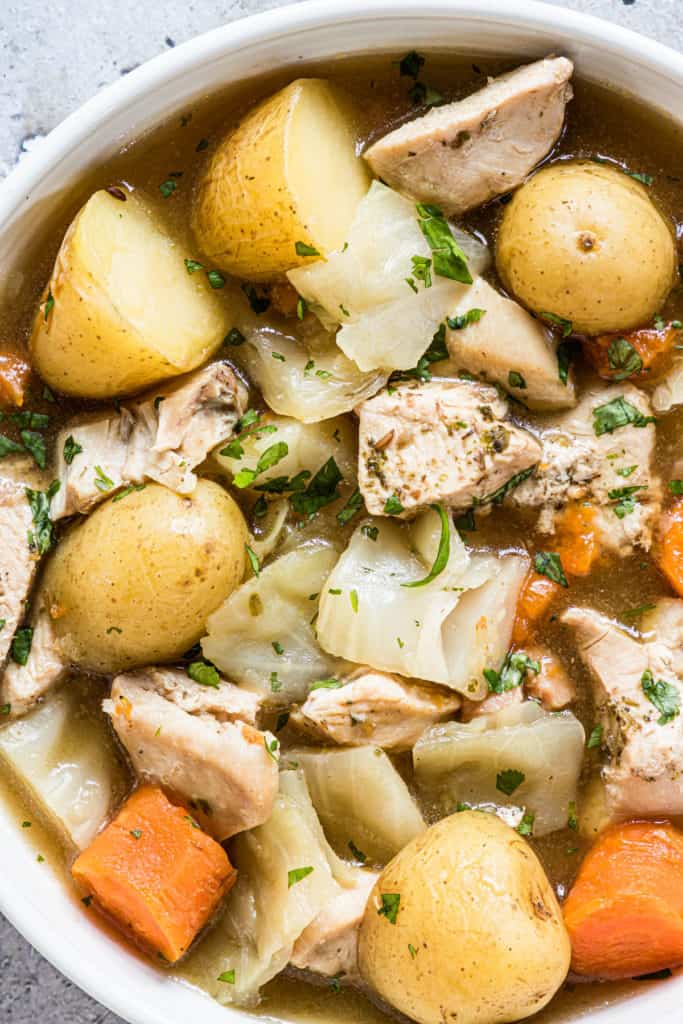 Prep Ahead and Storage
Prep in advance – chop your veggies in advance and keep in the refrigerator.
Refrigerate – let it cool completely and store in an airtight container for up to 4 days.
Freeze – yes you can freeze in an airtight container or freezer safe bag for up to 3 months but the vegetables will get mushy.
Thaw – thaw overnight in the refrigerator before reheating in the microwave or stovetop.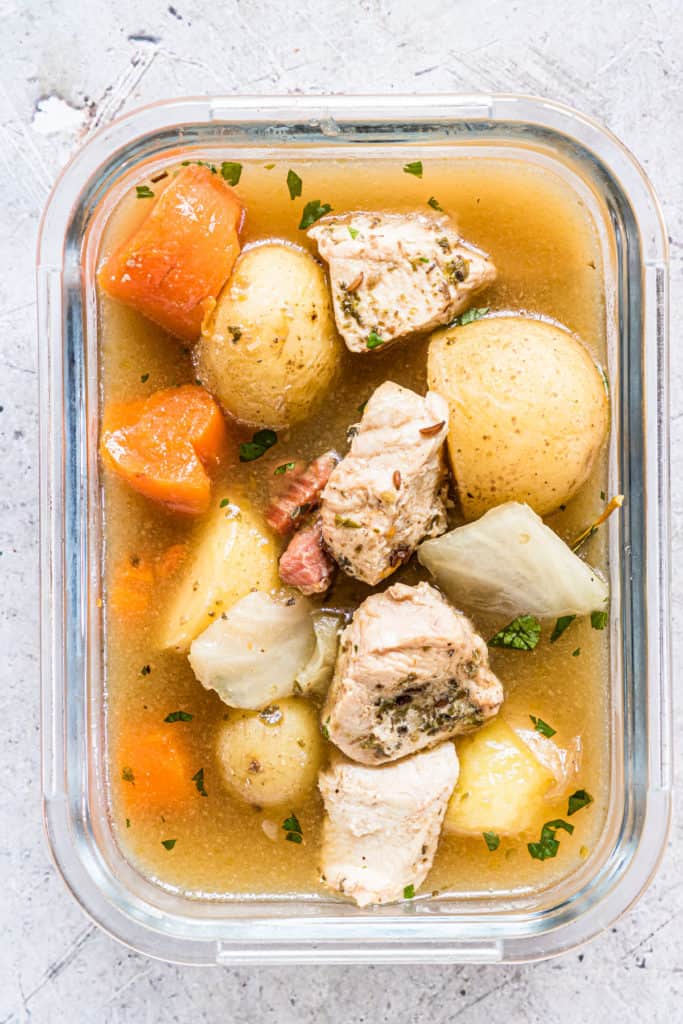 FAQs
Weight Watchers Points
There are 7 Blue Plan SmartPoints in one serving of this.
Other Easy Instant Pot Chicken Recipes
Want more instant pot recipes to sink your teeth into. Then try these below.
Instant Pot Chicken Pot Pie.
Instant Pot Chicken Tortellini Soup.
Instant Pot Chicken Spaghetti.
Easy Instant Pot Rosemary Chicken Thighs.
Tools Needed.
Instant Pot.
A sharp knife.
Measuring cups and spoons.
Spatula.
Get The Chicken Stew Instant Pot Recipe:
Through this article, we hope to help you understand Chicken stew with cabbage and carrots