Air Fryer Corn on the Cob is going to change the way you roast Corn. It is the quickest and easiest way to roast the corn. Air Fryer Roasted Corn is super-efficient way to roast the corn. The air fryer quickly roasts the sweet corn into an irresistible side dish!
Post may contain affiliate links. Please read disclosure here.
Yummy Air Fryer Corn on the Cob Recipe
Summertime calls for Roasted Corn in my house. Although Buttered Corn is more common in America, but I grew up with Roasted Corn in India.
While my children love the lightly roasted corn, I and my husband love the dark roasted Corn smothered with lemon juice, salt & red chili powder. Therefore, I am giving 2 different time instructions to roast the corn in air fryer.
When kids want boiled corn, then I do prepare the quick corn in instant pot. Steam in IP & then smother with butter.
But this Roasted Corn on the Cob is our family favorite.
We love roasting corn on the open grill. Since we live in Pittsburgh where there are more rainy days, Air Fryer Corn on the Cob has become our all-time favorite.
Actually, my husband is the roasted corn master in our house. He is so fond of roasted corn, that he can be found roasting corn in air fryer almost every day during the summertime.
My family loves vegetables roasted in Air Fryer. From Roasted Asparagus to Broccoli, Baked Potato, Sweet Potato, Shishito Peppers, Brussels Sprouts we love it all.
Why should you Roast the Corn in Air Fryer?
This is a simple straight forward recipe with minimum ingredients and still so delicious. It is a fail proof recipe.
Air fryer corn on the cob is time-efficient recipe. The corn gets cooked in very less time as compared to outdoor grill.
You can easily customize the roasted corn. The corn can be either roasted light or dark. I have you covered with both kind of timings.
You can pick the seasoning of your choice. Either smother with butter or rub the roasted corn with lemon, salt & red chili powder.
Air fryer corn can be served either as a side to a meal or as an evening snack. You can also use the roasted corn kernels to make salads or salsa.
SOME OTHER AIR FRYER VEGETARIAN RECIPES FROM THE BLOG
Roasted Beets
Baked Potato
Eggplant Parmesan
Buffalo Cauliflower Wings
Asian Cauliflower Wings
Crispy Tofu in Asian Sauce
Zucchini parmesan chips,
Stuffed mushrooms
Banana Chips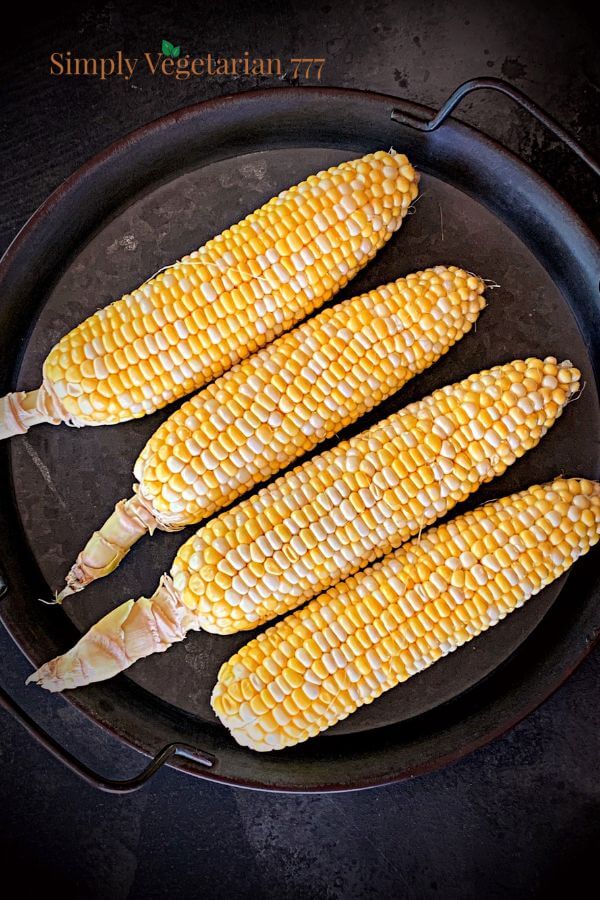 What are the ingredients of the corn on the cob recipe?
All you need are just few ingredients-
Corn on the Cob
Olive oil or Olive oil spray – I have used spray since it is easier to coat the corn efficiently with less oil.
Salt
Other Garnish Suggestions
Lemon juice, salt, red chili powder – my favorite seasoning combination for the street style Indian Corn on the Cob. And it is 100% vegan.
Salted Butter of course.
Rub with lime juice and tajin and top with cojita cheese for street style Tex Mex Corn on the Cob.
KITCHEN GADGETS USED IN THE RECIPE
Air fryer
Some other gadgets to consider if you like air frying
Air fryer Accessories
Mixing Bowls
Air fryer Parchment Paper
Measuring Cups & Spoon
Chopping board & Knife
How to make Air Fryer Corn on the Cob?
First of all, de-husk the corn on the cob and then remove the silks on the corn. Further wash it under the running water and pat these dry with a towel.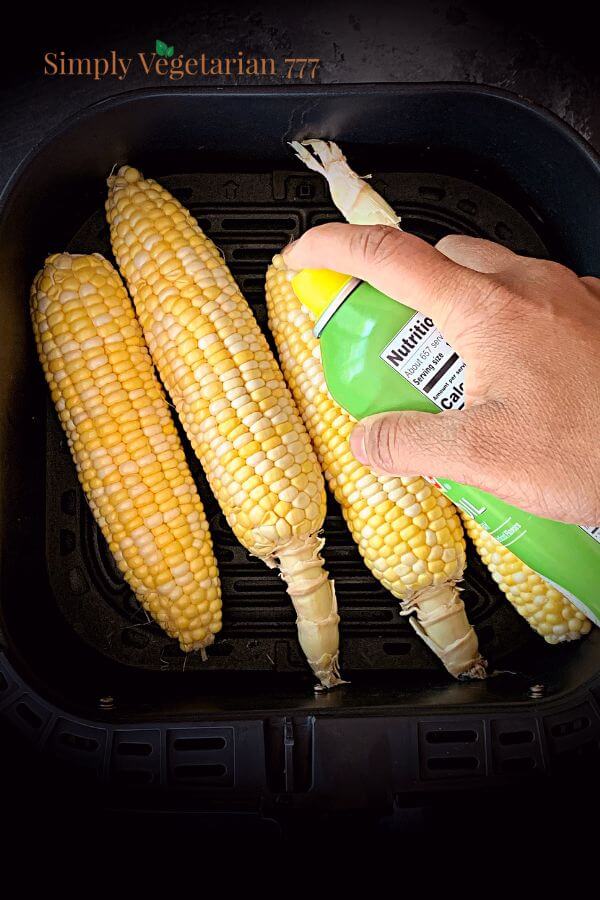 If your air fryer needs pre-heating, then pre-heat for 5 minutes at 400*F. Although it is not necessary.
Now place the corn on the cob inside the air fryer basket. Further spray the corns lightly with some olive oil.
Air-fry the corn on the cob for 15 minutes at 400*f for lightly roasted corn.
If you want your corn to be more toasted (like I do), then air fry it for 20-25 minutes depending upon how dark you want.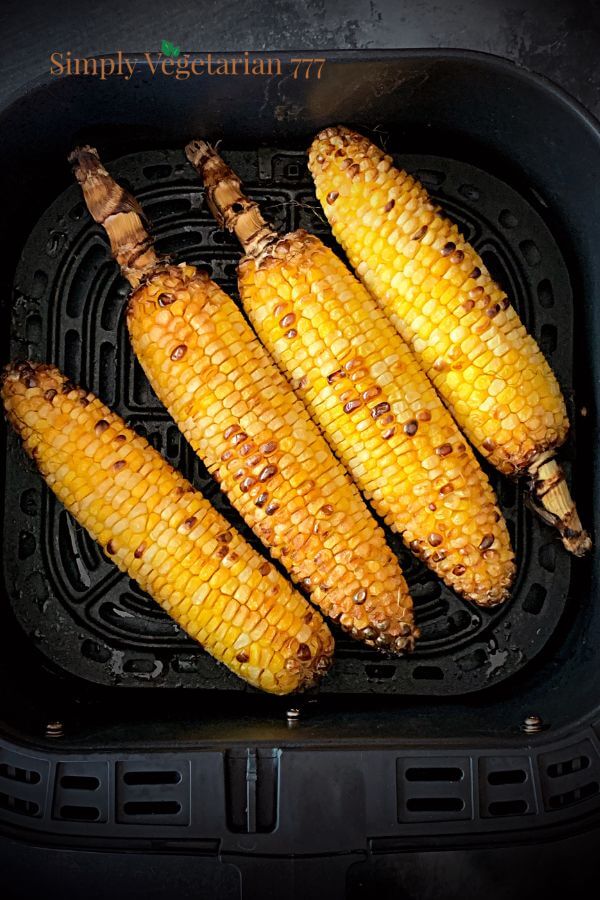 How to season the Roasted Corn?
My favorite way to season the roasted corn is rubbing it with lemon juice, salt, red chili powder. I do add some chaat masala for that extra kick. This is the Indian Street Style Corn.
You can rub the roasted corn with salted butter.
Make it your favorite Tex-Mex style Roasted Corn by rubbing it with lime juice, tajin and top with cojita cheese & cilantro.
When to serve the Air Fryer Corn on the Cob?
You can serve these as a side dish to your meal. This is a filling simple side dish.
Eat it as a snack or a mini meal. Corn on the cob is filling and delicious.
You can remove the kernels of roasted corn and use it in Salads or Salsa. So good!
RüK Vegetable Chopper Slicer Onion Chopper Dicer Multi 22-in-1 Veggie Mandoline Slicer Food Chopper Cutter for Tomato Fruit with Lemon Squeezer Recipe 11 Blades Egg Separator & Slicer Container" on salePanini Press Grill MONXOOK Sandwich Maker Non-Stick Coated Plates (9.06 *5.63 ) Opens 180 Degrees Contact Indoor Grill with Locking Lid 1000W Panini Maker Black" on saleAccessories for Instant Pot Accessories Compatible with 6 8">Instant Pot accessories on saleAirOpen Air Fryer 8QT Large Digital Airfryer – US Version XXL Oilless Hot Oven Cooker with 9 Cooking Functions Upgraded Touchscreen 8 Quart Removable Non-Stick Basket Black" on Sale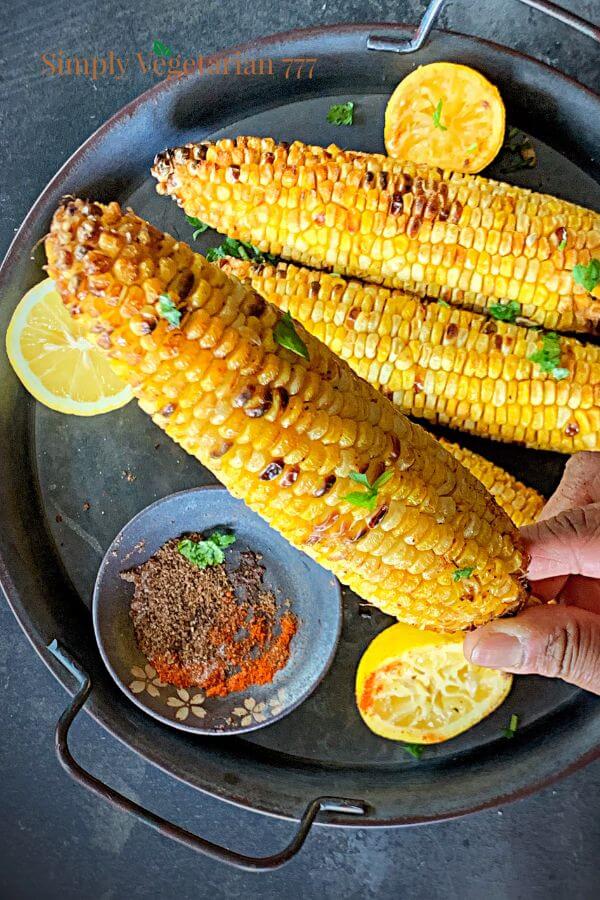 What should I do if corn on the cob does not fit inside the air fryer?
If the corn on the cob is too big for your air fryer basket, then break them into halves and fit inside. Make sure not to over-crowd the basket. You might have to do the corn in 2 batches depending upon the size of your air fryer.
How to store the leftovers?
Simply refrigerate the leftovers in airtight container.
How long will it stay good in refrigerator?
It should stay good for 2-3 days.
How to re-heat roasted corn on the cob?
Re-heat the corn on the cob in air fryer at 400*F till warm enough to eat.
Can I roast the Frozen corn in air fryer?
Yes you can. Take out frozen corn and thaw it completely.
Pat it dry with paper towel. Now air fry at 400*F for 15-20 minutes till your desired liking. Frozen corn will take more time than the fresh ones.
How to choose perfect corn for roasting corn in air fryer?
Silks: Check the silks/long hair of the cob peeping out of the husk. If they are soft and light brown in color, the corn is fresh inside. But if the silks are dark brown in color and look dry then that means the corn is old.
Husks: The green leaf like husks that wrap around the corn should be bright green free from lots of brown spots or little holes at the tops. Those little holes mean there are probably worms in the corn. The husks should be clinging to the corn wrapping it fairly tightly. If the husks are damp that is sign that the corn is fresh and a good pick. Avoid yellow pale looking husks. ALso look for mold signs.
PRO-TIP: Do not Stack or over fill: To get the perfect roasted corn, make sure there is room between the cobs for the air to circulate and do not stack.
YOU CAN FOLLOW US ON FACEBOOK, INSTAGRAM, PINTEREST & TWITTER & YOU-TUBE FOR REGULAR UPDATES. AND DON'T FORGET TO SIGN UP FOR OUR E-LETTER WHENEVER WE PUBLISH A NEW POST.
Easy Air Fryer Corn on the Cob Recipe
I am sure you will try it soon. Please leave your feedback in comments section and do not forget to give use star rating.
Sonal
Through this article, we hope to help you understand Roasting corn in air fryer
Detail: 🔗