This grilled BBQ Chicken wings recipe is a classic appetizer! Made with a 4-ingredient homemade barbecue sauce, these wings are quick, easy, and downright delicious.
If you love these BBQ chicken wings, then you should try this juicy air fryer BBQ chicken with some 4 ingredient BBQ sauce.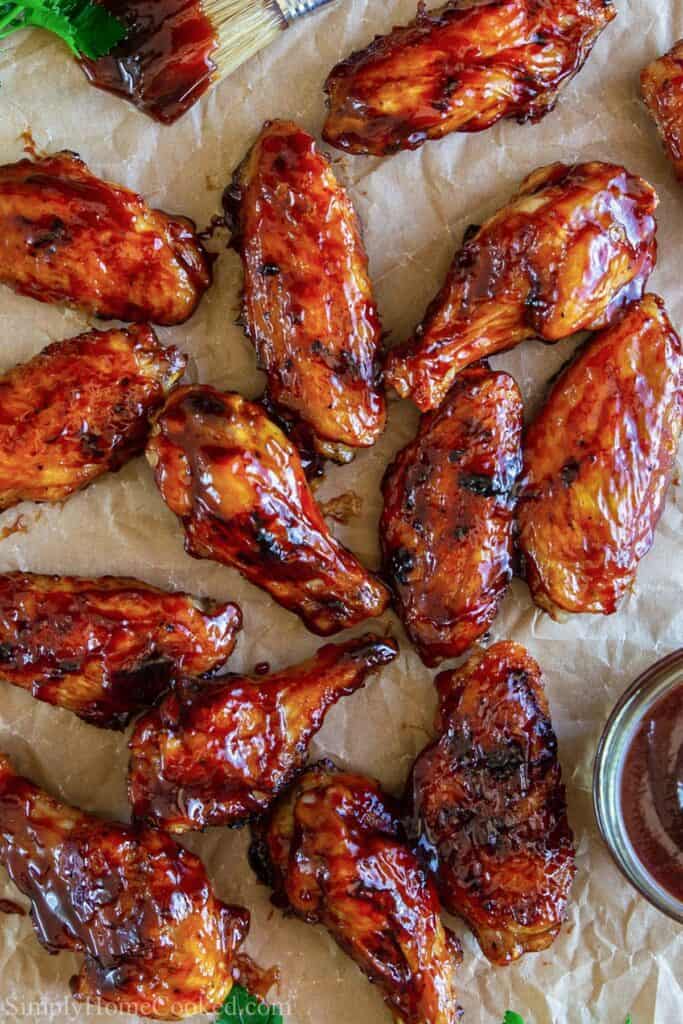 Table Of Contents
Easy BBQ Chicken Wings Recipe Details
What you'll need
How to Make BBQ Chicken Wings
Recipe Tips
Add-ins and Substitutions
FAQs
Serving Suggestions
Make These Easy BBQ Chicken Wings in Advance
More Tasty Chicken Recipes!
Full Recipe Instructions
Easy BBQ Chicken Wings Recipe Details
BBQ wings are known to be the ultimate party food. There are so many variations, but this is one of our favorites. It's a simple, fuss-free recipe perfect for any summer party, especially graduation parties.
Taste- These wings are sweet and smoky with a hint of garlic. They're marinated before grilling to really lock in their flavor.
Texture- These BBQ wings are juicy with a crisp outside that's smothered in thick barbecue sauce.
Ease- Simple and fuss-free, this recipe uses a 4-ingredient barbecue sauce and other simple ingredients.
Time- After these are marinated, they only take 15 minutes to cook. Perfect for a quick appetizer or addition to the buffet table.
What you'll need
Chicken wings
Garlic cloves- minced
Seasonings- Salt and Black pepper
Barbecue sauce
How to Make BBQ Chicken Wings
Make the marinade. Combine chicken wings, garlic, salt, and pepper in a bowl.
Marinate the chicken wings. Cover and refrigerate for at least 2 hours.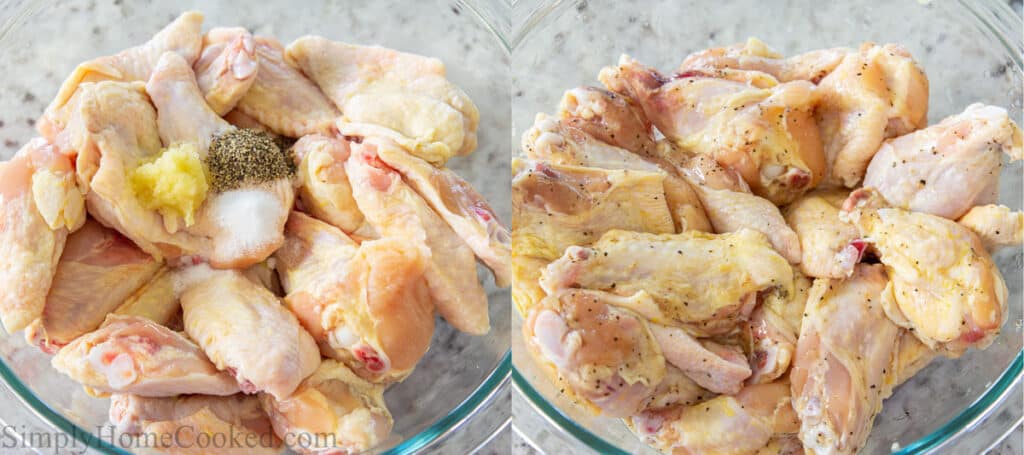 Grill them. Grill the wings over high heat until cooked through, about 5-6 minutes per side.
Cover them with BBQ sauce. Glaze barbecue sauce on each side of the wings. Then grill them for another 2 minutes per side. Remove from the grill and glaze extra barbecue sauce over the wings.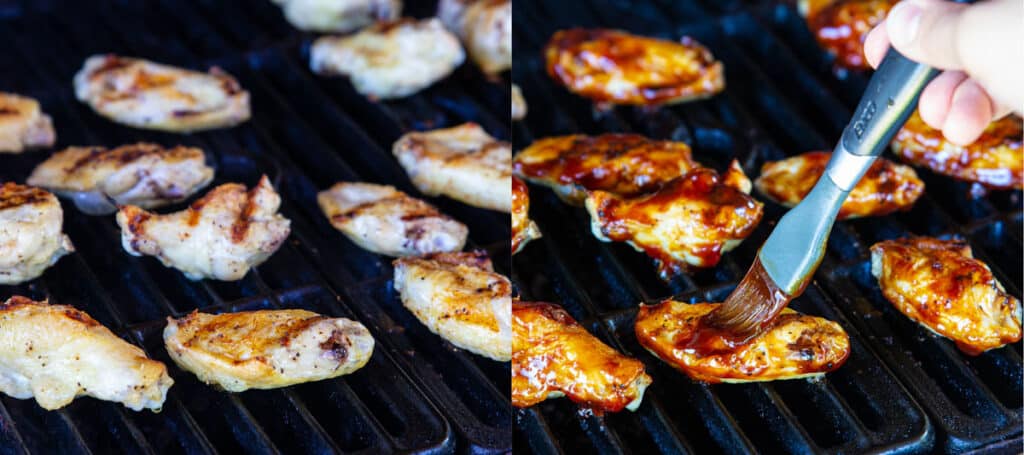 Recipe Tips
Marinate the wings for at least 2 hours- Don't skimp on the marinating time because this will infuse the chicken with all that delicious garlicky flavor.
Cook the wings a little longer after the BBQ sauce is on- Doing this will slightly caramelize the sauce while also locking it onto the wings for better flavor.
Cook them over high heat- Using high heat on your grill helps the meat pull away from the bone, making these tasty BBQ chicken wings easier to eat.
Add-ins and Substitutions
Add some heat- If you like your sauce spicy, add some hot sauce to your barbecue wing sauce or a pinch of cayenne pepper to the marinade.
Substitute different cuts of meat- This recipe works great with chicken thighs, breasts, and other barbecue favorites. Just adjust the cooking time for doneness.
Add apple cider vinegar to the marinade- Some people like to add apple cider vinegar to the marinade to make it more tender. This can also help make the meat juicier.
FAQs
Serving Suggestions
These Easy BBQ Chicken Wings taste great with pretty much everything. But here are a few great ideas for this part of food:
Meats: Serve these wings with other grill favorites, like Hot Dogs, Barbecue Pork Ribs, Hamburgers, and Garlic Chicken Kebabs.
Salad: Try Pasta Salad, Easy Antipasto Salad (low carb), or Cucumber Tomato Feta Salad.
Sides: Wings go great with Fries. Roasted Veggies, and Scalloped Potatoes.
Dessert: Finish the meal with something sweet, like these Nutella Brownies or some Vanilla Cake Pops.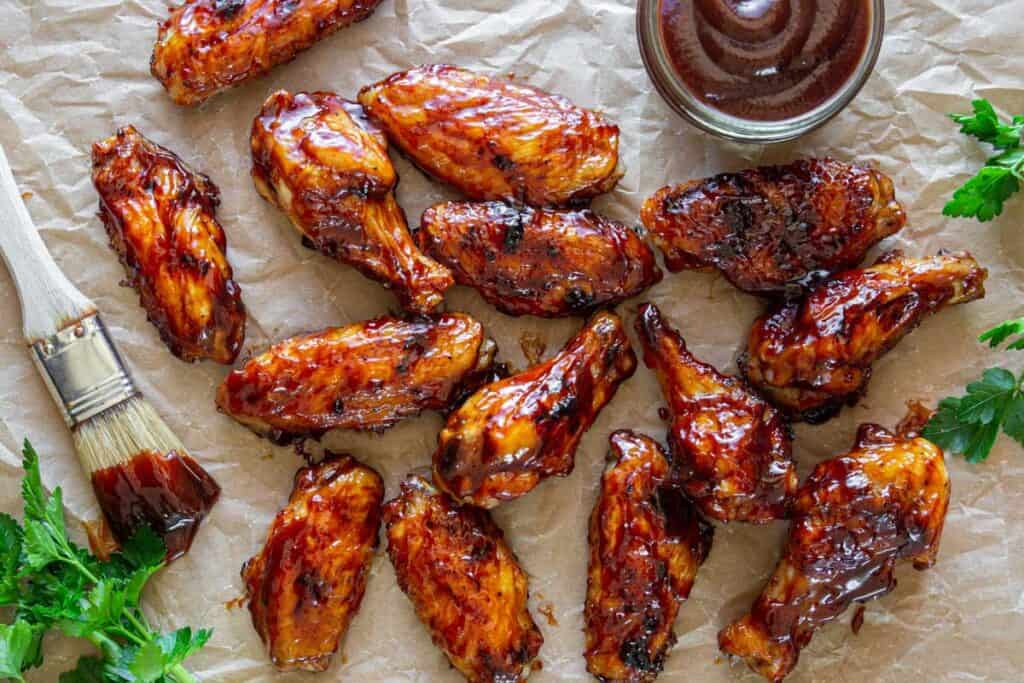 Make These Easy BBQ Chicken Wings in Advance
Make ahead: To save time, you can bake these wings, then store them in the fridge. When you are ready to grill, allow them to come to room temperature before cooking.
Storing: Once the BBQ chicken wings are cooled, place them in an airtight container in the refrigerator for up to four days. Reheat them on the grill, in the oven, or in the microwave.
Freeze: Place the cooled wings in an airtight container or ziplock bag in the freezer for up to 3 months. Allow them to thaw in the refrigerator, then place them in a 375˚F oven for 20-25 minutes, or until heated through.
This BBQ wings recipe was featured on Buzzfeed, find the article HERE
More Tasty Chicken Recipes!
Chicken Shawarma
Chicken Scampi Recipe
Easy Mongolian Chicken
Chicken Croquettes
Chicken Pesto Pizza
Full Recipe Instructions
This recipe was originally posted May 17, 2016, we've tweaked it a bit since then.
For more information please see the list of Marinade for chicken wings on the grill