An easy beetroot and goats cheese salad recipe with crunchy toasted walnuts, drizzled with a delicious honey mustard dressing.
Perfect as a light lunch or side salad with roast chicken, honey glazed salmon, or roasted vegetables.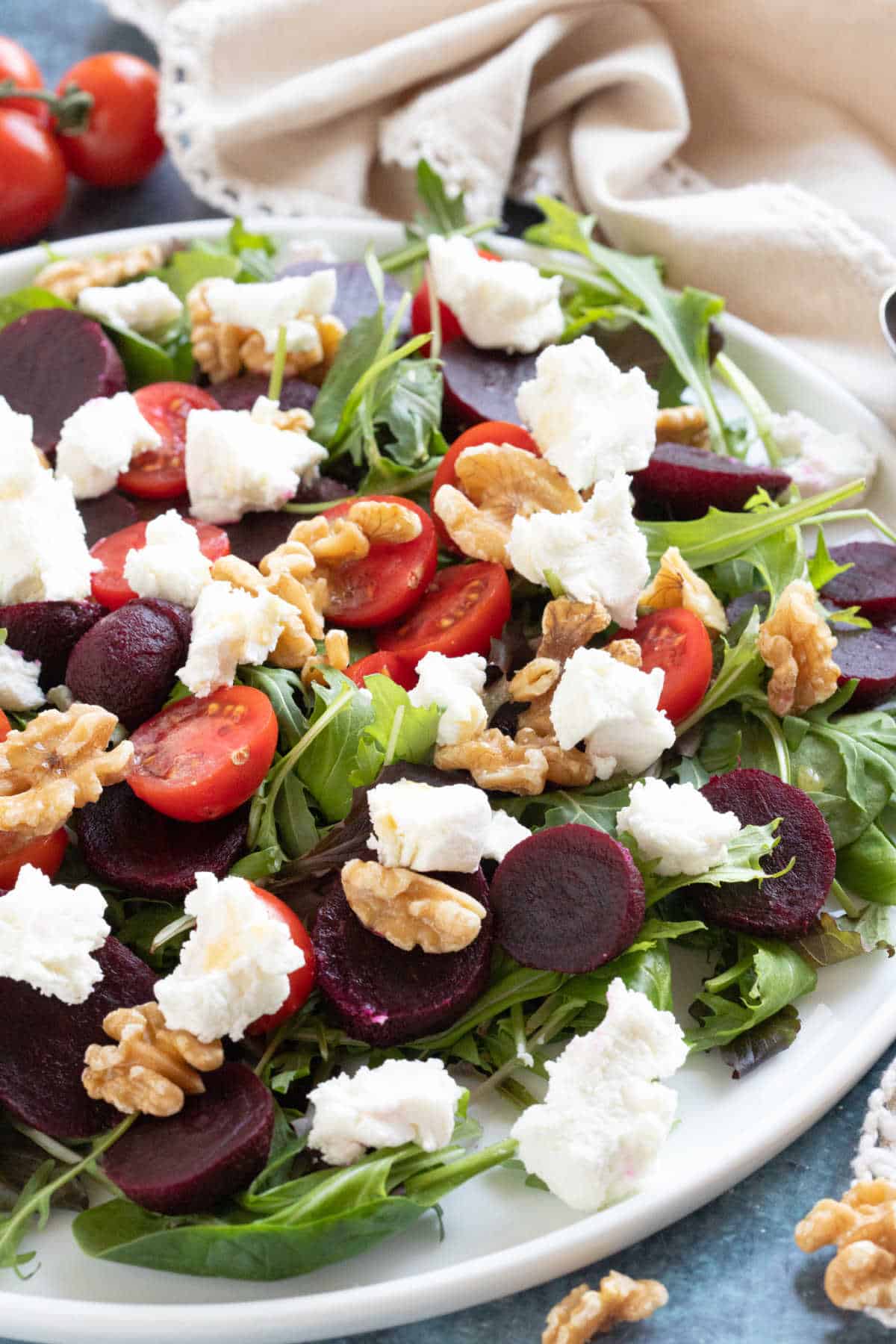 Earthy beetroot complements the creaminess of the goats cheese so well in this easy beetroot salad recipe, with the toasted walnuts giving it a lovely crunch.
The honey mustard dressing elevates it to the next level of tasty though, and I always made extra dressing to store in the fridge!
I have been known to take a spoon to the dressing, straight from the fridge, and slurp it on its own…it's that good!
👩‍🍳 Love easy salad recipes? Try my curried rice salad too!
Jump to:
✔️ Why you'll love this recipe!
🛒 Ingredient notes
🔪 How to make beetroot and goats cheese salad
💭 Expert tips
🍴 Serving suggestions
📖 Variations
🥡 Storage
❓ Frequently asked questions
😋 More salad recipes to try
Recipe
💬 Comments
✔️ Why you'll love this recipe!
Elevates goat cheese salad with earthy roasted beets, creating the perfect salad recipe.
Quick and easy to make.
Serve as a light lunch or main course.
Lots of options to customise.
🛒 Ingredient notes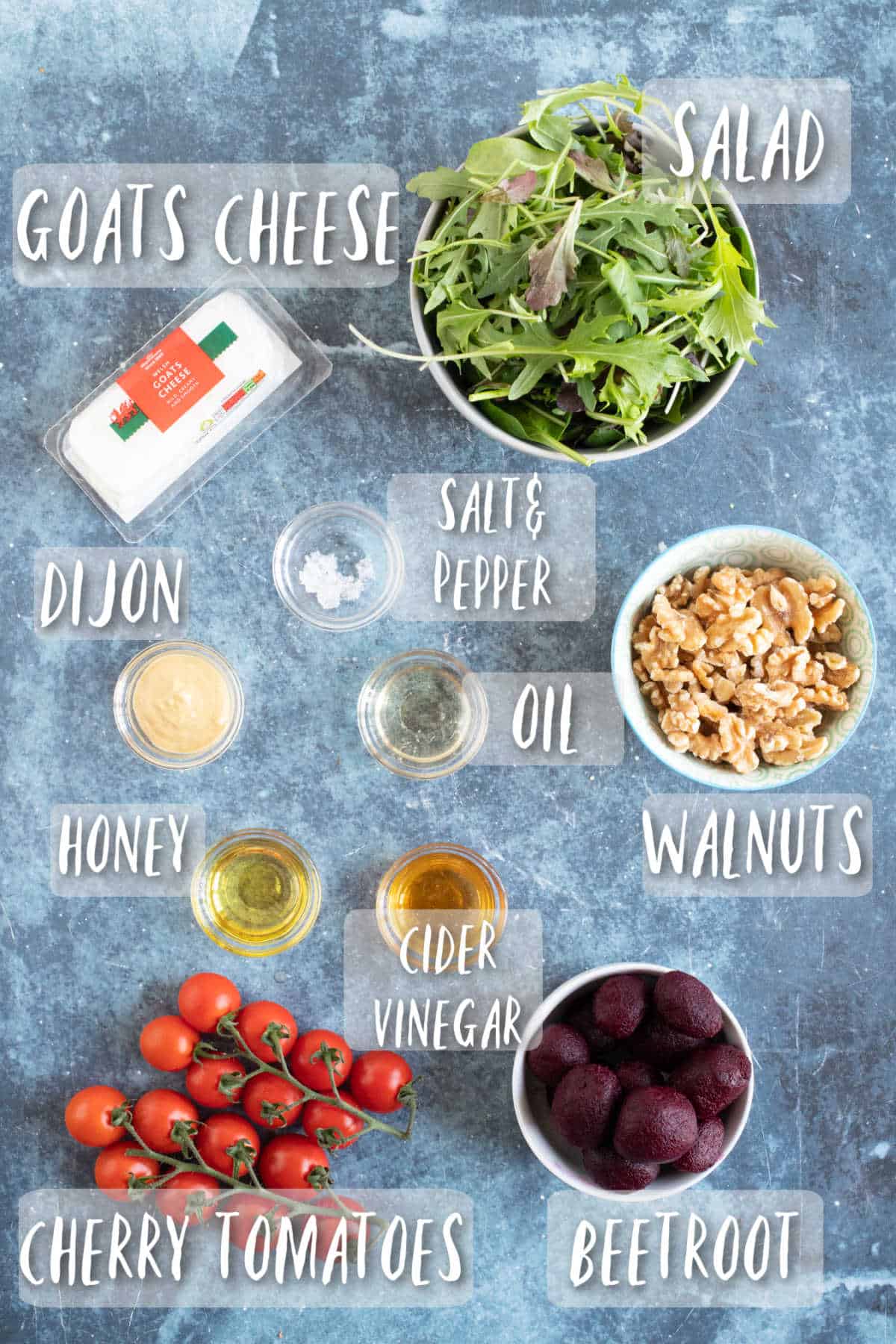 Beetroot – I like to use mini roasted beetroot that you can buy from the supermarket, which I slice in half. You could substitute for sliced pickled beetroot instead, or even roast you own beetroot (personally I don't like the purple hands you get when cooking beetroot at home).
Goats Cheese – a soft and creamy goats cheese complements the sweetness of the beetroot. Crumbled feta cheese or blue cheese can be used instead.
Walnuts – toast the walnuts in a frying pan before adding to the salad to create extra texture and crunch.
Salad Leaves – I use a mixture of rocket (arugula), spinach, and lambs lettuce, but any bagged salad is fine.
Cherry Tomatoes – for added colour.
Salad Dressing – a simple honey mustard dressing made with extra-virgin olive oil, cider vinegar, dijon mustard, honey, salt and pepper. Swap the cider vinegar for balsamic vingar or red wine vinegar if you prefer.
🔪 How to make beetroot and goats cheese salad
The recipe card with ingredient quantities and detailed instructions can be found at the bottom of the post
One: Place the walnuts in a frying pan (no oil needed) and fry until toasted. Be careful, they will go from golden brown to burnt very quickly! Keep moving them around the pan with a wooden spoon.
Two: Mix the olive oil, cider vinegar, honey, dijon mustard, salt, and pepper in a small bowl with a whisk.
Three: Halve the mini beetroot (or if using large beetroot, quarter them), and cut the cherry tomatoes in half with a sharp knife.
Four: Lay the salad leaves on a large platter and top with the beetroot, crumbled goats cheese, walnuts, and tomatoes. Drizzle with the salad dressing just before serving.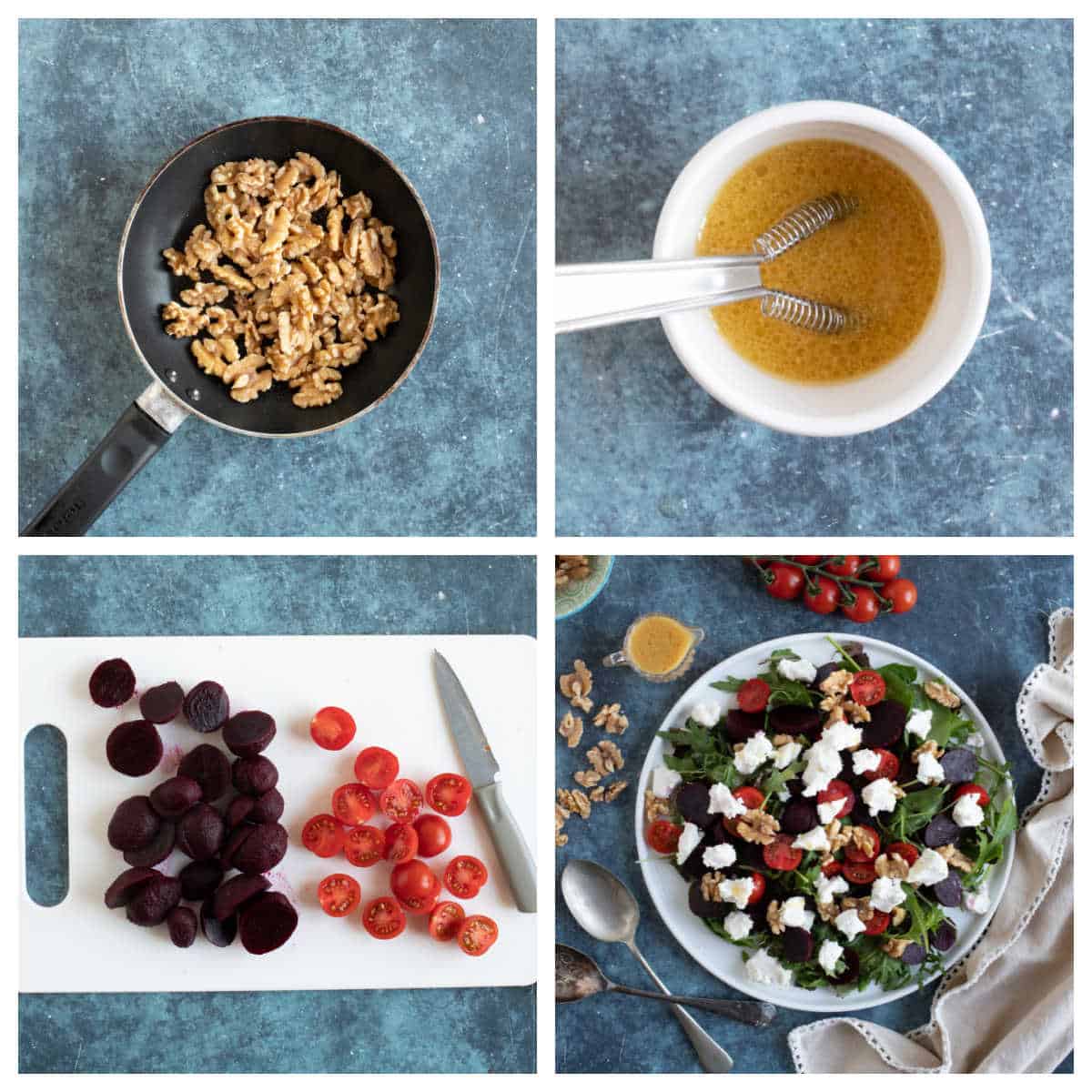 💭 Expert tips
Drizzle the dressing over the beetroot and goats cheese salad just before serving. If you do it too soon before serving, the salad leaves will wilt.
Make double the quantity of honey mustard salad dressing and store the extra in a sterilised jam jar in the fridge. It will keep for up to 2 weeks.
Always use extra-virgin olive oil for salad dressings, for a far superior taste and flavour!
Wear gloves when cutting the beetroot to prevent your hands from getting stained.
🍴 Serving suggestions
Serve the beetroot salad on its own, or with some fresh crusty bread or homemade focaccia (pesto focaccia would go well with it), for an easy light lunch.
I also like it with roast chicken, air fryer chicken breasts, salmon, or courgette fritters, for a more substantial main dish.
📖 Variations
This easy beetroot salad with creamy goats cheese is very easy to customise! Here are a few ideas.
Swap the walnuts for pecan nuts or hazelnuts.
Add cooked chickpeas or cannelini beans for added protein.
Swap the honey in the dressing for maple syrup.
Use feta or blue cheese instead of goats cheese.
Sprinkle over thinly sliced red onion for more flavour.
Use roasted golden beets, as well as red beets.
Add freshly squeezed orange juice or lemon juice to the salad dressing.
Sprinkle over pumpkin seeds or pine nuts for added crunch.
Add cooked green beans or roasted root vegetables to make the salad more substantial.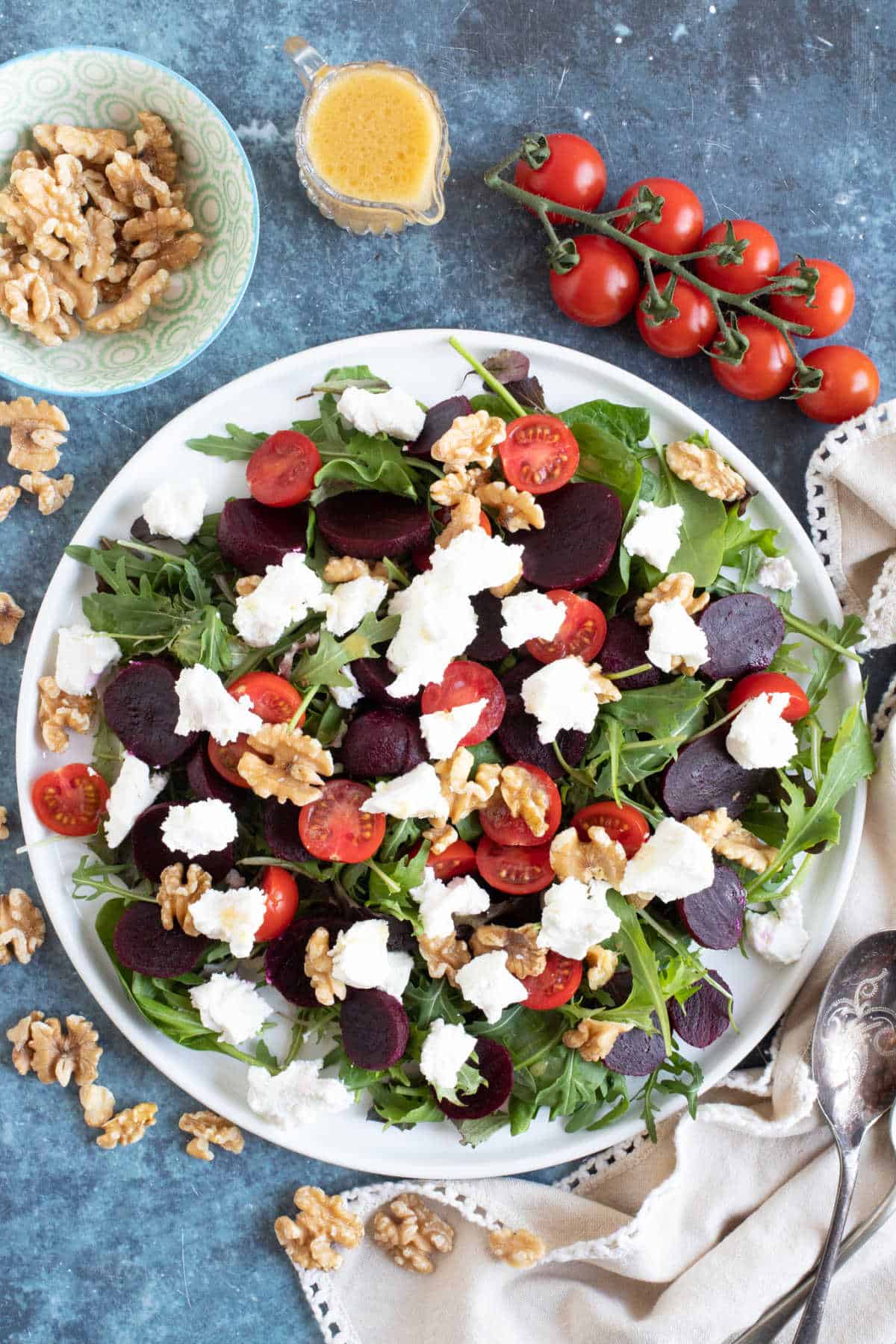 🥡 Storage
To Store: If making the salad ahead of time, hold back the dressing until you're just about to serve it, to ensure the salad leaves don't wilt. Leftovers can be kept in the fridge for up to 3 days.
❓ Frequently asked questions
😋 More salad recipes to try
Chicken Bacon Ranch Pasta Salad
Courgette & Feta Salad
5 Bean Salad
Prawn, Avocado and Mango Salad
Creamy Tuna Pasta Salad
Spicy Potato Salad
Herby Halloumi Couscous Salad
Honey Mustard Chicken Pasta Salad
Don't forget to subscribe to the newsletter to stay up to date with what's cooking in the Effortless Foodie kitchen! You can also follow me on Facebook, Twitter, and Instagram too!
Recipe
Please see more list about Goat cheese and beet salad dressing
Detail: 🔗