Broccoli salad has always been one of my top favorite summer side dishes. My childhood consisted of lots of family BBQs and this beautiful creamy salad was always on the picnic table. Now I'm keeping the tradition alive with my family. I make this salad for all my family gatherings or for family picnics. In addition, I also love my Jalapeno Popper Chicken Salad and my Bacon Ranch Chicken Salad.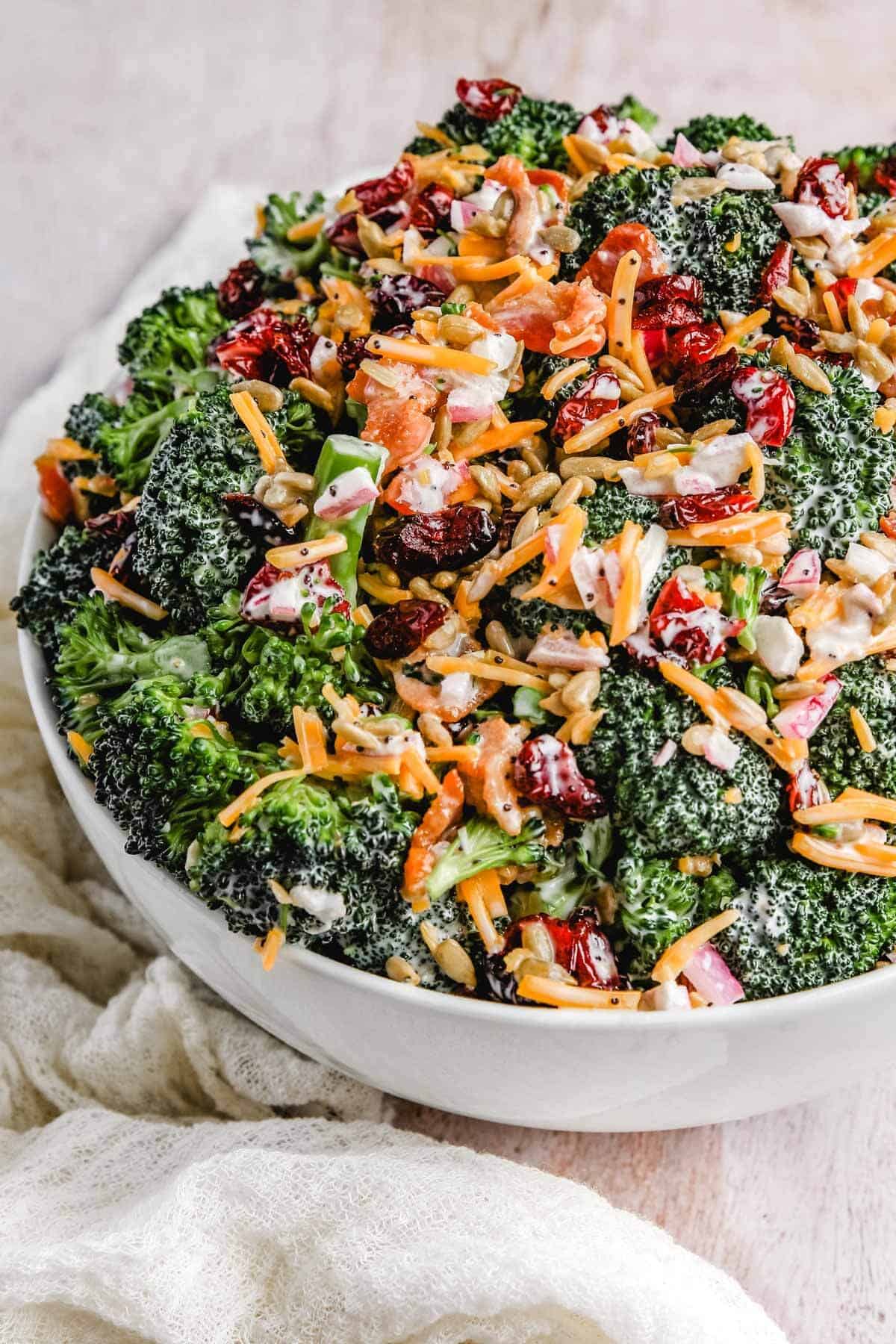 Ingredient Notes
Broccoli: Fresh heads of broccoli cut into florets with stems removed. No need to blanch, use it raw.
Dried Cranberries: Cranberries adds the perfect balance of sweet and tart to the recipe. You can also use raisins.
Bacon: For this healthy Cobb salad I like to use spring mix, but you can use whichever greens are your favorite.
Cheddar Cheese: This cheese adds a great mild nutty flavor that goes perfect with the sweetness of the dressing and cranberries.
Red Onion: I slice my onions into thin matchsticks, however, you can also dice them.
Toasted Sunflower Seeds: Adds the perfect salty crunch to the salad.
Creamy Poppyseed Dressing: This salad is the shining star in this recipe. It is the perfect balance of sweet, creamy and tart.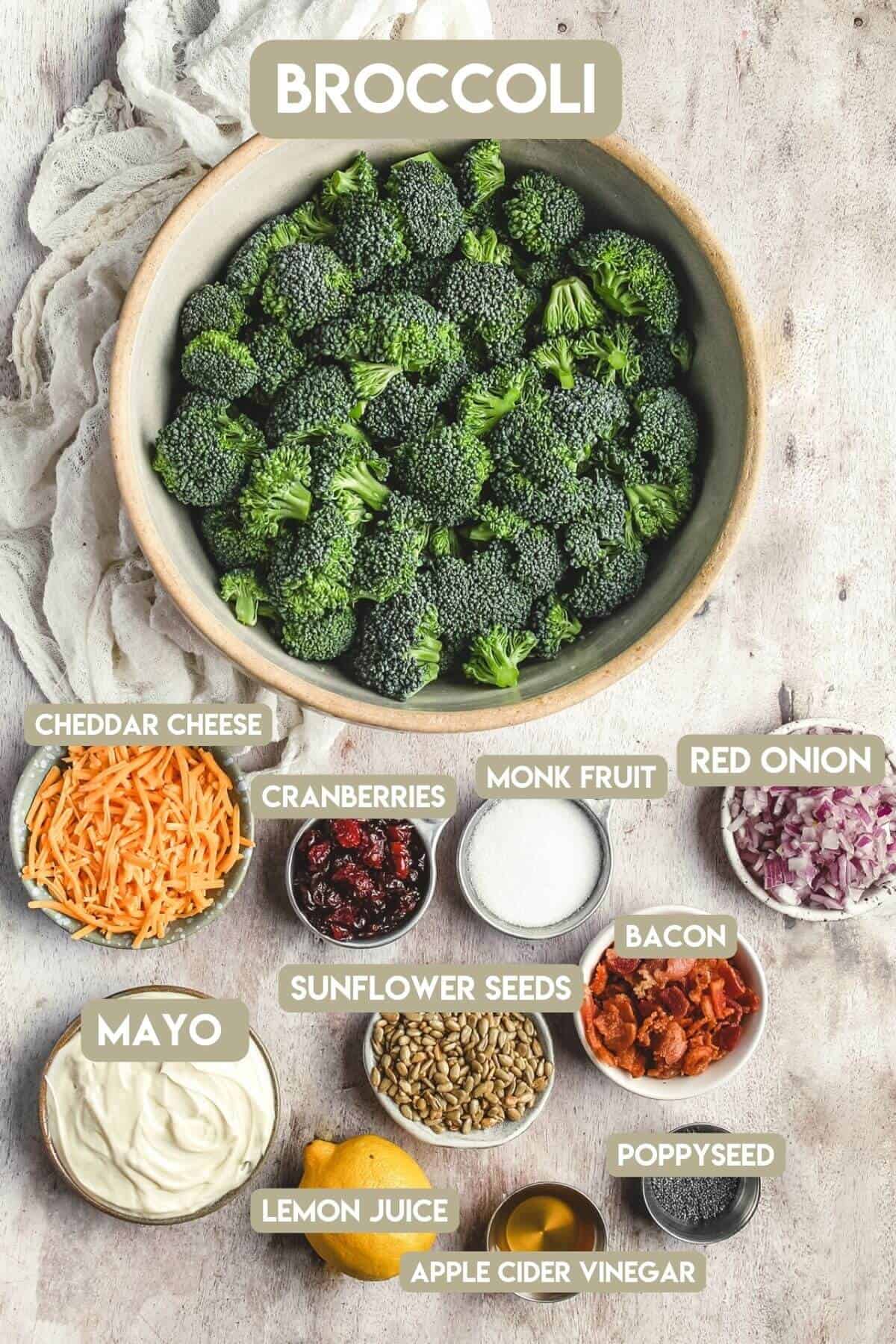 How To Make Broccoli Salad
Toast Sunflower Seed: Add a small skillet over medium heat. Add in the sunflower seed and cook until warm and toasted. About 3 minutes. Make sure to keep a close eye on them so they don't burn.
Make The Dressing: In a medium bowl add the mayo, lemon juice, apple cider vinegar, monk fruit (or sugar), salt, and pepper. Whisk together until smooth. Add in the poppy seeds and mix together until combined.
Assemble The Salad: In a large bowl, add the broccoli florets, cheddar cheese, craisins, toasted sunflower seeds, and cooked crumbled bacon. Pour the dressing over all of the ingredients and toss together with a wooden spoon until combined.
Serve: Serve the salad immediately or for best results allow it to chill in the refrigerator at least 2 hours before serving.
What Pairs With Broccoli Salad
When I think of this salad, I think of a warm spring or summer BBQ. However, you can use this simple and easy broccoli salad anytime throughout the year. Whether it be a BBQ or even a simple weeknight family meal, this salad is sure to hit the spot. Below are my favorite pairings.
BBQ: Think all things off straight the grill: Hot dogs, ribs, pork shoulder, and hamburgers.
Chicken: Grilled, baked, or roasted chicken.
Chicken Wings: Baked, grilled, or air-fried wings.
Fish: Salmon, trout, cod, or mahi-mahi.
Poppy Seed Salad Dressing:
The poppy seed dressing is the shining star in the recipe. It has the perfect balance of creamy, sweet, and tart. Not only is it absolutely delicious, but super simple to make. I use mayo as the base, but you could also use Greek yogurt. Then, I had lemon juice, apple cider vinegar, monk fruit or sugar,
Recipe Variations:
Lightened Up Version: If you are needing to lighten up this salad, simply swap Greek yogurt for the mayo. You can even remove the cheese if needed. I have had it without cheese before and it still tastes amazing.
Dairy-Free: Use either a vegan mayo or my homemade dairy-free mayo and swap out your favorite dairy-free cheese for the cheddar.
Vegan: Simply swap the regular mayo for vegan mayo and the cheddar for your favorite vegan cheddar cheese.
Low Carb/ Keto: To make this broccoli salad low carb, use mayo and not Greek yogurt, and also remove the cranberries.
FAQs
More Delicious Salads
Chicken Cobb Salad
Keto Bacon Ranch Salad
Jalapeno Popper Chicken Salad
Asian Chopped Salad
Steak Strawberry Salad
Print
For more information please see the list of Broccoli salad with poppy seed dressing
Detail: 🔗