A delicious and cozy recipe, this Chicken Stew recipe comes together with only a few simple ingredients. This is a hearty and flavorful recipe that the whole family will love. Chicken thighs, drumsticks, carrots, and potatoes all cooked up in one pot, this recipe is foolproof.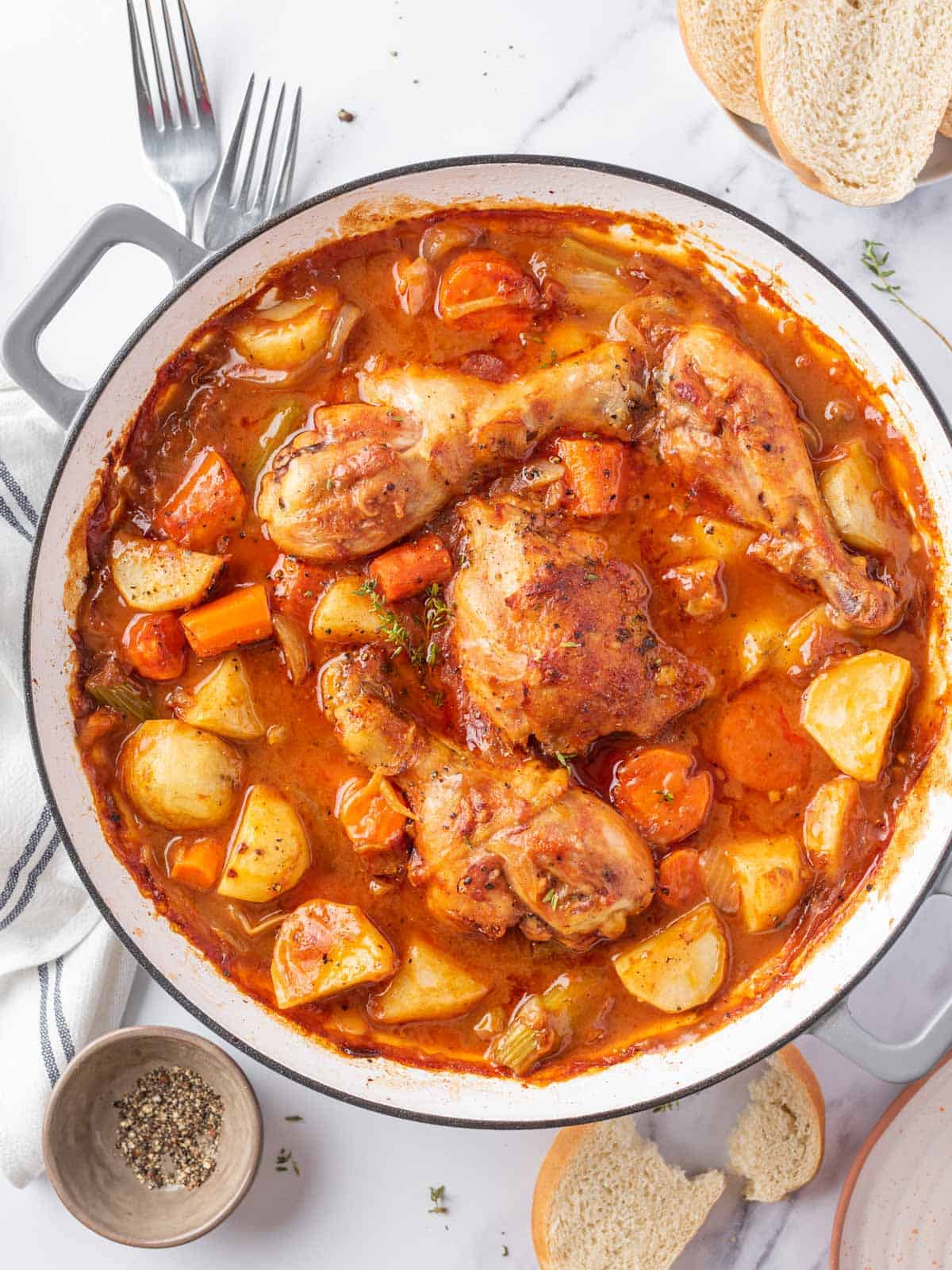 This hearty one-pot chicken stew comes together so easily. All you have to do is saute some ingredients together then it goes into the oven. I love how most of the cooking is hands-off so it frees up time for me to take care of the fifty other things on my to-do list. Even better, since it's all made in one-pot, cleaning up takes next to no time.
Want to make another comfort dish like my chicken stew? Try my Beef Stew or Kafta and Potato Stew. They are perfect for a cold day!
Why You'll Love This Chicken Stew Recipe
Super hearty. Loaded with potatoes, carrots, and chicken, this is such a filling meal, perfect for the hungriest of family members.
Packed with flavor. Seasoned with garlic, herbs, and a hit of umami with Worcestershire sauce, this is a rich and delicious chicken stew.
An easy chicken stew. A one pot meal that comes together so easily and can feed many mouths!
Stew Ingredients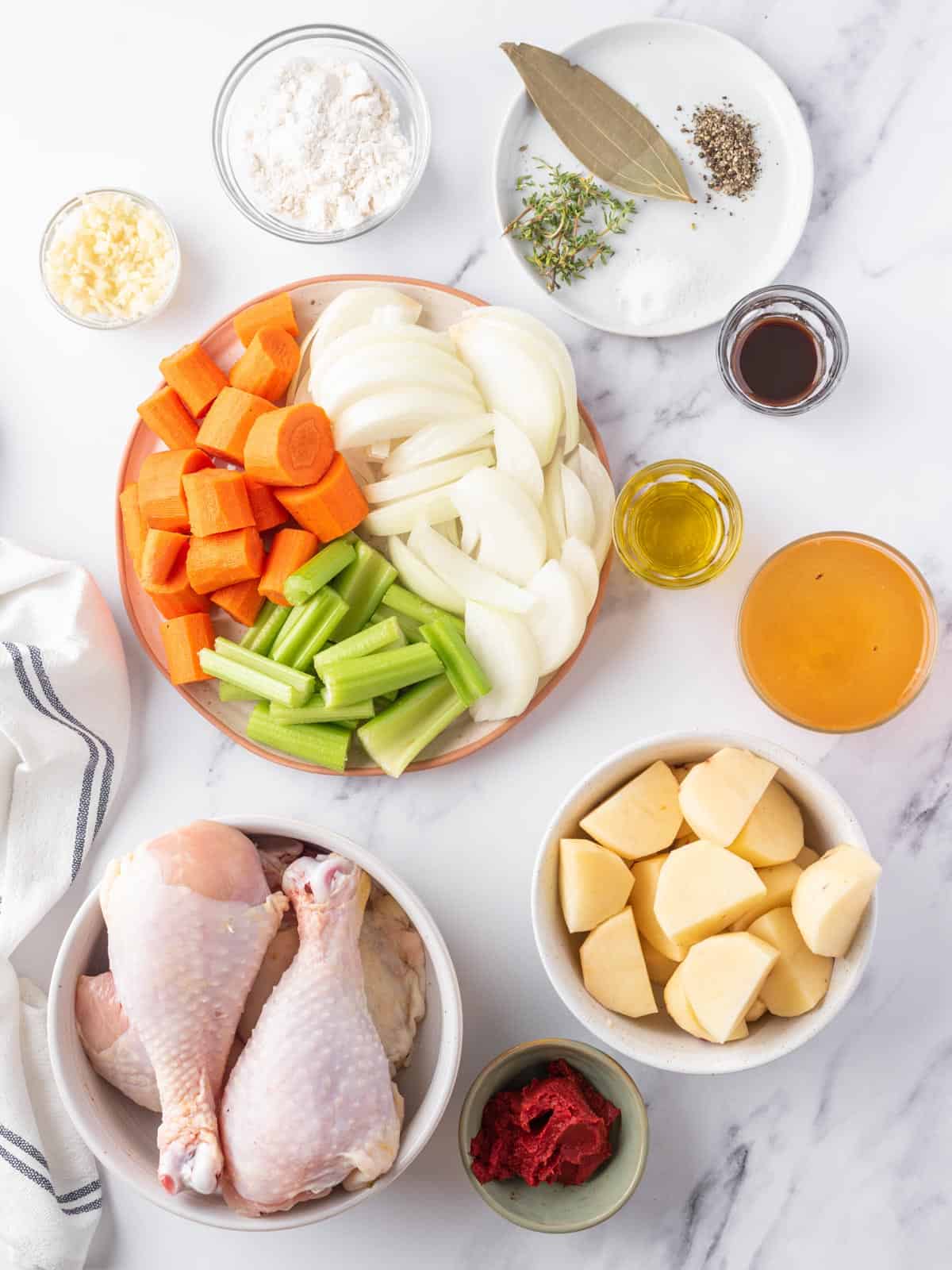 Olive oil – or your choice in oil.
Chicken – I use thighs and drumsticks with the skin-on and bone-in.
Seasoning – I season with salt, pepper, bay leaf, and thyme.
Aromatics – I use garlic, onion, carrot, and celery.
Flour – regular all-purpose flour is fine for this chicken stew.
Tomato paste – not tomato sauce. I like Hunts.
Worcestershire sauce – this is a fermented liquid condiment that adds umami flavor to the stew.
Chicken broth – try to use low sodium chicken broth.
Golden Potatoes – golden potatoes, peeled and halved.
How To Make Chicken Stew
Preheat the oven to 350F.
Sear the chicken: Heat an oven-proof wide pot over a medium heat. Add oil and sear the chicken pieces for 2-3 minutes until light brown and season the chicken with salt and pepper. Once done transfer the chicken pieces to a plate and keep them aside.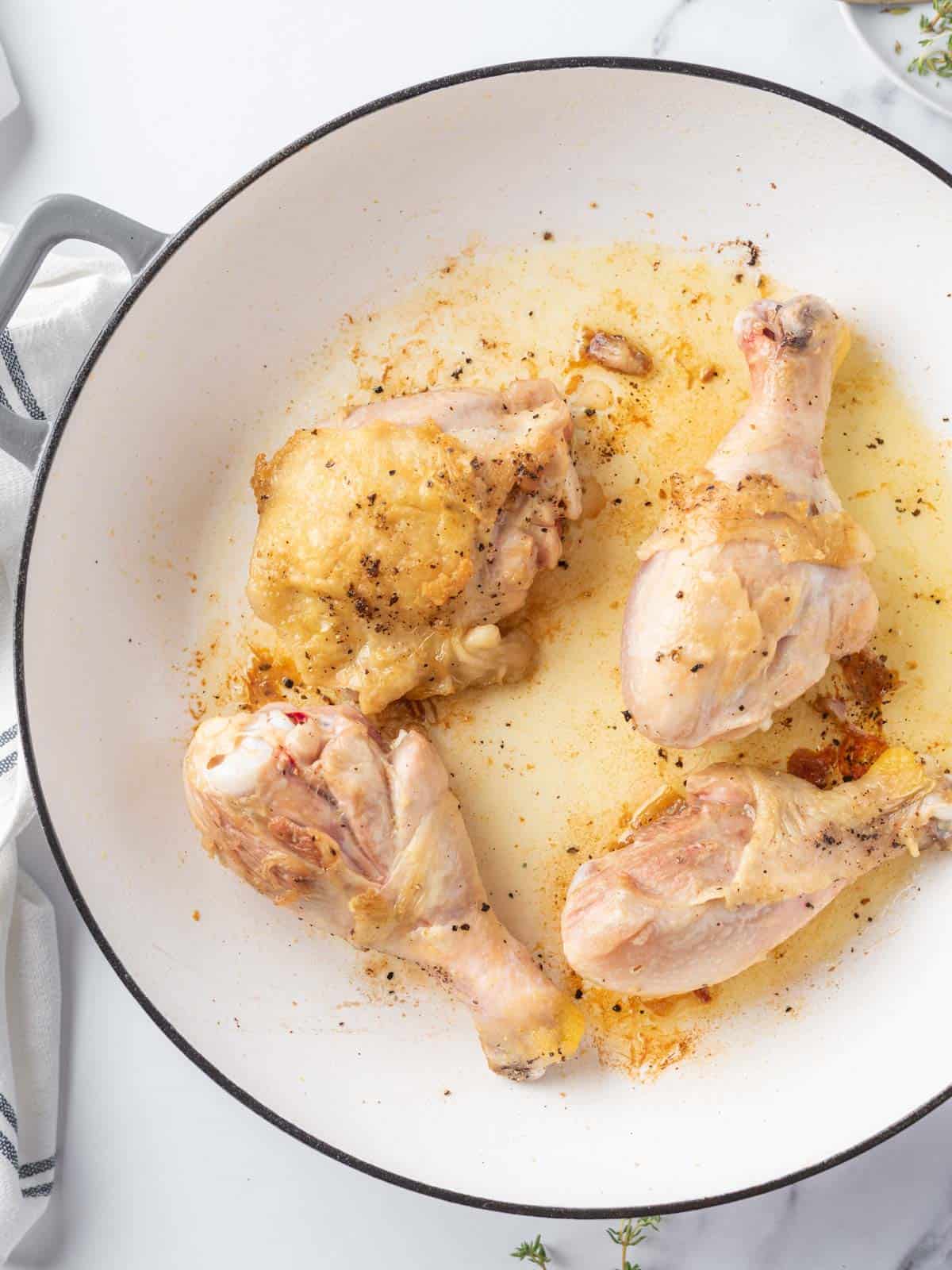 Saute the aromatics: To the same pot add garlic and onion and cook for 2-3 minutes until the onions turn translucent. Add in the carrots and celery; cook for 1 more minute.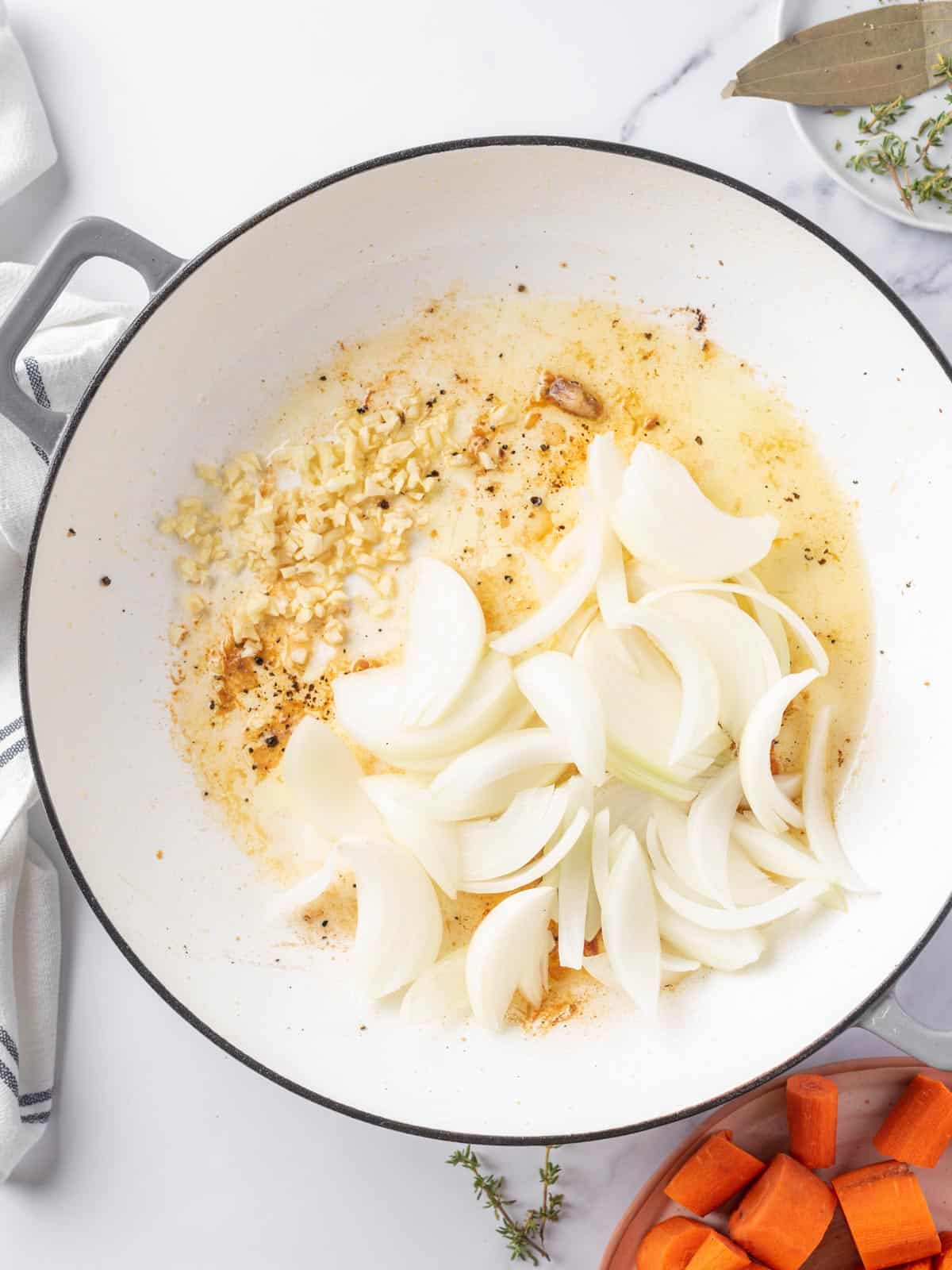 Add in the rest of the ingredients: Sprinkle flour and mix it with the veggies. Add tomato paste, Worcestershire sauce, bay leaves, fresh thyme, and chicken broth. Stir until everything comes together.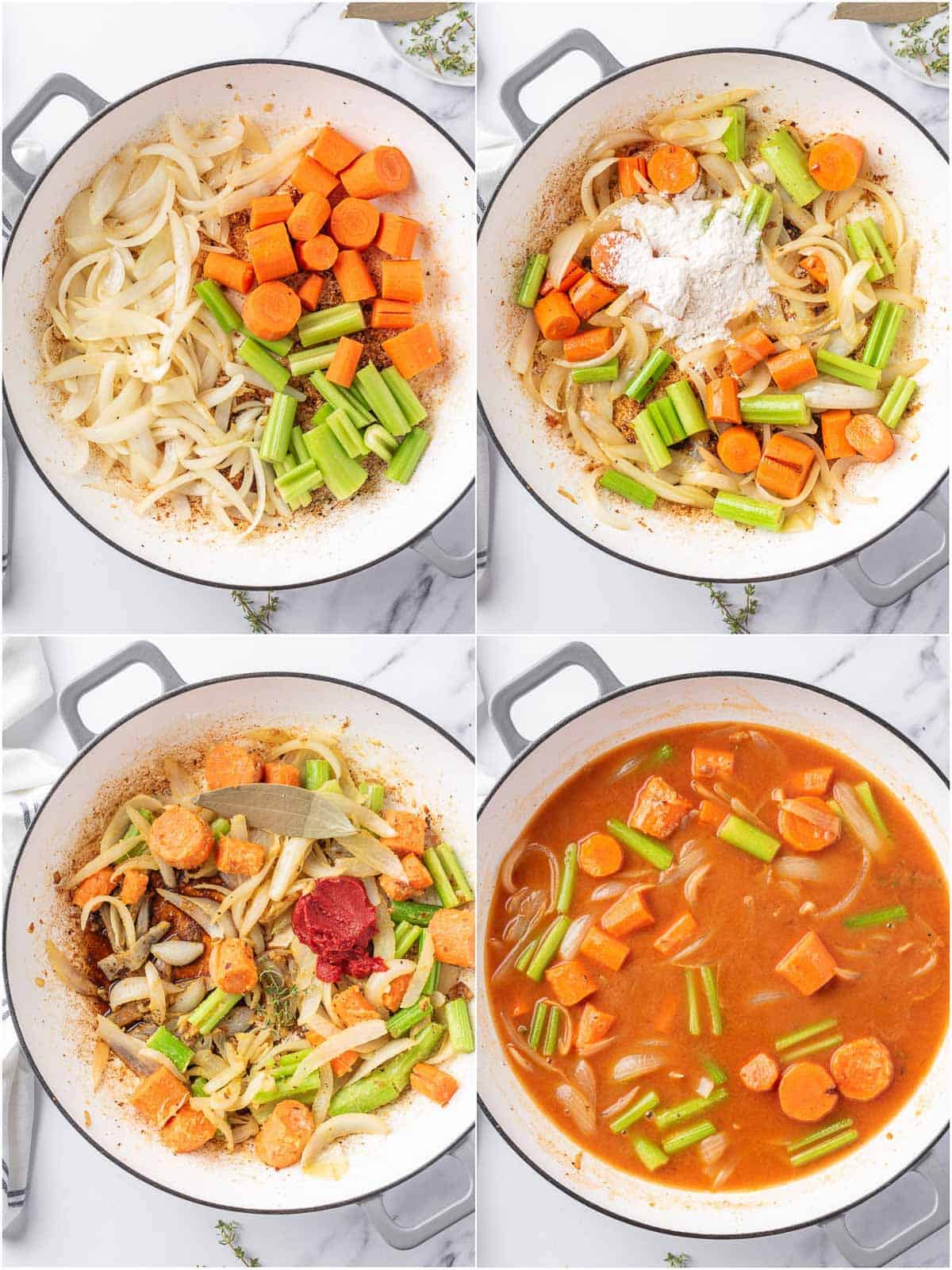 Add the chicken back and bake: Arrange the chicken pieces on top of the veggies and then bake for 40 minutes. Remove the lid and add the potatoes and bake again for 40-45 minutes without the lid until the potatoes and chicken have criped up and are cooked through.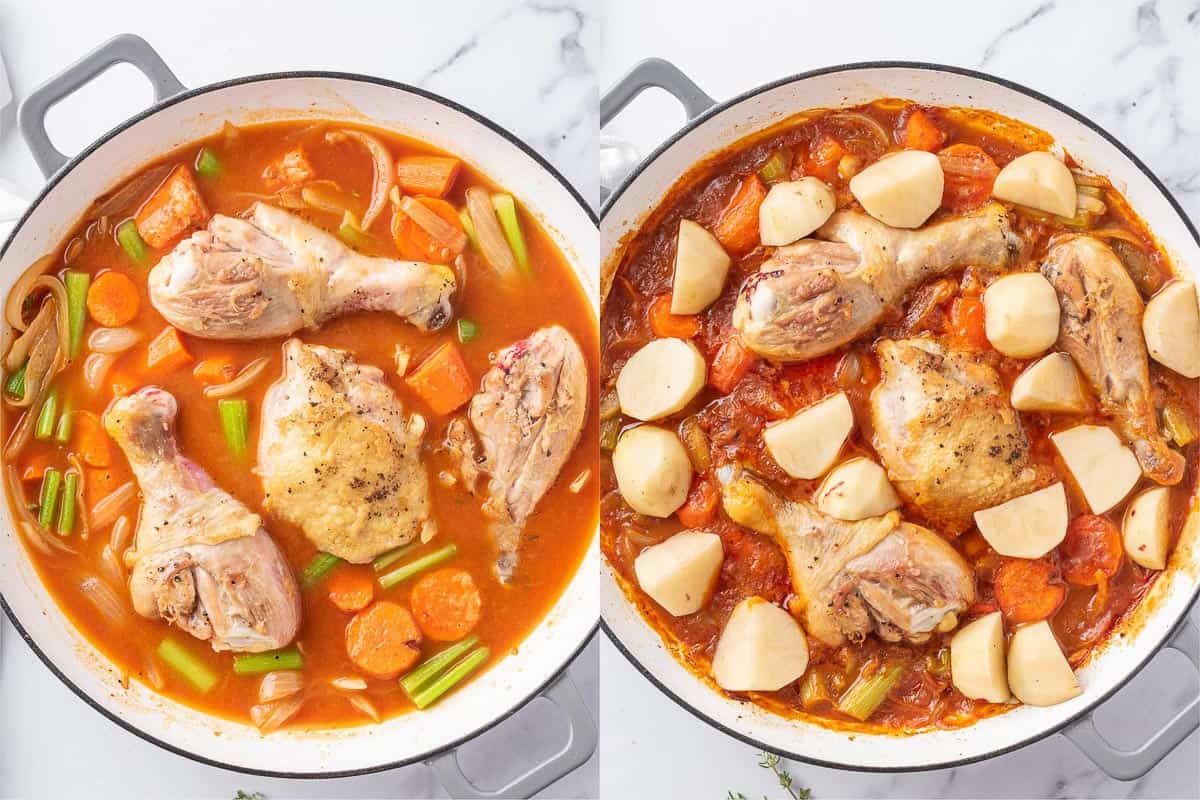 Serve: Serve the chicken stew while it is still warm along with some bread slices on the sides.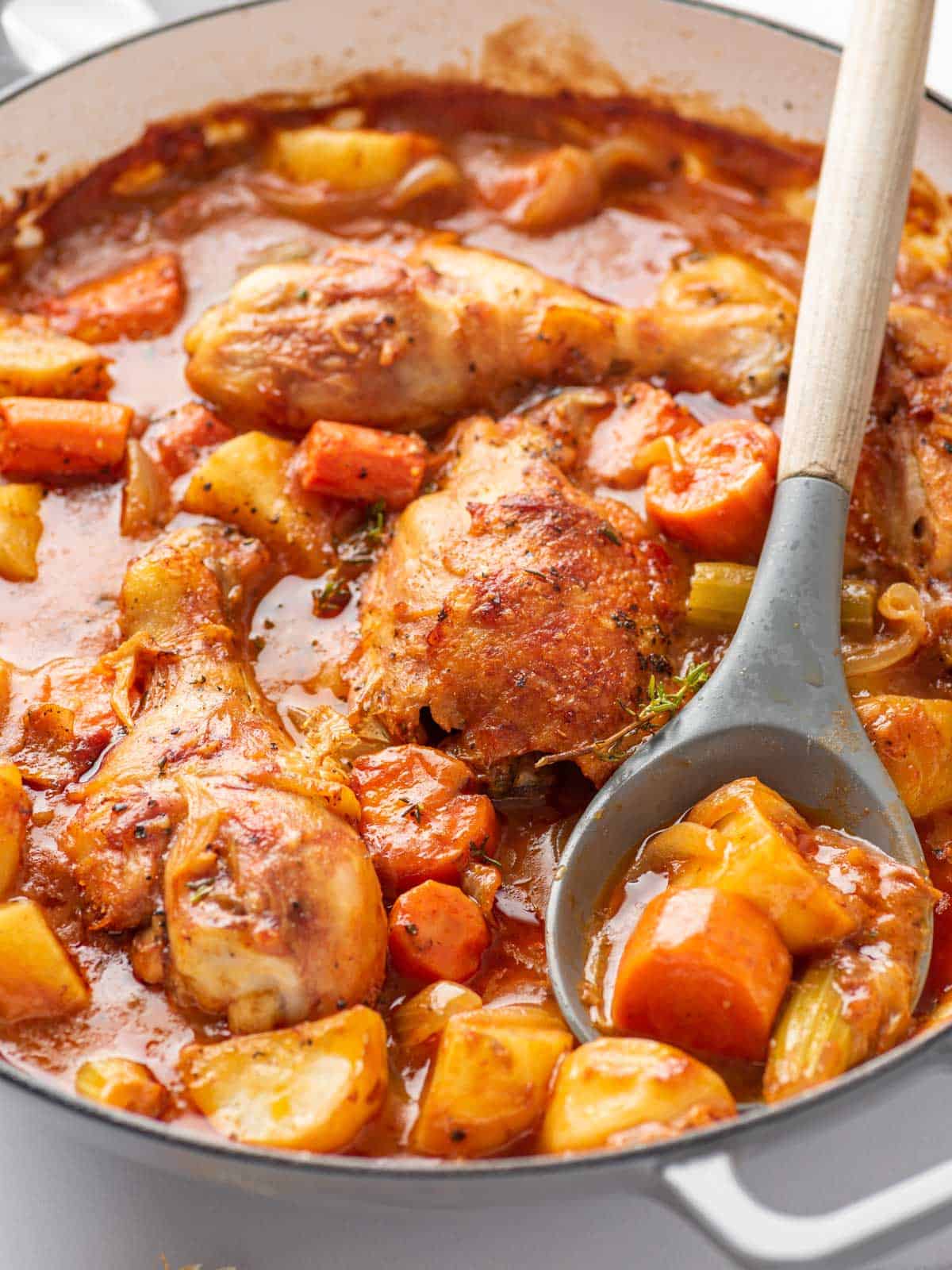 Tips and Notes to make this Healthy Stew Recipe
There's no need to cook the chicken through, you just want the caramelization and flavor from the searing. The chicken will continue to cook through in the oven.
I do not recommend swapping the chicken thighs and drumsticks for breasts. They will not be as tender and flavorful and the chicken breasts will dry out.
If you do not have fresh herbs, you can use dried herbs instead.
I recommend using a Dutch oven as it distributes the heat well.
Cook your aromatics low and slow. You want to get all the flavor out of your onions and garlic, so cook them on a lower heat otherwise they will burn.
You can sear the chicken in batches so you don't overcrowd the pot.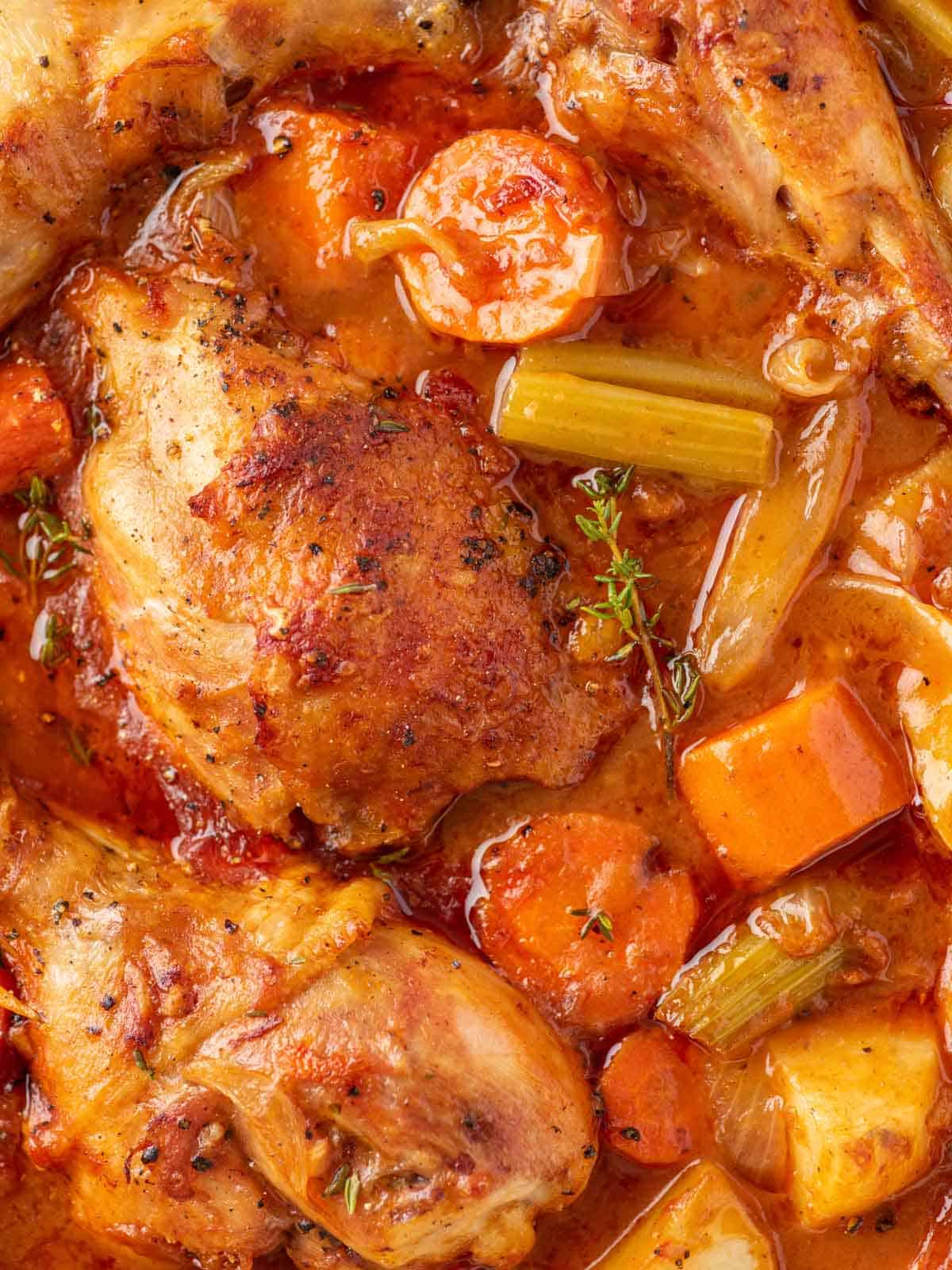 Frequently Asked Questions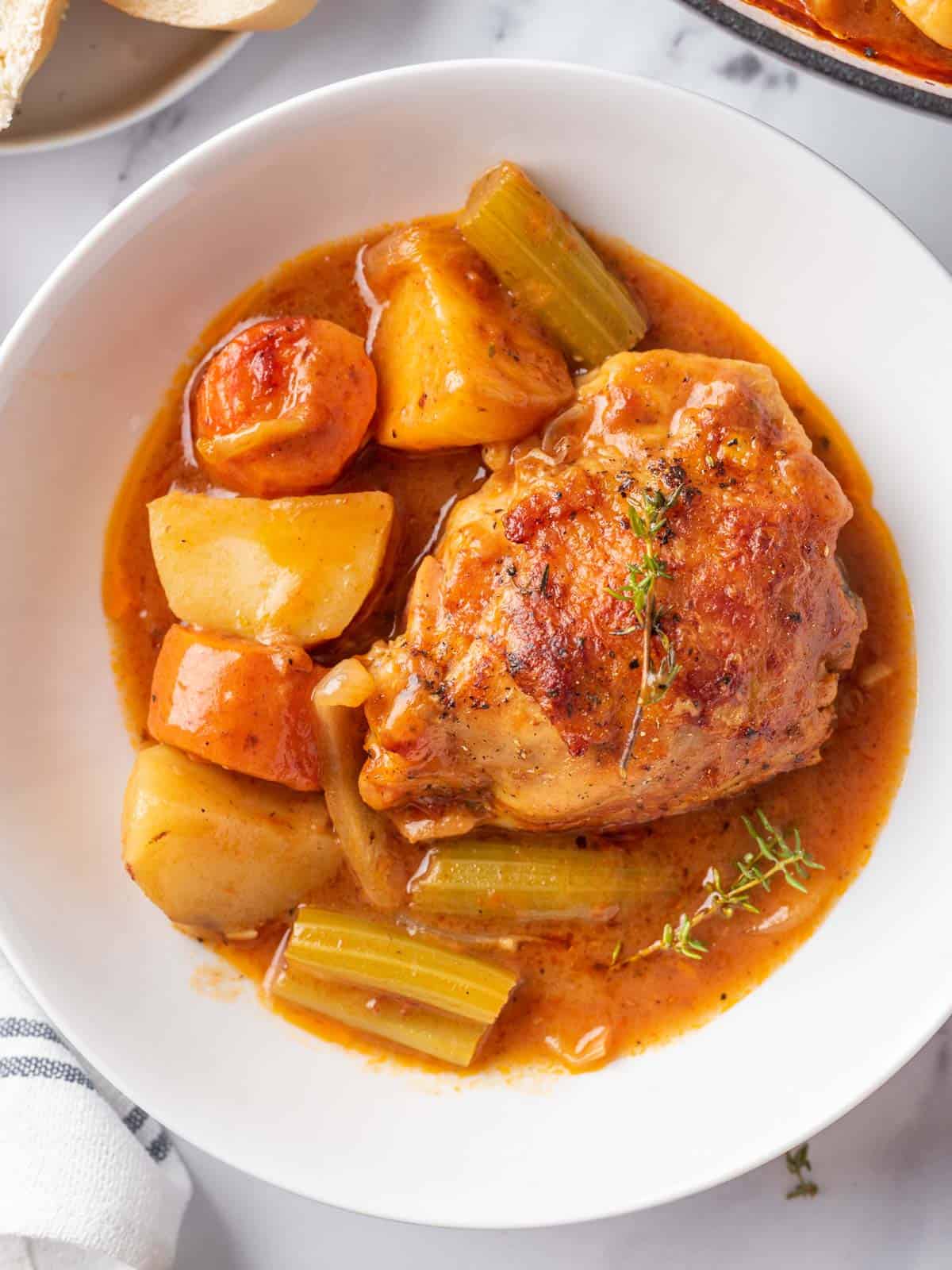 More Chicken Recipes to Try
Best Chicken Enchilada Soup
Lemon Chicken Rice Soup
Chicken Lentil Soup
Lemon Chicken Orzo Soup
Creamy White Chicken Chili
Lemon Herb Mediterranean Chicken
I hope you enjoy all the recipes I share with you, including this delicious and easy Chicken Stew recipe. I hope you try it, enjoy it, rate it, and share it with your friends and family!
If you try this recipe and liked it, please leave a star rating and comment below. Use my hashtag to share it with me on INSTAGRAM So I can see your delicious recreations! Also, follow me at Cookin' With Mima on FACEBOOK |INSTAGRAM |PINTEREST for all of my latest social posts and recipes.
Through this article, we hope to help you understand Bone in chicken stew recipes
Detail: 🔗