Chinese Cucumber Salad (拍黄瓜, pai huang gua) is a light and refreshing appetizer. The crisp cucumber is mixed with plenty of garlic, drizzled with an appetizing blend of soy sauce, vinegar and sugar, then finished with a few drops of sesame oil. The sauce is light, yet it has a distinct sour flavor with a hint of sweetness, enhanced by the strong aroma of garlic.
The cucumber salad is a dish I've been eating since childhood. It's one of those easy dinner rotation dishes that my mom makes all the time, especially when it's hot and humid outside and she doesn't want to turn on the stove to cook stir fry.
This cucumber salad only takes 5 minutes to prepare. It's refreshing and tasty. The salad goes very well with pretty much any Chinese dish. Stir-fry, braised meats, noodles, and deep-fried goodies. You name it! It even goes very well with some Western-style food, such as bread and cheese. I consider it one of the easiest side dishes to make on a busy weekday, to add color and nutrition to your dinner table.
The secret to making the best cucumber salad
1. Use English cucumbers
English cucumbers have a thinner skin and crispier texture. They work so much better in this salad than the dark-skinned American cucumbers. The smaller cucumbers (usually for making Japanese dishes and/or pickling) also work well.
I didn't peel the cucumber skin, in order to give the dish a nice color. Plus, the skin adds more fiber to the meal. If the cucumber is fresh, the skin shouldn't be too chewy or dry. You could choose to only remove the tough skin at the lower end of the cucumber. However, if you don't like the skin, feel free to peel and discard it.
If you use the American cucumber that has waxy and thick skin, do peel the skin before making the salad.
2. Smash the cucumber before cutting
The secret to making delicious cucumber salad is to give the cucumber a coarse texture so it holds more sauce. Instead of chopping the cucumber, smash it with a cleaver first. Then tilt the cleaver to cut the cucumber into diamond-shaped pieces. This method will increase the surface area of the cucumber and create nooks and crannies, allowing it to absorb more sauce. If you do not own a cleaver, a meat pounder works just as well.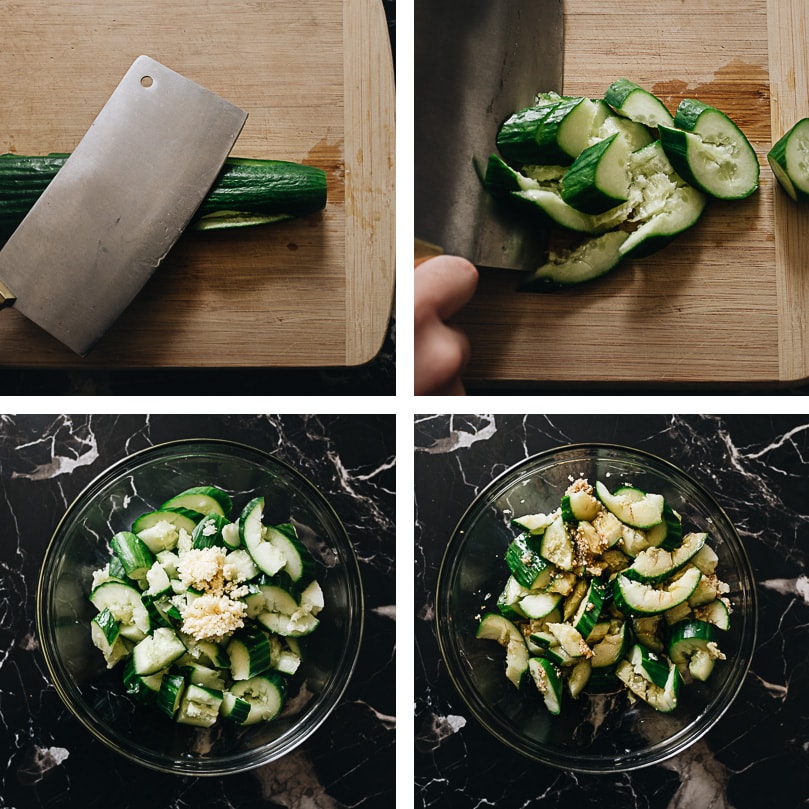 3. Use Chinkiang vinegar
Chinkiang vinegar (Zhenjiang vinegar, 镇江香醋) is a type of Chinese black vinegar. It is made from various grains and is aged until the color turns dark brown or inky black. It has a rich, pungent, and tart flavor, sometimes with a hint of sweetness. It has a fermented malty taste and woody character that distinguishes it from the light-colored and fruity rice vinegar.
It's a key ingredient in this recipe that gives the sauce an extra tangy and rich taste.
4. A bit of chili oil goes a long way
I love to drizzle a bit of homemade chili oil onto my cucumber salad. It adds a nice smoky aroma to the dish and really enhances its taste.
If you happen to have a jar of Lao Gan Ma Chili Crisp, that's even better! It is a famous (and extremely popular) Chinese brand that sells their chili oil that's filled with crispy onion, chili peppers, and garlic. It's not the healthiest ingredient, but it will make your salad addictively tasty. If you're hosting a dinner party, serve the cucumber salad with some Lao Gan Ma Chili Crisp. Your side dish might be gone faster than your main dish!
More easy delicious Chinese veggie recipes
Steamed Eggplant in Nutty Sauce
Stir-Fried Pea Shoots with Garlic
Spinach and Peanut Salad
Traditional Chinese potato salad
Stir-Fried Water Spinach – Two Ways
If you give this recipe a try, let us know! Leave a comment, rate it (once you've tried it), and take a picture and tag it @omnivorescookbook on Instagram! I'd love to see what you come up with.
The recipe was published by Mar 15, 2014 and updated on Sep 1, 2019.
Through this article, we hope to help you understand Recipe for asian cucumber salad
Detail: 🔗