Best rice Crockpot chicken casserole recipe. Creamy and delicious with Campbell's soup and vegetables is the perfect one pot meal for everyone.
Cheesy Crockpot chicken and rice
I suppose you could use noodles instead, that is on my list of to trys soon. I will add that alternative if and when I get around to it too. 😉
Let's talk a little bit about slow cooking shall we?? First off I have a few different varieties and I love them all. Each one has an occasion to be used like….
Reading: Slow cooker chicken stew with rice
This is my favorite 6 quart programmable one with a locking lid so it's great for bringing to a potluck too.
If you just want to serve a few appetizers you should get this one that sit side by side one another.
I prefer not to use liners, but rather just spray olive oil inside before adding my food for easier cleanups.
Let me give you a peek of my pretty thang I bought recently. It goes with my kitchen so I can just leave it out on the countertop all the time. 😉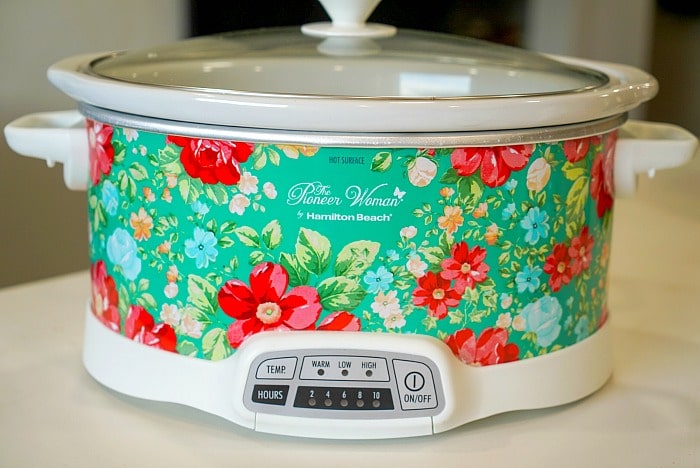 We eat a lot of this white (or brown) meat. It is fairly inexpensive and my 3 girls would choose it over many others, so there's that.
I have used chicken thighs and breasts to make this, both are great.
Can you put raw chicken in a casserole?
Yes, I have time and time again. The most important part is to check the internal meat temperature once it is done.
As long as it reaches the min. temp. in the thickest part then you're safe. It wasn't cooked in many of our other Crock pot chicken recipes here either.
Read more: Sweet Potato and Lentil Curry Recipe for Slow Cooker
How do I choose what I am going to use? I am pickier with chicken than I am with beef. I personally think organic free range has a much better texture and far less fat so that is where I start.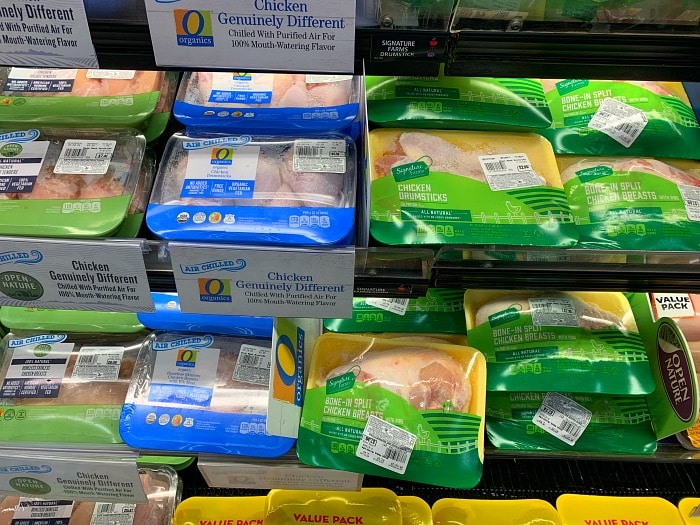 From there, I see whether chicken breasts or thighs are cheaper per pound. I'm frugal so I typically choose the cheaper version and there ya' go…..
Slow cooker chicken casserole
Ingredients you will need are simple. You probably have what you need already. Frozen vegetables are are optional of course but do add some texture and flavor to the overall meal.
Chicken

you can make Crockpot frozen chicken if you're batch cooking

Uncooked long grain white rice
Chicken broth
Cream of chicken soup

canned or homemade cream of mushroom can be used as well

Frozen vegetables

mix of green beans, corn and carrots works well

Cheese
Onion
Salt and pepper
Garlic powder
If you are still hesitant to use raw meat you could opt for precooked canned chicken, or make Crockpot tuna noodle casserole instead.
Crockpot Chicken and Vegetables
Super family friendly it is on our list of cheap easy Crockpot meals. You can find more on there after you fall in love with this one. It's a family favorite of ours.
If you're new to slow cooking it really is a game changer. Yes I do make a lot of Instant Pot recipes too and they're so quick. Sometimes though I'm ready to go old school and not worry about longer cooking times.
When it comes to larger cuts of meat I do kinda' prefer slow cooker recipes anyway. Low and slow is the way to go to get meat really tender.
Cut into smaller chunks like we did her and it just falls apart. Pure comfort food.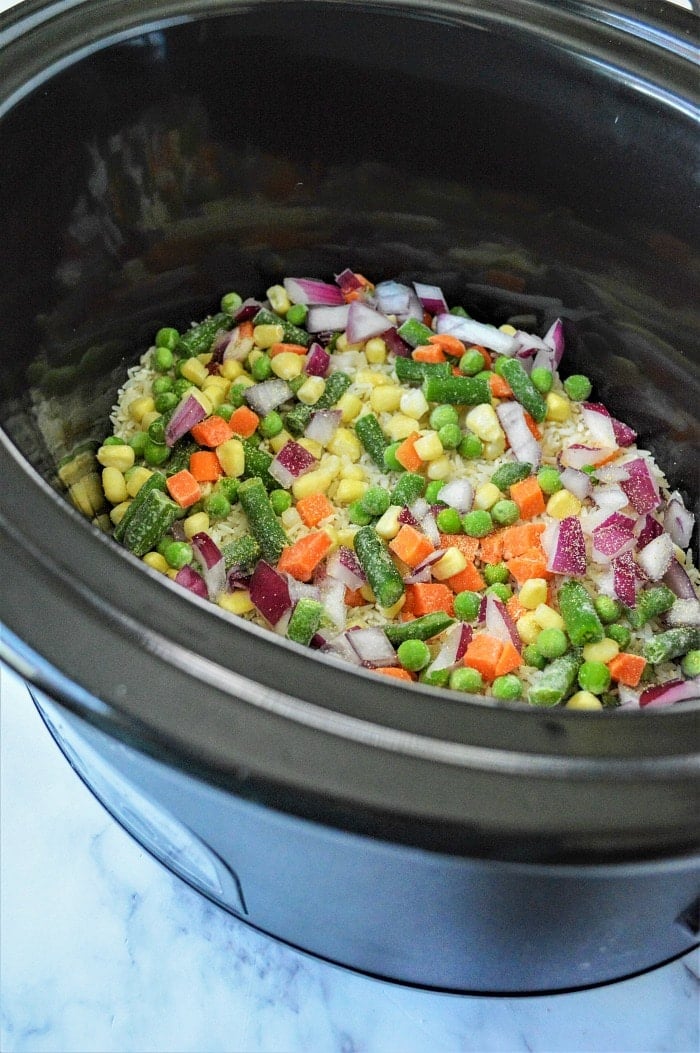 Crockpot chicken and rice casserole
What you'll need to do in the morning for this dump and go recipe is quite simple. Get everything out and just stir it together. If you're looking to leave for the entire day though, this probably isn't one to make.
Read more: Old Fashioned Brunswick Stew | Cookies and Cups
You do have to keep a bit of an eye on it when it's done so the rice doesn't overcook.
Add uncooked rice, frozen vegetables, diced onion, and garlic salt into your pot. In a bowl whisk together broth and cream of chicken soup until smooth, pour this into your slow cooker and stir everything together.
Put cubed chicken on top, sprinkle with salt and pepper
Cover and cook on high 3.5-4 hours until chicken is cooked thru and rice is tender, low for 6-7 hours is an option as well.
Fluff rice in pot and serve in bowls with shredded cheese on top.
If it does it will get a bit mushy vs. making our Crockpot pulled pork recipe that can stay on low for quite some time.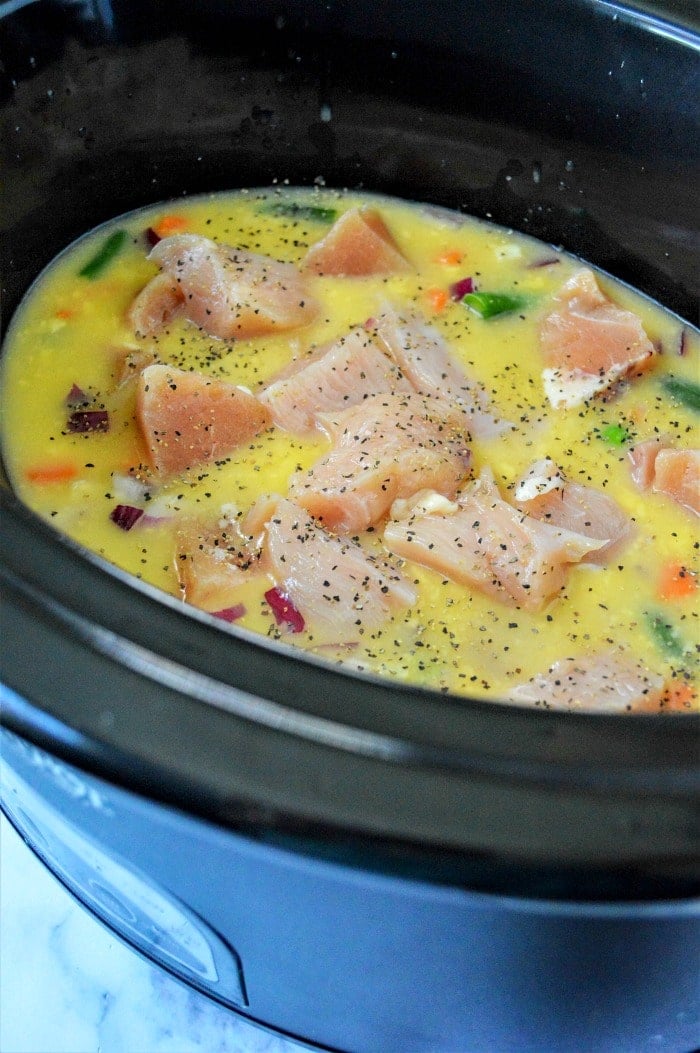 Is it better to slow cook chicken?
As opposed to setting it to high, yes low and slow is always best. To get that creamy chicken casserole texture it is best to let it absorb slowly. Rice cooks better that way anyway, unless you're making Instant Pot rice.
Is 4 hours on high the same as 8 hours on low?
Technically yes. If you're in a hurry you can adjust to half the time on a higher setting BUT depending on what it is it may not cook evenly. Many times the edges will get rather brown while the middle is not done enough on high.
How long can chicken and rice stay in fridge?
The general rule is 3 days. First allow chicken rice casserole to reach room temperature. Then store in an airtight container or storage bag. Reheat in microwave stirring, in 30 second intervals until warm enough to eat.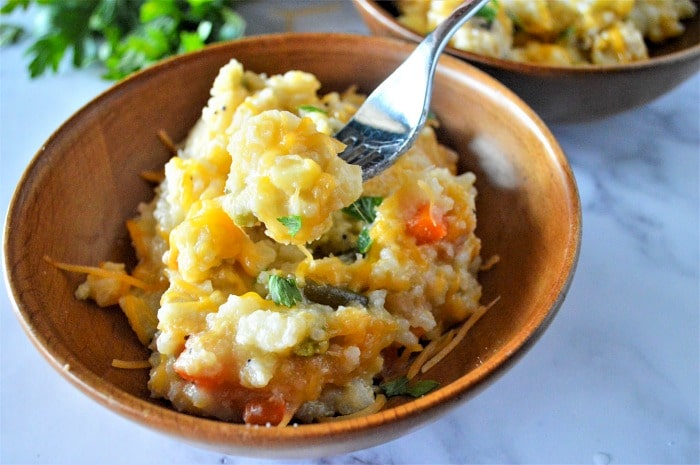 Want more easy recipes similar to this one? We have one that is just like this but done in under 30 minutes below too!
For a healthy meal low in saturated fat, try our Crockpot chicken cacciatore recipe.
Slow cooker teriyaki chicken wings are a favorite around here.
Crockpot cheesy chicken and rice omits the veggies and uses bone in chicken thighs if you'd prefer that.
You can print recipe below or just come back and get it the next time you want to make it too. We love seeing you when you do.
Read more: The top 14 mexican recipes with stew meat
Please see more list about Slow cooker chicken stew with rice
Source: https://temeculablogs.com/crockpot-chicken-casserole/