The fresh flavors in this Cucumber Tomato Salad scream Summer! Crisp cucumbers, juicy cherry tomatoes, and red onions are tossed in an easy homemade tangy vinaigrette to create this classic light summer side dish.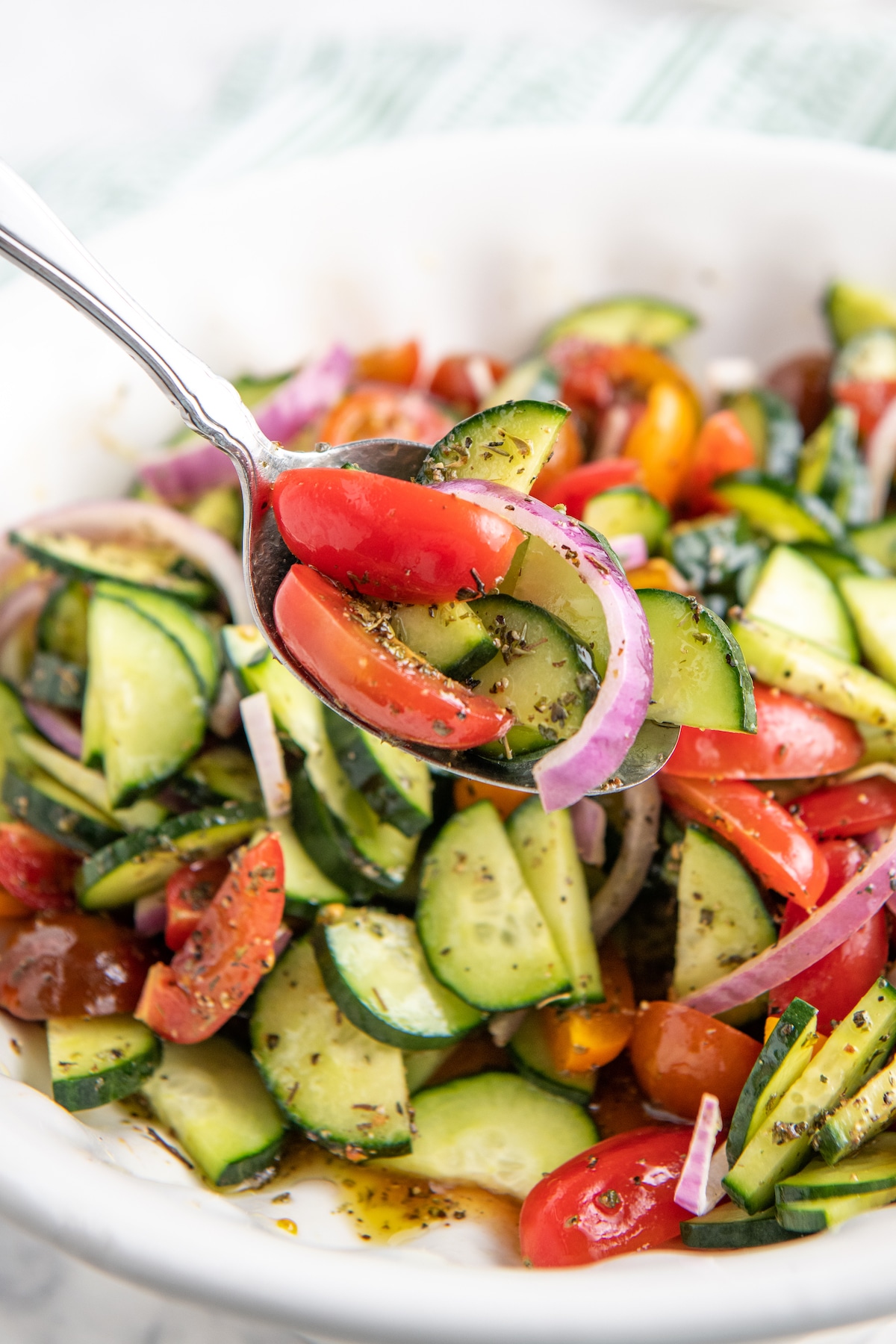 Easy Cucumber Tomato Salad In 10 Minutes
We love serving this refreshing Cucumber Tomato Salad as a side dish, at potlucks, and even as a light lunch. No matter how or when you choose to enjoy it, you're going to fall in love with this easy to make summertime salad! It's filled with fresh flavor and simple, yet mouthwatering ingredients.
What really makes this simple salad stand out is the homemade dressing. While the cucumbers, tomatoes, and onions are definitely delicious all on their own, it's the dressing that elevates it. With that being said, the dressing is delightfully simple! We like to keep the dressing simple here so the natural flavors of the veggies are enhanced, not overpowered. It's a mixture of olive oil, red wine vinegar, Italian seasoning, and just a pinch of salt and pepper.
This easy tomato cucumber salad is ready in just 10 minutes and travels very easily for a party. So grab your fresh veggies and a mason jar and let's get started!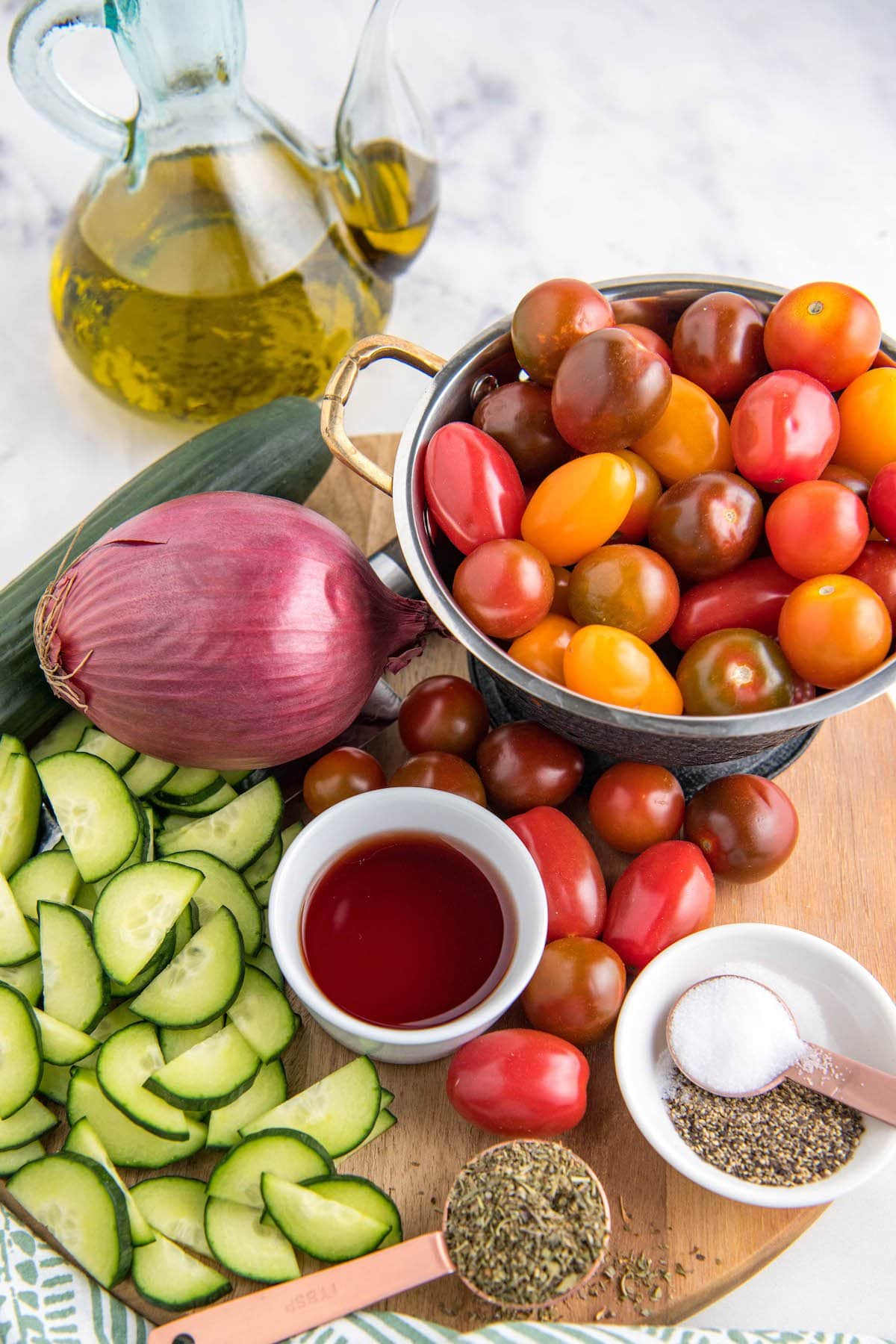 Ingredients for Cucumber and Tomato Salad
Cucumber – Make sure your cucumber is fresh! You don't want any discoloration or soft spots on your cucumber.
Cherry Tomatoes – You can use any kind of tomatoes you like, but I prefer cherry tomatoes because they don't have as much juice.
Red Onion – You can also use a shallot, but do NOT substitute this red onion with a yellow or white one! Red onions are less over powering, which makes them perfect for this recipe.
Olive Oil – Try to use a good quality olive oil. Since it's a simple dressing, the flavor of the olive oil will stand out.
Red Wine Vinegar – The signature sharp tang of this vinegar is necessary for this vinaigrette dressing.
Italian Seasoning – Add an extra sprinkle of this seasoning to the salad if you really like that herbaceous taste!
Salt – Try not to go overboard with the salt! You want the salt to enhance the other flavors, not make the salad salty.
Black Pepper – We like using freshly cracked black pepper as it lends the most flavor.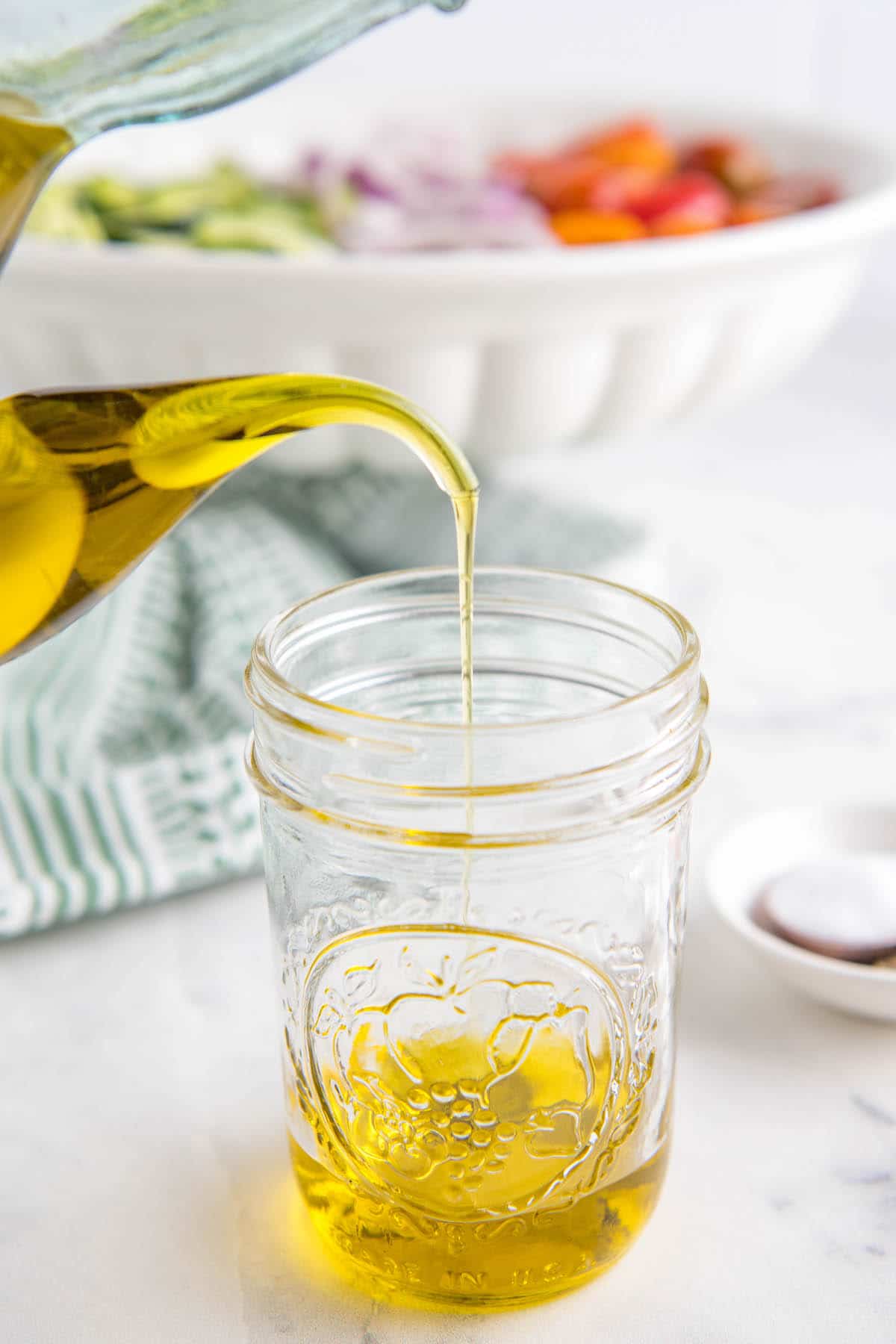 How to Make Cucumber and Tomato Salad
Prepare the veggies. In a medium sized bowl, add cucumbers, tomatoes and red onion. Set aside.
Make The Dressing. In a mason jar, add olive oil, red wine vinegar, Italian seasoning, salt, and pepper. Shake to combine dressing. (You can also do this in a bowl with a whisk.)
Toss the salad. Pour dressing over salad and toss until the salad is thoroughly coated.
Rest. Serve immediately, or if you have time, let the salad rest 10 minutes on the counter before serving. Cover and refrigerate salad until ready to serve.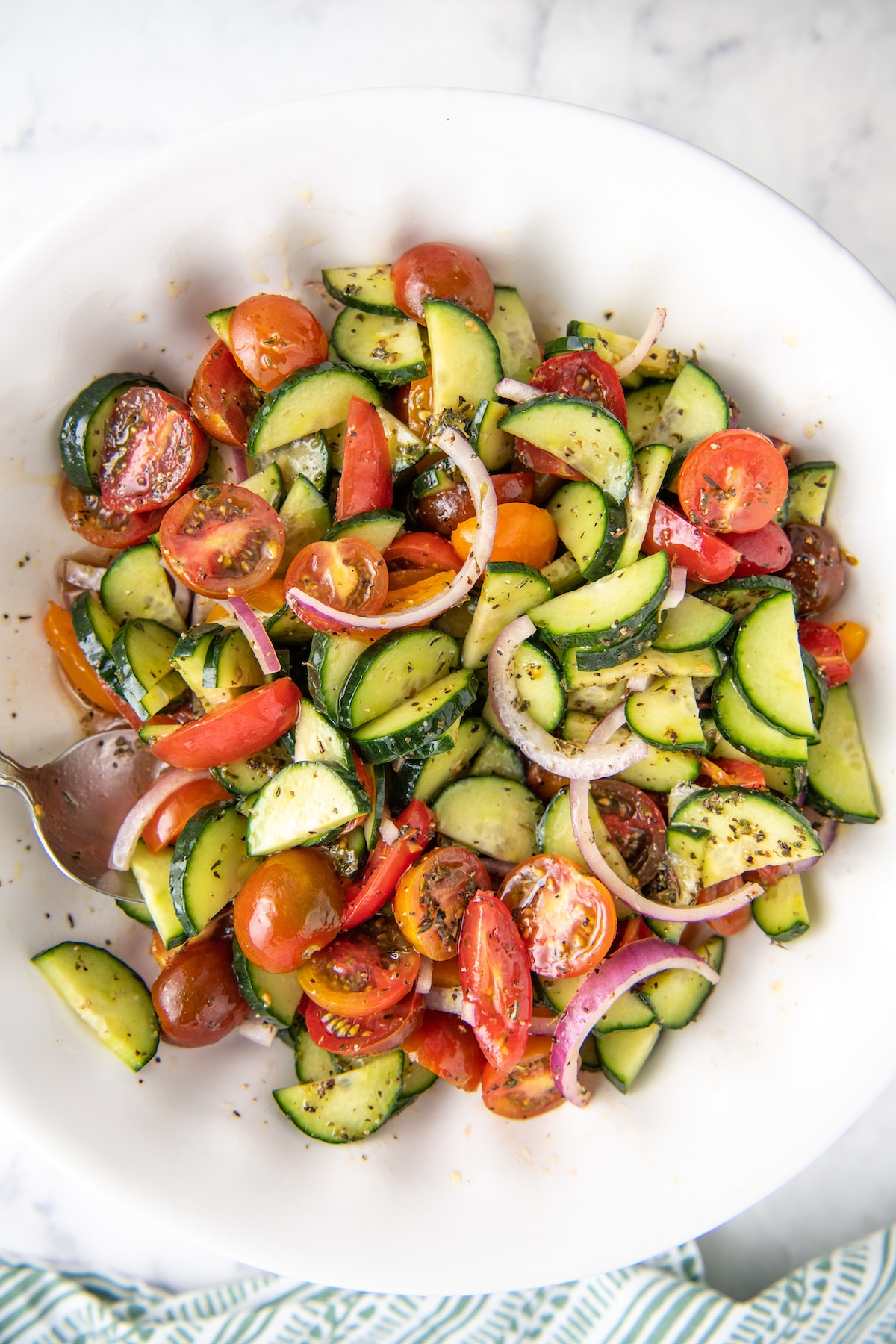 Tips for the Best Cucumber and Tomato Salad
English Cucumber: If you use an English cucumber, there's no need to peel it, unless you just prefer to.
Same Size Veggies: Try to chop all of your veggies to about the same size, that way everything fits on your fork perfectly and makes for a great bite.
Measure The Dressing: Measure all of the ingredients for the dressing as listed, then taste and alter them as needed. If you start off with too much olive oil, vinegar, or salt, there's no going back! But you can always add more if needed.
Make The Salad Fresh: If possible, I like to make this salad within a few hours of serving it to guests. It's still good the next day, but it's best within the first few hours. As time goes by, the tomatoes will loose more juice and they loose some of their texture as well.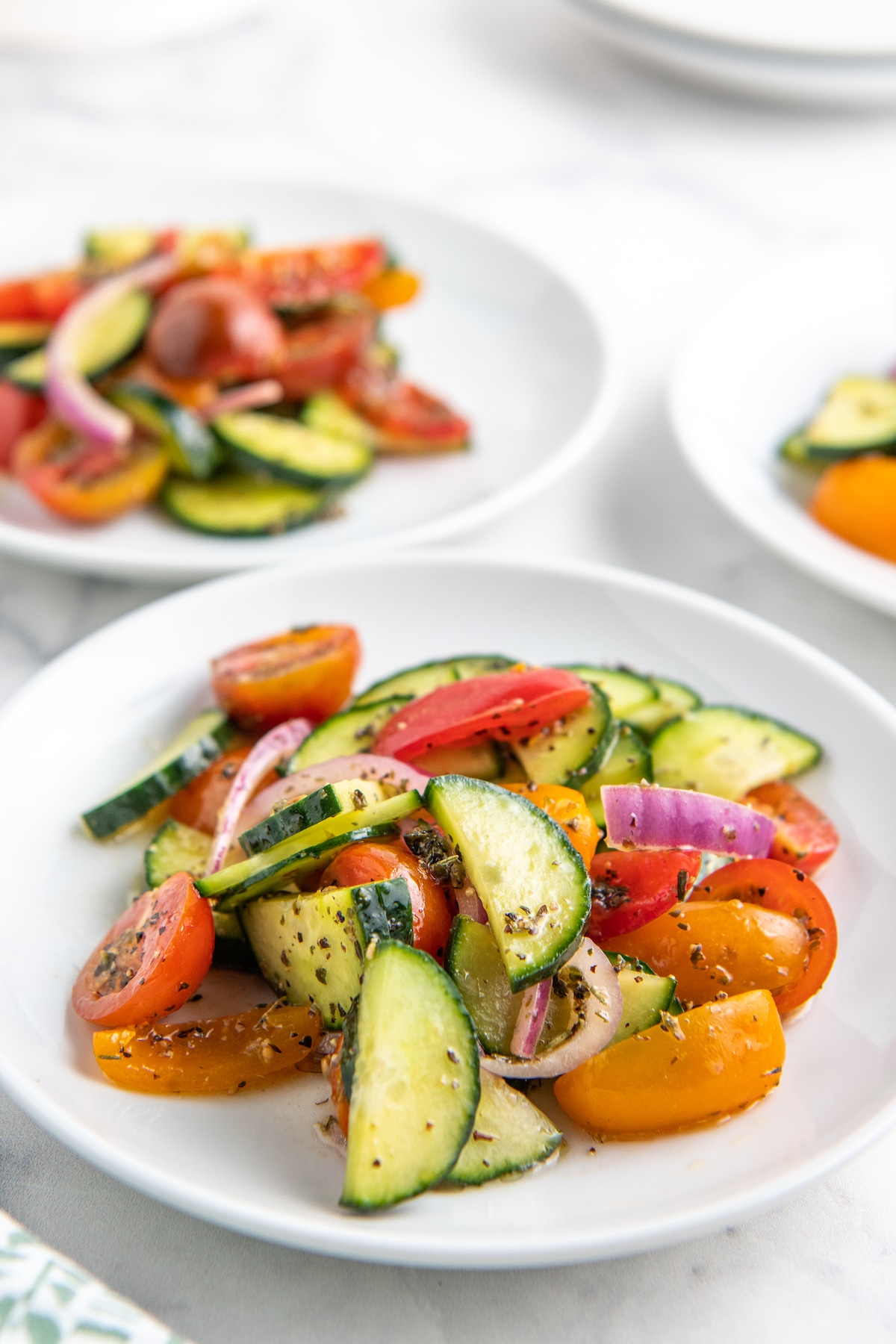 Variations to Try
Cheese: Make this salad cheesy with feta, goat, or bleu cheese crumbles. I personally love salty feta the most, but Jessica loves it with a little creamy goat cheese on top.
Jalapeno: You can add a finely chopped jalapeño to make things spicy.
Garlic: While not traditional, you can make this salad garlicky with a chopped garlic clove or two. You can also sprinkle in some garlic powder along with the other seasonings.
What To Serve With Cucumber Tomato Salad
Here are a few main dishes that would go great served along side this fresh cucumber tomato salad:
Grilled Chicken Breasts
Air Fryer Shrimp
Shrimp Tacos With Slaw
Air Fryer Hot Dogs
Baked Chicken Legs
Easy Tuna Patties
Best Grilled Shrimp
Crockpot Dr Pepper Pulled Pork
Storage
This salad is best served in the first 24 hours. Store in an airtight container in the fridge for up to 4 days. This salad does not freeze well.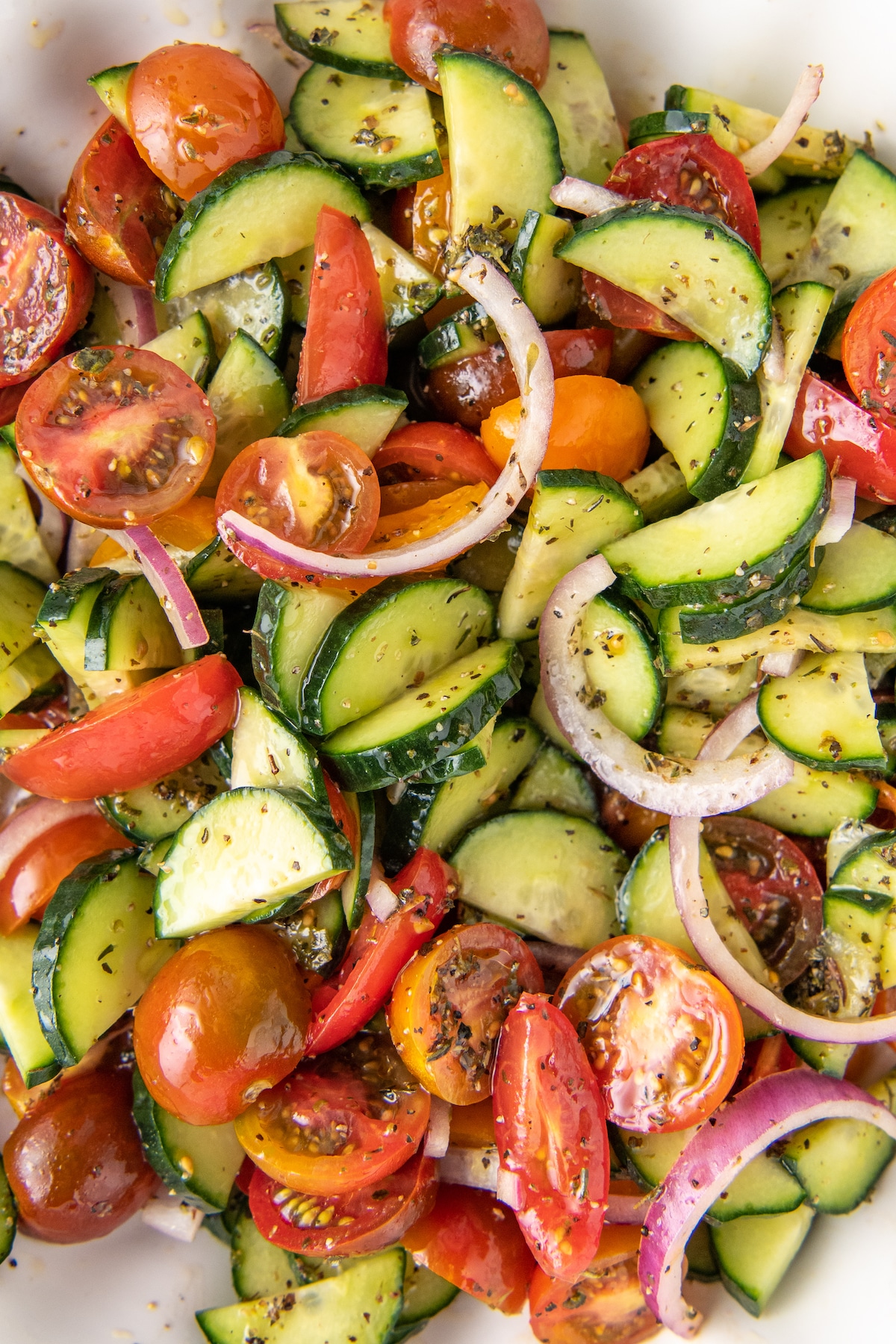 More Fresh Summer Recipes
Looking for more bright and light summer recipe ideas? Here are a few of our favorites:
Easy Grilled Okra
The Best Creamy Egg Salad
Air Fryer Fried Avocados
Homemade Pico De Gallo
Air Fryer Eggplant Parmesan
Greek Salad Dressing
Easy Chicken Lettuce Wraps
Caprese Stuffed Avocado
Please see more list about Recipe for tomato cucumber salad
Detail: 🔗