This easy Grape Salad doubles as a side dish or dessert and is perfect for parties! The creamy cheesecake dressing takes this easy fruit salad to the next level! Topped with crunchy pecans and golden brown sugar, everyone will be asking for the recipe!
We love grapes in salads! Make sure to try my Broccoli Salad and Chicken Salad too!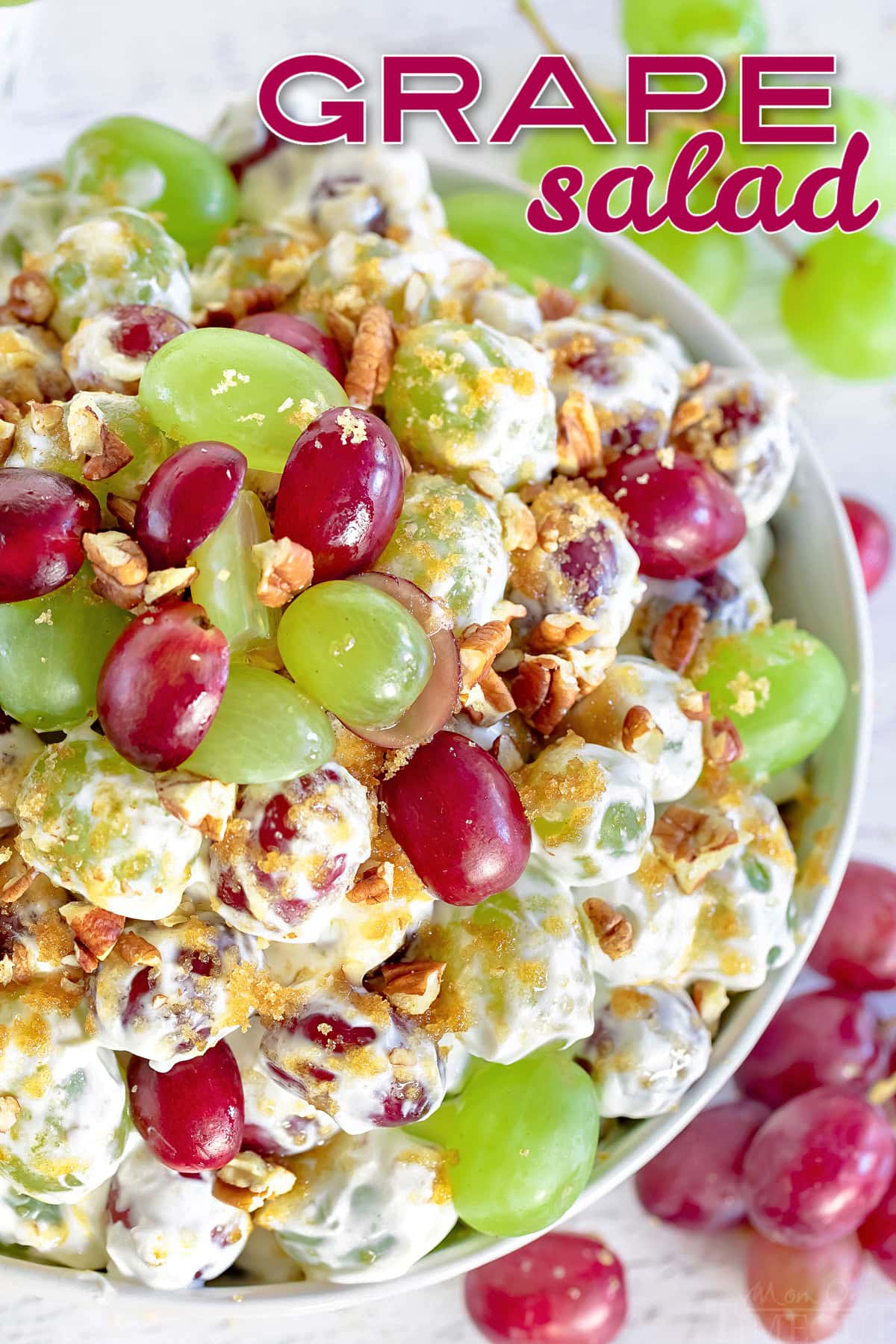 Easy Grape Salad
Grape Salad Dressing
The dressing for this salad is one of my all time favorite recipes. It's not just for grapes you guys! Feel free to take this dressing recipe and toss in your favorite fruits for the most amazing Cheesecake Fruit Salad!
We love strawberries, plums, blackberries, pineapple – you name it! It's all delicious when tossed in that sweet and creamy cheesecake dressing.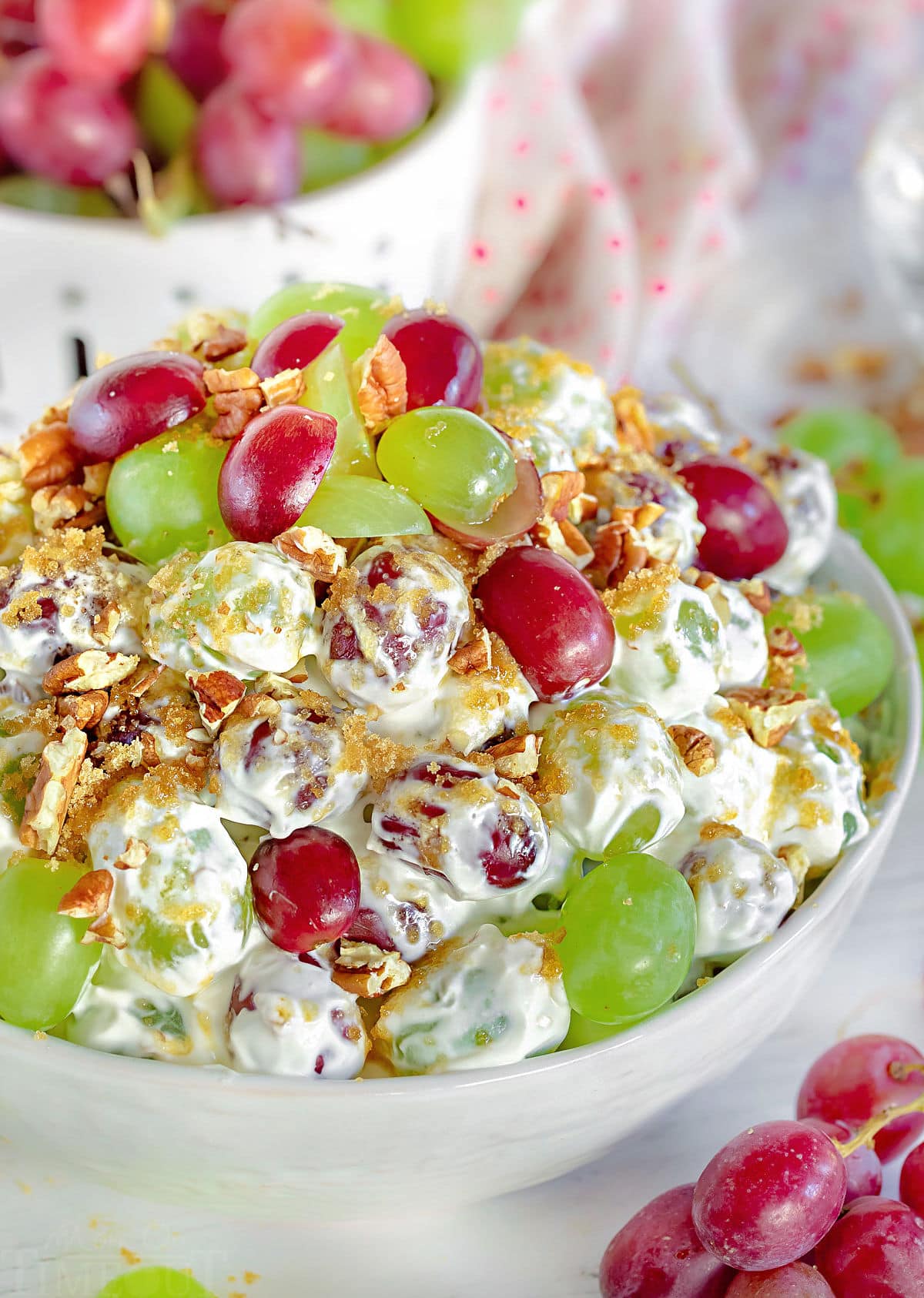 Grape Salad Ingredients
There are just a handful of ingredients in this easy grape salad recipe. Let's take a look:
cream cheese – I prefer full fat cream cheese but you can use light cream cheese as well. The most important thing is letting the cream cheese get to room temperature before starting the recipe, that way you won't have any lumps in your dressing.
sour cream – I prefer full fat sour cream but you can use light if you prefer.
granulated sugar – I like to use 1/4 cup but I always taste my green grapes first. If they are a little more on the sour side than I like, I'll add up to 1/4 cup more sugar.
vanilla extract – I think a teaspoon is just the right amount for this recipe.
red and green grapes – You're going to want the seedless variety for this recipe. I almost always use half and half for the grapes but if the green grapes don't look too great at the store, all red grapes is also delicious. Make sure you pick through the grapes first and remove any with blemishes.
brown sugar – this gets sprinkled on top right before serving and adds this amazing sweetness to the recipe.
chopped pecans – I put half of the chopped pecans in before chilling and the remaining half get sprinkled on top of the salad right before serving. I like to have an even distribution of pecans and this is really the best way to do it.
Toasted Pecans
I love making this recipe with toasted pecans because it adds so much flavor to the salad. To toast the pecans:
Preheat oven to 350F. Line a baking sheet with parchment paper or a silicone baking mat. Spread pecan halves out in a single layer. Bake for 5 to 8 minutes, stirring occasionally and keeping a close eye on the nuts. Remove from the oven, let cool, and then chop for the salad.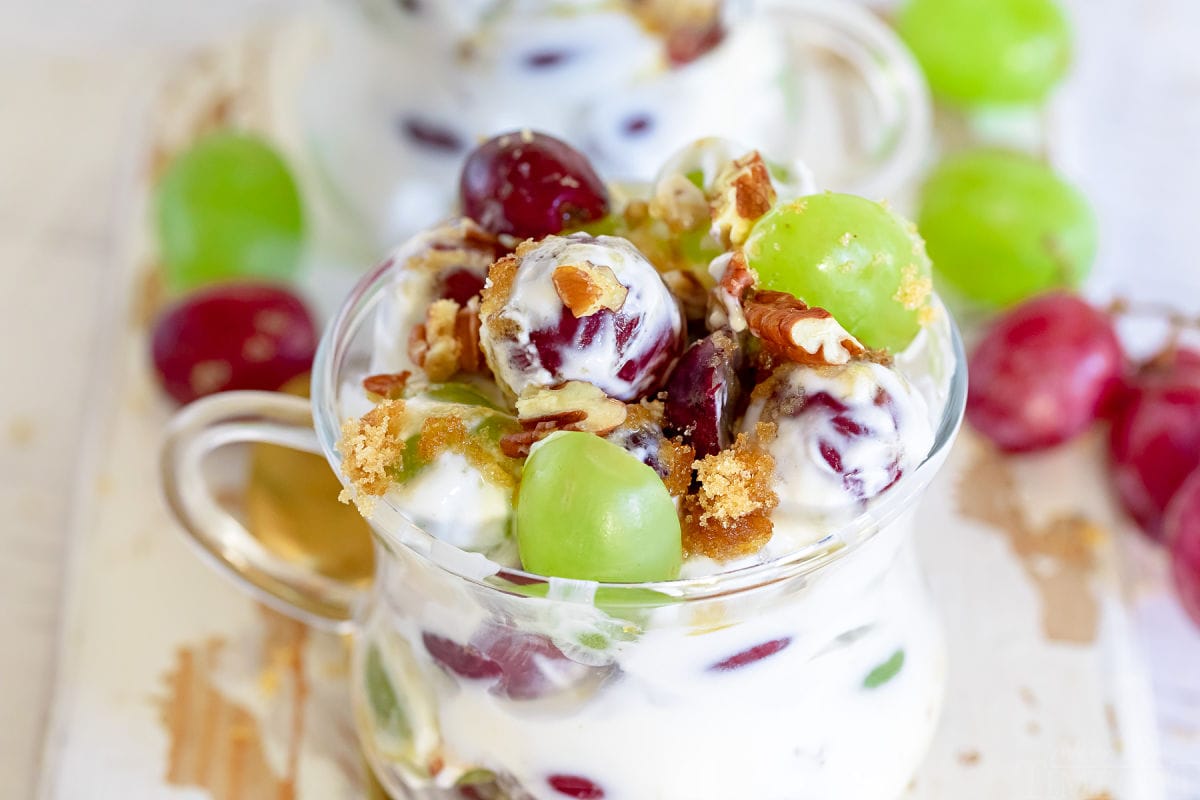 How To Make Grape Salad
Make the dressing. Beat the cream cheese and sour cream together until smooth and creamy – no lumps! You can use a hand mixer or stand mixer for this part. Add in the granulated sugar and vanilla extract and beat until combined.
Add grapes and pecans. Add the grapes that have been rinsed and dried and half of the chopped pecans. Fold into the creamy dressing.
Chill the salad. Cover the salad with plastic wrap and place in the fridge for a minimum of 1 hour. Overnight is best!
Serve. Before serving, top the salad with the brown sugar and remaining chopped pecans.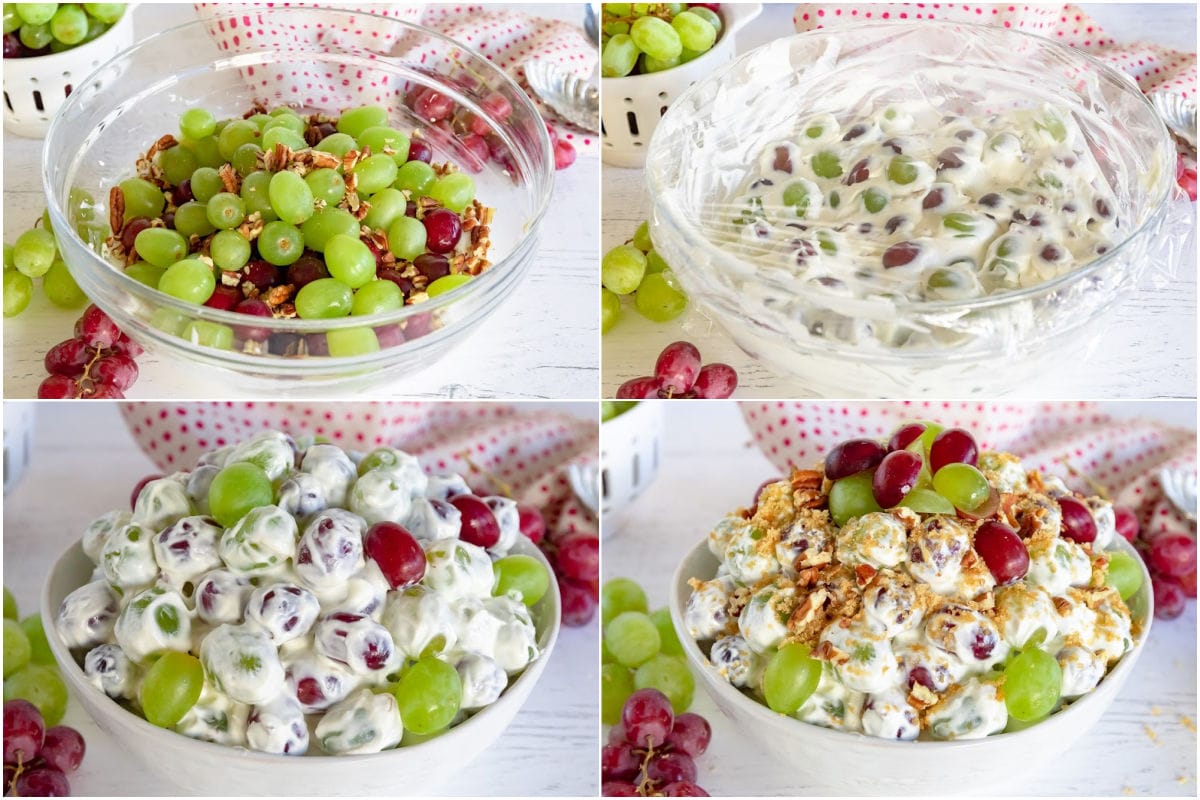 Individual Servings
Try serving this grape salad recipe in individual dishes. I love serving this grape salad recipe at parties and this is the best way to do it.
Just transfer the grape salad into individual serving dishes, think small trifle bowls like these ones or even small cups like I used below. You can do this either before or after it's chilled.
Wait until right before serving to top with the brown sugar and pecans. It's soooo cute!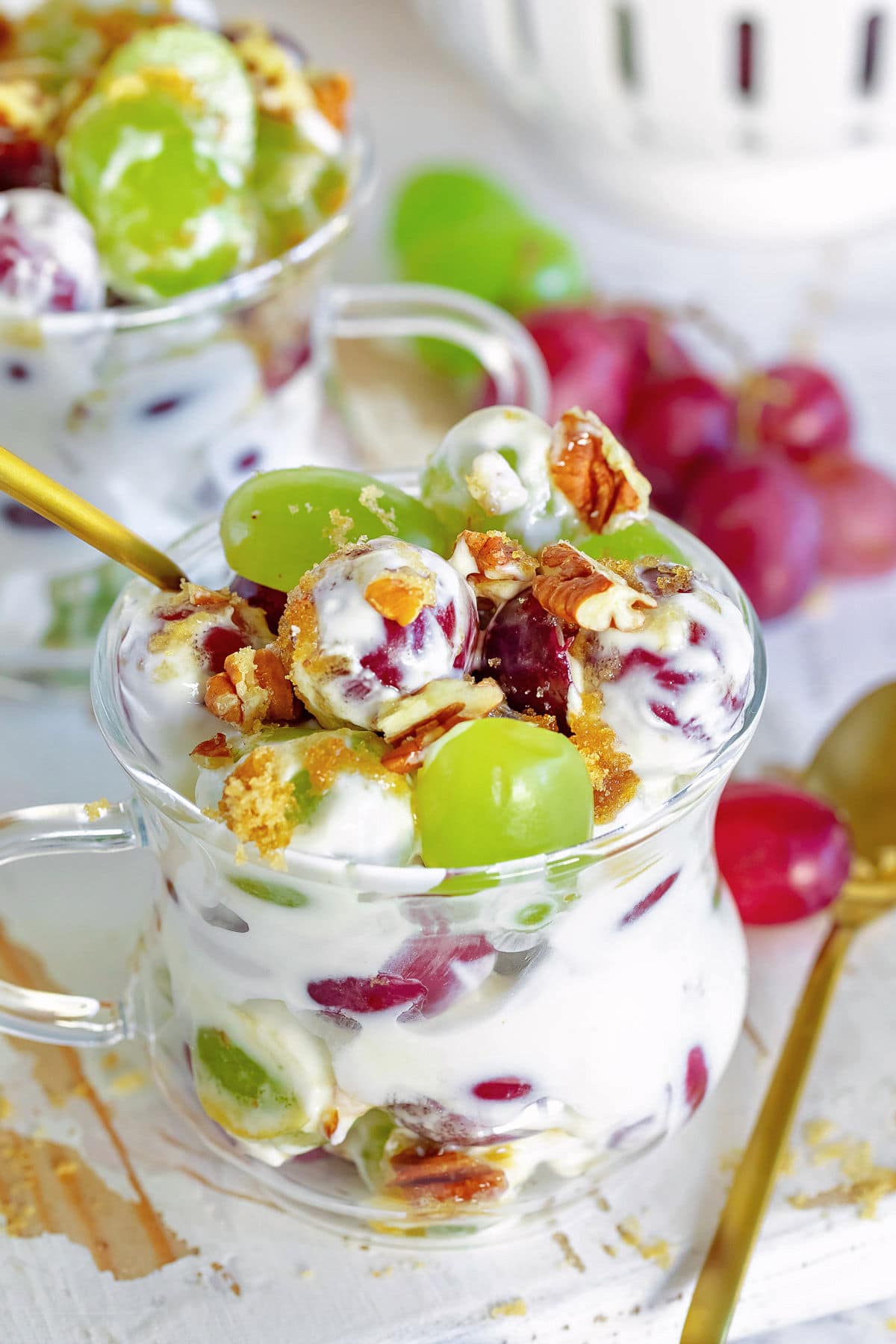 FAQs
Why do I have lumps in my dressing? That just means the cream cheese wasn't softened enough. Walk away for about 10 minutes and try again. Using the whisk attachment on a stand mixer will take care of this quickly as well.
Can I use use low fat cream cheese or light sour cream to reduce fat and calories? Yes, absolutely. You can use light cream cheese but I do not recommend fat free. The same goes for the sour cream, light will work but not fat free. You can even substitute in Greek yogurt for the sour cream or for half of it.
Can I use all red grapes? Absolutely. You can use half and half or all of either red or green grapes. Just keep in mind the green grapes are more sour and you will probably need to add more sugar to the dressing to balance it all out.
Tips for the Best Grape Salad
When making the dressing, start with room temperature cream cheese and let the sour cream sit out for about 30 minutes as well. This helps eliminate any lumps in the dressing.
Once you've rinsed the grapes, grab a towel and dry them them. It really helps the dressing stick to the grapes if they are nice and dry.
The grape salad is best when served chilled.
Top with a few fresh grape halves and sprinkle with chopped pecans and brown sugar right before serving. Don't do this in advance or the brown sugar will just dissolve into the dressing. Don't get me wrong, it's still delicious but it looks so pretty with that golden brown sugar on top!
Variations To Try
This grape salad is absolutely perfection as is (check the recipe card below for the complete printable recipe) but I'm always game to try some fun twists on this easy grape salad recipe and I know you are too!
Zest it up! When making the dressing, add in a teaspoon or so of lemon or orange zest to really amp up the flavor.
Try cutting the grapes in half if serving to younger kids. This is also a great idea if you have really large grapes.
I like to use half green and half red grapes but go with all of one or the other if you prefer. The red grapes are definitely sweeter!
The cheesecake dressing is great with other fruit besides grapes. Try it with your favorite fruit or combination of fruit for the most amazing fruit salad!
This recipe traditionally calls for pecans but use another nut if you prefer. I think walnuts or pistachios or even almonds would be delicious!
Try topping with toffee bits or chopped candy bars such as Snickers or 3 Musketeers.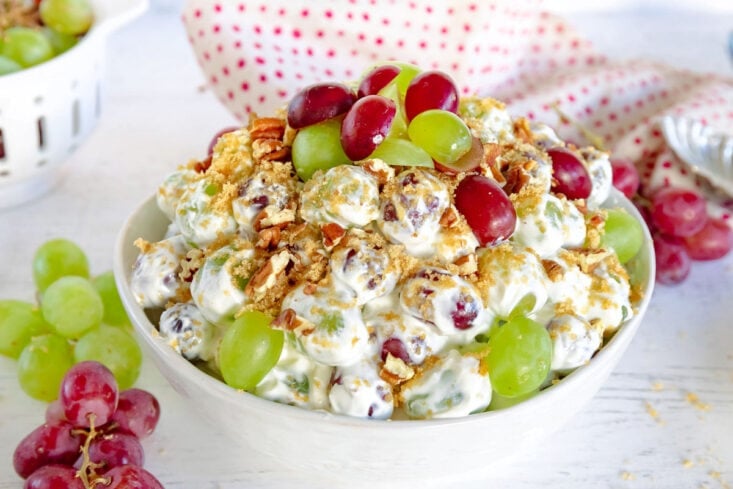 More Salad Recipes
Creamy Cucumber Salad
The BEST Pea Salad
Broccoli Salad with Bacon
Watergate Salad
Ambrosia Salad
Pineapple Cucumber Salad
How To Make Grape Salad
For more information please see the list of How do you make grape salad
Detail: 🔗