Healthy Taco Salad with ground turkey, veggies, greens, cheese, and one simple ingredient that replaces unhealthy bottled dressing. It is easy, filling, and a summer family favorite!
Looking for healthy side salads with the same mouthwatering Tex Mex flavors? Mexican kale salad, healthy Mexican street corn salad, or Mexican bean salad are the perfect additions to any meal!
This healthy taco salad is a fully loaded taco without all the carbs that come with a traditional taco! It's fresh, vibrant, and incredibly delicious.
Make it as simple or as jazzed up with toppings as you like because this 30 minute recipe is completely customizable. Only easier are chicken tostadas ready in 20 minutes!
It's made with ground turkey to keep it nice and lean, homemade taco seasoning to avoid all the added sodium, and beans, tomatoes, and corn, because it is a taco salad recipe after all!
We top it with plain yogurt instead of sour cream which doubles as a creamy dressing!
Eating fresh and healthy doesn't have to be complicated. A healthy taco salad is so full of flavor it won't be hard to get your kids to start loving healthy salad recipes too!
Restaurant vs. Homemade Taco Salad
There's nothing like being able to control what goes into your salad and what stays out. No refined sugars, heavy oils, or sodium in the taco seasoning or the dressing. This isn't the case when you order from a restaurant.
I love making salads that are a complete meal for filling weeknight healthy dinner ideas. Much like my healthy cobb salad or grilled chicken salad they are quick, easy, and perfect for using whatever is in my fridge.
Is Taco Salad Healthy?
You may also love to browse these 45 healthy ground turkey recipes!
Yogurt Dressing
If you're one to use sour cream on your taco, you're going to love this healthier alternative! Using yogurt as a creamy dressing keeps it simple, and avoids the heavy sugars, sodium, and high calories found in store bought dressings.
I love using plain whole yogurt in so many healthy salad recipes. Case in point, my healthy chicken salad and canned salmon salad!
It's one ingredient that most of us already have. It's naturally tangy and super creamy, and it helps all of the ingredients marry their flavors without taking over! Use organic or grass-fed yogurt with a fat content of 3% or more. You'll see, the taste is next level!
How to Make Healthy Taco Salad
Storage Instructions
To Store: You can refrigerate salad leftovers for up to 2 days. Surprisingly, this healthy taco salad doesn't become too soggy.
To Reheat: Reheat the taco meat and corn in a skillet. The only way to do this is if you've kept them in a separate container in the fridge.
Leftover Ideas
Make a healthy taco salad bowl! Place a large whole grain tortilla in an ovenproof deep bowl (stainless or metal works) and bake at 450 degrees F until crispy. Place salad in a bowl and voila.
You could also omit the meat entirely and serve this taco salad alongside your protein of choice like this grilled chicken breast, chili lime chicken, or cilantro lime chicken.
FAQs
More Healthy Mexican Recipes
Southwest quinoa salad
Mango black bean salad
Mexican meatballs
Healthy Mexican casserole
Taco skillet
You may also want to check out this curated list of healthy salad recipes!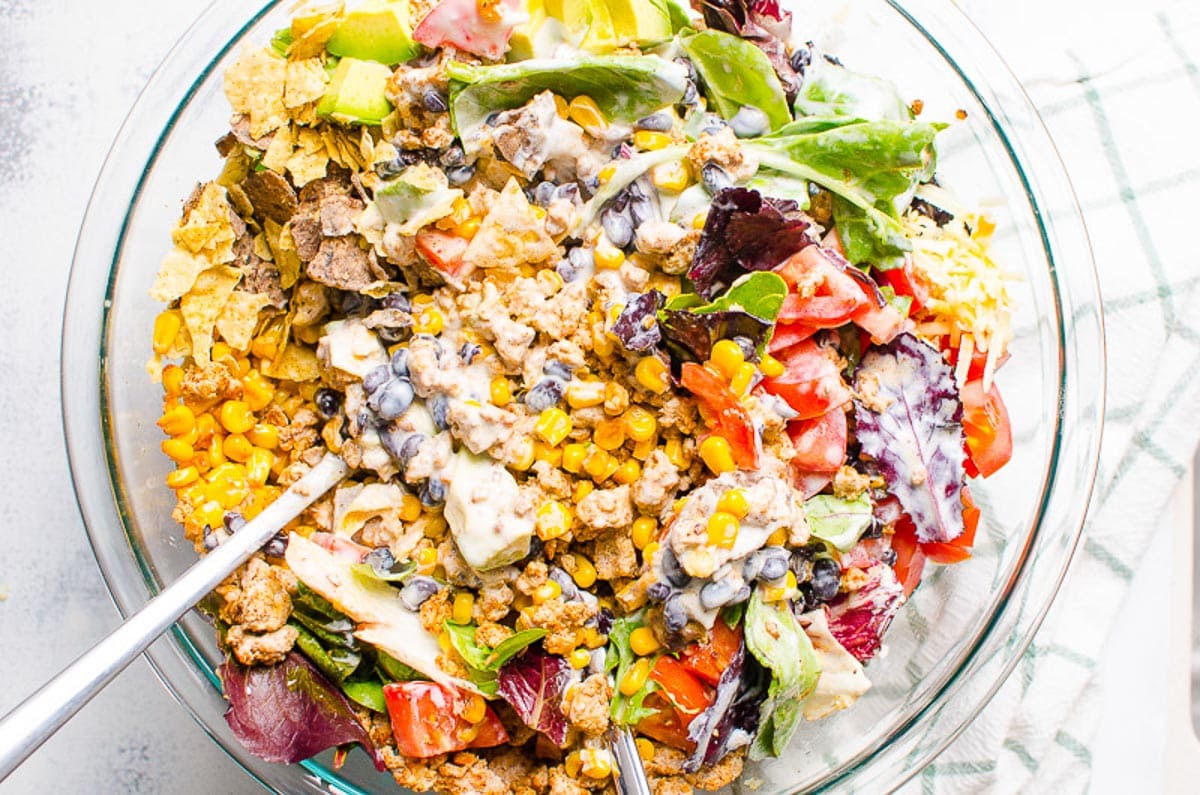 Through this article, we hope to help you understand Taco salad dressing recipe healthy
Detail: 🔗