An easy sweet and salty homemade Kettle Corn recipe plus tips on how to make the best kettle corn without burning the sugar.
Kettle corn is usually considered a fair-time or amusement park treat (who doesn't love wandering around eating handfuls of the stuff out of a giant $9 bag??), but it's actually incredibly easy to make at home and just as delicious.
What is Kettle Corn? How is it Different from Popcorn?
The only difference between popcorn and kettle corn is a little bit of sugar. Unlike popcorn, kettle corn is cooked with sugar, which when heated melts and coats the popping kernels making them both sweet and salty.
It makes a perfect movie-night snack or quick and simple dessert.
Ingredients
Vegetable oil: You can use your favorite neutral cooking oil here. Refined coconut oil also makes a fabulous kettle corn oil as it has a clean, light flavor (unrefined will make your popcorn taste like coconut). But I think cheap, easily accessible vegetable or canola oil gives you the most classic fair-time flavor.
Popcorn kernels: You can find loose kernels of popping corn at the store next to the boxes of the bagged microwave stuff. Any brand should work, but Orville Redenbacher's popcorn is my go-to.
Granulated sugar: Classic kettle corn uses white granulated sugar, but if you want a more caramel-y flavor, you can substitute brown sugar to make Brown Sugar Kettle Corn.
Salt: We'll use just a bit of salt because good kettle corn should be both sweet and salty.
Equipment
You don't need any special equipment to make kettle corn, just a pot or large skillet with a long handle and a lid. Make sure your pot is at least 3 quarts (larger if doubling the recipe) and not too heavy. You're going to be vigorously shaking the pan while the kettle corn cooks so you don't want something that's going to be too heavy to easily handle.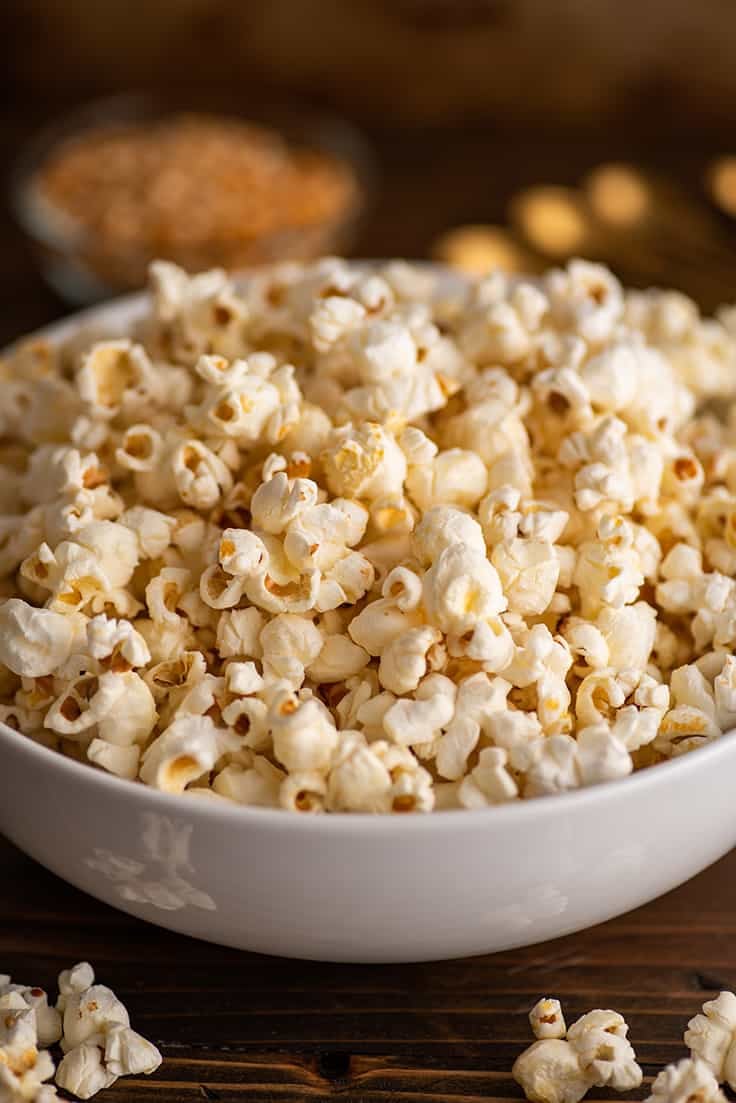 How to Make Kettle Corn (Without Burning the Sugar)
Accept that you are probably going to burn a little sugar at first. I know, I know, I just said we weren't going to be burning our sugar, but the first time or two you make kettle corn with a new pot/range/type of popcorn, you're probably going to get a burnt kernel or two until you know how everything handles heat. Just pick them out and move on.
Set a large bowl or sheet pan on the counter next to your stove so you can immediately pour your finished kettle corn into it. The bottom layer of kettle corn will burn in a hot pan quite quickly, even off the heat. You want to get finished kettle corn out of the pot as quickly as possible once it's finished popping.
Start with hot oil. Starting with hot oil means that your sugar will spend less time in the pan while the oil heats up, so it won't have as long to start burning. To make sure you start with oil that is the right temperature, put three unpopped kernels in with your oil, and once you hear all three pop, it's time to add the rest of your popcorn!
Use more pot than you think you need. We already covered this above, but using a large pot gives everything room to move so your sugar isn't just sitting on the heat, burning. I always use at least a 3-quart pot for 1/4-cup unpopped popcorn.
Pull homemade kettle corn from heat before your corn stops popping. Standard popcorn wisdom says to pull your popcorn when you have 3 seconds between pops. For kettle corn, you want to pull it at around 1 to 2. As you get to know your pan and stove better, you might be able to extend this time, but it's best to start here.
A Note About Unpopped Kernels: If you have dental work or are feeding this to kids, it's best to pour the popped kettle corn onto a baking tray, let it cool for just a minute, and then sift through and pick out any unpopped kernels.
Unlike regular popcorn, the unpopped kernels don't always just fall to the bottom of the bowl. They can clump in with the popped kettle corn pieces and are easy to bite into if you're not careful.
FAQ
How to Store Kettle Corn
You probably won't have leftovers, but if you'd like to make a big batch, kettle corn should stay fresh for up to a week. Store at room temperature in an airtight container.
Kettle Corn Troubleshooting
If your kettle corn is coming out a little chewy rather than crunchy, it's probably because your pot has a tightly fitting lid and there was too much steam trapped inside while the popcorn popped.
Next time, crack the lid just slightly while cooking. To do this safely, hold the handle of the pot in your left hand and with your right, use a small kitchen towel wrapped around the lid handle to protect your wrist, and offset the lid (with the crack facing away from you) just enough to let steam escape but keep the popcorn kernels in.
More Easy Desserts
Small-batch Chocolate Chip Cookies
Cinnamon Bun Kettle Corn
Small-batch Brownies
S'mores Cookie (For Two)
A Note on Yield and Multiple Batches
This recipe makes about 10 cups of kettle corn, which sounds like a lot, but a single person can definitely eat that on their own. If you plan on eating this with someone else and you're not great at sharing (I'm not 😉 ), double the recipe. As long as your pot is large enough, doubling the recipe won't change the cooking process in any way.
If you need to make a ton of kettle corn and you're making multiple batches, be sure to wash the pan and let it cool slightly between each batch. Any remaining sugar in the pan will immediately burn if you try to make a second batch without washing it out.
This post may contain affiliate links, which means I receive a small commission if you make a purchase using them. There is absolutely no additional cost to you.
Please see more list about Best kettle corn
Detail: 🔗