These Oven Baked Chicken Drumsticks are seasoned with a simple honey soy marinade made with pantry staples, then baked until golden perfection. This easy chicken recipe turns boring chicken legs into a scrumptious dinner masterpiece!
We love easy, budget friendly oven baked recipes that take very little effort but deliver lots of flavor. My Oven Baked Pork Chops and my Easy Baked Chicken Breast are recipes to keep handy when you need to put dinner on the table ASAP!
Oven Baked Chicken Drumsticks
I love the simplicity and easiness of this recipe. Chicken legs or drumsticks are bathed in a simple soy sauce chicken marinade and oven baked until perfectly golden brown.
The sweet honey in the marinade caramelizes and melds with the savory umami-rich soy sauce, producing the best tasting, juicy and tender chicken drumsticks! If you choose to bake chicken legs with the skin on, you will get skin that gets beautifully crispy as it holds the flavors of the marinade.
Why You Should Make This Recipe asap!
This recipe is one of our most popular recipes! It has so many reviews from readers that have actually made them and love them. Besides that, you can check all the photos posted on social media. Pinterest shows reader's photos and they are deliciously fabulous!!
Flavor: The chicken turns out delicious even when I don't marinate it for more than 5 minutes! When the chicken is baked, the sauce is so incredibly tasty that you will want to pour it over everything! Rice, potatoes, veggies, etc.
Effortless: Let the oven do the work! Cooking chicken in the oven is easy and a very simple way to prepare juicy, crispy and tasty roasted chicken without a lot of effort.
Budget Friendly: Bone-in chicken legs, whether you choose skin-on or skinless, are easy on the wallet and much more affordable than any other meat. This is definitely a recipe to include in your menu if you love easy homemade dinners on a budget!
5 Ingredient Marinade: The honey soy chicken marinade is made with common ingredients you most likely already have at home!
Kid Friendly / Crowd Pleasing: This is a forks-are-optional kinda dinner meal! Kids not only love the combination of salty soy sauce with a hint of sweetness from the honey, but they also love that it's easy to eat (with your hands!). However, not only children like this recipe. Adults love it too!! Just check the reviews below!
Swap Ingredients: You can make this recipe with bone-in chicken thighs as well as boneless chicken thighs (although you will have to modify baking time for boneless chicken). In a pinch, use granulated garlic and dried ginger. Sub honey with maple syrup.
How To Bake Chicken Drumsticks
It doesn't get much easier than these one-pan baked chicken drumsticks! The Asian inspired 5-ingredient soy sauce chicken marinade comes together quickly and has so much flavor!
Combine the marinade ingredients in a large resealable plastic bag (gallon size works). You can use a shallow baking dish, if you prefer.
Add the chicken legs to the marinade and seal the bag removing as much air as possible. Massage the marinade into the chicken until the legs are well coated.
Marinate the chicken in the refrigerator for 30 minutes or overnight. The longer you marinate the chicken, the tastier it will get; however, I have done "zero minutes" with good results.
Preheat the oven to 375 degrees Fahrenheit.
Place the chicken and the marinade in a baking dish or a rimmed sheet pan. The chicken will release its juices while roasting so using the proper baking dish is a must!
Bake the chicken drumsticks uncovered for about 45 minutes or until the chicken reaches an internal temperature of 165 degrees Fahrenheit. Serve garnished with scallions (optional).
Are Baked Chicken Legs Healthy?
Chicken legs are an excellent source of protein and a nutritious and healthy option if prepared in the right way. Baking chicken in the oven is much healthier than fried chicken for sure! If you are following a low-fat diet, remove the chicken skin before eating it. I prefer baking the chicken with the skin on to make sure the meat doesn't dry up; however, you can remove it if you prefer. Buying organic chicken without added hormones is always best!
Can I Use Chicken Thighs To Make This Recipe?
Yes. You can use bone-in chicken thighs as well as legs and wings. When roasting/baking chicken, I prefer to use chicken with the skin-on. The skin serves as a layer of protection to prevent the meat from drying out.
You can make this recipe with bone-in skinless chicken thighs and legs also, but I suggest you baste the pieces once during cooking time.
Bone-in, skin-on chicken breast can be used but the baking time will need some adjustment.
Can This Chicken Drumstick Recipe Be Made Ahead?
Yes! This super easy dinner recipe can be made ahead.
Prepare the soy sauce marinade up to 3 days ahead! Keep it stored in a resealable plastic bag or in an airtight container in the refrigerator.
You can marinate the chicken and place it in the refrigerator overnight. Remove the chicken from the refrigerator 30 minutes before baking so it comes to room temperature before it's placed in the oven.
Leftover baked chicken legs will keep stored in an airtight container in the refrigerator for 2-3 days.
How Long To Cook Chicken Legs In the Oven at 375
It takes about 45 to 50 minutes to cook chicken legs in a pre-heated 375º F oven although, time may vary depending on the size of the drumsticks. The best way to know when the chicken is ready, is to test the internal temperature with a digital thermometer. The chicken is ready when it reaches an internal temperature of 165°F when you check on the thickest part of the leg (without touching the bone).
What Is The Safe Temperature For Cooked Chicken?
For safety, always cook chicken until the juices run clear and the internal temperature has reached 165 degrees Fahrenheit. Use an instant-read thermometer for accuracy.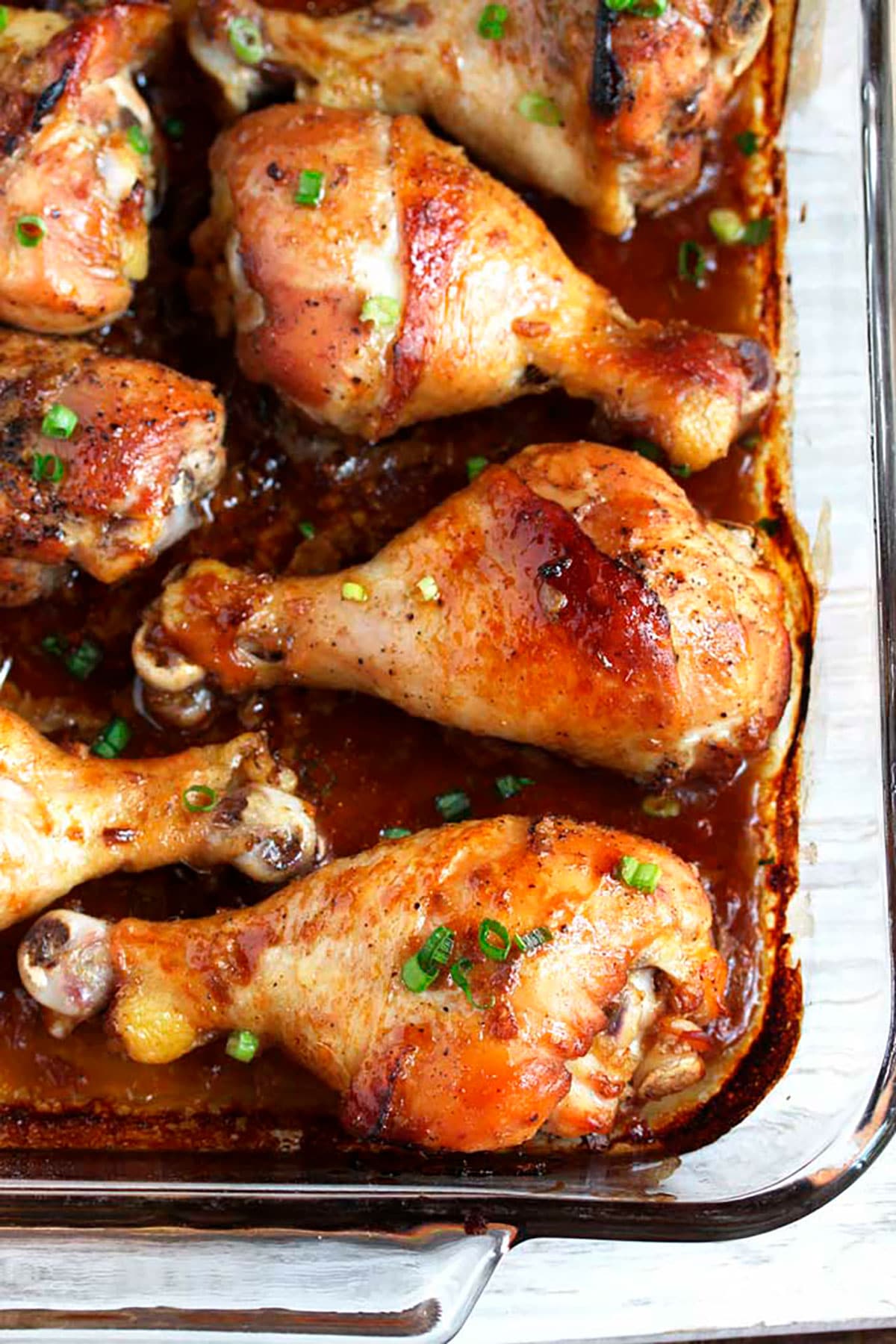 What Other Recipes To Serve With These Chicken Legs?
Here are some of our favorite side dishes to serve with this juicy and tender baked chicken:
White Rice
Sauteed Green Beans
Oven Roasted Sweet Potatoes
Roasted Fingerling Potatoes
Instant Pot Artichokes
Homemade Mac and Cheese
This post was first published in 2018. Content has been updated to give our readers better information. The recipe remains the same.
For more information, please see more information about How long to roast drumsticks
Detail: 🔗