If you are not a broccoli lover, this is the recipe that will make you see the light! If you are a broccoli lover, then let it rain, because this garlicky lemony oven roasted broccoli is going to make your side dish your main dish. I will even show you how to get perfectly crisp-tender roasted broccoli…from frozen!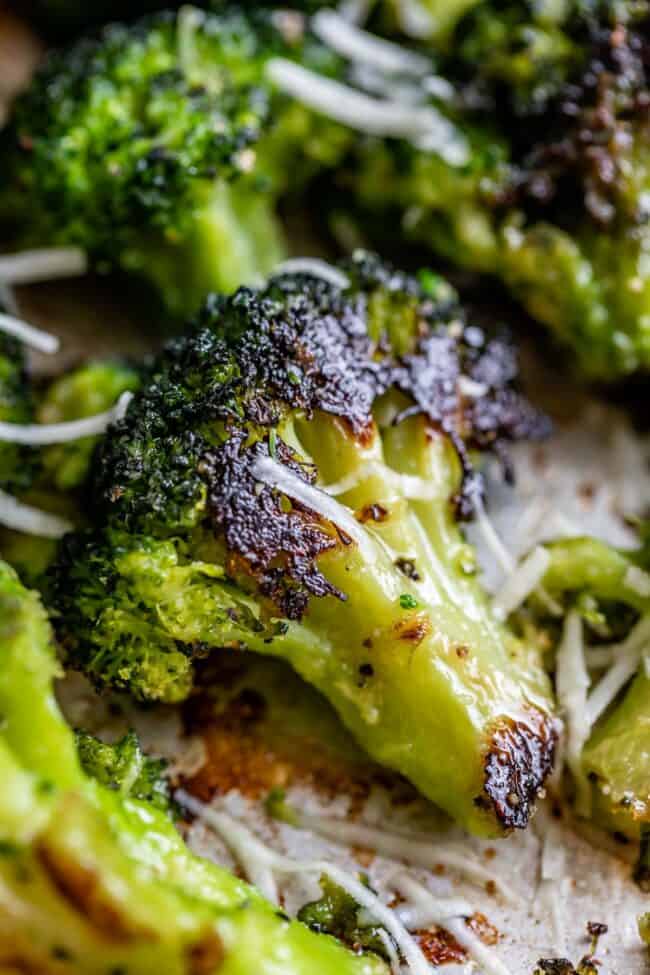 We have a Friday night pizza and movie tradition in our house. Sometimes we make it at home, sometimes we get Dominos. Last week I was really busy with work and knew I wouldn't have time to do homemade, so I told Eric, let's just order out. Instead he enthusiastically volunteered to make it himself.
I don't mean to throw Eric under the bus here. He's a pretty good cook and can definitely hold his own when it comes to dinner. But I walked into the kitchen to find that he had made one tiny tiny pepperoni pizza, and another one that was covered in broccoli.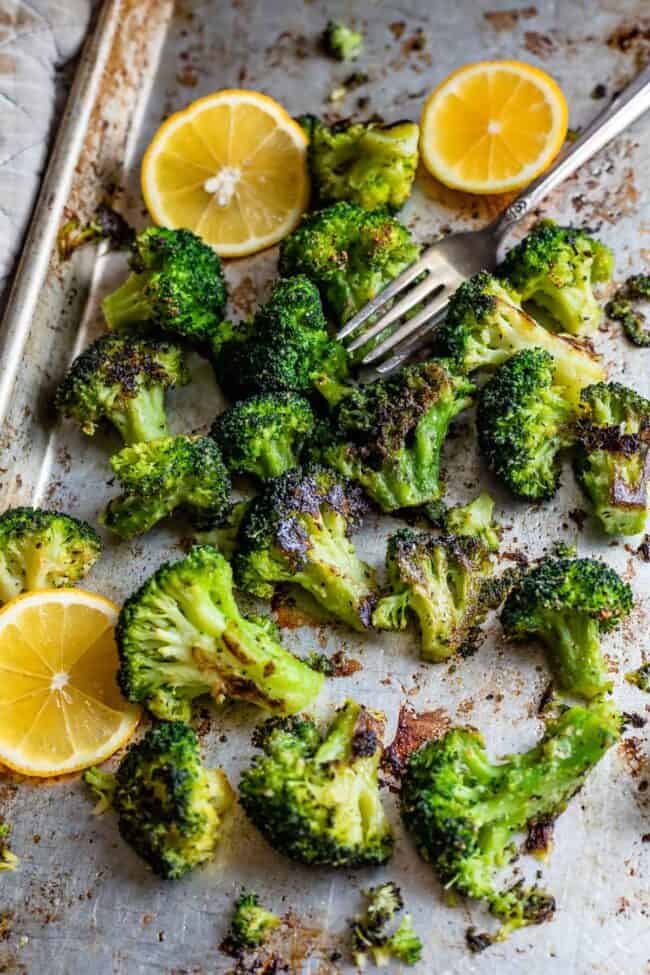 Eric told me later he doesn't think he's EVER gotten so many dirty looks from his family, including me.
I'm sorry, okay?? Broccoli is fine, I love broccoli…just not when I'm expecting hot, cheesy pepperoni pizza.
I'm not alone here, they even made a joke about this in that Inside Out movie. "Who puts broccoli on pizza? That's it. I'm done. Congratulations San Francisco, you've ruined pizza. First the Hawaiians, and now you." My thoughts exactly.
There is a time and a place for everything though, and broccoli in just about any other context is something that I am TOTALLY on board with. When I was a kid it was one of my least favorite veggies, but I think I had just never eaten it cooked properly.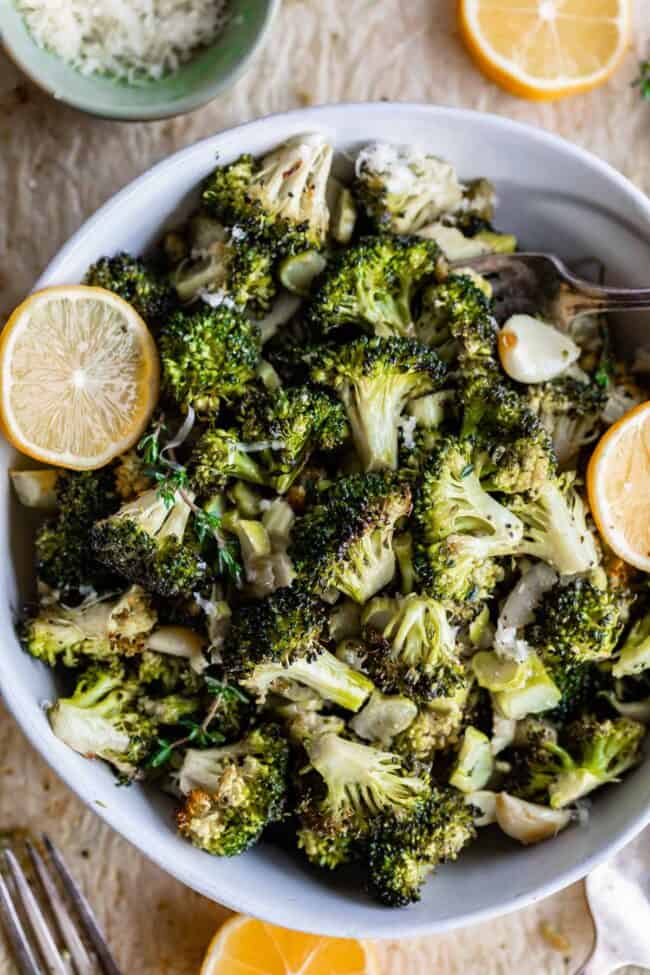 As usual, roasting brings out the best in cruciferous vegetables. Just look at Brussels Sprouts. He went from being the world's most hated veggie (thanks to our grandparent's terrible inclination to BOIL them to death) to being the cool new kid on the block that everybody wants to invite to their party. I mean just look at these Roasted Sweet Potatoes and Brussels Sprouts that have almost 1 million pins on Pinterest.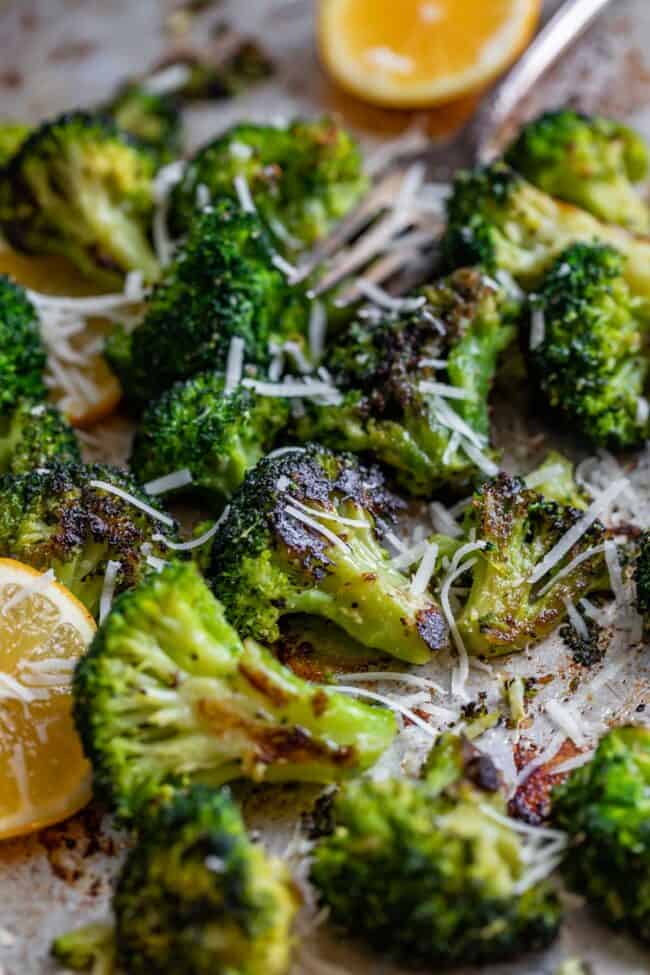 Roasting does magical things for broccoli, too. If you thought you would never be the kind of person to eat an entire pan of broccoli for dinner because you can't stop nabbing just one more bite, then think again.
How to make Oven Roasted Broccoli
Crispy, browned edges, tender and flavorful on the inside: here is how to make the best, most amazing oven roasted broccoli!
Start by chopping up your broccoli. Avoid letting your knife even touch the "leaves of the tree" part on broccoli. It just makes a mess and you lose a bunch of leaves! Instead, flip it over and chop from the stem.

I like to cook and eat the broccoli stems. Are you a stem hater? Don't be like that. Roasting brings out the best in these underdogs.
Slice them nice and thin so they get cooked all the way.
Then split each broccoli into florets (again, cutting from the stem-end.) You can make your broccoli florets as large or small as you like, as long as they are uniform in size. The larger the pieces, the longer you will have to roast.
Blanch your broccoli
Now I'm going to tell you something really annoying. If you want the best roasted broccoli experience, take a hot second to blanch (boil) your broccoli before roasting. Bring a pot of water to a boil, then add the broccoli and set a timer for about 30 seconds. No longer! It will not look like anything has happened. But I promise, this step is a game changer.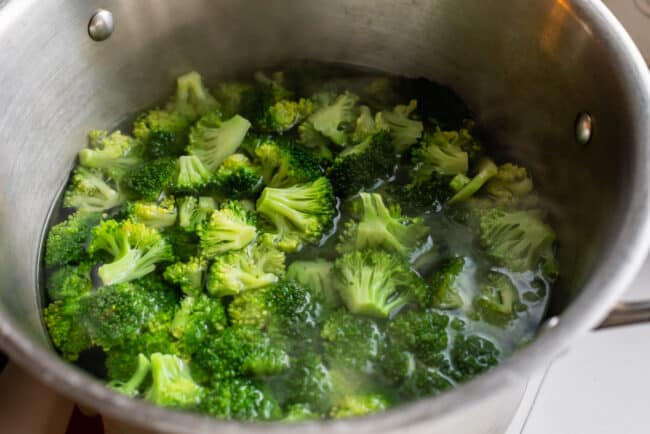 This quick blanch in boiling water starts but does not finish the cooking process. It absorbs water INTO the broccoli, then we roast it to evaporate all the moisture on the outside and get those crispy edges. A quick blanch softens the center of the broccoli ever so slightly, taking away that "stalky" or fibrous texture.
You know what I mean? When the inside of your broccoli has a little resistance to it, and you feel a liiiitle bit like a rabbit munching on greens, just for a tiny second. (You've all had a bite of the stalky end of asparagus before, right? THAT'S what I'm talking about.) I like my broccoli to be completely tender; crisp-tender, yes. But get that stalky-chewy, fibrous situation outta here.
I'm not alone here. I looked up "Broccoli" in one of my favorite resources, The Flavor Bible, which has no recipes in it. Instead it lists ingredients dictionary style, with information about how best to cook said ingredient and what flavors it pairs best with. They interviewed hundreds of chefs for the book. Next to broccoli, under cooking techniques, it says, "Boil, deep-fry, saute, steam, stir-fry."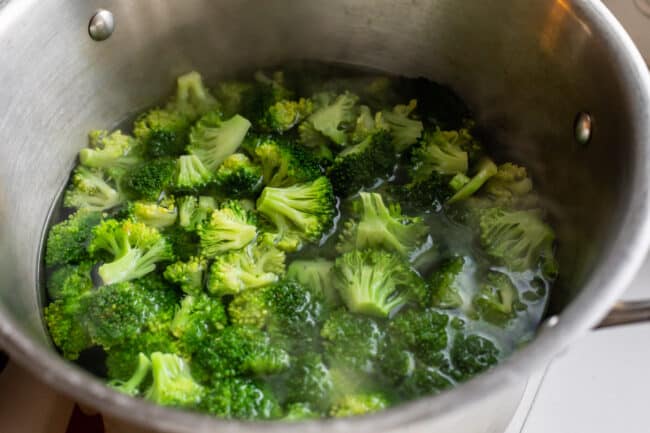 Note that is does NOT say roast. A quick blanch changes the game, and makes roasted broccoli a totally delicious option. If I had my way, I would always blanch broccoli before roasting it, to give it the ultimate crispy-edge-texture without a hint of stalky-ness.
BUT. I know how annoying this is. I know that you just want dinner to be over already. Me too!
The good news is that you really can skip the blanching step. You will still get delicious broccoli that is delicious and crisp. Your life will be one step less complicated, and sometimes that's worth more than perfect broccoli.
Can you roast frozen broccoli?
BUUUT…what if I told you there was a way an even easier, faster way??
Enter frozen broccoli.
I will tell you my dirty little secret that I probably should not be admitting. I actually PREFER frozen broccoli for roasting. (And I call myself a food blogger! See that "charlatan" up there?)
Here's why: frozen broccoli is always blanched before being frozen and packaged. DO YOU SEE WHERE THIS IS GOING? Hallelujah.
Frozen veggies get a bad rap. But that's usually because people don't know how to cook them. The veggies themselves are packaged at peak freshness, and preserved perfectly thanks to modern refrigeration.
The risk with using frozen broccoli is that it can end up soggy, if made incorrectly. Nobody wants soggy broccoli.
But correctly roasted broccoli evaporates any chance for sogginess. (See what I did there?)
The secret lies in a hot pan and not over-crowding. Simply place your baking sheet in the oven while the oven preheats, and dump the seasoned frozen broccoli (or blanched broccoli!) onto the hot hot pan. It will sizzle and start evaporating all that water right away. The oven finishes the job!
The other important tip is giving the broccoli room to breathe. As long as it has plenty of space and is not crowded on the pan, it will roast perfectly (straight from frozen) and not be soggy.
You can add up to 1 pound of broccoli to a half baking sheet (11×17 inch pan).
(For fresh broccoli, you can add 2 pounds of broccoli to the pan and still get crisp-tender results.)
Toss with oil and spices
Whether or not you blanched, whether using frozen or fresh broccoli, the next steps are simple. Toss in olive oil and spices, and roast! (Do NOT thaw frozen broccoli!)
I chose to do this in a bowl, but you could easily just dump it right on the pan and mix it up there. One less dish to wash!
Add the spices. You really only NEED salt and pepper, but I love my broccoli to be a little extra, so I add garlic, mustard, and cayenne. Mustard is the perfect compliment for broccoli! Trust me. Cayenne adds a bit of flavor and not much heat (but a little bit.) You can leave it out if you want.
I like to mix the spices up first so you don't get a random bite with tons of pepper, or no salt on another piece. Add half the spices, stir, then add the remaining half, and stir again. This helps it distribute properly!
How long to roast broccoli?
This is a matter of debate actually. I like my broccoli to be crisp-tender with crispy brown edges. The total roast time is usually about 15-25 minutes, but it's very important to stir halfway through! Set a timer for about 10 minutes. Stir when the timer goes off, then continue roasting for at least another 5-10 minutes. You will know they are done when they are fork tender! I almost always reach my fork in and grab a piece. Wait a minute for it to cool and taste to see if it is exactly how you like it!
Then continue with eating the entire pan. Bet you thought you couldn't eat a pound of broccoli in one sitting? You were wrong.
But wait! One last thing. Don't forget to drizzle a teensy bit of either red wine vinegar or fresh lemon juice on top of your broccoli. This really brightens the flavor and is my number one tip for jazzing up vegetables for a weeknight dinner. That kick of acid just steps it up a notch! If I have a lemon on hand, I will just squeeze a half over the top. But if I don't, I always have red wine vinegar in my pantry. Quick and easy!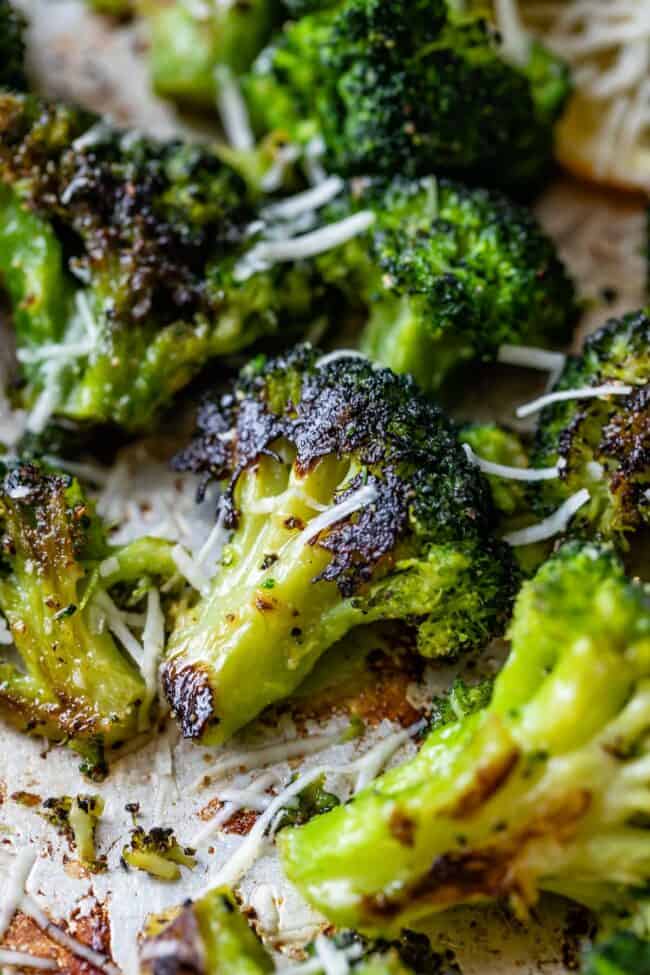 Oven Roasted Broccoli cheat sheet
Here are the basics. I had to go and make broccoli complicated:
Chop broccoli into uniform florets. Chop stems thin.
Blanch your broccoli for 30 seconds before roasting, for the best texture.
(Frozen broccoli is already blanched! It's the best hack! Don't thaw!)
Coat with oil, and stir as you add spices.
Roast 2 lbs of fresh broccoli per sheet pan; 1 lb of frozen or blanched broccoli per sheet pan
Heat the pan in the preheating oven if roasting frozen or blanched broccoli
Stir halfway through roasting time.
Taste the broccoli to see if it's ready to come out of the oven between 20-25 minutes!
Top with lemon or red wine vinegar!
More broccoli recipes you are going to love!
Easy Broccoli Bacon Salad << perfect for potlucks!
Broccoli with Feta and Fried Almonds << this is an all time favorite of mine!
Broccoli Cheese Soup << It only takes 30 minutes and it's heavenly.
20 Minute Lemon Broccoli Pasta Skillet << this is such a quick and easy weeknight meal!
Easy Sausage and Broccoli Kebabs << love this for summer nights
Sheet Pan Asian Salmon with Broccoli << sheet pan meals are just the best right?
Chinese Beef and Broccoli Soup << just like your favorite take out!
Pan Seared Chicken and Broccolini with Creamy Mustard Sauce << sub broccoli for the broccolini!
Instant Pot Steamed Broccoli from Food Faith Fitness
Chicken and Broccoli Stir Fry from Tastes of Lizzy T
Simple Sauteed Broccoli from A Couple Cooks
Steamed Broccoli from Once Upon a Chef
For more information please see the list of What temperature to roast broccoli
Detail: 🔗