Looking for a simple side? Try this parmesan roasted zucchini that's seasoned in a mix of onion powder and garlic powder and red pepper flakes before it goes into the oven and bakes to a golden brown.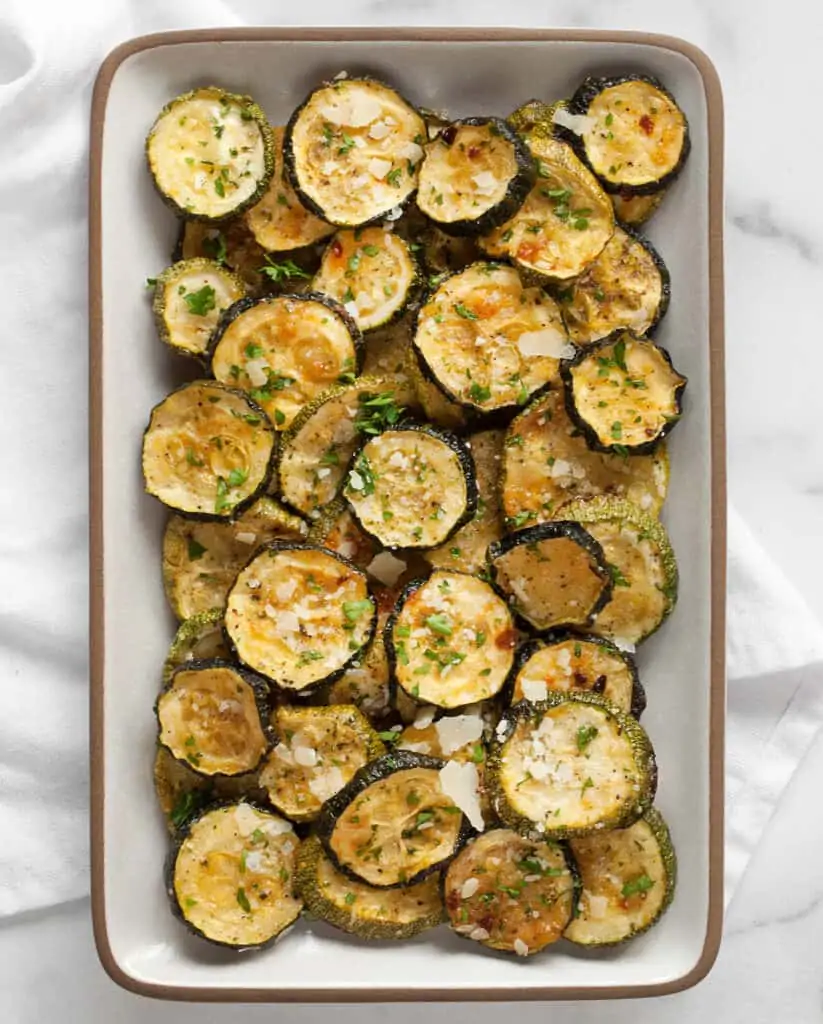 This summer we've gone all in on our container garden. We planned ahead getting plants into their boxes from the moment there was no longer a frost risk in Chicago.And then in early June we pulled out the cooler weather salad greens that had bolted and replaced them with hot weather crops. That included two zucchini plants.
I had high hopes of going into August and September with more zucchini than I knew what to do with. Unfortunately, that didn't happen because a massive storm complete with a derecho struck about a month ago. I'm just grateful our zucchini plants were the only victim of that intense windstorm with lighting and lots of rain.
After that bad weather passed the leaves looked very tangled and the plants were partially uprooted. There was no way for them to recover. I had only harvested two before this happened. So much for all those easy recipes I had planned!
The good news is that I've been getting plenty of zucchini and summer squash in my weekly farm share. I've baked muffins and loaves of zucchini bread. On the savory side I roast vegetables in different combinations including zucchini, corn and tomatoes.
But sometimes I stick to one veggie, which is what I do in this Parmesan roasted zucchini with my version of Italian seasoning.
What is Zucchini
Technically zucchini is a fruit, but we all treat it like a vegetable. Zucchini a type of summer squash that's from the same family as cucumber and melons.
When choosing zucchini, it should feel firm with no soft spots, and the skin should be smooth and medium to dark green. Fresh zucchini can always be transformed into a great side.
How To Cook Zucchini
Sweet or savory, these are the ways I like to prep zucchini:
Roasting: Toss diced or sliced zucchini in olive oil, salt and pepper. Then spread it across a large baking sheet in an even layer. At 425 degrees F, roast the zucchini for for about 30 minutes until it has browned at the edges.
Sautéing: Zucchini can be diced and sautéed. Or you can use a spiralizer to cut zucchini into zoodles for a low carb, quick cooking version of pasta
Raw: You can even leave zucchini raw and slice it super thin to create a ribbon salad. Zucchini does not need cooking.
Baking: When you bake with shredded zucchini, make sure to squeeze out as much water as you can. Then you won't end up with a dense crumb.
The Ingredients
This is what you need for this roasted zucchini recipe:
Zucchini: You can also use yellow squash or a combination of both.
Seasoning Mix: It's a blend of onion powder, garlic powder, red pepper flakes, salt & black pepper.
Parmesan cheese melts right into the zucchini in the oven.
Olive oil: Definitely use extra virgin olive oil for flavor and quality.
Parsley: I garnish the baked zucchini with fresh herbs before serving.
How To Make Parmesan Roasted Zucchini
Preheat the oven to 425 degrees F with a baking sheet inside. This is a simple hot oven trick to maximize browning when the veggies hit the pan and avoiding soggy zucchini. There's no need to line the pan with aluminum foil or parchment.
Make the spice mix. In a small bowl, combine the garlic powder, onion powder, red pepper flakes, salt and pepper. Stir in the olive oil.
Toss the zucchini rounds in the spiced olive oil in a large bowl making sure they are all coated. This is an easy way to distribute the flavor on the veggies.
Carefully arrange the zucchini slices on the pre-heated sheet pan, so they are not overlapping or touching.
Sprinkle the zucchini with Parmesan cheese.
Roast the zucchini until it is golden brown and tender in the middle.
Sprinkle the roasted zucchini with chopped parsley.
Roasting The Zucchini
To give the zucchini a head start roasting, I preheat the oven to 425 degrees F with a sheet pan inside.The pan will hiss when the zucchini makes contact on the hot metal. It's important that the slices are in a single layer with a little space in between the rounds, so none are overlapping.
Then I sprinkle Parmesan cheese over the zucchini and roast it for 30-35 minutes until it turns golden brown.
How To Serve
Of course, you can serve oven roasted zucchini as a healthy side dish with pretty much any protein. That includes:Oven-Roasted Halibut with Cherry TomatoesDry-Rubbed Turkey
My favorite way is to keep things vegetarian with my main dish:Fresh Tomato Farro PuttansecaBaked Tomato Farro RisottoTomato Corn OrecchietteLemon Kale OrzoChickpea Arrabiata
Leftovers
You can store leftovers in an airtight container in the refrigerator up to 3 to 4 days. I like eating them cold chopped in a salad or mixed in a grain bowl. If you prefer them warm, you can reheat them in the oven.
More Zucchini Recipes
Best Healthy Zucchini RecipesBaked Zucchini FriesZucchini Ribbon SaladRoasted Zucchini Tomato Lentil Salad30-Minute Tomato Zucchini OrzoZucchini Corn FrittersBalsamic Zucchini Tomato Bake
Print
For more information, please see more information about What temp to roast zucchini
Detail: 🔗