Love this recipe but would prefer a lower-calorie and carb-free version? Check out my Philly cheesesteak stuffed bell peppers.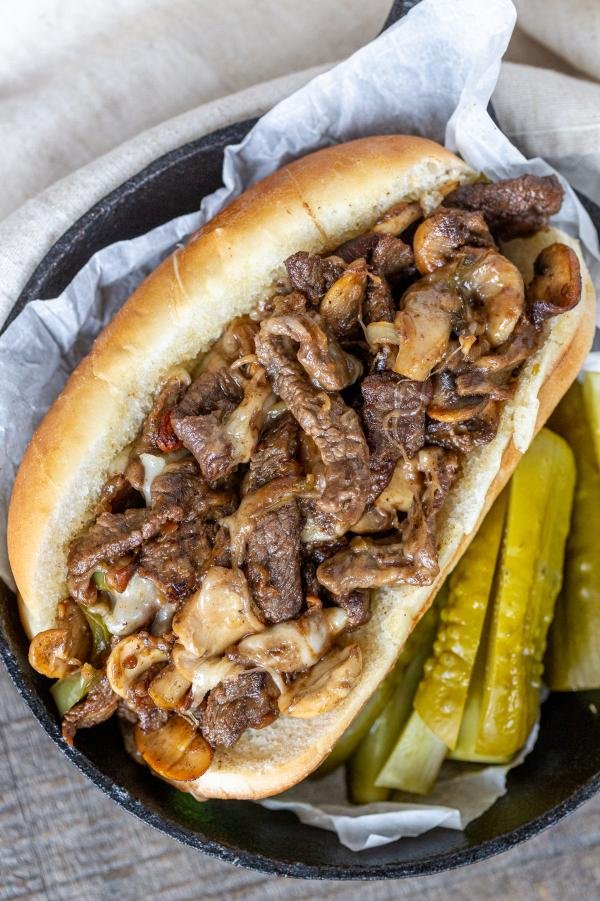 What is a Philly Cheesesteak?
This classic sandwich was born when Pat Olivieri, a hot dog stand owner in Philadelphia, decided he was sick of having hot dogs for his lunch. He grabbed some beef from a local butcher, threw it on his grill, and popped it in a hot dog bun. A cab driver drove by and caught a whiff of the sub and asked for one himself. And just like that, a local obsession came to be!
While this authentic sandwich has proved itself to be a street food favorite, it is also an excellent dish to make at home. When you prepare it yourself, you can experiment with different cheeses, veggies, bread, and cuts of beef until you create your dream Philly cheesesteak. The possibilities are endless and delicious!
How To Make Philly Cheesesteak
Making Philly cheesesteak only requires a few simple ingredients and one pan. Below, find a high-level overview of the recipe.
Prepare the filling. Chop and sautee your veggies. Remove from pan and set to the side. Sautee thinly-sliced beef in the same pan and season to taste with salt and pepper. Add sauteed veggies back into the pan. Stir to combine. Top with cheese and let it melt naturally from the heat of meat and veggies.
Stuff and serve. Stuff your untoasted or toasted hoagie roll with the meat mixture. Serve right away along with your favorite sides (suggestions below).
Choosing the Right Ingredients for the Philly Cheesesteak
Choosing the right ingredients for your Philly Cheesesteak makes all the difference.
The best cheese for Philly cheesesteak: Provolone cheese works best for a Philly cheesesteak due to its neutral flavor and melt. A strong runner-up would be sliced white American cheese slices (mild or sharp). In Philadelphia, you'll even find some food trucks and restaurants swearing by Cheez Whiz.
The best cut of beef for Philly cheesesteak: Thinly sliced ribeye is the go-to meat choice for a classic Philly cheesesteak. The marbling of ribeye is ideal because it creates a tender, easy-to-bite sandwich.
Philly Cheesesteak Sauce – Mayo is the perfect sauce for a Philly cheesesteak. If you are wanting more of a punch, add horseradish to the mix or a touch of Worcestershire sauce.
Other Cheesesteak Toppings – Some cheesesteak shops only add caramelized onions. Some also add bell peppers or mushrooms. Use all three or just one. The choice is yours!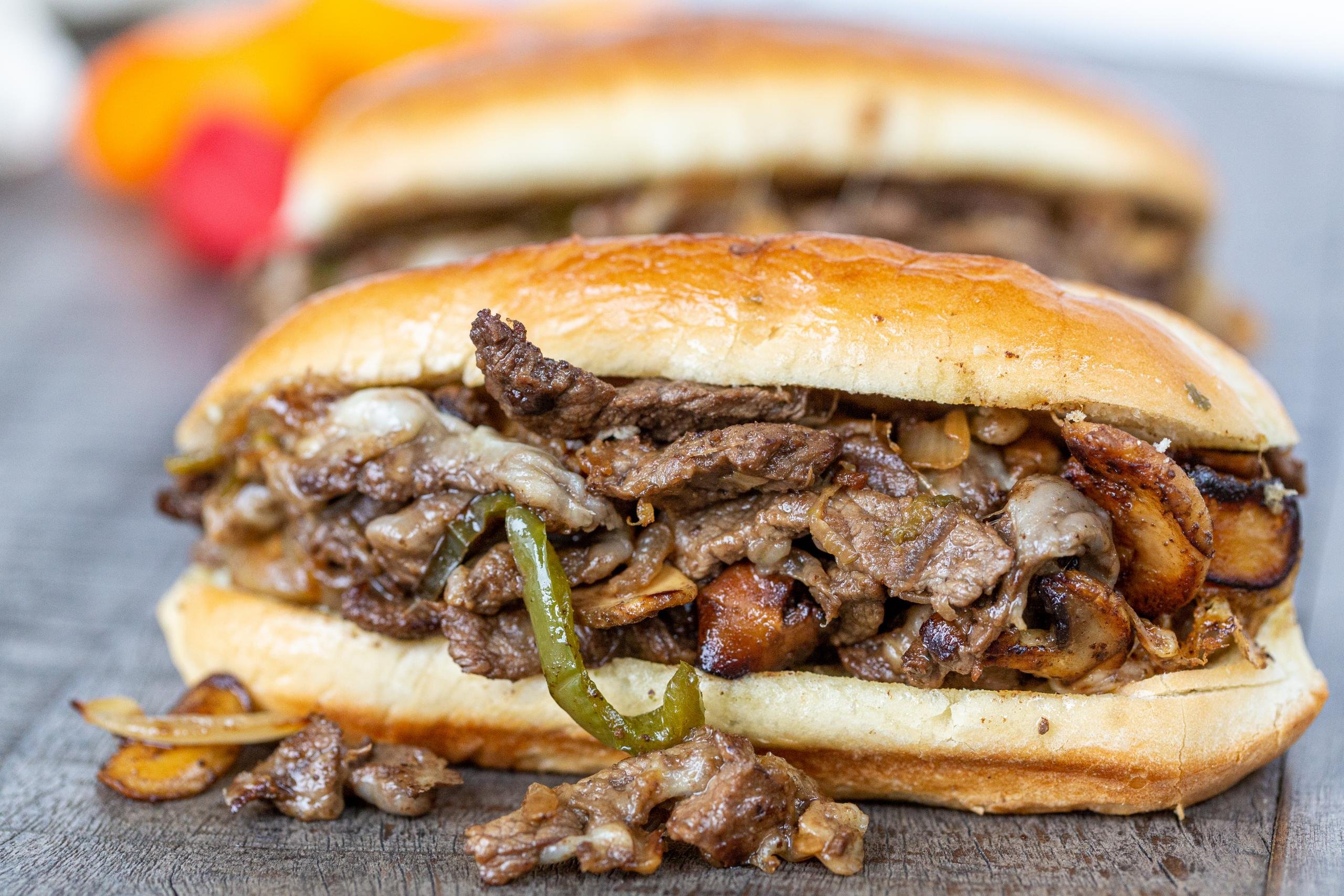 Tips for Making the Best Philly Cheesesteak
Below, find our top tips and tricks for making the best Philly cheesesteak.
Thinly slice your beef. Use a sharp knife to slice your beef thin. This will create a tender mixture and an easy-to-bite sandwich.
Don't overcook the beef. Whatever you do, don't overcook the ribeye! The best part about this sandwich is that it melts in your mouth and is easy to bite. The meat should be so thinly sliced that you can quickly saute it. Consider investing in a mandolin slicer to shave the meat.
Use a slow cooker for tougher beef. Don't want to spend the big bucks on ribeye? Want cheesesteaks ready when you get home? Pop a chuck roast into the slow cooker with a cup of beef broth, a touch of Worcestershire, and some salt and pepper. Cook on low for about 6-8 hours. 45 minutes before serving add the veggies of your choice into the crockpot. Spoon the mixture onto your roll and top with cheese.
Substitute chicken for beef. If beef is out of the question, substitute it with chicken. A lot of cheesesteak shops offer this option in Philly because it is delicious in its own way. Make sure you slice the chicken thinly and against the grain to get a similar texture.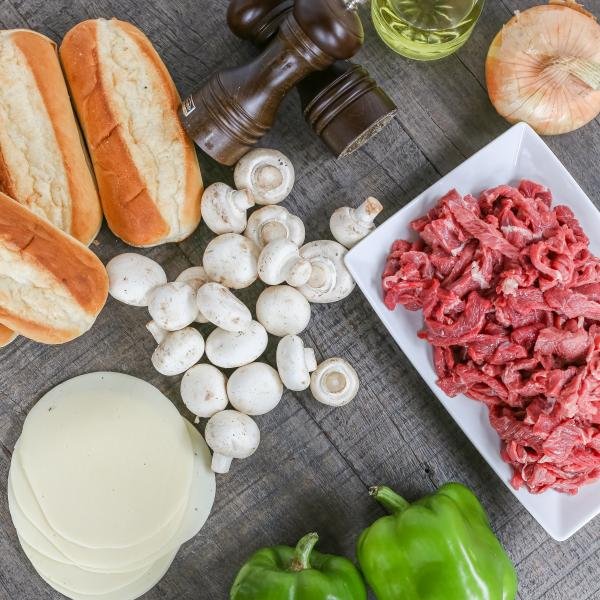 FAQ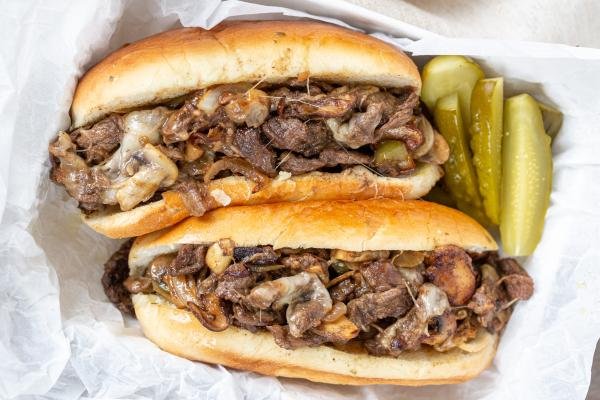 Servings Philly Cheesesteak
Philly cheesesteak is great for your next get-together – especially if your hosting for a lot of picky kids. Another great occasion for this meaty sandwich is game day. Serve your Philly cheesesteak alongside pickles, air fryer potato chips, or air fryer french fries. If you're looking to go a bit lighter, a classic garden salad will do the trick.
A Few More Steak Recipes
Steak Sandwich Recipe – Classic steak sandwich
Baked Steak with Vegetables – One-pan steak dinner
Philly Cheesesteak Sloppy Joes – Sloppy joes Philly-style
Philly Cheesesteak Sliders – Mini Philly cheesesteaks
For more information please see the list of Philly cheesesteak with roast beef
Detail: 🔗