This EASY Potato Salad recipe is made using a few traditional ingredients including a combination of mayo and mustard, relish, potatoes, eggs, celery, and onions. Garnish with dill, paprika, green onions, and even bacon.
Be sure to serve this with a side of my Copycat Texas Roadhouse Rolls!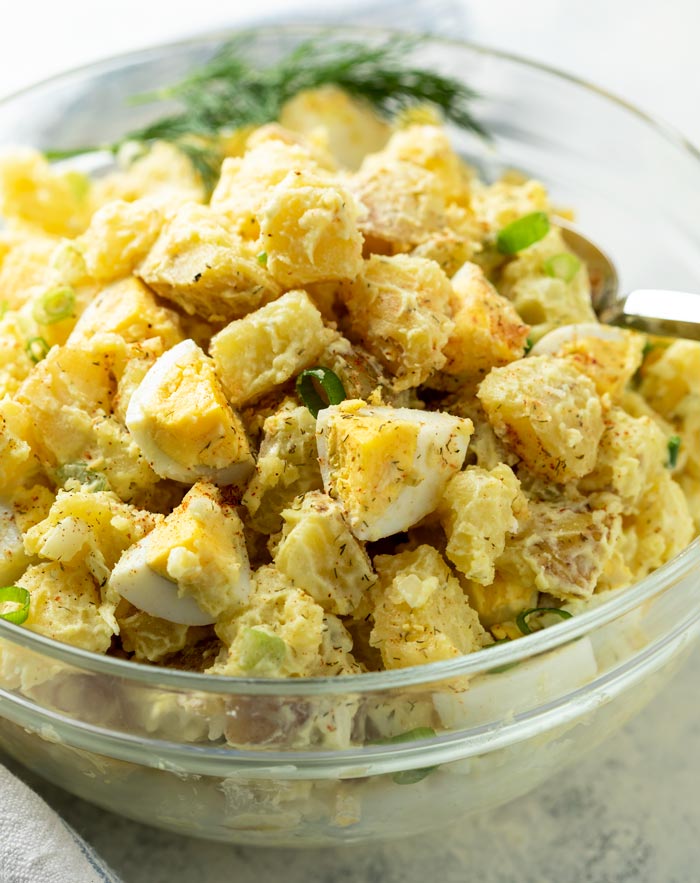 Easy Potato Salad
Potato salad is such a classic recipe. It's super simple to make and while there are just a few ingredients, they all compliment each other and serve a great purpose.
I absolutely love the combination of using mayo and mustard. Adding hard-boiled eggs make it even more fun to eat than just straight potatoes, and I'll tell you how to make the most perfect eggs every time.
The onions and celery add a nice crunch, the relish adds a hint of tang, as does the white vinegar which also enhances the flavor of the potatoes and slows down discoloration.
Let do this! I'll show you how it's made, what potatoes are the best for this recipe, how to store it, and more.
How to Make it
See recipe card below this post for ingredient quantities and full instructions.
Gently boil whole/unpeeled Yukon Gold Potatoes until they can be easily pierced with a fork, 20-25 minutes.
Drain and dice into bite-sized pieces. Toss with white vinegar and let cool.
Combine with mayo, yellow mustard, relish, garlic salt, onions, and celery.
Add in diced hard boiled eggs and mix gently. Season with salt/pepper if desired.
Transfer to a clean serving bowl garnish with dill, paprika, and green onions.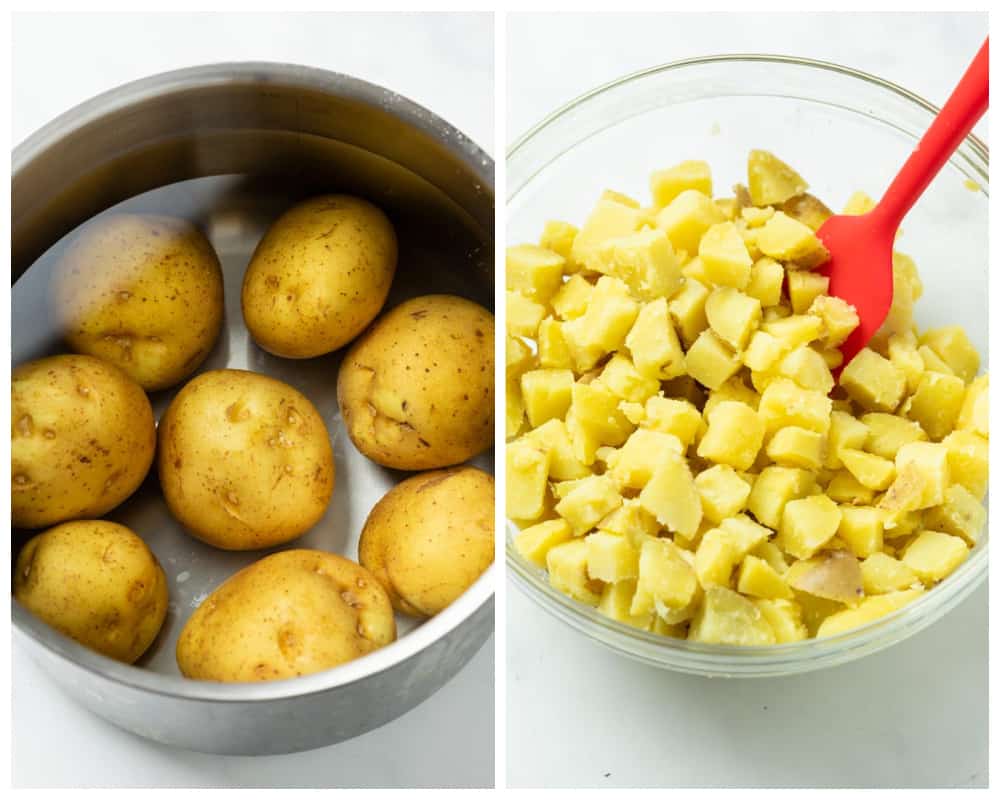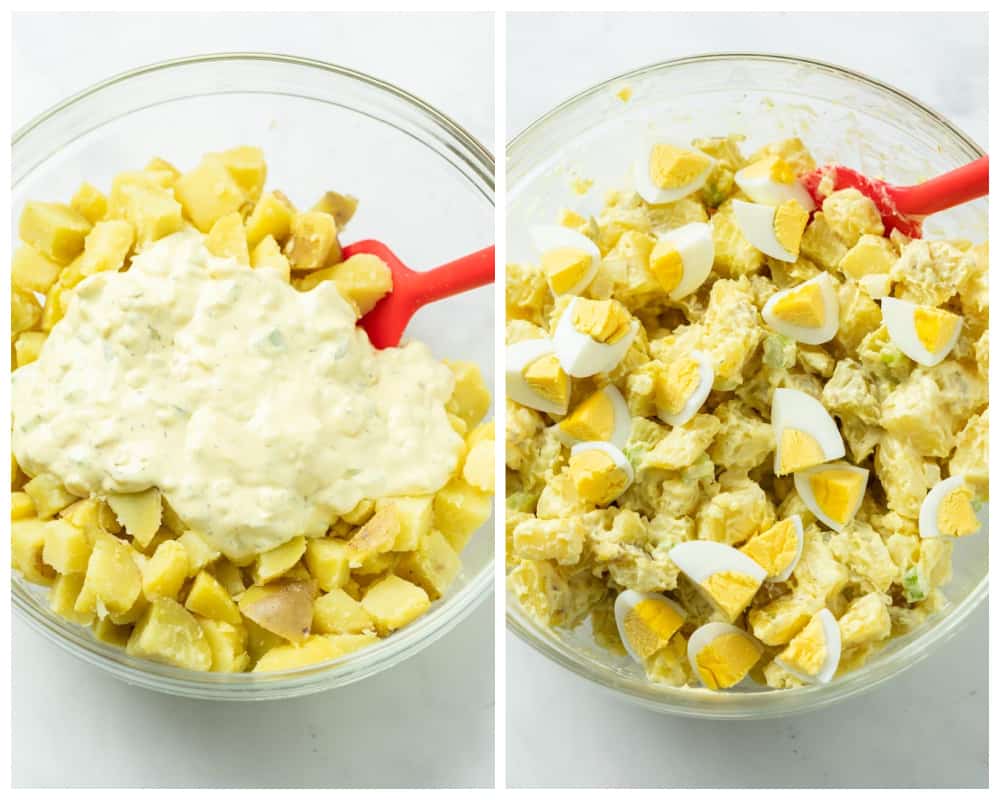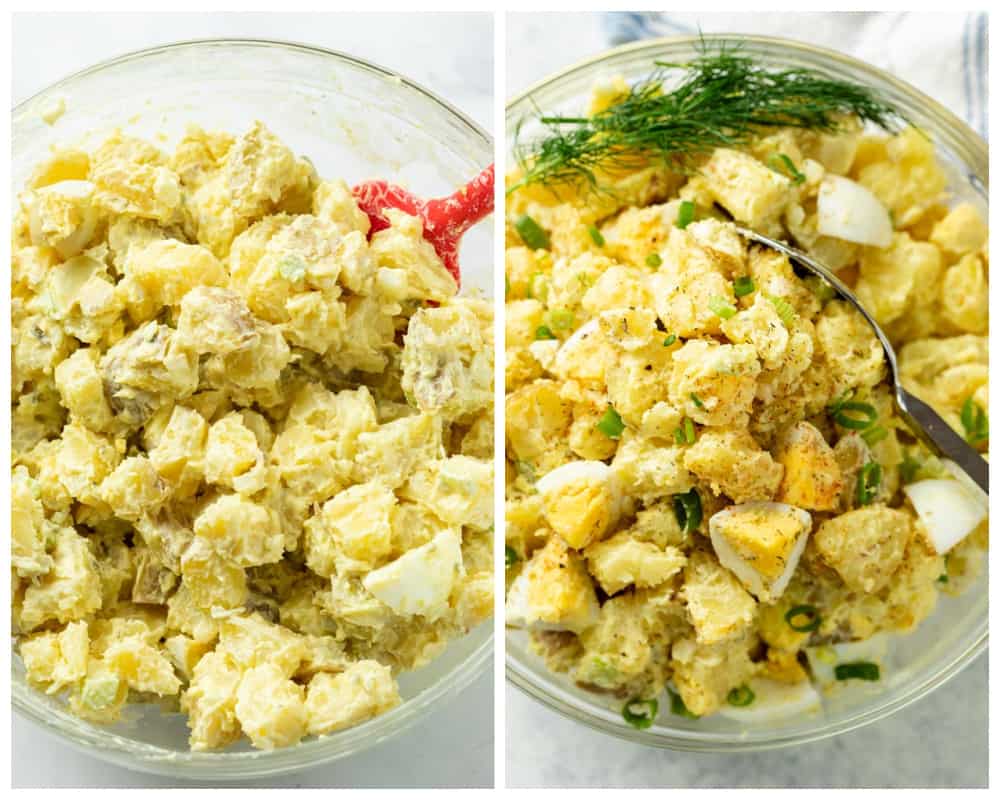 Best Potatoes for Potato Salad
Waxy potatoes such as red potatoes or Yukon golds hold their shape best after boiling and have a creamier consistency.
Pro Tips
Leave the skin on the Potatoes: This helps prevent the potatoes from getting mushy. The potato skins are also easy to peel off after they've been boiled.
Use potatoes of roughly the same size: This allows them to cook at the same rate. If you're unable to get your hands on same-sized potatoes, remove the smaller ones from the heat sooner and allow the larger ones to continue cooking.
Start with cool water in the pot then bring it to a boil. It helps for more even cooking.
Add white vinegar to the potatoes while they're still warm: This will enhance the flavor and slow down discoloration.
Add the Mayo mixture once the potatoes have cooled: This will prevent the potatoes from getting oily.
Cooked/Crumbled bacon makes a great garnish as well.
How to Hard Boil Eggs:
Submerge the eggs in water so they're covered by 2 inches.
Gradually bring them to a boil.
Once the boil is reached, cover the pot and turn off the heat.
Let them sit for 12 minutes.
Place them in a colander and rinse them under cool running water to stop the cooking process. Then peel and dice.
How Much Potato Salad Per Person
1/2 pounds of potatoes per person is a good rule of thumb when making potato salad.
Storage
Leftover potato salad that is refrigerated shortly after eating it can be stored in an airtight container in the fridge for 3-4 days.
According to Idaho Potato, if the potato salad has been left out at temperatures over 41° for longer than 2 hours, it should be discarded.
Can you Freeze Potato Salad?
The creamy mayo base used for potato salad doesn't freeze well, and neither do hard boiled eggs or celery.
If you find yourself with an overabundance of potatoes, you can freeze cooked potatoes to use for future potato salads, twice baked potato casserole, or hash brown casserole.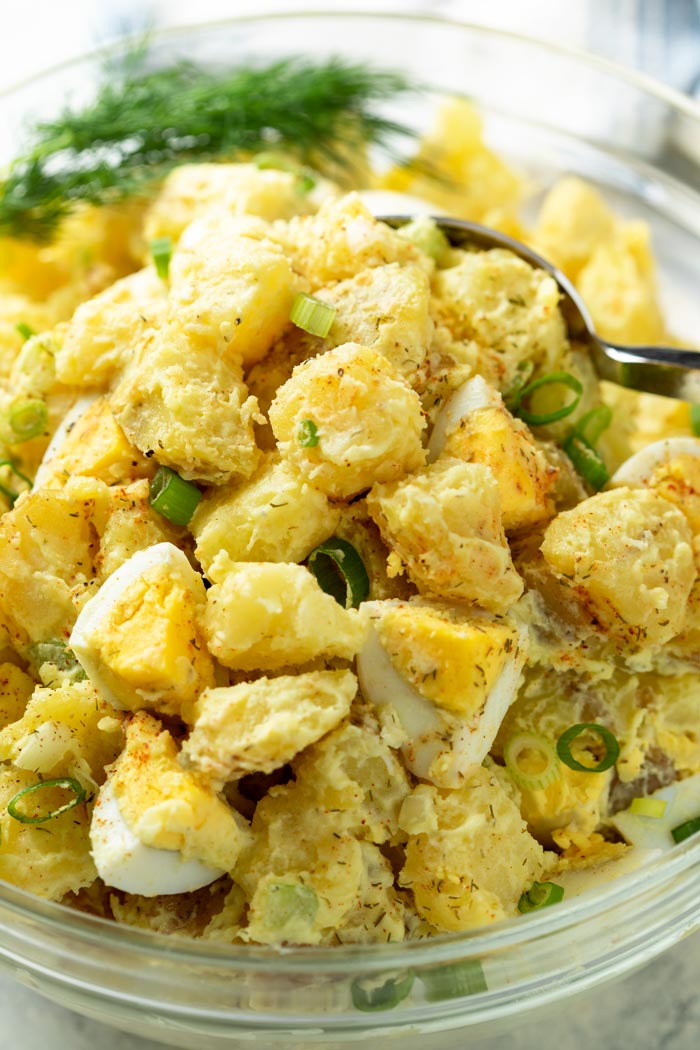 Tools For This Recipe

(Amazon affiliate links)- Check out all of my kitchen essentials here.

Glass Serving Bowl – I love this one.
Silver Serving Spoon
Large Pot- This is the perfect size for boiling the potatoes.
Chef's Knife- This one is great and is affordable. I use it all the time.

Silicone Spatula- Makes it easy to gently mix and coat the potatoes without breaking them.
Try These Next
Get My Free Meal Plan
I've got a Free Meal Planwith 7 of my super popular recipes (complete with grocery list)! Sign up for my email list and I'll send it over now along with weekly dinner recipes!
And follow me on Facebook, Instagram, and Pinterest!
Tried This Recipe?
Leave a review, I love hearing your feedback! ⭐⭐⭐⭐⭐
For more information please see the list of Easy potato salad few ingredients
Detail: 🔗