Learn how to cook a bone in turkey breast, step by step (​​without brine!) with my easy roasted Turkey Breast Recipe. Add simple Italian seasonings and vegetables for a tasty, juicy oven baked turkey dish for Thanksgiving, Christmas, and beyond. Let's make it…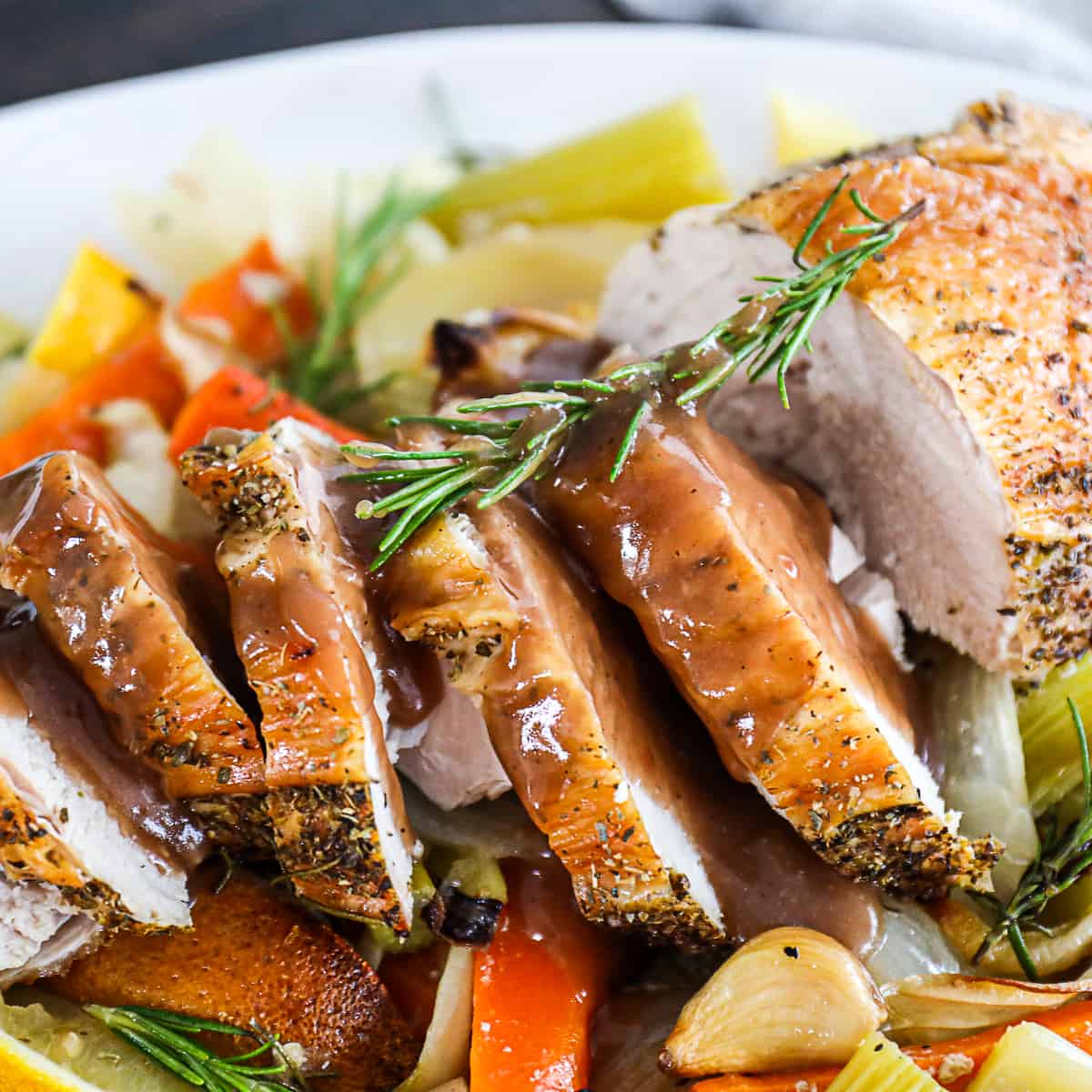 Why this ​​bone in turkey breast is so great…
It's impossible to screw up.
No dry brine needed. Just season + bake it.
Cooking vegetables under the turkey breast means you get a veggie side dish without any extra effort.
Great for entertaining. The presentation is beautiful!
Roasting a turkey breast is faster, easier and less messy than cooking a whole bird.
Ingredients
Here's what you need to make this turkey breast recipe.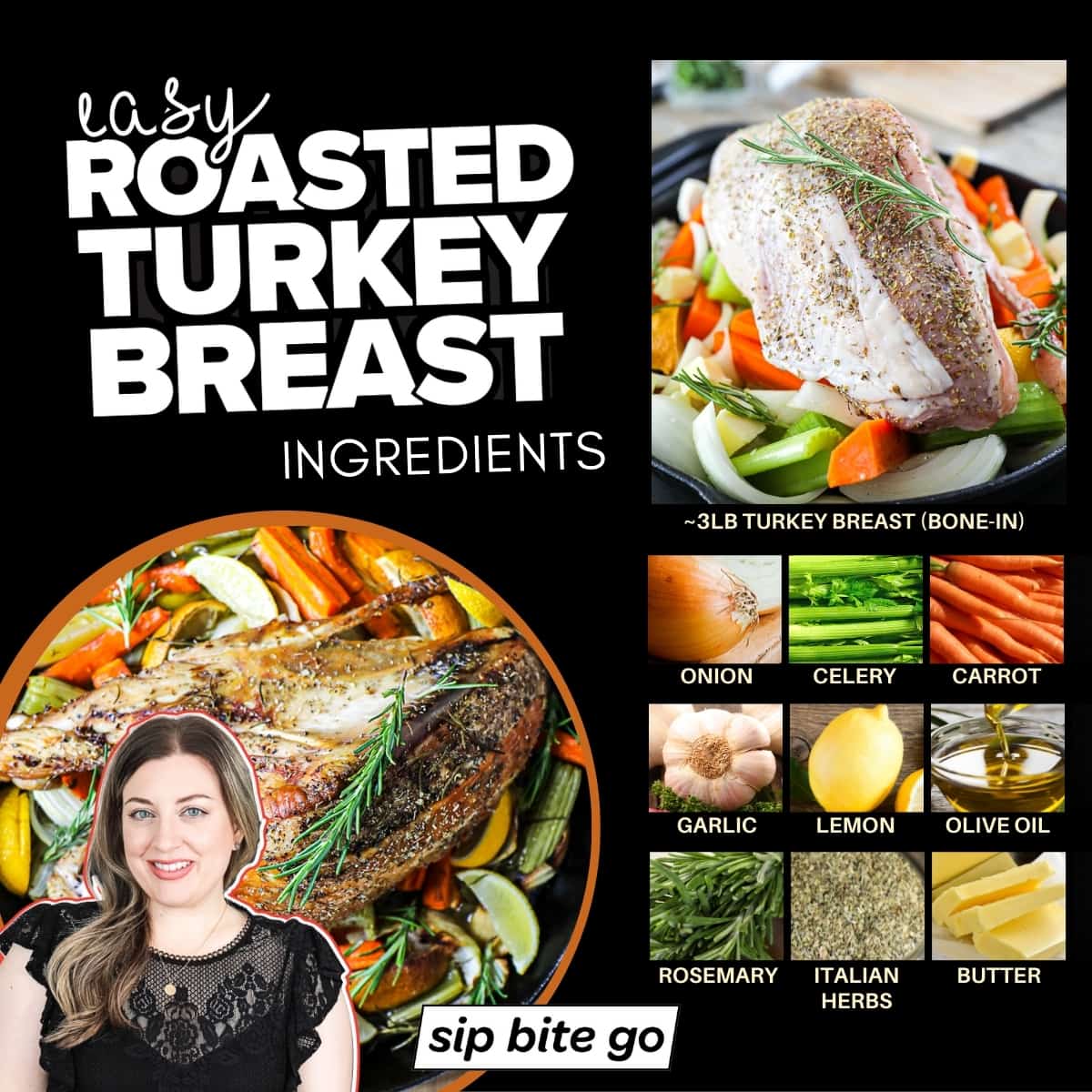 Turkey breast and roasting vegetables
3 lb turkey breast, bone in
Butter
Onions
Celery
Carrots
Garlic
Olive oil
Salt
Pepper
Lemon
Turkey breast seasoning
Salt
Pepper
Italian seasonings (or poultry seasonings)
Butter
Rosemary
Also see this recipe for oven baked ham with bourbon glaze…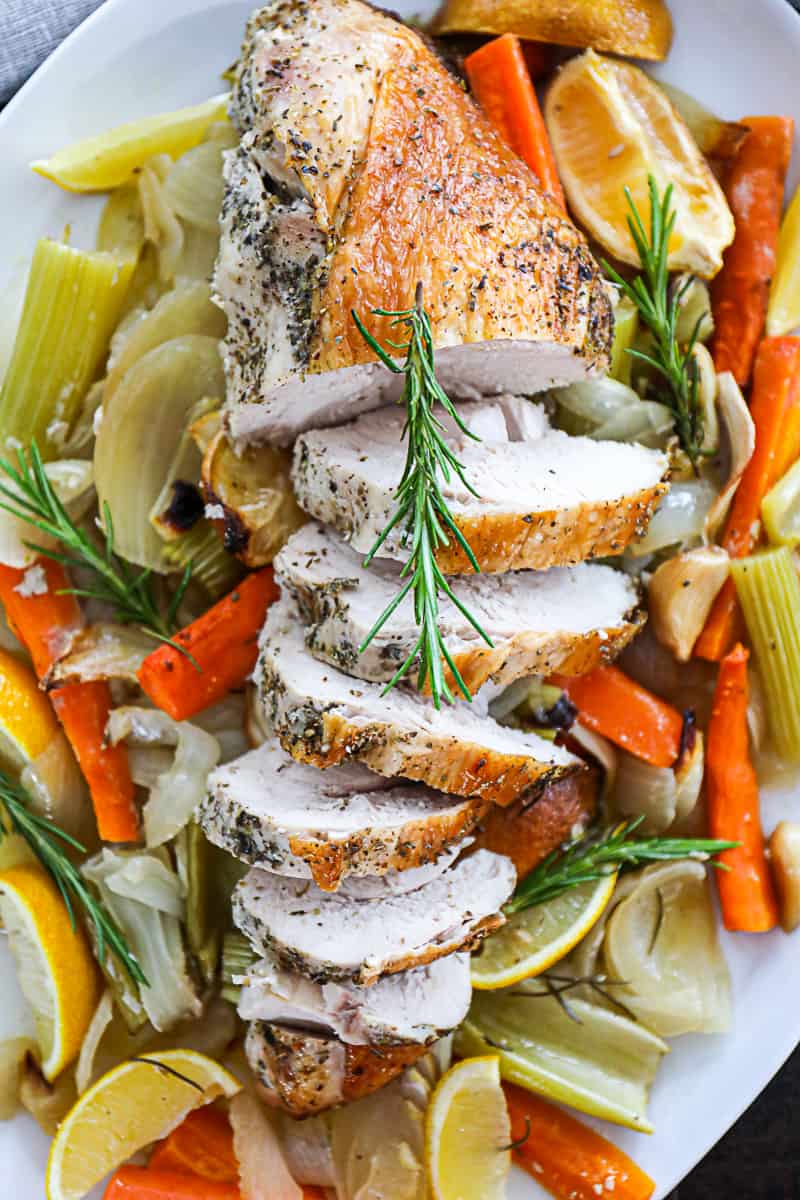 How to make roasted turkey breast bone in
Recipe quick look
Here's a quick overview of roasting a turkey breast in the oven…
Add veggies + seasonings to a roasting pan or skillet.
Season turkey breast.
Roast bone in turkey breast 20 minutes a pound. Broil the last 5-10 minutes if desired to crisp the skin.
Rest and carve roasted turkey breast.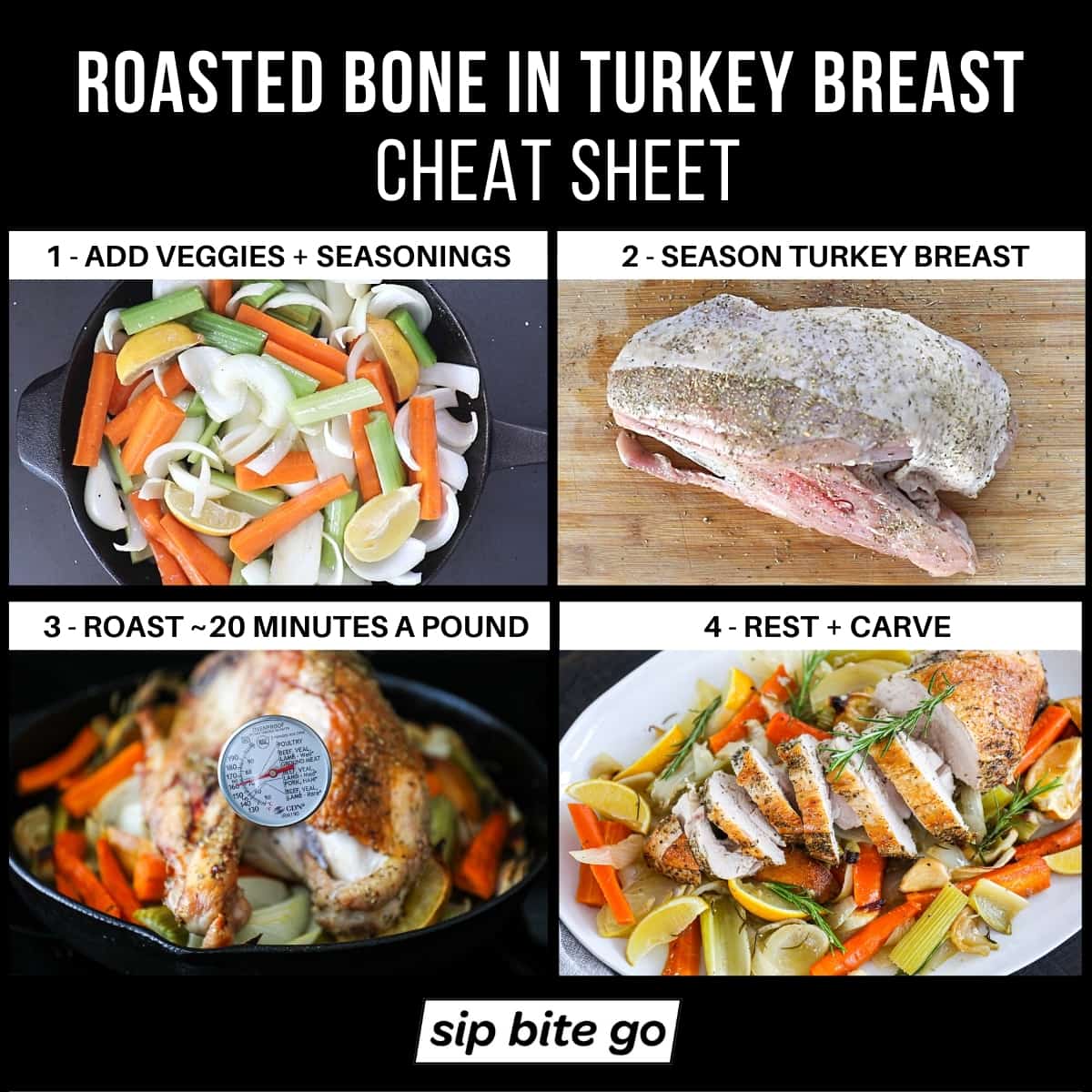 Detailed instructions
Preheat oven to 350 degrees F.
Grease a roasting pan or the bottom of a large cast iron skillet with 1 tbsp butter. To the skillet, add the onions, celery, carrots, and garlic. Drizzle with olive oil, sprinkle with salt and pepper, give the ingredients a toss to coat them with seasonings, and add lemon wedges on top. Set aside.
Pat bone in turkey breast dry with a paper towel. Season all over with salt, pepper and Italian seasoning blend. Add turkey on top of the vegetables in the skillet. Add cubes of butter on top of vegetables (around the turkey) and top the turkey and vegetables with rosemary. If you're meal prepping this in advance, set the turkey in the refrigerator at this time and take it out about 20 minutes before it's time to roast it.
Roast bone in turkey breast in the oven at 350 degrees F for about 20 minutes a pound, until the internal temperature reaches 160 degrees F as measured by a meat thermometer. The turkey skin should be golden brown. My turkey in the Sip Bite Go recipe demonstration photos took 1 hour and 15 minutes to roast in the oven to perfection.
If the skin of the turkey is browned before the internal temperature reaches 160 degrees F, cover the turkey in foil and add it back to the oven to cook until it reaches a safe temperature. This should keep the top from burning if that's an issue in your oven.
If the skin of the turkey is not golden brown, but the inside is fully cooked, turn on the oven broiler. Take the turkey out of the oven, brush it with about 1 tbsp of melted butter, and broil it on high for about 5-10 minutes until it's golden brown.
Rest roasted turkey breast, covered with tin foil, for at least 25 minutes (the one in the photo rested for 45 minutes). This will keep it juicy, but prevent juices from running when you cut into the turkey. Carve the turkey and enjoy.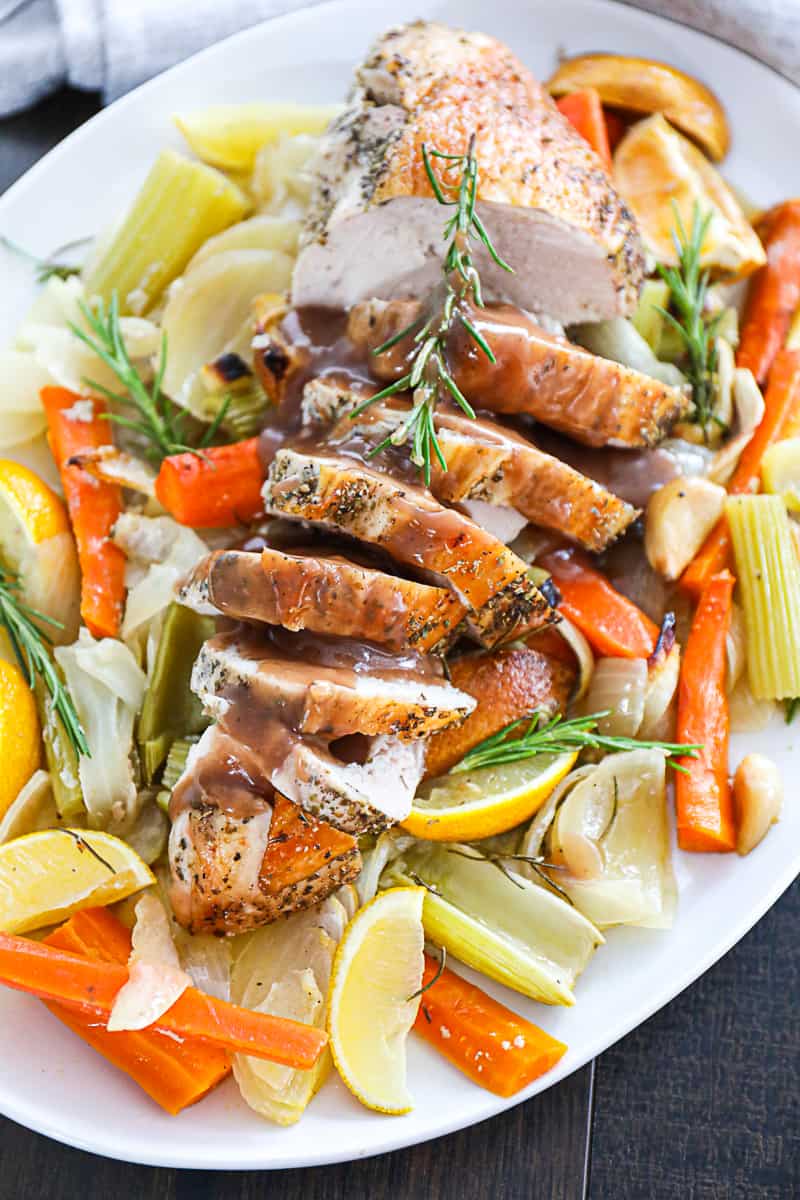 FAQs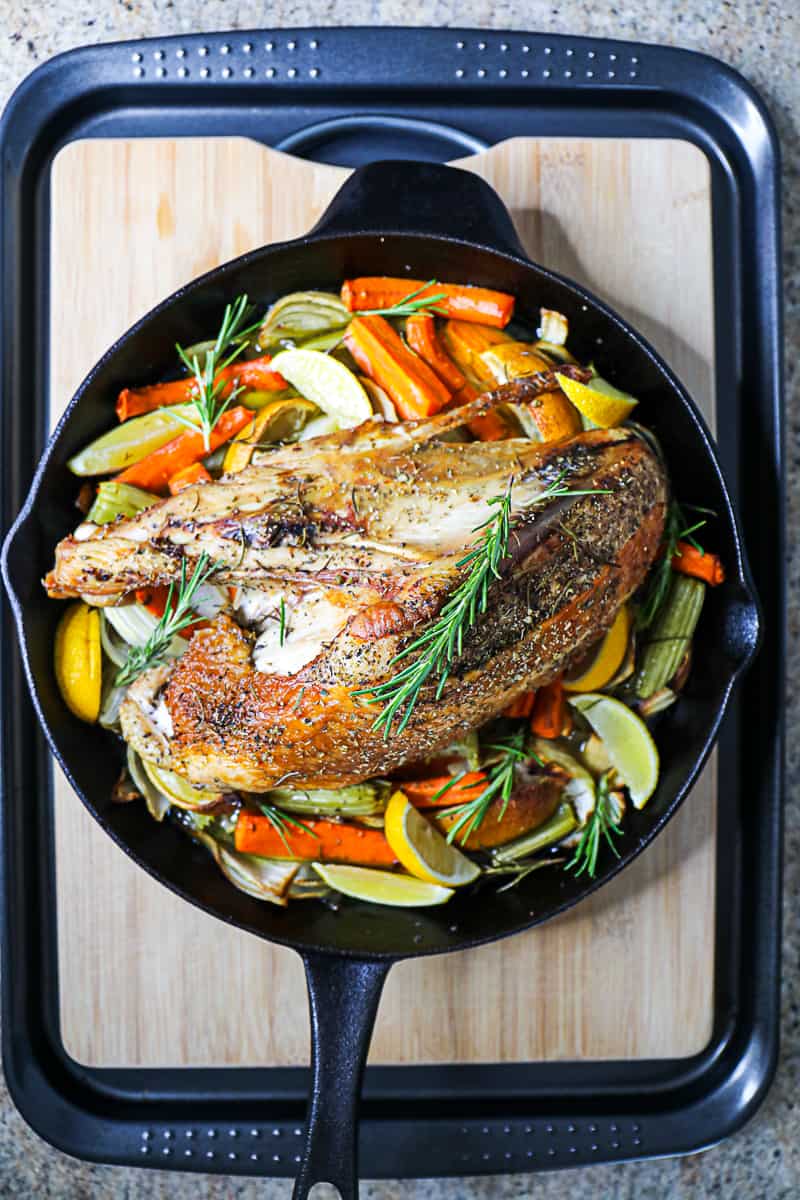 Why I wrote this recipe
People can get really overwhelmed when it comes to cooking turkey in the oven so I wanted to make it really simple and straightforward in a beginners style recipe.
No dry turkey here! Just juicy turkey breast that goes from oven to table with a beautiful presentation.
Sure it's Thanksgiving turkey and Christmas dinner approved, but this recipe is simple enough to make for a weekend dinner for the family or guests.
I love that it comes with a built-in side dish of root vegetables (roasted carrots and onions) and love the flavor when the back of my fork squeezes the juice out of the wedges of lemon and onto my plate. The whole roasted garlic soaking in butter at the bottom of the pan gives it massive flavor, too. I think you'll enjoy it very much.
Side dish ideas
Air fryer chicken wings
Potato recipes
Stuffed shells
Sautéed onions and peppers
White sauce
Baked chicken wings
Sautéed mushrooms
Spinach pesto pasta
Make ahead Mexican salad
Best Caprese salad
Creamy pesto pasta salad
Roasted cherry tomatoes
Focaccia bread
Sausage stuffing
See all side dishes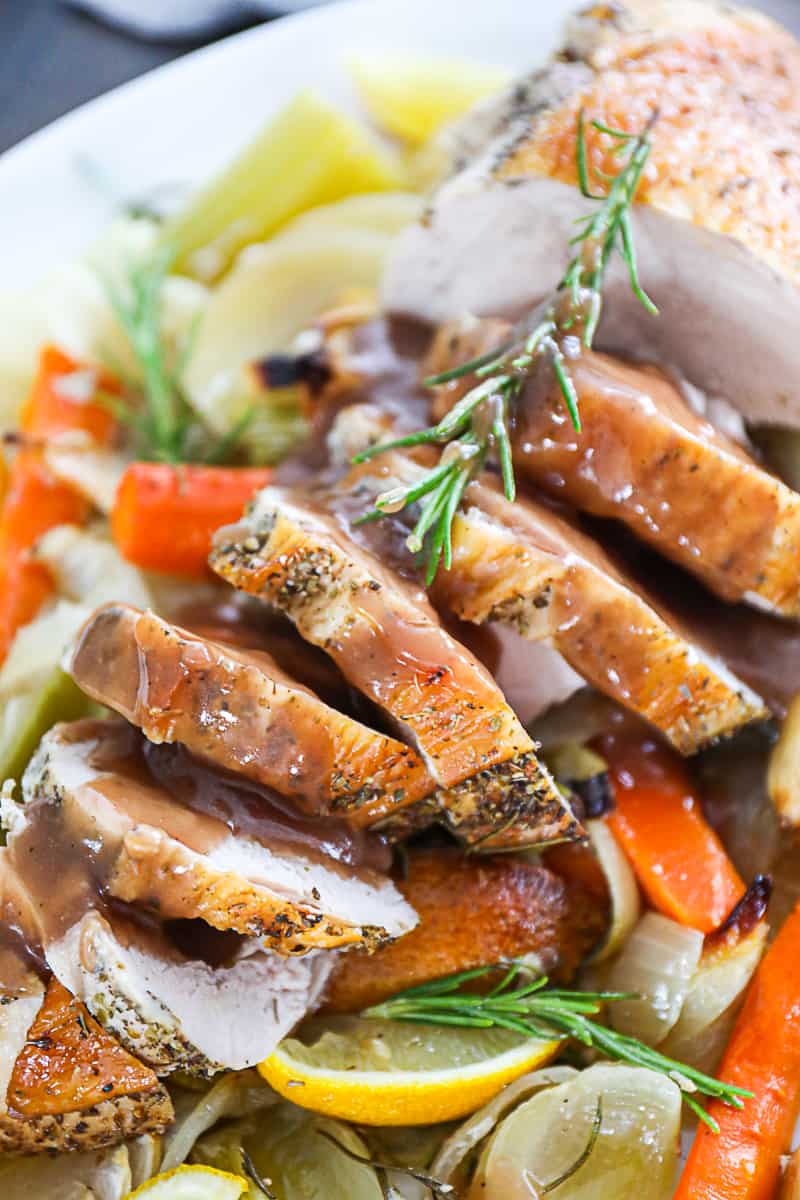 Are you a foodie, too?
Hey home chefs, we cook a lot of turkey in my house! Now that you know ​​how to cook a bone in turkey breast in the oven, there are a few other recipes for turkey breast you'll love. It just depends on the kitchen appliances you have on hand.
Have a smoker? Try Traeger smoked turkey breast, and spatchcock turkey smoker recipes.
Have an Instant Pot sous vide machine? Try my sous vide turkey breast.
Love your air fryer? Check out my air fryer turkey breast tenderloin.
Check out my guide to cooking a modern Thanksgiving menu for your next big holiday.
Connect with me on Instagram @sipbitego and subscribe to the Sip Bite Go channel for more deliciousness. Or, browse the Sip Bite Go recipe collection.
Through this article, we hope to help you understand Roast bone in turkey breast recipe
Detail: 🔗