Roasted Pumpkin Soup – An easy vegetarian soup recipe that's wholesome, delicious and a perfect side dish the whole family can enjoy. Full of flavor, filling, and satisfying.
Roasted Pumpkin Soup – Easy Vegetarian Soup Recipe
This pumpkin soup recipe is an easy and comforting dish thats made with simple ingredients. It has a hint of naturally sweet flavors from using carrots and it is so filling. They are quite easy to make, hearty, gluten-free, and can be made vegan-friendly (please see my substitute options below). It's a winter comfort food option at its best. It is seriously the best pumpkin soup ever!
Is pumpkin soup healthy?
As I often mention, it depends on what ingredients are put into your pumpkin soup. Most pumpkin soups are quite healthy and made with simple and fresh ingredients. Pumpkins, in general, are good for you and for heart health. They are loaded with fiber, potassium, and vitamin C which have been shown to support the heart and regulate blood pressure.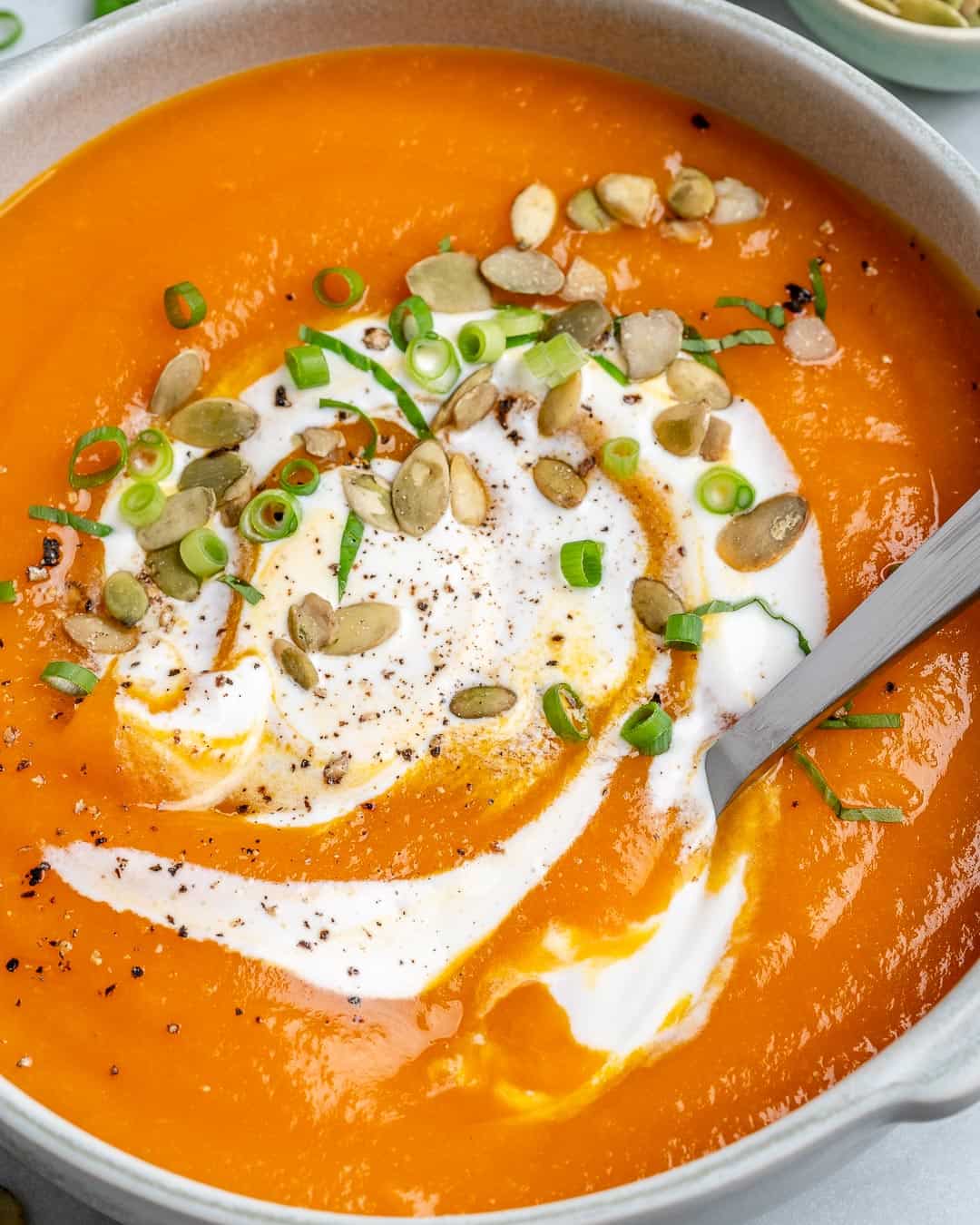 How long does Homemade Pumpkin Soup Last?
Most vegetable or pumpkin soup recipes thats already been cooked should last 3-4 days in the fridge. If you would like to keep your pumpkin soon longer, place in an airtight container and freeze for up to 3 months.
Do I have to peel pumpkin for soup?
Even though skins of either pumpkins or squash are edible, it is best to peel for a soup recipe. This is because some pumpkin skins might be too tough and not cook through well enough. So its best to just peel them.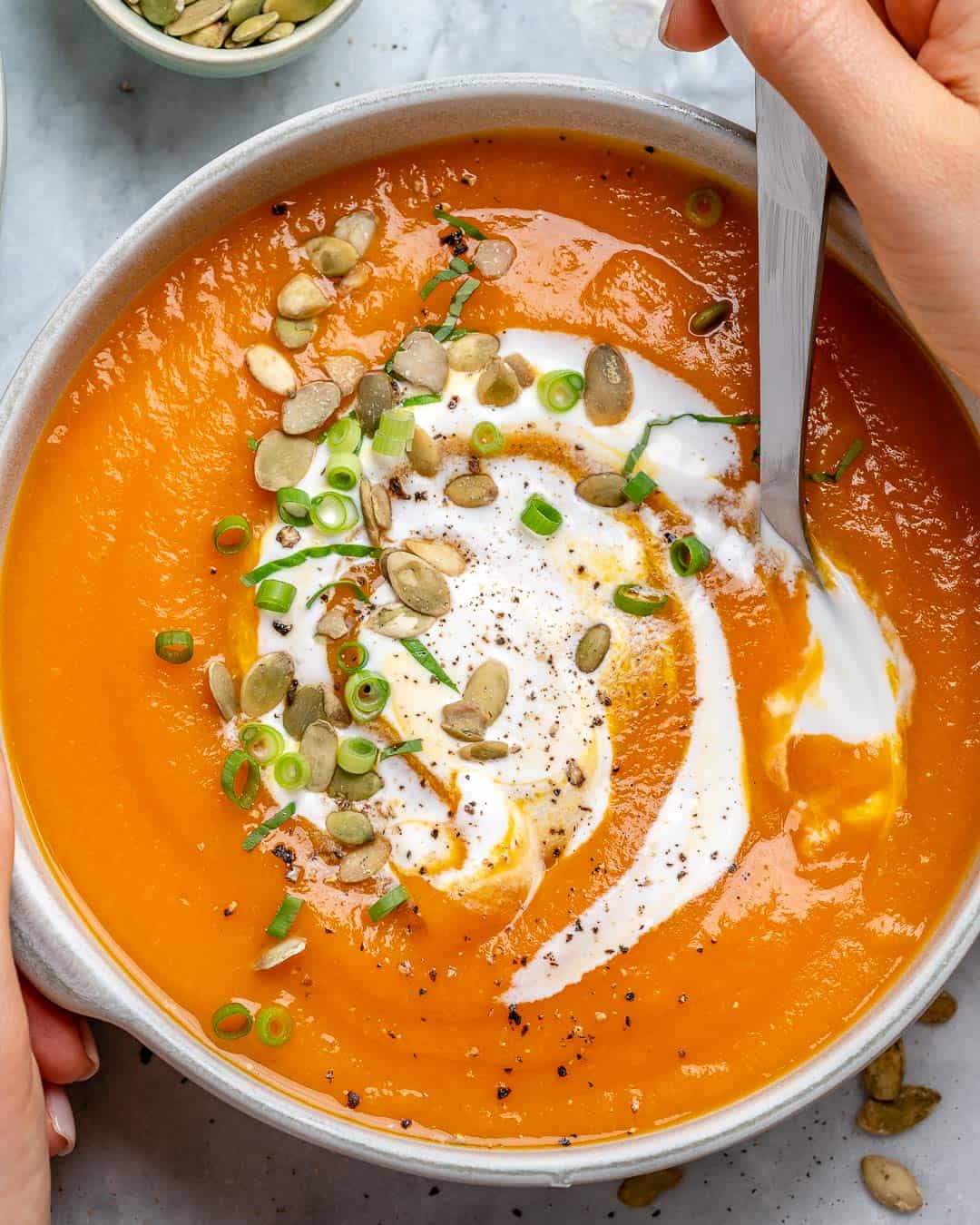 Pumpkin Soup Substitutes
There are some substitutes that can be done for this roasted pumpkin soup recipe that I thought i should mention.
Pumpkin: Can't find any fresh pumpkins, it's ok to use pureed canned pumpkins or alternatively you can use butternut squash.
Dairy: I used Greek Yogurt in this recipe. You can use light sour cream or for a vegan option, use coconut yogurt, coconut cream, or any other dairy-free yogurt.
How to make pumpkin soup
Peel and cut pumpkins into smaller sizes, spray with oil and sprinkle with salt and pepper. Place in the oven and roast for about 30 minutes.
Meanwhile, cook all the other veggies in a pan for about 5-6 minutes. Add spiced and broth, bring to boil and allow to cook for a few more minutes.
Then, remove from heat and puree using a hand blender. Add toppings and enjoy.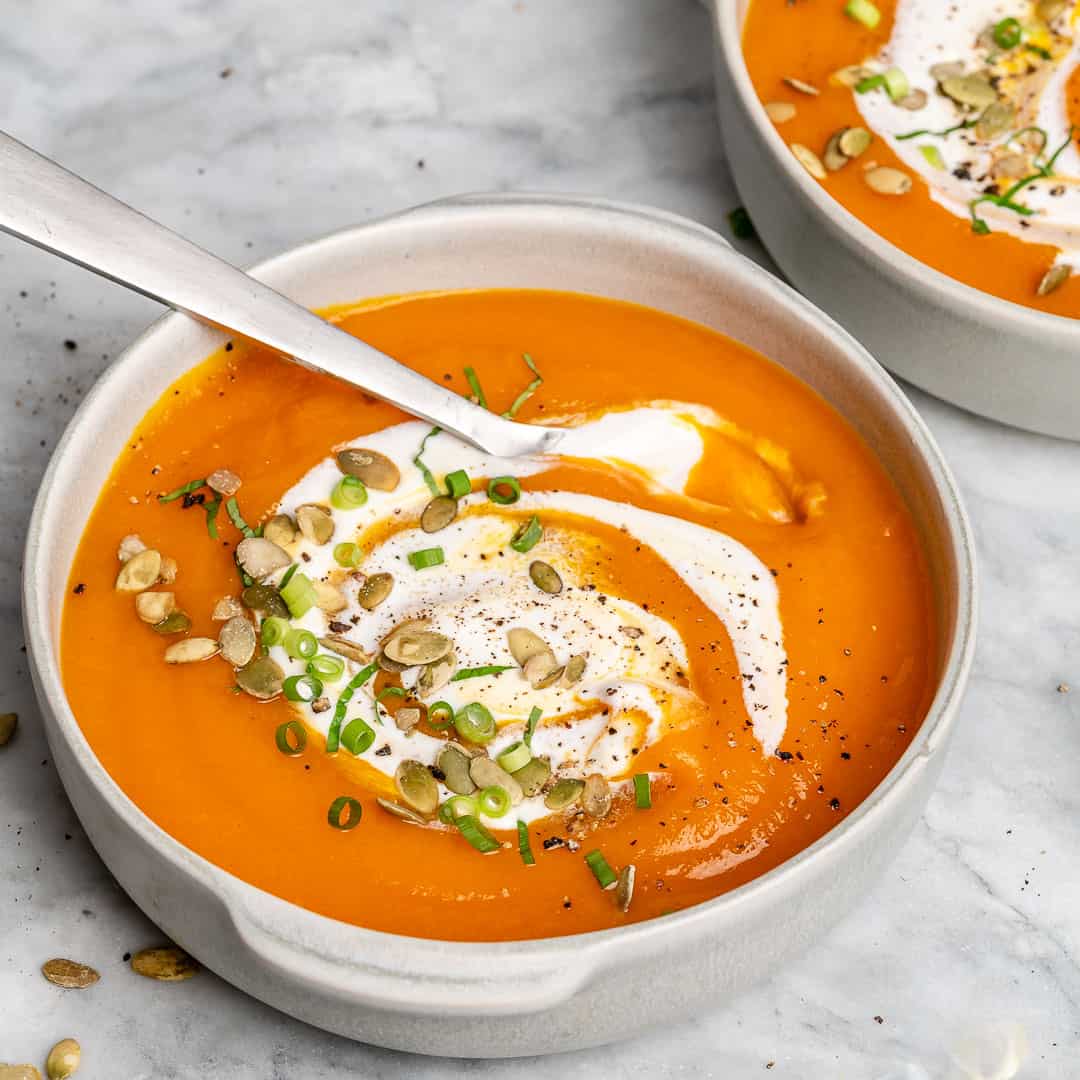 Making this Easy pumpkin soup recipe?
We really love this pumpkin soup recipe and I hope you do as well. Please leave me some feedback in the comments below.
Also, don't forget to tag me on Instagram so I can see your remakes. I would love to share your remakes on my stories.
Looking for other easy fall recipes to try? Check out these other recipes below:
Chocolate Chip Pumpkin Bread
Crockpot Lentil and Mushroom Soup
Healthy Pumpkin Muffins
Cinnamon Sugar Pumpkin Donuts
Paleo Chocolate Chip Pumpkin Bars
Pumpkin Chocolate Truffles
Also, remember to subscribe to my NEWSLETTER for free and receive recipes like this Roasted Pumpkin Soup Recipe delivered right to your inbox!
Finally, if you try a recipe and you like it, please use my hashtag #healthyfitnessmeals on INSTAGRAM for a chance to be featured! FOLLOW Healthy Fitness Meals on FACEBOOK | INSTAGRAM | PINTEREST | TWITTER for all of my latest blog posts and recipes.
For more information please see the list of Roast a pumpkin for soup
Detail: 🔗