This Strawberry Pretzel Salad has a crunchy pretzel crust, a tangy cream cheese filling, and a sweet topping made with strawberry jello and fresh strawberries. The BEST side dish or dessert for the holidays!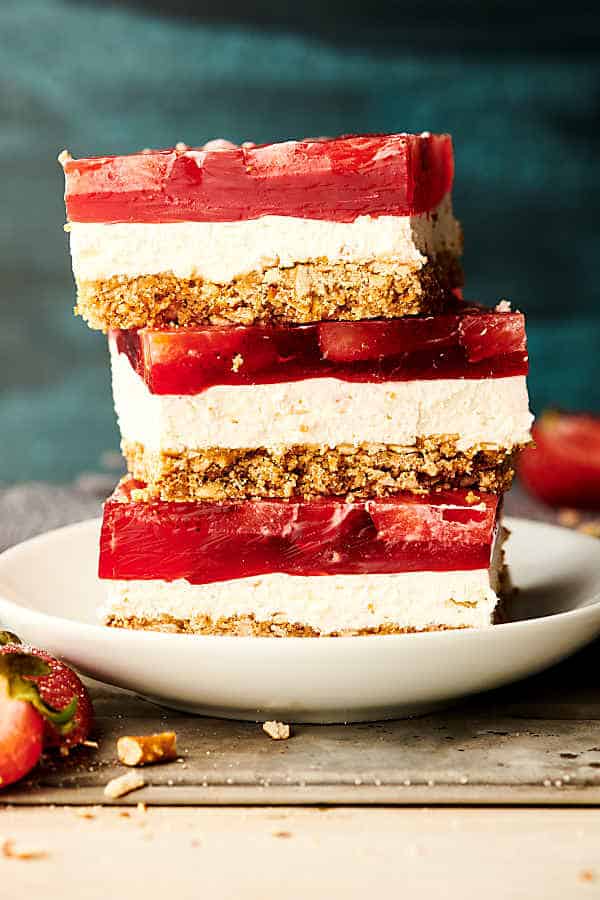 This old fashioned strawberry pretzel salad is one of my favorite holiday side dishes . . . along with creamy corn casserole, instant pot mashed potatoes, and crockpot vegetarian stuffing, of course. 😉
This side dish isn't one that I was served growing up. But when I met Trevor and was introduced to his family traditions, it became one of my favorites!
What is strawberry pretzel salad?
Strawberry pretzel salad is a dessert or side dish made with a pretzel crust, cream cheese filling, and strawberry jello topping. Now, THIS is a "salad" I can get on board with. 😉
Most recipes you'll see call for frozen strawberries, but MY secret ingredient is fresh strawberries, because the texture is so much better.
If you're making this for anyone that hasn't heard of it before, you might get some looks.
When I introduced a few of my friends to this recipe, I described it as a "strawberry jello cheesecake-like dish with pretzel crust" and, I'll be honest, they weren't too sure about it. But after one bite, they were hooked!
Ingredients
This ingredient list is short, but makes such a delicious side dish or dessert! Fair warning: the crunchy, salty crust with the fluffy, tangy cream cheese filling, and sweet strawberry topping is more than just a little addicting. 😉
Butter, Brown Sugar, and Crushed Pretzels – makes up the salty, crunchy crust. The butter binds the ingredients together and the sugar balances out the saltiness from the pretzels.
Cream Cheese and Cool Whip – a light, fluffy, and creamy combination that makes up the filling. The cream cheese adds tang while the cool whip adds the light and airy texture.
Powdered Sugar – helps to sweeten the filling. I don't recommend using granulated sugar or brown sugar as a substitute, because it'll likely add a grainy texture.
Vanilla Extract – adds warmth and flavor.
Strawberry Jello, Fresh Strawberries, and Boiling Water – makes up the fruity jello topping.
How to make
A salty pretzel crust, tangy cream cheese filling, and sweet strawberry topping. Who knew such a bizarre combination could be SO delicious?
In a medium-sized bowl, mix together melted butter, sugar, and crushed pretzels.
Press firmly into the bottom of a greased baking dish lined with a parchment paper sling and bake for 10 minutes. Remove from oven and cool completely. This is your crust.
In a large bowl, beat together sifted powder sugar, cream cheese, and vanilla until well-combined then mix in cool whip.
Spread your cream cheese mixture over the pretzel crust, layer with strawberries then refrigerate for 30-60 minutes.
Place your jello mix into a mixing bowl, pour in hot water, and stir until dissolved. Let sit at room temperature for 30-60 minutes.
Pour the jello mixture over the chilled middle layer, cover with saran wrap, and let set in the fridge for a few hours.
Once the jello is set, cut into pieces, then serve and enjoy!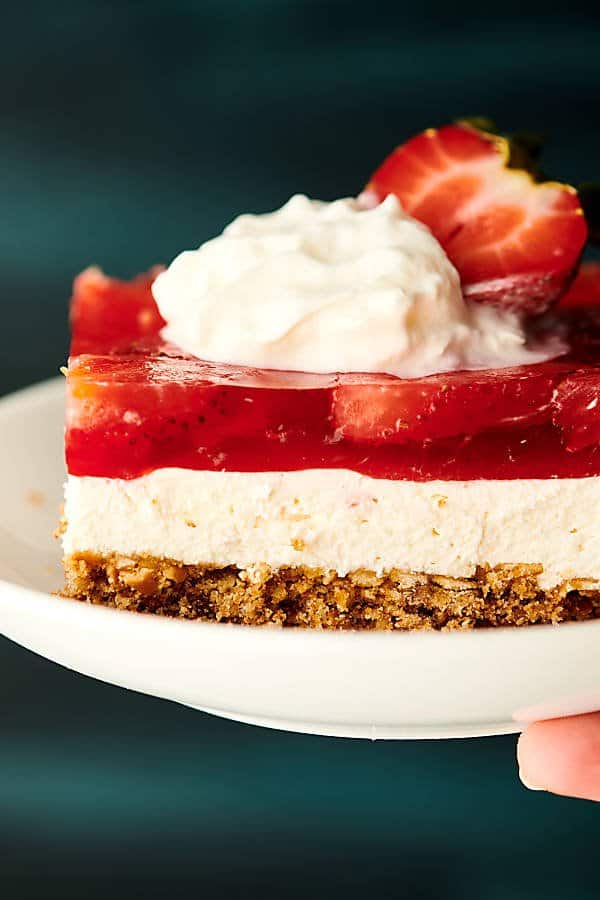 Can you use regular whipped cream?
I don't recommend substituting regular whipped cream for cool whip.
Whipped cream doesn't hold its shape as well as cool whip so this would make for a less stable and potentially runny middle layer.
If you don't like the taste of cool whip keep in mind that the other flavors present are so strong you can barely tell it's there!
Can you use frozen strawberries?
You can use frozen strawberries but fresh strawberries provide a better flavor and texture so I'd go that route if possible.
If you absolutely must use frozen strawberries you'll need 24 ounces that have been thawed and drained of any excess liquid.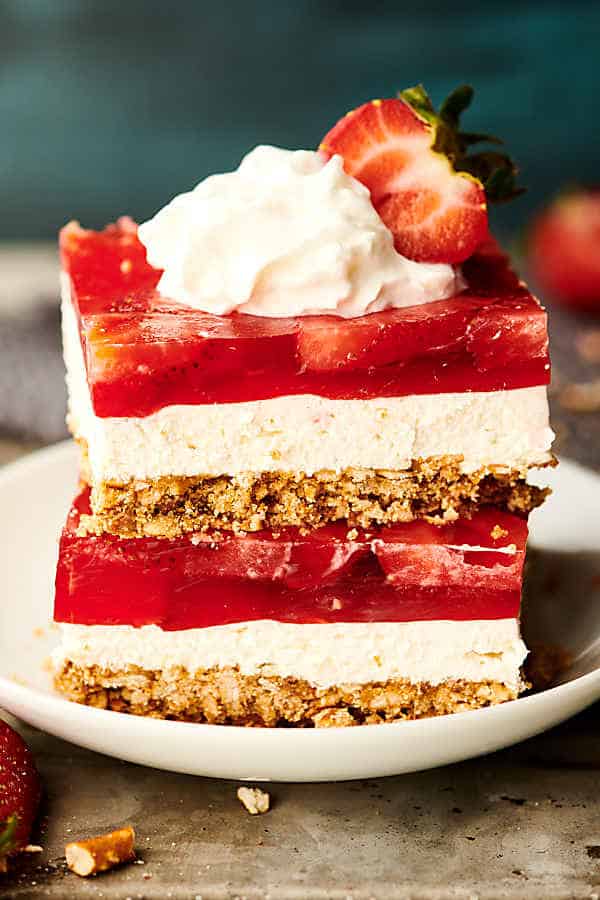 Variations
Swap out the pretzels. If pretzels aren't your thing, try using graham cracker crumbs instead.
Make it gluten-free. Use gluten-free pretzels and check that all the ingredients you're using are certified gluten-free.
Use other fruit. Raspberry, peach, or cranberry would all be delicious!
Tips
Make a parchment paper sling. This makes it super easy to lift the entire salad out of the baking dish so you can cut it.
Use salted pretzels. Plain pretzels don't give you that salty flavor that contrasts with the otherwise sweet dish.
Use a food processor. This makes it easy to crush your pretzels to just the right size.
Sift the powdered sugar. Sifting the sugar prevents lumps in the cream cheese filling.
Use room temp cream cheese. Room temperature cream cheese whips together better than cold cream cheese.
Cool/chill each layer. If the layers are too warm, they'll run into one another and won't be, well, layered.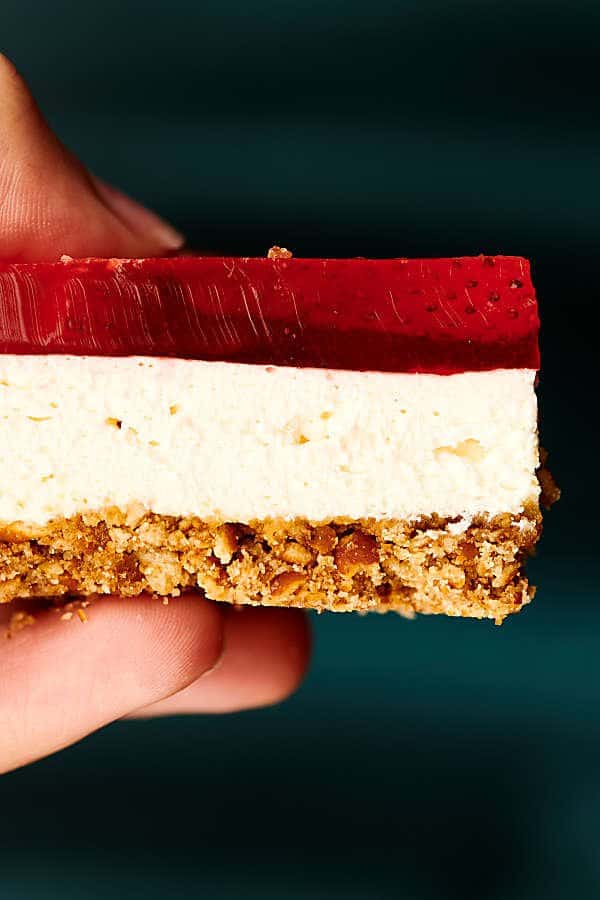 How to store
This strawberry pretzel salad will keep in an airtight container in the fridge for up to a week.
I don't recommend freezing it because the texture will be affected.
– Jennifer
This post was originally published November 11, 2019 and has been updated to provide more detailed content.
Through this article, we hope to help you understand Strawberry and blueberry pretzel salad
Detail: 🔗