This quick and easy vegetarian curry is loaded with chickpeas, spinach, green peas and plenty of warm spices for a bright, beautiful and flavorful dinner!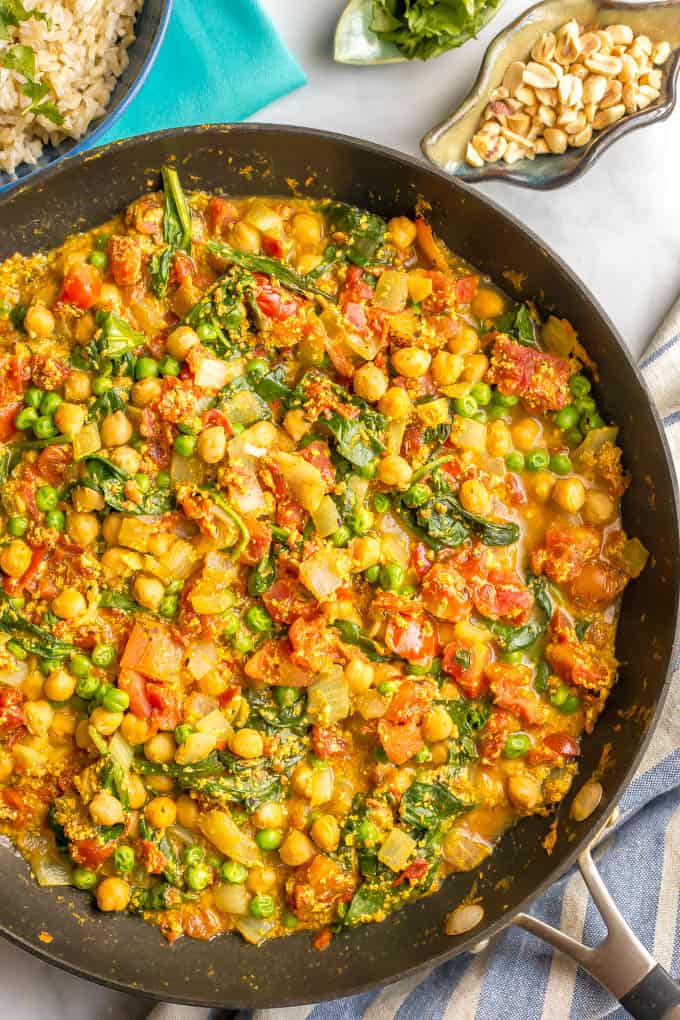 I am SO excited for this week!
Reading: easy vegetarian curry dish
My husband and I had our 10-year wedding anniversary last fall, but I was out of town and besides some sweet cards, we didn't really celebrate.
We were waiting.
And the wait is almost over!
In just a couple of days we are heading to Costa Rica for a long weekend of sun and fun! I started packing yesterday cause I'm just so excited for this trip!
We've got a canopy zip line tour planned, a volcano hike, sunset tubing and sunset horseback riding. Plus lots of beach and pool time and just some quality time together to reconnect and rejuvenate. ❤️
Ahhh, is it time to board the plane yet because I am READY!
But alas, I must be patient a little longer. So before all that, let's talk about today's deliciousness. 😋
Read more: Lemon Balm Pesto Recipe (Vegan, Gluten Free)
Today I'm sharing with you a new favorite meatless Monday dinner.
My quick and easy vegetarian curry is bright, beautiful, full of flavor and has tons of freshness. 💚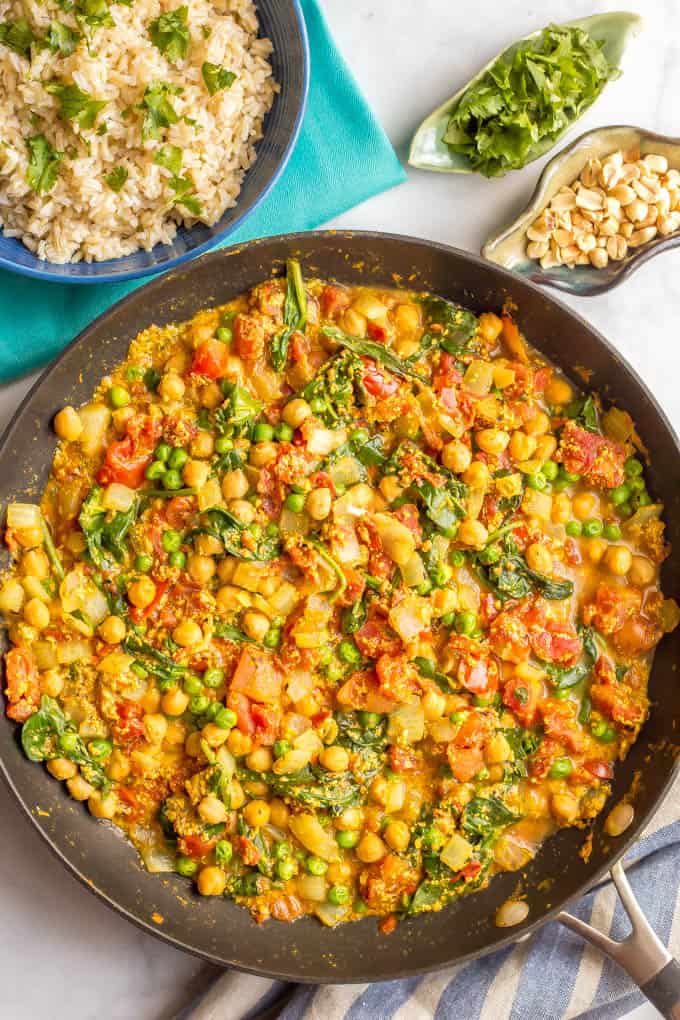 It's easy enough for a weeknight but also so satisfying.
And it's perfect for a lightened up meal here in January. 👍 (See my black bean tacos and easy chickpea burgers for some other bean-based meatless meals. This crispy soy marinated tofu is a go-to as well. Or slow cooker vegetarian curry for a different and hands-off take on this meal.)
Today's vegetarian curry is made without coconut milk. I've had curry with it and I like that too, but this is just my easy go-to with ingredients I always have on hand.
(But if you want to use coconut milk to make this vegan, I've got details for you on that in the notes. It's naturally gluten-free as is.)
And just like my quick chicken curry that this is based on, it's maybe not traditional and maybe not super authentic, but I'm OK with a few shortcuts that get dinner on the table and still have ALL the great flavor!
Notes on this quick and easy vegetarian curry:
The toppings here are optional, but I highly recommend you pick at least a couple of them! The herbs and the lime juice add such great freshness, and the peanuts give it a really great crunch factor.
My husband usually adds some grilled or rotisserie chicken to his, so if you have non-vegetarians, that's an easy option.
If you want to use coconut milk in place of the Greek yogurt and milk, you can. Just substitute a 13 oz. can. You may need to add a couple of tablespoons of your flour of choice and let the mixture simmer for a little longer to help the curry thicken.
We love this veggie curry served over steamed brown rice, but basmati rice, couscous and even cauliflower rice would all be great here!
Read more: alternative beef vegetarian in hot pot dish
Oh, and also, I've never had an issue, but some people do have problems with milk or yogurt curdling when they add it to a curry.
Milk and yogurt can curdle if it heats too quickly, or if it comes to a boil. You may want to lower your heat or briefly remove the pan from the stove when you add these ingredients to help prevent curdling.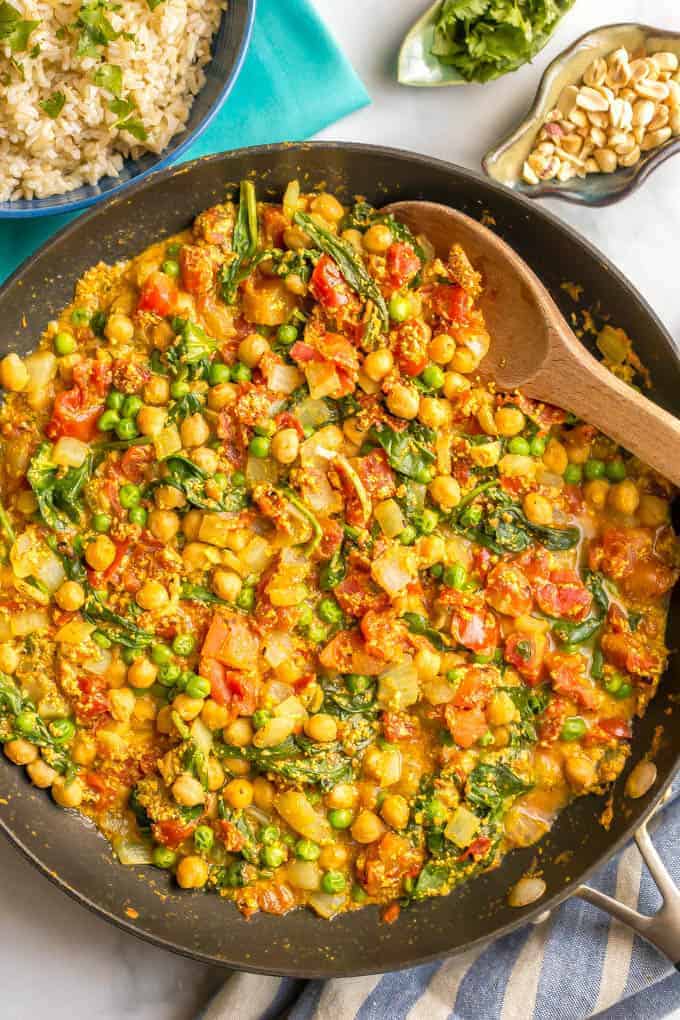 Here's to more flavor in less time. 👊
(Oh, and because of our trip, I'm taking the rest of the week off. But I'll make it up to you with an extra recipe next week!)
Enjoy!
XO,
Kathryn
P.S. Looking for other vegetarian recipes? Check these out:
Vegetarian quinoa chili (Family Food on the Table)
Vegetarian zucchini meatballs (Shugary Sweets)
Stuffed butternut squash with quinoa, mushrooms and spinach (Family Food on the Table)
Healthy vegetarian Mexican lasagna (A Mindfull Mom)
Mediterranean chopped salad (Family Food on the Table)
Read more: How to Cook Rice on the Stove