Getting your fill of seasonal vegetables just got easier with this list of 31 quick and healthy seasonal vegetable side dishes that can be prepped in 30 minutes or less.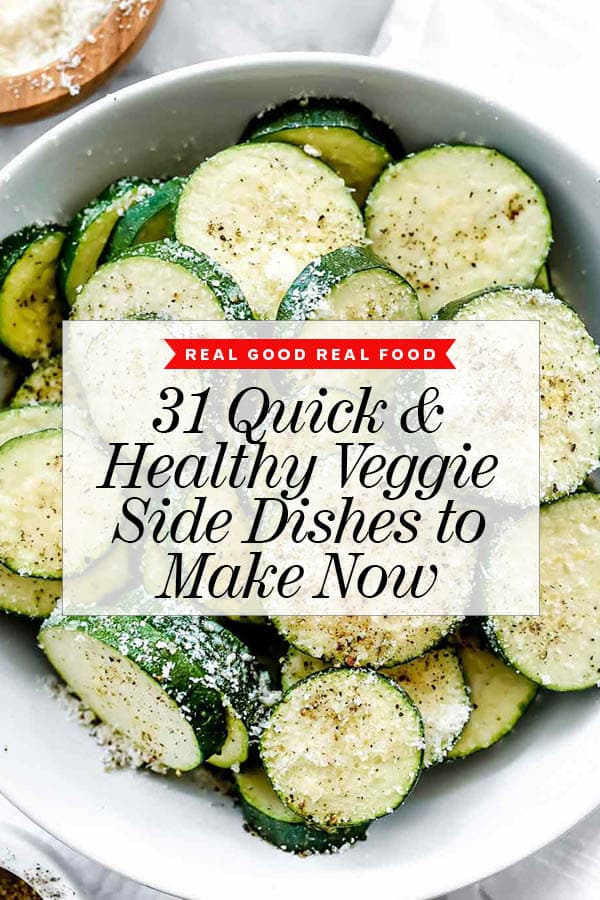 Reading: easy vegetarian side dish recipes
This time of year brings on a love/hate relationship with the season.
On the one hand, it can be completely comforting to daydream about weather cool enough for a cozy sweater, spicy pumpkin goodies, and getting the kids and ourselves back into the pleasant hum (fingers crossed) of a school-day routine.
But it's always bittersweet to lose the relaxed vibe of those chilled out summer months and all the extra moments of family time we sneak in around the campfire, up at the cabin, boarding on the lake, or just in our own back yard.
To help ease the craziness that can surround the first few weeks of a new schedule and busy activities, we've put together a list of 31 quick and healthy veggie-based side dishes that have you covered from A-Zucchini!
Most dishes have just 10 ingredients or less (not including pantry staples like olive oil or salt and pepper) and with the exception of items with a longer baking/roasting time, all recipes can be put together in 30 minutes or less, with minimal prep time.
These recipes will help you get dinner on the table in no time flat, with enough nourishment to keep you going until Fall really gets here.
August 1: Easy Broccoli with Feta Cheese
FoodieCrush
You don't even have to turn on the oven for this skillet-roasted broccoli with chunks of salty feta. Green onion adds freshness to this simple super-food dish that comes together in just 15 minutes.
August 2: Parmesan Garlic Herb Zoodles
Iowa Girl Eats
A totally clever but still oh-so-simple play on spiralized zucchini noodles with a slather of garlic butter making this recipe one of the easiest low-carb side dishes you'll make all week. Over, and over, and over again.
August 3: Fresh Black Bean Salad
Cookie and Kate
Cherry tomatoes, black beans, corn and bell peppers are tossed together for a salsa-inspired side dish full of color and zesty flavor. Add this family-friendly side to taco night, and save leftovers for lunch the next day.
August 4: Healthy Baked Carrot Chips
A Spicy Perspective
Swap oily potato chips for this crispy crunchy alternative. Bake up thinly sliced carrots with a touch of salt or cinnamon and cumin to enhance their natural sweetness.
August 5: Smokey Roasted Cauliflower
Tori Avey
Yep, cauliflower is still having a moment. But if you prefer to savor it in it's original form, as opposed to a pseudo pizza crust, give this side a try. Smoked paprika gives this dish a unique depth of flavor with minimal ingredients.
August 6: Grilled Vegetable Salad
A Farmgirl Dabbles
Grilling the veggies is the key ingredient in this last-of-summer produce salad featuring some of our seasonal favorites for a sweetened, caramelized bite every time, and a salad that leaves the lettuce out of it.
August 7: Simple Lemon Parsley Cauliflower Rice
Kims Cravings
Any meal will feel healthier with this simple but totally flavorful rendition of everyone's favorite low-carb rice alternative made with blitzed cauliflower .
August 8: Dill Cucumber Salad
Foodie Crush
A quick bath in salt and sugar brine keeps this cool cucumber salad crisp and refreshing. Add thinly sliced red onion and a handful of freshly chopped dill for a light side dish you can make in advance.
August 9: Low Carb "Potato Salad"
Skinnytaste
Chunks of cauliflower give this mock potato salad a serious low-carb spin on any traditional potato salad recipe for second helpings without any of the guilt.
August 10: Baked Potato Slices
Delicious Meets Healthy
These tasty slices will satisfy your drive-thru craving with the perfect crispy outside and soft inside. Add paresely for a gourmet touch, or get your ketchup ready for dipping!
August 11: Spicy Roasted Broccoli with Lemon Goat Cheese Drizzle
How Sweet Eats
Despite the sophisticated-sounding title, this dish comes together fast and looks impressive. Hearty broccoli stalks, roasted to perfection, then topped with creamy goat cheese and lemon dressing to add a cool contrast to spicy red pepper flakes.
August 12: Roasted Garlic Parmesan Cauliflower
Crunchy Creamy Sweet
Read more: Vegetarian Stuffed Eggplant
Make the most of crunchy cauliflower by tossing it with sweet roasted garlic and salty Parmesan cheese and baked in the oven for an eye-catching and tasty dish that compliments any main dish.
August 13: Parmesan Zucchini
Foodie Crush
My signature Parmesan Zucchini could not be any easier, with just 3 ingredients and 5 minutes of prep time. A sprinkling of cheese adds just enough salty flavor while keeping this seasonal veggie dish light and fresh.
August 14: Smashed Sweet Potatoes
Cafe Delites
Crispy, buttery, sweet, and savory-these tender slices of sweet potato are pre-baked, then gently smashed and broiled with garlic butter and Paremesan for maximum flavor.
August 15: Crispy Roasted Brussels Sprouts with Fish Sauce
The Modern Proper
If you've never used fish sauce before, don't let this ingredient intimidate you. A little goes a looong way, and is tempered by the more familiar tastes of brown sugar, sriracha and sesame oil. Minimal ingredients make a big impact in this Asian-inspired dish.
August 16: Brown Butter Honey Garlic Carrots
The Recipe Critic
I don't ALWAYS believe butter makes things better. But in this case, a small dose of browned butter, honey and garlic impart a luxurious nutty flavor to sweet carrots for a quick side with only minutes of prep.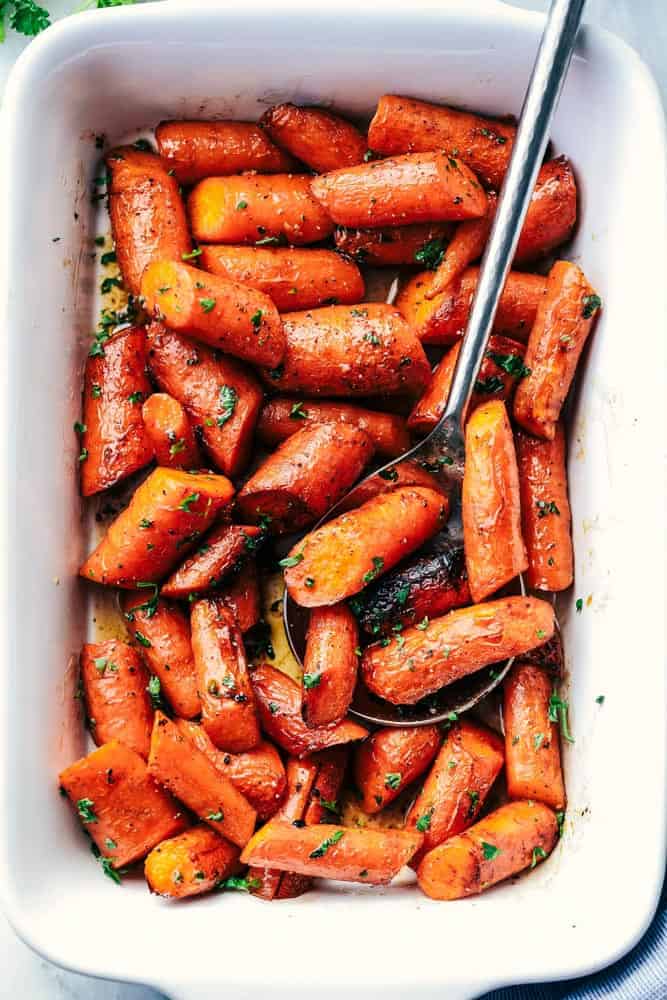 August 17: Lemon Garlic Broccoli
Joy Filled Eats
Don't be deceived by the simple preparation of this easy dish. An addictive creamy lemon garlic dressing enhances quick-steamed broccoli to get dinner on the table in a hurry.
August 18: Cauliflower "Couscous" Salad
Iowa Girl Eats
Despite the name, there are no grains in this tasty side dish. Fresh cauliflower is pulsed to form small pearls, then mixed with sliced almonds, dried fruit, green onions, and a light dressing for a modern take on a Middle Eastern classic.
August 19: The Best Cucumber Salad
Cookie and Kate
This salad is practically a spa-like experience with cooling cucumbers and rich avocado. Bring everything together with a basic balsamic for a cooling, stress-free side dish.
August 20: Buttered Parsley Potatoes
Foodie Crush
These creamy baby red potatoes, brightened up with fresh parsley are one of my go-to recipes for almost any meal. Four ingredients and one pot make prep and clean up even easier.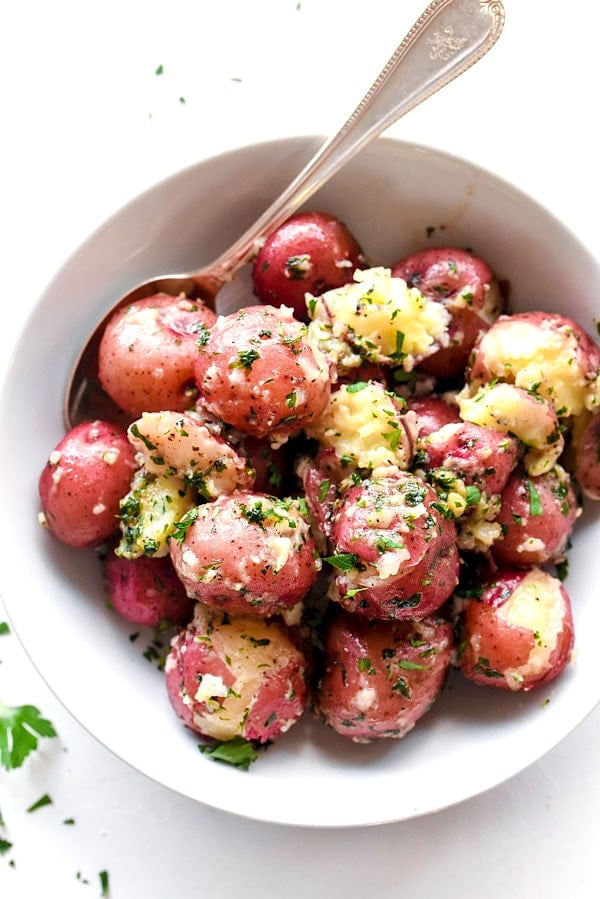 August 21: Easy Restaurant Style Green Beans
Your Home Based Mom
Pan-seared beans dressed in sesame oil, soy sauce, and garlic gives your family the feeling of dining out while you kick up your feet at home with this ultra simple side that's ready to eat in 20 minutes.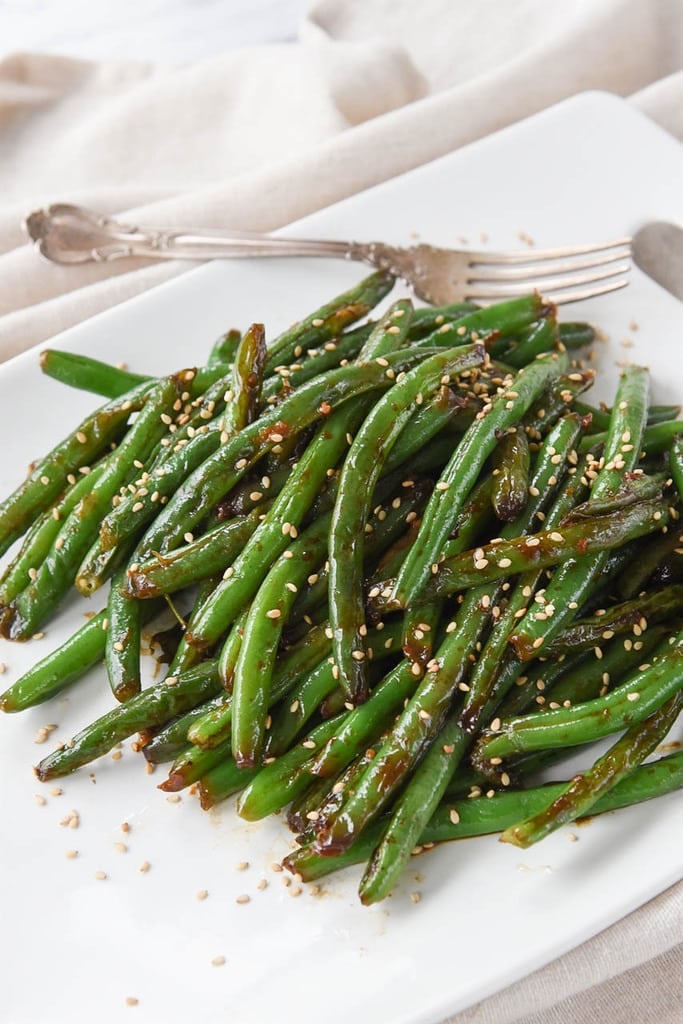 August 22: The Best Grilled Corn
FoodieCrush
Flavored butters turn these sweet, caramelized cobs into one of the easiest sideshows that could totally upstage the main course.
August 23: Roasted Root Vegetables
Chelsea's Messy Apron
A quick coating of olive oil and seasoning is all you need to make these roasted veggies pop. Use a mix of potatoes, carrots, and other veggies for a dish that's perfect for cleaning out the fridge.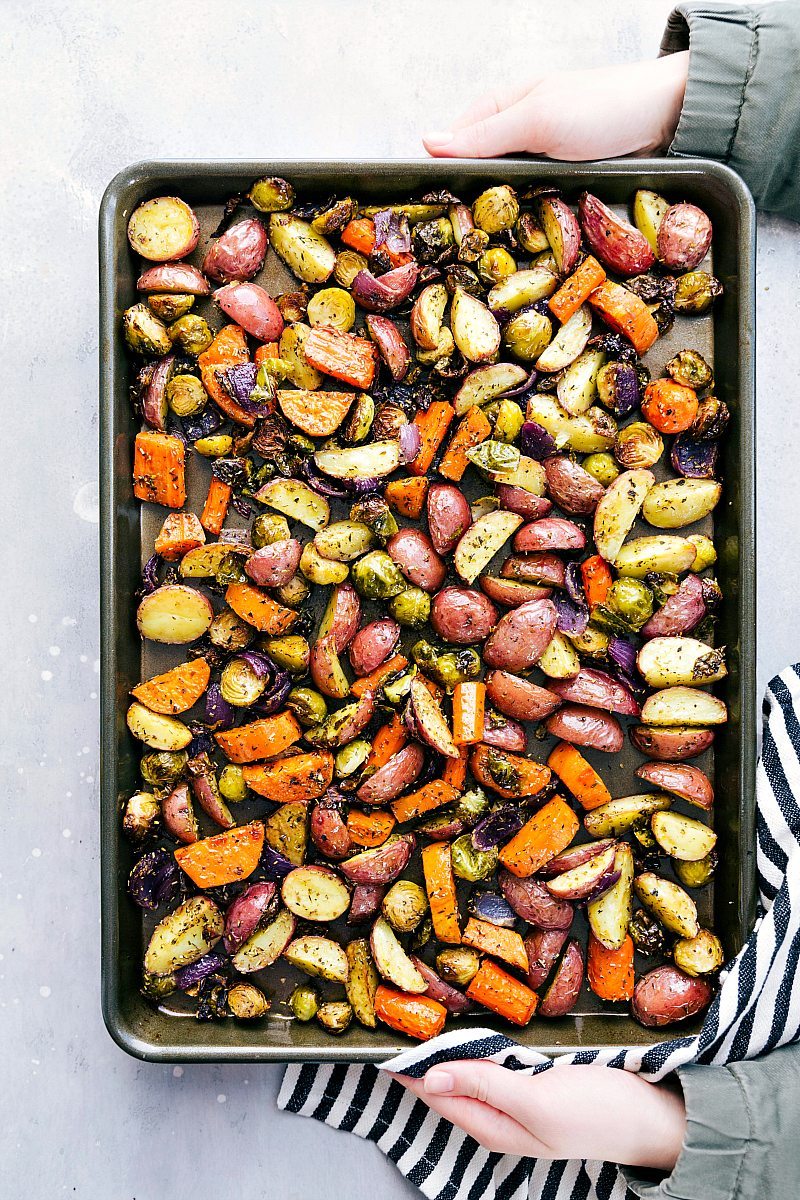 August 24: Cucumber Tomato Salad with Pesto
Stetted
Read more: vegetarian main dish recipe sage basil
Thinly sliced cucumbers, halved cherry tomatoes, pesto, and mini mozzarella balls sing a swan song to summer in this garden-friendly salad. Make a few hours in advance to let all the flavors meld together in the fridge.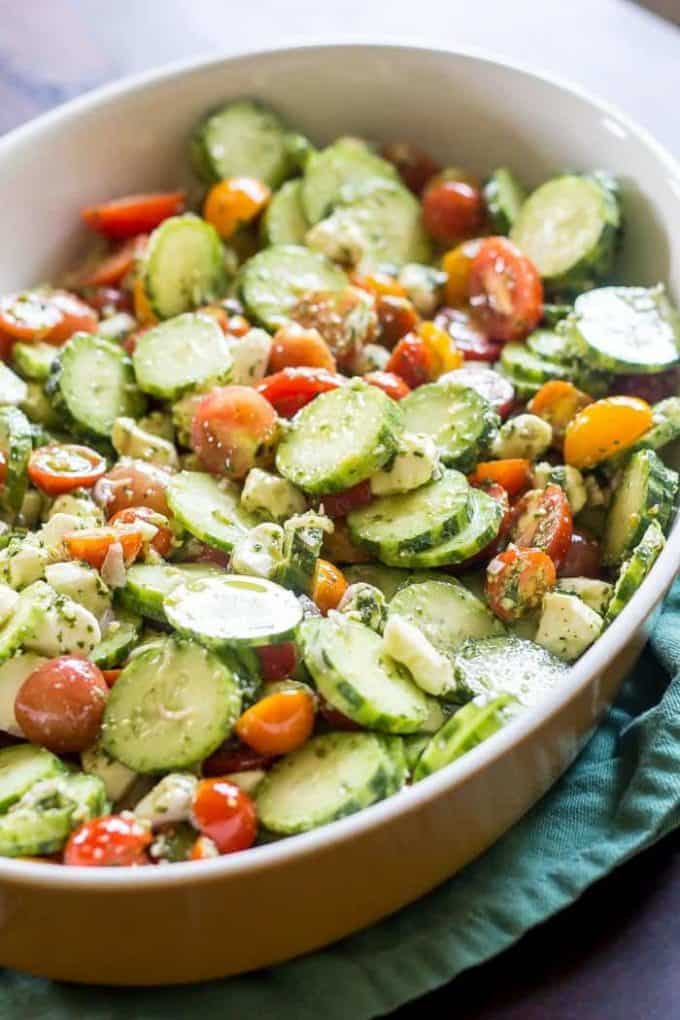 August 25: Asian Cabbage Slaw with Ginger Peanut Dressing
The Busy Baker
Put that peanut butter in your pantry to another use besides pb&j sammies for the kids' lunchboxes with this easy Asian dressing and slaw-style salad. Sub in bagged, pre-shredded cabbage or coleslaw mix for an extra time saver.
August 26: Tomato Cobbler with Gluten-Free Drop Biscuits
Heartbeet Kitchen
Given that tomatoes are really a fruit, tomato cobbler doesn't seem that far fetched, especially when it's draped in the perfect rise drop biscuit that just so happen to bear the title "Gluten-Free!"
August 27: Honey Sriracha Brussels Sprouts
Brunch N Bites
Veggies on a sheet pan are always a win in my book-less prep, less clean up, and always a slightly smokey char. Mix up a quick coating of honey, olive oil, and everyone's favorite spicy sauce for a quick dish full of flavor.
August 28: Mediterranean Baked Sweet Potatoes
Minimalist Baker
Simple sweet potatoes are topped with roasted chickpeas, creamy garlic herb sauce and veggies for a healthy side, heft enough to do double duty for lunch the next day with a light green salad.
August 29: Easy One-Pan Cauliflower Mac N Cheese
Yellowbliss Road
Yes, you can have ooey-gooey, cheesey goodness with 5 ingredients, one pan, and…lower carbs?? It's true. Dish up this healthier cauliflower side dish as quickly as you could make the blue box version.
August 30: 15-Minute Zucchini Tomato Salad
SkinnyMs
No cooking required for this 15-minute zucchini noodle side with fresh basil and tomato, complimented by a robust balsamic dressing.
August 31: Twice Baked Potato with Greek Yogurt
How Sweet Eats
This classic steak house favorite gets a healthier upgrade with protein packed Greek yogurt instead of sour cream for a side dish everyone will want next month too. i
Looking for some equally simple yet palette-pleasing entrees to serve with these mouth-watering sides? Check out these favorite Foodie Crush recipes that go with any of the items listed above:
10-Minute Maple Crusted Salmon
Oven Roasted Chicken with Lemon Rosemary Garlic Butter
Healthier Meatloaf With Tomato Glaze
Slow Cooker Mexican Pot Roast
If you need more side dish inspiration, don't miss 30 Healthier Summer Potluck Salads.
Or, if you're still struggling with the idea of getting dinner on the table, I've got your back with 30 Dinners to Make When There's No Time to Cook.
Tell me, what are you doing to simplify life this school year?
As always, thank you for reading and supporting companies I partner with, which allows me to create more unique content and recipes for you. All opinions are always my own.
Thanks for reading and subscribe to FoodieCrush to have each post delivered straight to your e-mail box.
Learn more about my printed day-planner Nourished Planner here, and sign up for free, emailed weekly meal plans.
Follow me on Instagram, Facebook, Pinterest and Twitter for more FoodieCrush inspiration.
Read more: 31 Vegetarian One Pot Dinners