A Delicious and Satisfying Shashuka Recipe
If you're looking for a hearty and flavorful breakfast or brunch option, look no further than this shashuka recipe featuring eggs in tomato sauce. This delightful dish combines the richness of a savory tomato sauce with perfectly poached eggs. And the best part? It can easily be prepared to serve a crowd if you have a large skillet on hand.
The Ultimate Combination: Eggs, Tomato Sauce, and Grilled Bread
Think about it: a luscious tomato sauce cradling perfectly poached eggs, complemented by the delightful crunch of grilled bread. This trilogy of flavors transforms a simple concept into a truly marvelous breakfast or brunch option. In fact, why not enjoy it for dinner as well? Pair it with a refreshing salad on the side, and you'll find yourself wondering why you haven't made this before!
An Extraordinary Twist on Eggs in Tomato Sauce
This isn't your ordinary eggs in tomato sauce, also known as shashuka. It's one of those "oh my goodness, this is amazing" dishes that will leave you speechless. When the flavors blend perfectly on your tongue, it's impossible not to want to share this recipe with everyone you know. And the best part? It's incredibly easy to make. Trust us, this eggs in tomato sauce recipe will blow your mind.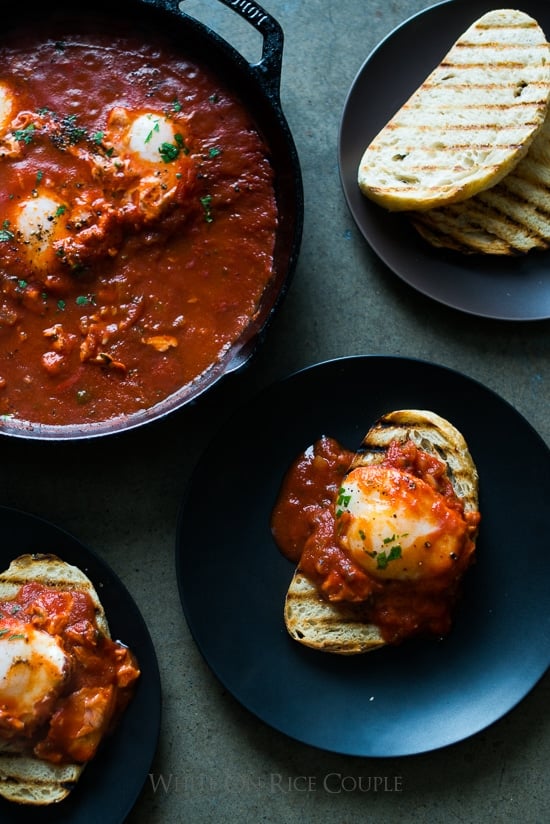 Discovering Shashuka: A Simmering Delight
What exactly is shashuka? It's a classic recipe that consists of poached eggs simmering in a flavorful, well-seasoned tomato sauce. The velvety eggs are then spread over a slice of grilled bread, creating an unforgettable combination of textures. Since discovering this dish, we can't stop kicking ourselves for missing out on it all these years. Seriously, where has this heavenly creation been all our lives?
But here's the best part: you can customize this recipe to your heart's content by adding other ingredients to make it heartier. Try incorporating kale, chickpeas, or ground chicken. The possibilities are endless, and you get to make it your own.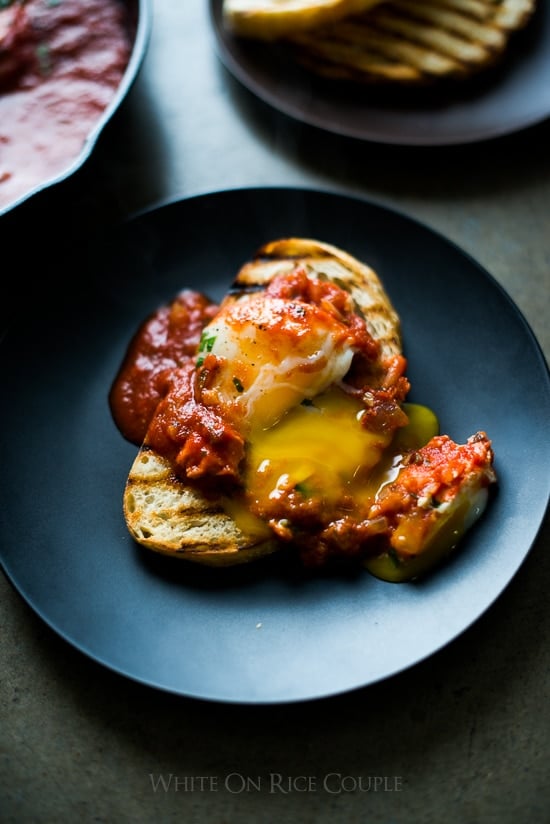 Achieving the Perfect Poached Eggs
The key to mastering this dish is all about timing the eggs. Achieving the ideal poached texture requires precision. Leave them on the stove for too long, and you'll end up with firm, boiled-like yolks. Remove them from the heat too soon out of impatience, and you'll have runny egg whites. So, don't worry if you don't get it right the first time. Practice makes perfect, and soon you'll have poached eggs that are absolute perfection.
As we write this post, we find ourselves getting hungry once again. We might just dive our toast into the tomato sauce and devour the entire poached egg in one satisfying bite. Yum! It's also worth noting that there are various names for this delightful dish, such as eggs in hell and eggs in purgatory. The more you know!
Enjoy your culinary adventure!
Diane & Todd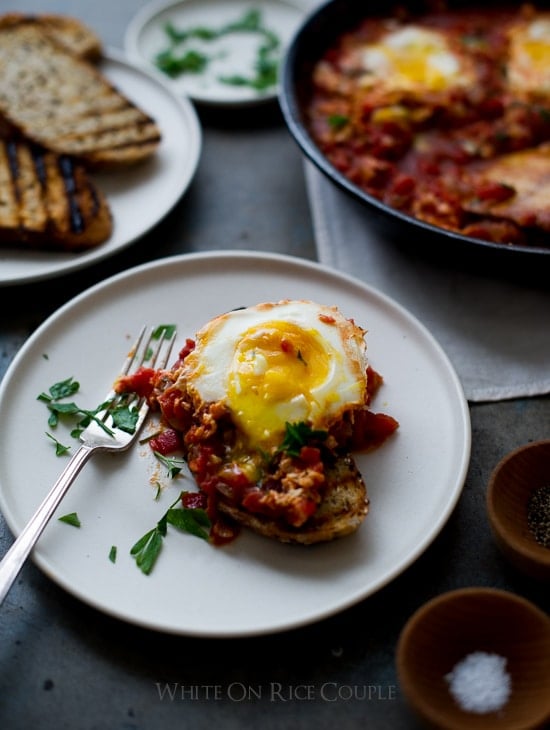 Here's another great brunch recipe: Our deviled egg bar!
Hearty Instant Pot Beef Stew
No Pasta zucchini lasagna
Air fryer corn on the cob
Roasted san marzano tomatoes
Chocolate cherry crisp
This recipe was originally published in 2013 and re-published in 2021 with new video & images.
For more delicious recipes, visit Family Cuisine.