Everyone knows about grilling or boiling corn on the cob, but my favorite is actually the lesser-known oven roasted method! Perfectly cooked, sweet ears of corn… every time. Slather on some butter and your cookout is complete!
Planning a cookout or summer bbq? Try out my easy 3-2-1 Smoked Ribs, Coffee-Rubbed Burgers, Potluck Potato Salad and Award-Winning Mac and Cheese!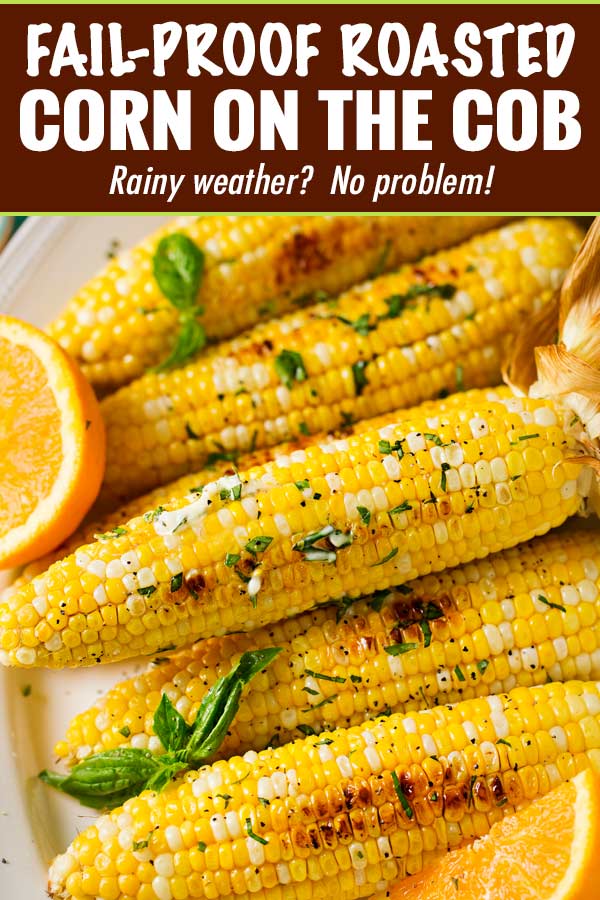 Everyone has their favorite way of cooking corn on the cob… and while I love a great grilled cob, sometimes the weather doesn't cooperate, or I just don't feel like firing up the grill. That's when my new favorite method comes in handy… all you need is an oven and a baking sheet!
This time of year, corn is at it's finest (and cheapest!), so I love to take advantage of that and enjoy some great oven roasted goodness! Plus, as a bonus, I like to roast a bunch of corn, cut the kernels off the cob and freeze it so I can enjoy summer corn on the cob year-round.
Helpful Tip: To slice kernels off the cob without making a giant mess, bust out a bundt pan! Place an ear of corn on the center column and use a sharp serrated knife (I like this one) to slice the kernels. They'll fall right into the bundt pan and not all over your counter! No bundt pan? No problem, just invert a small bowl inside a large bowl and do the same thing.
HOW TO ROAST CORN ON THE COB
Roasting ears of corn is incredibly simple, and you won't believe the great flavor!
First, husk the corn and remove as much of the silk as possible. I like to do this over a paper bag outside so my kitchen isn't covered in corn silk.
Rub each ear liberally with softened butter and sprinkle with salt and pepper. For a fun smoky twist, try some smoked paprika as well!
Roast in a pan with sides (like a rimmed baking sheet or lasagna pan), flipping halfway through.
To get a char, pop them under the broiler until charred to your liking.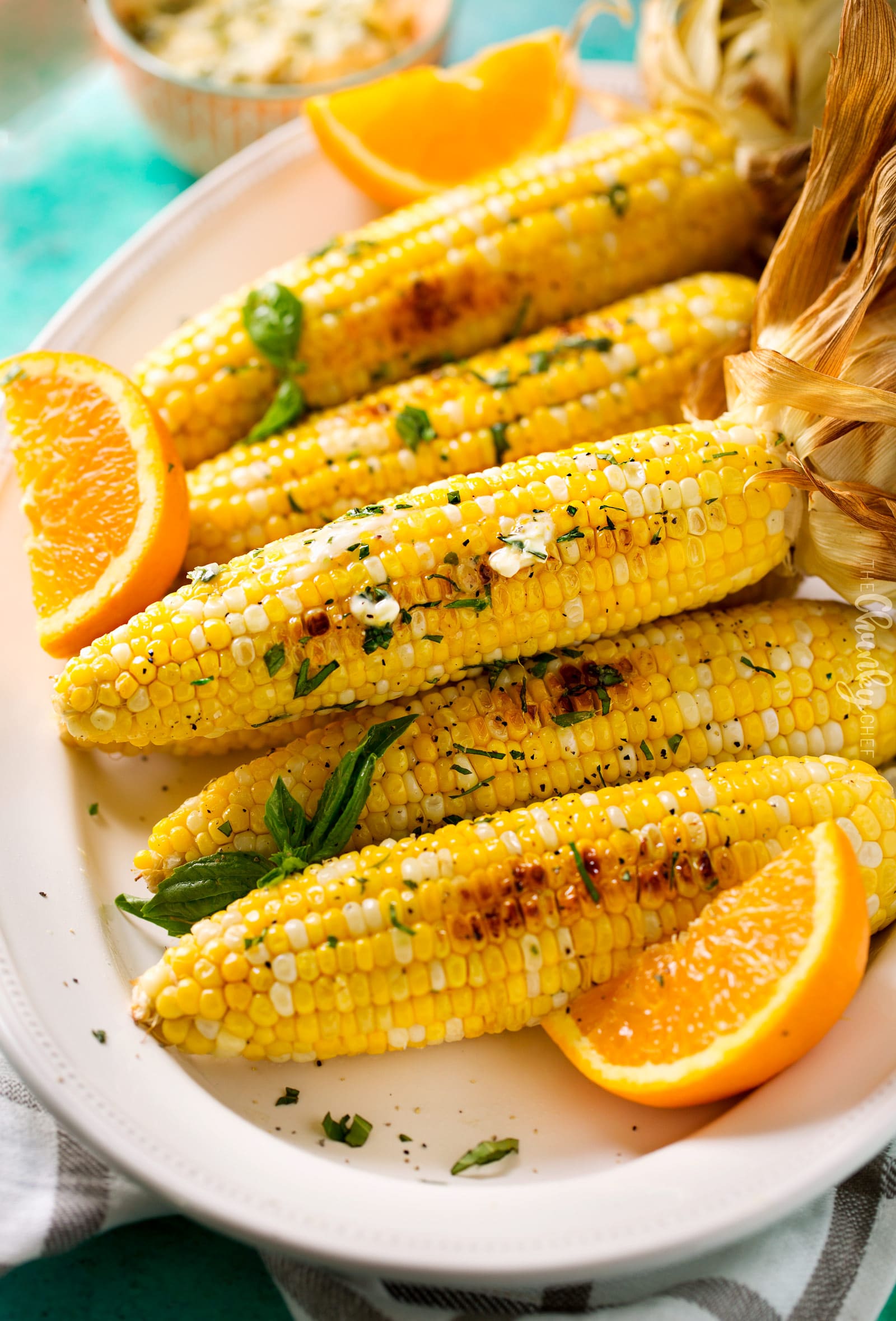 MAKING CORN ON THE COB FOR A CROWD
Let's face it, when you're having a cookout or summer bbq, a few ears of corn just isn't going to cut it right?
I like to pick up a couple of those disposable deep roaster pans from my grocery store (mine are aluminum and usually labeled giant pan or roaster pan). You can fit a lot of ears in one pan, and my oven can accommodate 2 pans per rack.
When you have two layers of corn ears in a pan, when turning the ears, make sure to rotate the bottom ears to the top and vice versa to make sure all the corn is evenly roasted.
TOPPINGS FOR CORN ON THE COB
A great ear of corn doesn't need much, but if you're looking for fun ways to jazz them up, here are a few of my favorites:
Smoked paprika
Fresh herbs
My new favorite – orange basil butter!
You have to try your corn on the cob with my mouthwatering orange and basil butter… it will blow you away!!! Plus you can absolutely make the butter ahead of time and try it on other things, like a slice of this crusty bread, or some grilled chicken.
The next time you have a hankering for a fantastically sweet and juicy corn on the cob, instead of cooking them your usual way, give this super easy oven roasted method a try!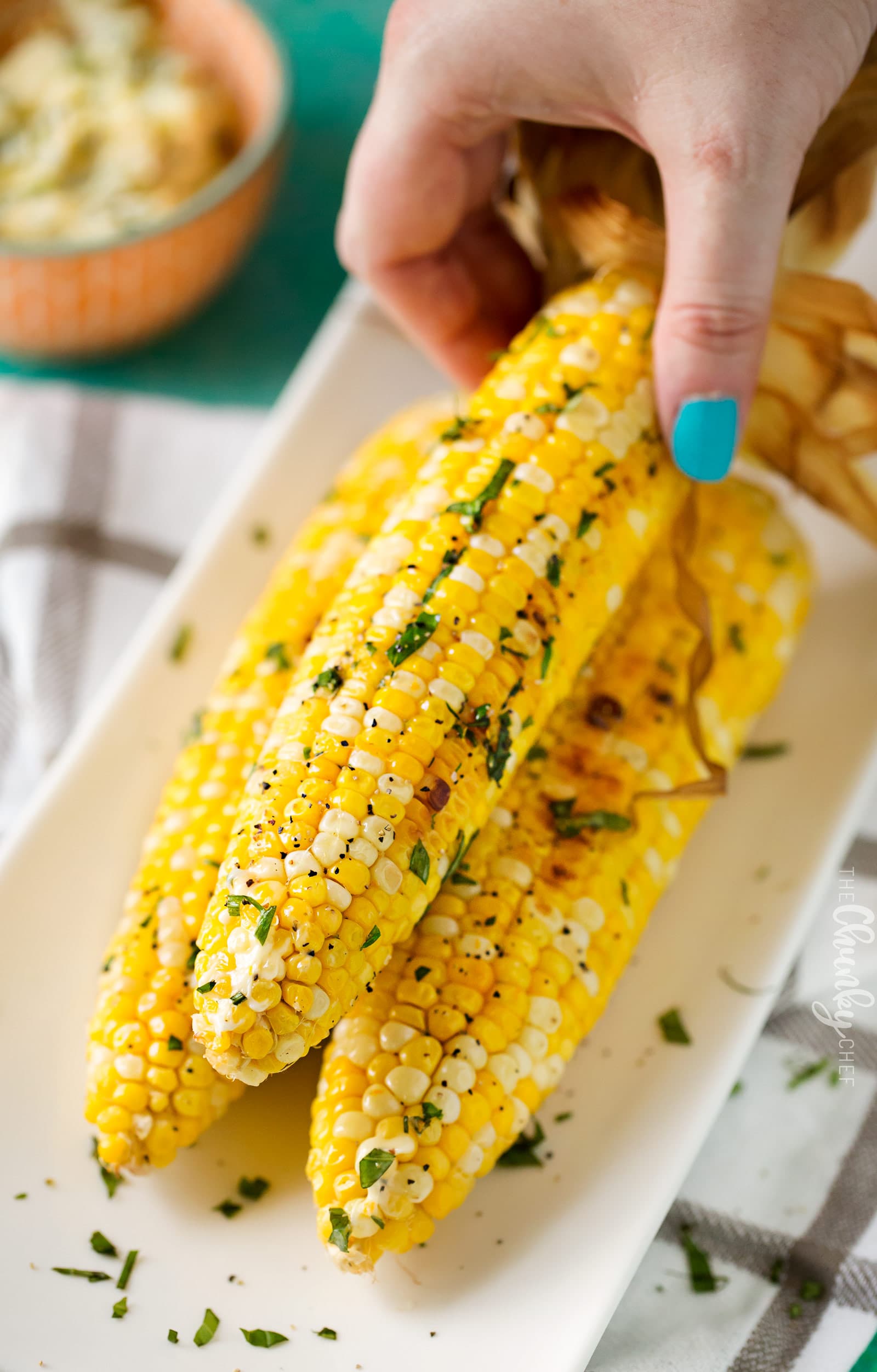 BE SURE TO SCROLL DOWN TO CHECK OUT OTHER READERS' COMMENTS!
AND DON'T FORGET, IF YOU'VE MADE THIS RECIPE, LEAVE A COMMENT AND PLEASE GIVE IT A STAR RATING!
Through this article, we hope to help you understand Roast corn in oven in husk
Detail: 🔗