Grilled low and slow yields Fall off the Bone BBQ Ribs, brush with a tangy bbq sauce for lip-smacking deliciousness. Be forewarned, make a double batch of these bone tender ribs— after making these dozens of times there are never any leftovers. Perfect for grilling season or any time you want easy entertaining! (oven option too)
These are great with honey butter corn but go equally well with Green Chili Au Gratin Potatoes for a full meal!
This Fall off the Bone BBQ Ribs Recipe will amaze you at how simple and how little time it will actually take you to make them. Seasoned with just a few ingredients (a dry rib rub below or try this homemade Cajun Seasoning Recipe for a little kick.) These grilled baby back pork ribs work with or without barbecue sauce!
This easy BBQ ribs recipe is ideal for entertaining- you can spend about 15 minutes prepping the ribs, then put them on the grill to cook.
More time with your family and very little clean-up. Sounds like a win/win in my book.
After reading this you'll have the tips to know how to make ribs tender and guaranteed way for fall off the bone baby back ribs!
How to make tender ribs on the grill?
The first tip when cooking ribs is to always remove the silver skin membrane. Take a sharp knife and lift up the membrane at one end on the backside (or bone side) of the baby backs. If you use a paper towel once you start to pull it up it will come up super easily. You can check out this video from Barbecue Tricks to see the exact way to do it.
By removing that silver skin membrane the rub will penetrate both sides of the meat; it also removes that tough to chew piece from the back of the ribs so it allows for the ribs to give you the most tender meat possible.
Rub the dry spice rub onto both sides of the ribs to add flavor to every bite.
Grilling on indirect heat at a low temp for a longer time also adds to the tenderness; the ribs breakdown, but doesn't dry out and get burned by being on high heat.
Grill the pork back ribs on indirect heat. Turn on the burners to low temperature heat. If you have a large grill, turn on the two outer burners and then set the ribs on the section where there are no flames. If you have a smaller grill, heat one side and leave the other side of the grill off.
You may want to cut a full rack of ribs to smaller racks to fit on a smaller grill so they are completely off of any flame while slow cooking.
If you want you can create a drip pan by making a foil pan with aluminum foil underneath them. Since it's indirect heat you can lay the tray just below the ribs underneath the cooking grate where there is no flames to catch the drippings.
How long does it take for ribs to cook on the grill?
Baby back ribs on low temperature heat (grill temperature 275°) take about 3 to 3 1/2 hours to cook. Ribs are cooked at 145° but they start to fall off the bone around 200°
RIBS WILL FALL OFF THE BONE WHEN THEY ARE COOKED TO ABOUT 200°
PRO TIP: If you don't have a thermometer to know when the ribs are done, the best way to tell is to use tongs to lift the ribs. If when you lift them, the bones pull away from the meat you know they are done. (Use a wide spatula type tool to lift them off the grill so they don't fall lifting them off the heat)
How to grill ribs on a charcoal grill
You'll set your charcoal only on one side and let them get super hot, then allow them to get to medium/ low heat before placing the ribs on the non-heated side. Because it takes 2-3 hours to grill the ribs, you may need to add some coals to the bbq. You'll need to pay special attention that the grill does not get too hot.
How to make baby back ribs in the oven
Grilling not an option? It's super easy to make tender ribs in the oven too. Depending on the size of your oven you may need to cut them into smaller racks. Bake them in the oven at 275° wrapped in foil for 2 hours. Then remove the foil and cook for an additional 1 to 1.5 hours until the ribs temp is 200° or you can easily pull the meat off the bone (ie fall of the bone.)
The first time I made these in the oven someone had given me some apple wood chips, so I now add a small pan of soaked wood chips to impart some nice flavors when I make them in the oven.
BBQ Beef Ribs on the gas grill
This recipe is easily adapted to beef ribs. Follow the directions as listed but you'll have to probably cook them a little bit longer, but temp them at and internal temperature of 200° or test by making sure the meat easily pulls away from the bone.
Variations for the best Fall off the Bone BBQ Ribs Recipe:
Serve these with or without sauce. This Carolina Gold BBQ Sauce is our favorite BBQ Sauce! The sauce goes on at the very last minute, if you put the sauce on too early, the sugar/ brown sugar will cause over-browning/burning.
I've included a recipe for a tangy BBQ sauce that you can make while the ribs are cooking, but if you don't want to go to the effort, buy your favorite store-bought one and brush them on in the last 15 minutes of cooking so they get a nice char.
This recipe uses baby back ribs, but it will work with any kind of ribs although you will have to adjust the cooking times. (beef ribs, spare ribs, country style ribs)
Alternative to grilling them ribs can be made in the oven. Bake at 275°-300° for 3- 3 1/2 hours. Lemon Blossoms also has an excellent recipe for BBQ Ribs in the Oven with Bourbon Peach BBQ Sauce
Want a variation for the dry rub? Here is a simple dry rub recipe in this recipe for Beef Ribs Recipe here!
Looking for other BBQ side dishes to go with your ribs? Check out these other recipes:
Refreshing Watermelon Salad
Gouda Mac n Cheese
Baked Bean Bacon Cups
Bacon Ranch Potato Salad
Asian Cabbage Slaw
Creamy Cucumber Salad no mayo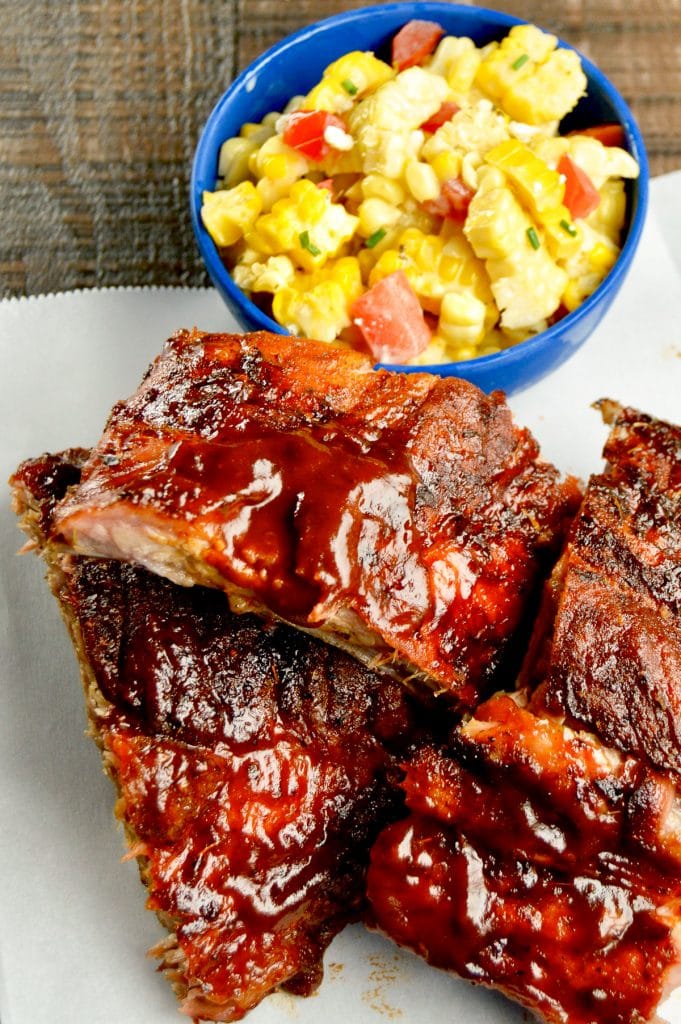 More Great Ribs you might enjoy:
Oven Baked Ribs
Boneless Country Style Ribs
Braised Beef Short Ribs
Instant Pot Beef Ribs
Air Fried Boneless Pork Ribs For real~. Ribs In less than 30 minutes!
For more information please see the list of Bbq ribs on the grill
Detail: 🔗