If you find yourself with too many fresh strawberries on hand, freezing them is a great way to make them last longer. Frozen strawberries are one of my favorite smoothie ingredients! You'll find all of my tips and tricks for how to freeze strawberries below.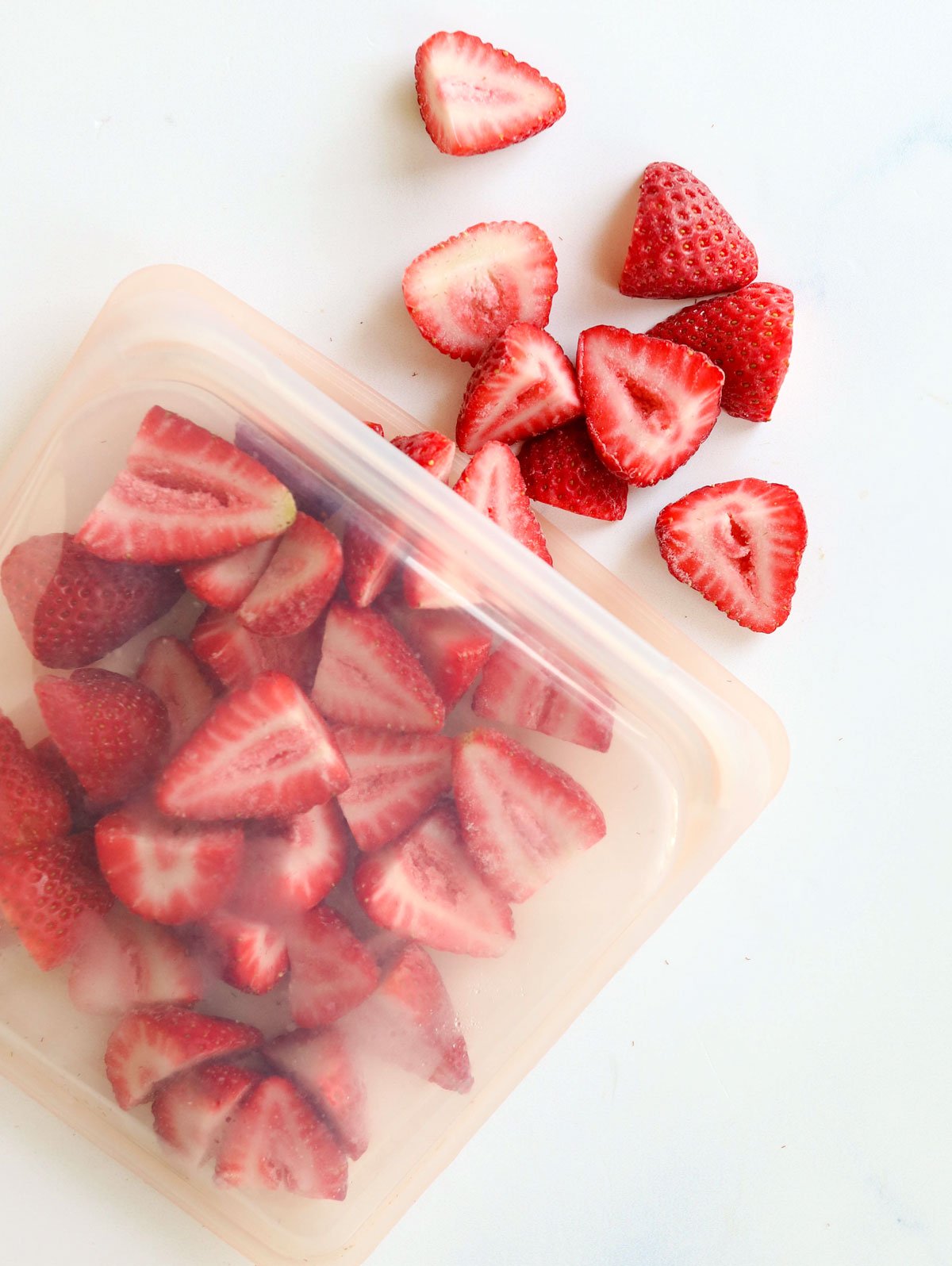 Reading: freezing strawberries for smoothies
Should Strawberries Be Washed Before Freezing?
I do recommend that you wash fresh strawberries before you freeze them, because it's unlikely you'll wash them after they are frozen. At a minimum, I like to rinse them well and pat dry, but you can also soak your strawberries in a solution of water and vinegar.
To make a soaking solution, combine 2 1/2 cups of water with 1/2 cup of vinegar and soak the strawberries for several minutes. This should help to get rid of any bacteria or mold that might make your strawberries spoil faster, and the diluted vinegar won't affect their flavor. Be sure to drain them and pat dry.
How to Remove Strawberry Hulls
Now that you have clean strawberries, you'll want to remove their hulls. I do this quickly by simply slicing off the top, which is fast and efficient.
If you want to avoid cutting off any more of the red strawberry than you have to, you can also use a paring knife to dig-out only the green leaves in the center. This method can be slightly more time-consuming, but you do get a little more of the strawberry that way, too.
The Best Way to Freeze Strawberries
Read more: Ginger Juice Ginger Shots
Once the hulls are removed, you can choose to freeze the strawberries whole or cut in half. I like to cut them in half, so it will be easier for a blender to break them down in a smoothie later. If you have a powerful blender, you can save yourself a few minutes and just freeze them whole, instead.
I like to freeze strawberries in a single layer on a baking sheet, so that they won't freeze together in one big clump. This will make them easier to use later, when you want to measure out the frozen strawberries for a Strawberry Banana Smoothie.
Line the baking sheet with parchment paper, so the berries won't stick to the pan, then let them freeze for 2 hours or so. Once the strawberries are frozen solid, you can transfer them to an airtight container or storage bag. This will help prevent freezer burn, and you won't have to keep them on a big, bulky sheet pan to save on freezer space.
How Long Can You Freeze Strawberries?
Frozen strawberries should last in your freezer for up to 6 months when stored in an airtight container. (I use reusable silicone bags to store them.) I go through strawberries pretty fast, though, so we usually use them up long before then!
Can You Freeze Strawberries and then Thaw Them?
Read more: how to make almond milk bubble tea
When you freeze a hydrating fruit like strawberries, you can definitely thaw them as needed, but keep in mind that they won't be as firm in texture as they are when they are fresh. The freezing process makes water expand, and that bursts the cell structure of the strawberries. So, when they thaw they are mushy. (But still delicious and nutritious!)
Thawed frozen strawberries are best used in cooked recipes, like a pie, berry crisp, chia seed jam, or as a pancake or waffle topping.
Nutrition information is for 4 ounces of strawberries. Nutrition is automatically calculated, and is an estimate, not a guarantee.
I hope you'll find this quick tutorial helpful if you find yourself with too much fresh fruit on hand. (Or in my case, it's difficult to find frozen fruit at the moment— so this is how I'm prepping to make our smoothies!)
If you try this recipe, or have any additional tips to share, please leave a comment below. Your experience is helpful to me and for others who read here!
Smoothie Recipes using Frozen Strawberries
If you need some ideas for using up your frozen strawberries, these are my favorites to start with!
Strawberry Banana Smoothie
PB&J Smoothie (freeze some raspberries for this, too!)
Mango Strawberry Smoothie
Chocolate Strawberry Smoothie
Favorite Smoothie For Kids
Low-Sugar Smoothies
–
Reader Feedback: Have you ever tried freezing your own fruit before?
Read more: How to make ginger lemon honey tea for cough