Introduction
Fried green tomatoes are a delightful appetizer that can also be used as a substitute for regular tomatoes in a BLT sandwich. Adding a touch of hot sauce to the buttermilk marinade offers a quick and flavorful seasoning. Although this recipe is particularly popular in the South, it's enjoyed by many across the country.
What Are Green Tomatoes?
Green tomatoes are actually unripe tomatoes that are harvested before they have fully ripened. They are known for their firm and dense texture compared to ripe tomatoes and have a tangy flavor. Some green tomatoes are picked before they ripen, while others are the ones that didn't fully ripen by the end of the season.
Green tomatoes have a slightly tart and acidic taste. Their firm and crisp texture is often compared to that of green apples. Due to their lack of juiciness, they are perfect for frying. While green tomatoes are available all year round, they are more widely accessible during the summer and fall seasons, especially outside of Southern states.
Key Ingredients in This Recipe
Tomatoes: Specifically, green or unripe tomatoes are used in this recipe. Ripe regular tomatoes or heirloom tomatoes are too juicy and would turn mushy when battered and fried, making them unsuitable substitutes.

Buttermilk: This typical American low-fat buttermilk adds a tangy flavor to the dish. It is also widely used in Southern cooking. The tomatoes are briefly soaked in buttermilk before being coated in a mixture of cornstarch and flour.

Eggs: Eggs contribute to a fluffier coating for the tomatoes and help the batter adhere to them.

Hot sauce: A vinegar-based hot sauce is used as a seasoning in the buttermilk mixture. Crystal Louisiana Hot Sauce is recommended, although Tabasco also works well.

Cornmeal: Made from dried corn, cornmeal is an extremely versatile ingredient. For this recipe, it's best to use a stone-ground coarse cornmeal that provides the batter with a pleasant texture.

All-purpose flour: The flour is combined with the cornmeal to lighten the breading. It allows for an even coating since the cornmeal is denser.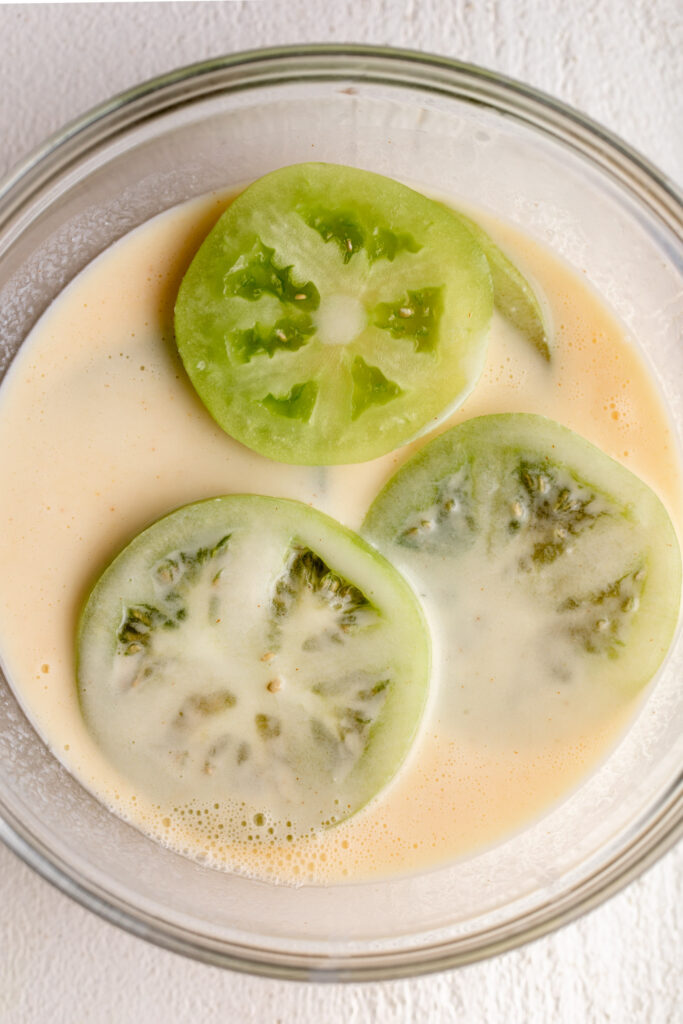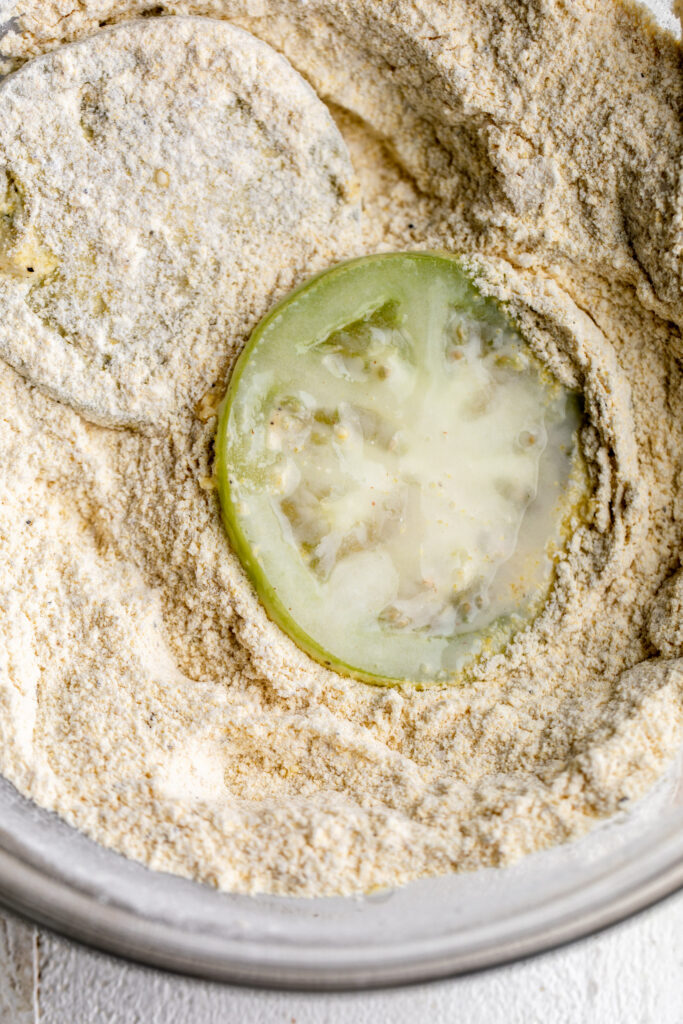 How to Make Fried Green Tomatoes
Prepare the tomatoes: Slice the green tomatoes into ¼-inch thick slices.

Make the dredge: In a large mixing bowl, whisk together the buttermilk, egg, and hot sauce. In a separate medium mixing bowl, whisk together the cornmeal, flour, salt, and pepper.

Soak the tomatoes in buttermilk: Add the tomato slices to the buttermilk mixture and let them sit for about 10 minutes. This helps to tenderize the tomatoes and ensure the coating adheres well.

Heat the oil: Pour enough oil into a large cast iron skillet to fill it to a depth of 1 inch. Heat the oil to 375ºF.

Batter and fry the tomatoes: Working in batches, coat the tomatoes in the cornmeal batter, pressing gently to ensure the cornmeal adheres. Shake off any excess batter and add the tomatoes to the skillet. Fry until both sides are golden brown, about 3 to 4 minutes in total.

Drain the tomatoes: Transfer the fried tomatoes to a paper towel-lined plate to drain. Repeat the process with the remaining tomatoes.

Prepare the sauce: In a small bowl, whisk together mayonnaise, sriracha, ketchup, oil, onion, garlic, Worcestershire sauce, mustard, and pepper until well combined.

Serve: Plate the fried green tomatoes and serve them hot with the sauce for dipping.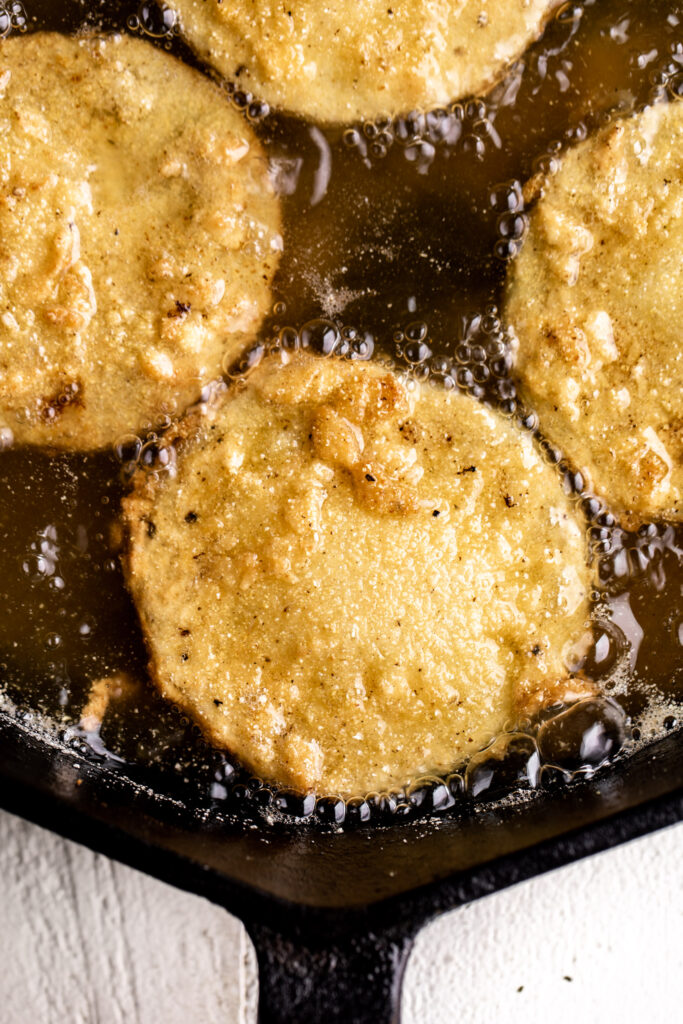 What Is Comeback Sauce?
Comeback sauce, also known as Mississippi comeback sauce, is a tangy condiment that combines the flavors of Thousand Island dressing or remoulade with spicy mayonnaise. It is made from mayonnaise, chili sauce (such as sambal or sriracha), ketchup, vegetable oil, Worcestershire sauce, onion, garlic, and creole mustard. This classic Southern sauce originated in Jackson, Mississippi and pairs wonderfully with fried dishes. It also works well with beer-battered Baja fish tacos.
For best results, prepare the sauce ahead of time and refrigerate it covered overnight. It can be made up to a week in advance.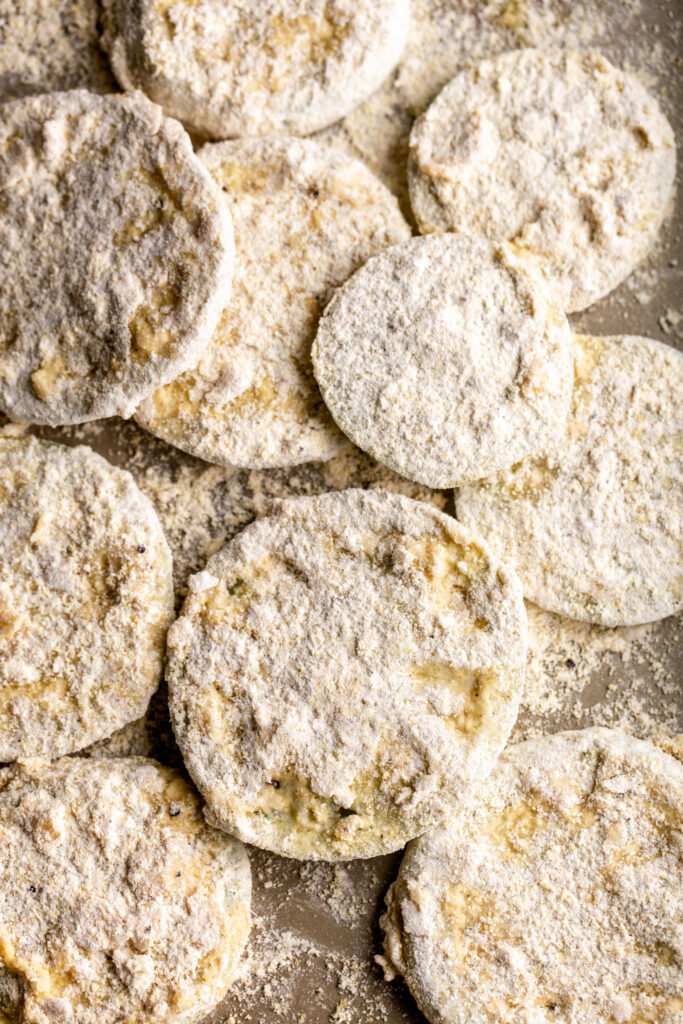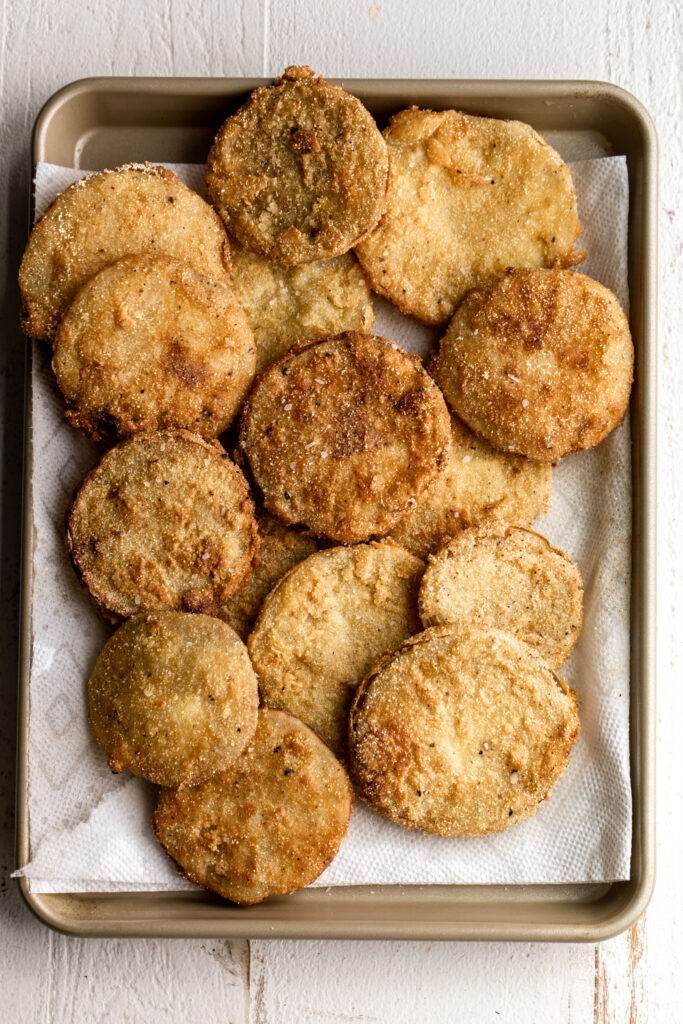 Tips for Frying
Take breaks between batches to allow the oil to reach the desired temperature again. Adding food to hot oil drastically reduces its temperature. Allowing time for the oil to heat back up results in an even fry across all batches.

Use an infrared thermometer to quickly and accurately measure the oil temperature.

Opt for a cast iron skillet when frying. It retains and distributes heat evenly, maintaining a more consistent temperature.

Avoid overcrowding the pan to ensure the food cooks evenly.

As an extra safety precaution, it's recommended to keep a small fire extinguisher in the kitchen.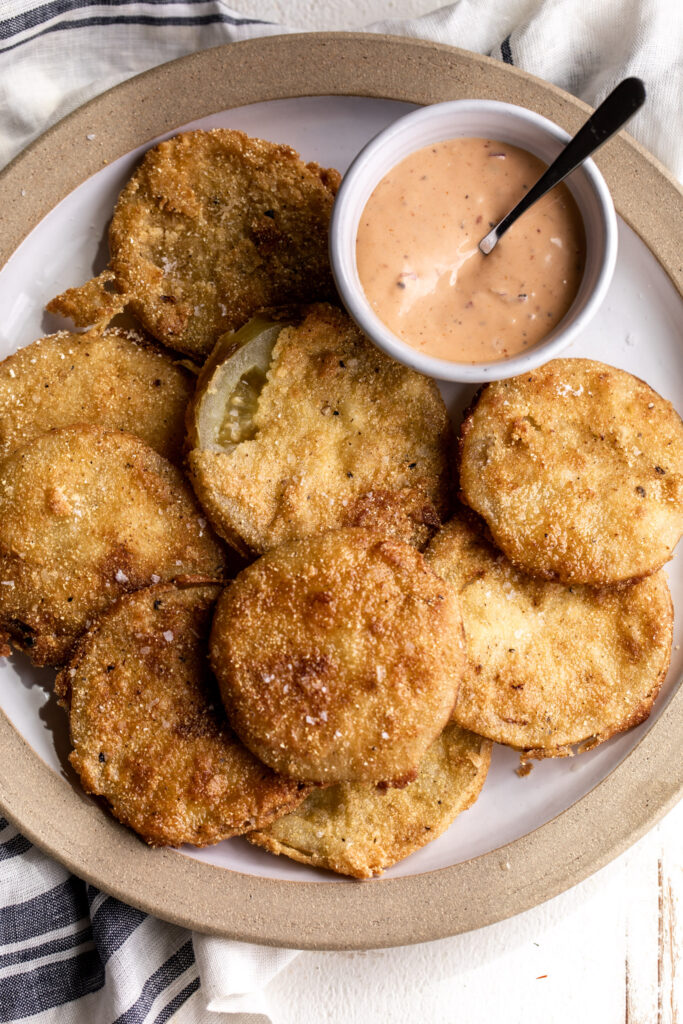 Serving Suggestions
Pair these fried green tomatoes with tangy Alabama white sauce or buttermilk herb dressing for a delicious combination of flavors.

Take inspiration from Rama Jama's, a popular restaurant in Tuscaloosa, Alabama, and swap ripe tomatoes for fried green tomatoes in a BLT with spicy mayo and avocado recipe.

Green tomatoes also work well in chutneys and can be used in dishes like tomato chow chow served over chorizo burgers.