Creamy, fruity and delicious this Frog Eye Salad is a citrusy cold salad that is perfect for potlucks, holidays and everything in between.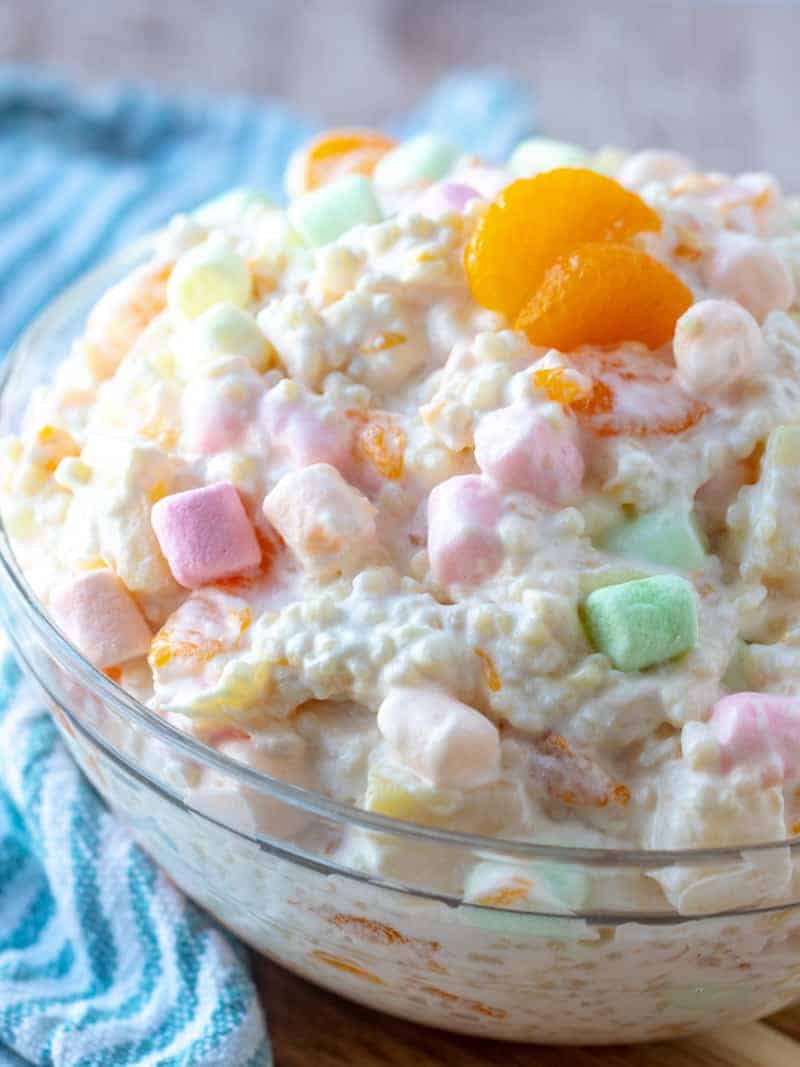 Being from the midwest potlucks have always been the thing to throw. Mainly at church functions and they always have an array of different salads all the time. This Frog Eye Salad is one of the ones that grace those tables more than most.
I actually learned of this recipe and tried it about 6 years ago when I worked at a group home and a lady that I worked with always made it and she had given me her frog eye salad recipe and we've never gone back.
Now I know it is a little untraditional and there are so many people that haven't heard of it before, but trust me it isn't as "gross" as it looks, I promise.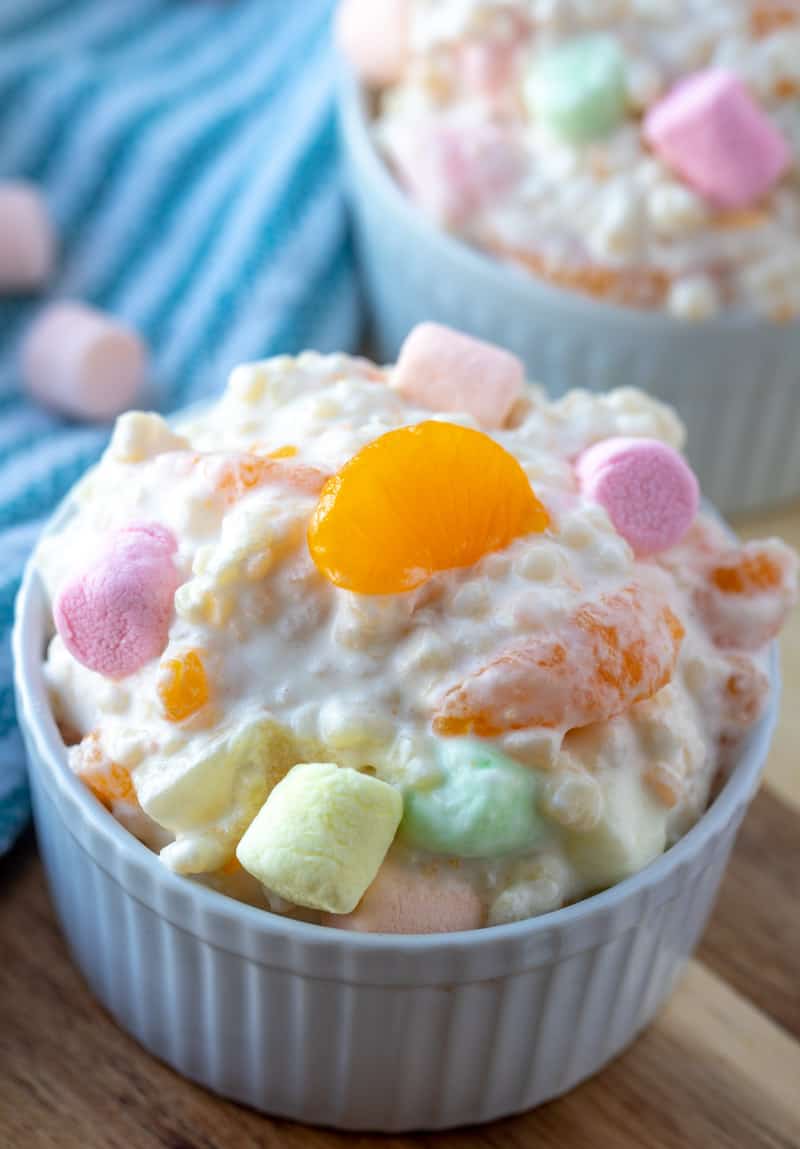 WHAT INGREDIENTS DO YOU NEED?
Acini de Pepe
Sugar
Flour
Salt
Pineapple juce
Lemon Juice
Mandarin Oranges
Pineapple
Whipped topping
Marshmallows
Now there are so many different ways of making Frog Eye Salad and so many variations of this specific dish alone. This is the way we have always made it but I've had it with other ingredients such as with cherries and fruit cocktail as well.
HOW TO MAKE FROG EYE SALAD:
Cook acini de Pepe according to package directions and set aside to cool completely.
In saucepan whisk together sugar, flour and salt until combined.
Add in your pineapple juice and heat over medium heat until thickened.
Once thickened stir in lemon juice and cool completely.
Add pineapple custard to a large bowl and mix in the cooled pasta.
Add in your mandarin oranges, crushed pineapple and pineapple chunks and stir to combined.
Lastly add in your whipped topping and marshmallows and fold until blended.
Cover and refrigerate 8 hour but ideally overnight.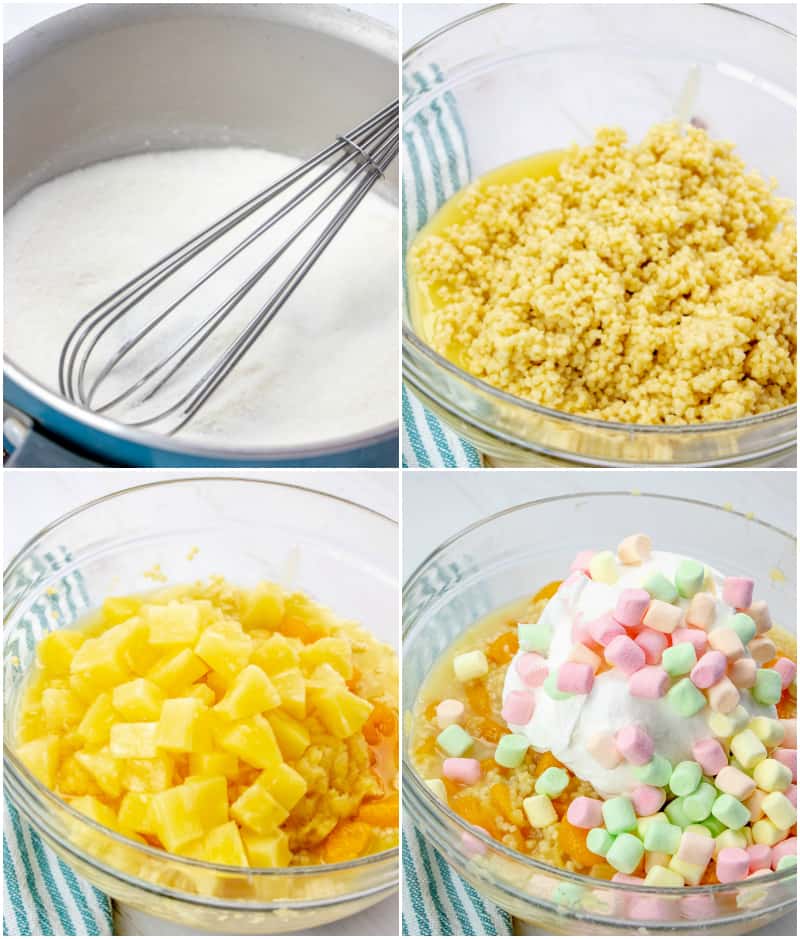 This frog eye salad is super easy and feeds a crowd, definitely the prefect dish to bring to a pot luck alongside some of my other favorite cold fruity salads that include: Creamy Fruit Salad, Honey Vanilla Fruit Salad and this Mojito Fruit Salad!
SOME HELPFUL TIPS BEFORE YOU MAKE FROG EYE SALAD:
Make sure your canned fruit is throughly drained, otherwise it can turn soupy which is fine it will thicken up once cooled, but better to have all that liquid drained.
If you cannot find acini de pepe for this recipe you could also use ditalini pasta as well, it is still a small pasta and would work in substitution.
Use rainbow marshmallows, this dish is pretty bland in color to begin with so adding those pops of color throughout really makes it festive and fun.
Make sure custard is completely cool before adding in your pasta, place it in the refrigerator for 20-30 minutes to speed up this process.
Frog eye salad may be "untraditional" to some, but it is a fun and delicious fruit salad recipe that has made it's way into many church cookbooks and homes, so there has to be something behind all this craze for this salad!
If you like this recipe you might also like:
Lemon Cookie Salad
Cashew Chicken Pasta Salad
Easy Fruit Pizza
PIN IT FOR LATER!
For more information please see the list of Acini de pepe frog eye salad
Detail: 🔗