Is there anything more refreshing than delicious frozen fruit smoothies on a hot summer's day? We've collected 18 Easy Frozen Fruit Smoothie Recipes using different types of frozen fruits from strawberries to mixed berries, banana, mango, and so much more.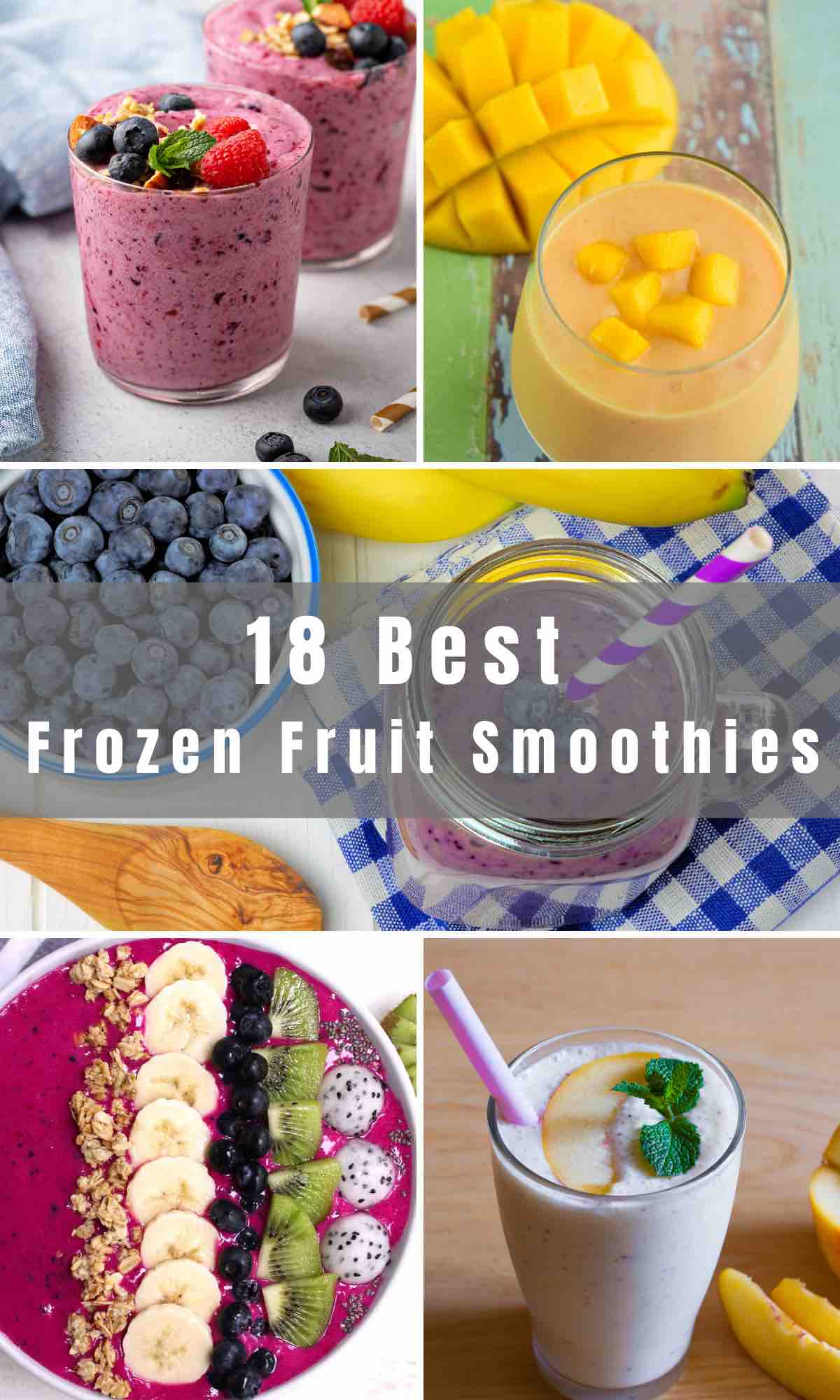 Smoothies make great breakfasts, snacks, and can be served as a meal replacement for weight-loss purposes. They're super easy to make and all you need is a good blender that's powerful enough to blend frozen fruit. Pick up your favorite frozen fruits at the supermarket and keep them on hand to make smoothies at any time of the day.
Reading: frozen fruit recipes smoothies
Can You Use Frozen Fruit for Smoothie Recipes?
Yes, frozen fruits are convenient and ideal for smoothies. They help to keep the smoothie cool without watering it down as ice does. Frozen fruit can be picked up at the supermarket and stores easily in the freezer.
Are Frozen Fruit Smoothies Healthy?
Frozen fruit smoothies are relatively healthy as frozen fruits still retain much of their nutritional value and taste. Many people prefer to get their daily intake of fruits and vegetables through smoothies because it's so convenient and tasty. You should know that fruit smoothies can be high in sugar due to the natural sugar content in fruits. While smoothies are a convenient meal replacement, you should still try to eat fresh fruit and vegetables wherever you can.
Can I Make Frozen Fruit Smoothies Without Yogurt?
Many smoothie recipes call for milk or yogurt, but these are not necessary ingredients. You can skip the yogurt in favor of other ingredients such as orange juice and coconut water. If you like to include yogurt in your smoothies, Greek yogurt makes your drink extra creamy and adds some protein.
Best Frozen Fruit Smoothie Recipes
1. Frozen Strawberry Smoothie
This easy berry smoothie is quick and easy to make and full of nutritious ingredients. Add chia or flaxseeds for even more health benefits.
2. Healthy Dragon Fruit Smoothie
Exotic dragon fruit makes for a tasty smoothie with a beautiful, bright pink hue. Enjoy as a drinkable smoothie or use it as a base for your smoothie bowl.
3. Frozen Berry Smoothie with Oatmeal
Need a quick breakfast that will leave you full and satisfied? Oatmeal makes this frozen berry smoothie full of fiber to keep you full throughout your morning.
4. Frozen Strawberry Blueberry Smoothie
Read more: How to make tea the british way
Mixing berries is never a bad idea. Try this simple smoothie made with strawberries, blueberries, almond milk, and Greek yogurt.
5. Frozen Banana Smoothie
Frozen bananas make this smoothie thick, creamy and delicious! Add vanilla, cinnamon, and almond butter for a tasty, healthy start to your day.
6. Frozen Mango Smoothie Recipe
This refreshing smoothie is made with everyone's favorite tropical fruit. A frozen mango smoothie is just what you need on a hot afternoon.
7. Frozen Mixed Berry Smoothie
This smoothie combines all your favorite berries for a creamy concoction that's full of antioxidants and great flavor. No need to add sugar!
8. Frozen Fruit Smoothie Bowl
If you prefer to eat your smoothies, you'll love this filling smoothie bowl. Add protein powder and flaxseeds for a filling breakfast.
9. Frozen Fruit Smoothie with Yogurt
Yogurt makes your smoothie super creamy and delicious! Blend frozen fruit, plant-based milk, and yogurt for a healthy and filling smoothie that can be enjoyed at any time of the day.
10. Frozen Mixed Fruit Smoothie
Got lots of fruits on hand? Blend them all up into a mixed fruit smoothie for a tasty combination of fruity flavors.
11. Frozen Berry Keto Smoothie without Yogurt or Milk
Need a smoothie that's keto, paleo, or vegan-friendly? Look no further than this frozen berry smoothie made without milk or yogurt.
12. Keto Mixed Berry Smoothie with Almond Milk
Read more: How to whiten feet with baking soda
Almond milk is a delicious, plant-based substitute for your smoothies. Whip up this keto-friendly berry smoothie with just three ingredients.
13. Protein Fruit Smoothie for Weight-Loss
Protein smoothies are a great low-calorie snack or meal replacement. Just blend protein powder into your smoothie to stay fuller for longer.
14. Frozen Pineapple Smoothie
With only four ingredients, this frozen pineapple smoothie is as easy to make as it is delicious! Pretend you're on a tropical vacation as you sip.
15. Blueberry Banana Avocado Smoothie
Avocados make your smoothie extra creamy and add a nice, subtle flavor. This blueberry banana avocado smoothie is full of healthy ingredients for your skin.
16. Easy Peach Smoothie
Use your choice of frozen or fresh, juicy peaches for this smoothie. Try it with coconut milk for a taste you're sure to love.
17. Almond Cheery Smoothie
Tart cherries meet sweet bananas in this vegan-friendly smoothie. In just ten minutes, you'll have a healthy breakfast or snack with only five ingredients.
18. Frozen Watermelon Smoothie
This summertime classic is refreshing, hydrating, and delicious. Blend frozen watermelon cubes with strawberries for a fruity pink drink to enjoy this summer.
How to Make a Frozen Fruit Smoothie?
Fruit smoothies are incredibly quick and easy to make. You'll need a blender powerful enough to blend frozen fruit such as a Vitamix or Ninja. Add your frozen fruit and a liquid such as dairy or plant-based milk, coconut water, or orange juice. You may want to add additional ingredients such as protein powder, chia seeds, or nut butter. Blend until all ingredients are combined and the mixture is smooth and creamy.
You May Also Like
Read more: How to use cardamom pods in tea
18 Best Juicing Recipes
Differences Between Juicing and Smoothies
15 Best Cheap Drinks to Make at Home