This Fruit Salad with Whipped Cream is bright and refreshing. It is an easy-to-make dessert that is sure to impress. This fruit salad is packed with all the good flavors of Summer.
*Originally published June 22, 2021 and updated with new copy and photos 4/26/22.
Don't you love when you get invited to a BBQ and you ask the host what you can bring and they say "Oh just bring a dessert?" I feel like a lot of times, making a dessert requires a lot more effort than just picking up a pasta or potato salad at the local deli and bringing it to a BBQ. When it comes to Summer desserts, there are so many that you can choose from! So many different fruits are in season and there is no shortage of what you can make! I love this Fruit Salad with Whipped Cream. It is so easy to make and the flavor is so so so good. I could eat this for breakfast, lunch, and dinner. There is just something about fresh watermelon, strawberries, and blueberries all tossed together in a yogurt dressing. Oh, it is so good!
For some other delicious dessert recipes, check out this Banana Peach Smoothie, this Red, White and Blue Pound Cake, this Blackberry Strawberry Banana Smoothie, this Banana Pudding Lasagna, these Vegan Lemon Bars or this Blackberry Lemon Bread!
Jump to:
Why This Fruit Salad with Whipped Cream is the Best
Ingredient Notes
Instructions
Substitutions and Variations
FAQ's
Equipment
Storage
Top Tips
What to Serve with This Fruit Salad with Whipped Cream
Fruit Salad with Whipped Cream
Food Safety
Why This Fruit Salad with Whipped Cream is the Best
Easy to Make– This fruit salad is so easy to make! All that is required is to chop the fruit and mix it with some ready-made whipped cream!
Light and Refreshing– This fruit salad is light and refreshing. It doesn't get much lighter than fresh fruit and whipped cream. It makes for the perfect easy dessert after a heavy BBQ meal!
Diet Friendly-This fruit salad is vegan, gluten-free and depending on what whipped cream that you use, paleo as well!
Ingredient Notes
Watermelon- The base of this fruit salad is Watermelon. Sliced thick and bite-sized, this watermelon will bring a fresh Summer flavor.
Cherries-Depending on how early you make this recipe, cherries may or may not be in season. You can use either fresh cherries (just remember to remove the pits!) or you can use frozen cherries as I did. I made sure to thaw the cherries completely and drain them in a colander before putting them in the fruit salad.
Mixed Berries-For the rest of the fruit salad I used a variety of mixed berries, fresh blueberries, and blackberries.
Whipped Cream-To make this recipe easy, I used a tub of pre-made vegan whipped cream. It was perfect for a simple recipe. However, you can make your own whipped cream by creaming two cans of coconut cream together with a little bit of sugar.
See the recipe card for the full ingredient list and quantities.
Instructions
Peel and chop fruit and set them aside in a large mixing bowl.
Add whipped cream to your fruit and stir to coat the fruit.
Then transfer to a serving bowl. Refrigerate if not serving right away.
Hint: Make sure the whipped cream is thawed but still ice cold when adding it to the fruit. You don't want it to melt.
Substitutions and Variations
Fruit – Feel free to swap the fruit for whatever you like! I always use what is in season for this recipe and it is great because it means we can eat fruit all season long. We love to use citrus in the winter!
Additional Toppings – Additional toppings for this fruit salad can include:

mini marshmallows
chopped dates
walnuts or pecans
strawberries, or raspberries
grapes

Homemade Whipped Cream – I love easy recipes so I use a tub of pre-made whipped cream to make this Cool Whip Salad, however you can easily make your own dairy-free whipped cream by using coconut cream!
FAQ's
Equipment
Equipment can have a big impact on how a recipe turns out. See below for the equipment you will need to make this recipe.
Chef Knife
Cutting Board
Glass Mixing Bowls
Storage
Store this fruit salad in an airtight container for up to four days. I do not recommend freezing this fruit salad as the whipped cream will separate when thawed.
Top Tips
You can use any type of pre-made whipped cream that you like. My family is vegan so we use a vegan whipped cream or we make our own coconut whipped cream. To make coconut whipped cream, cream together two cans of coconut cream with a little bit of sugar until stiff peaks form.
Make sure to cut the watermelon into bite size pieces that way you can get a little bit of everything!
Feel free to make this recipe with whatever fruits happen to be in season. I change this recipe up all the time depending on what time of year it is!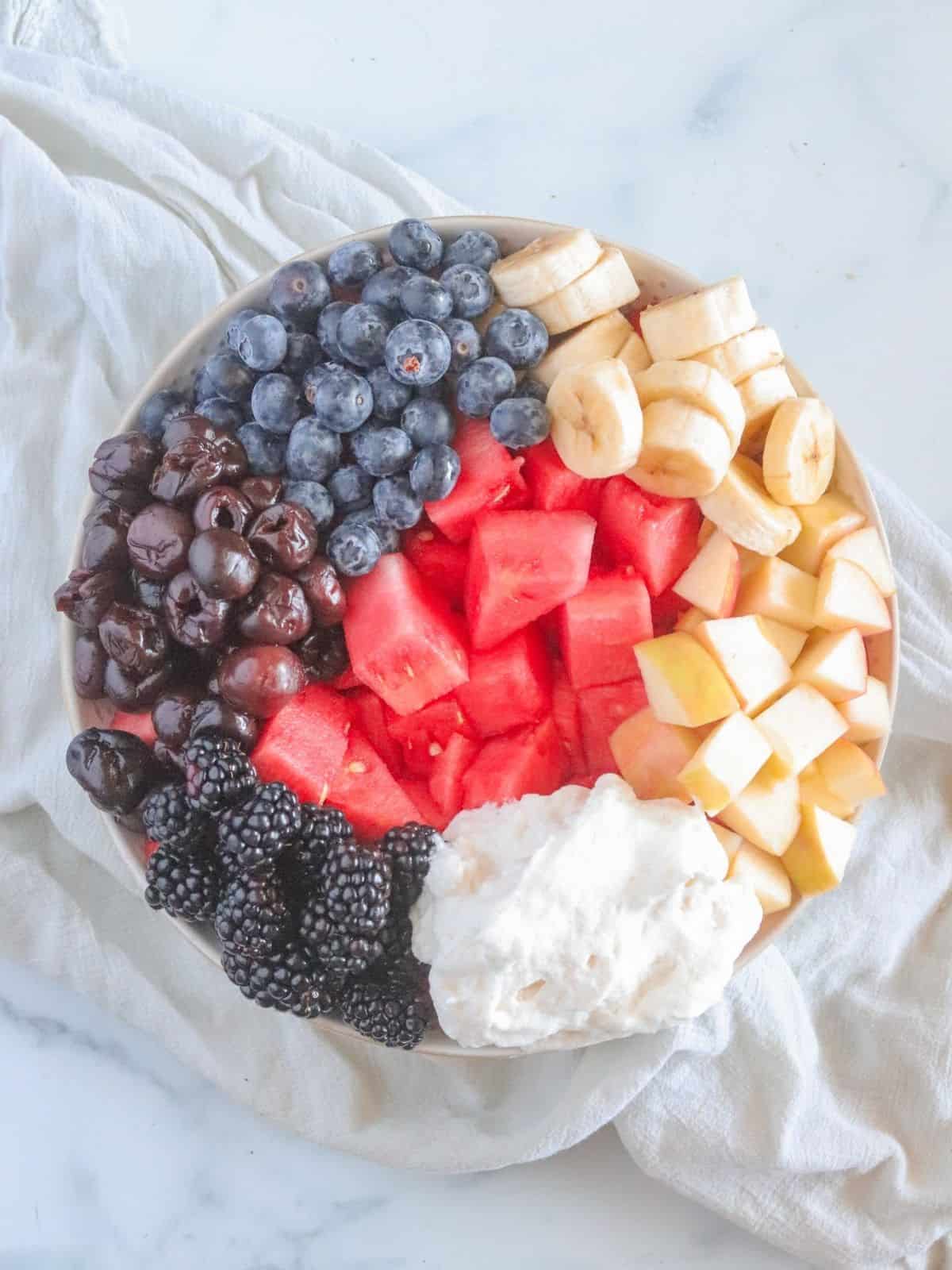 What to Serve with This Fruit Salad with Whipped Cream
Sun-dried Tomato Pesto Gnocchi
Vegan Southern Peach Cobbler
Cilantro Lime Portobello Tacos
Food Safety
Cook to a minimum temperature of 165 °F (74 °C)
Don't leave food sitting out at room temperature for extended periods
Never leave cooking food unattended
Use oils with high smoking point to avoid harmful compounds
Always have good ventilation when using a gas stove
See more guidelines at USDA.gov.
For more information, please see more information about How to make fruit salad with whipped cream
Detail: 🔗