Is the Fuji Apple Chicken Salad your go-to order at Panera Bread? Well, you're in luck because I'm here to show you just how simple it is to make this delightful salad in the comfort of your own kitchen! Not only is it more affordable than ordering it at the restaurant, but you can also customize it with your favorite toppings!
The Perfect Combination of Flavor and Texture
The Fuji Apple Chicken Salad from Panera Bread has captured the hearts (and taste buds) of many. From the warm and flavorful grilled chicken to the crispy apples, this salad has it all. I can't get enough of it, and I'm sure you feel the same way!
Remember the excitement when Panera Bread opened in my hometown of Edmond, Oklahoma? It quickly became a favorite spot for breakfast pastries and lunch. The salad and sandwich combo became my go-to order, with the Fuji Apple Chicken Salad always being my top choice.
Recreating Restaurant Favorites at Home
During the quarantine in 2020, I started recreating some of my favorite restaurant dishes at home. I've mastered the Pasta Boscaiola from Buona Forchetta, a local San Diego favorite, and even a copycat recipe for Chicken Satay with Peanut Sauce from one of my beloved Thai restaurants in San Diego.
And now, it's time to bring the Fuji Apple Chicken Salad to your dining table! The best part is, you can tailor this recipe to your liking.
Homemade Ingredients Made with Love
Whether you want to make your own apple chips or opt for store-bought ones, the choice is yours. The same goes for the chicken; you can grill your own or use pre-cooked, shredded rotisserie chicken.
However, there's one thing I insist you make yourself – the Fuji Apple Salad Dressing! It's the secret to achieving the signature sweet and tart flavor of this salad, and it only takes 5 minutes to whip up!
What You'll Need
Mixed greens – Feel free to use a combination of spring mix and baby spinach, or choose your favorite leafy greens.
Fuji apple salad dressing – Create this homemade dressing in just 5 minutes with ingredients you already have in your pantry.
Apple chips – Whether homemade or store-bought, make sure to choose a plain, non-flavored variety for this recipe.
Cooked chicken breasts – Grilled Lemon Rosemary Chicken works beautifully with this salad. If you prefer something simpler, grab a rotisserie chicken from the grocery store and shred or chop the breast meat.
Crumbled gorgonzola cheese – This Italian-style blue cheese adds a delicious kick. If you prefer a milder flavor, try crumbled goat cheese or feta cheese.
Red onion and cherry tomatoes – These veggies add a refreshing crunch and burst of flavor.
Toasted pecan pieces – You can toast the pecans yourself following the directions from Evolving Table, or purchase toasted or roasted pecans from the store.
Step-by-Step Instructions: Easy as 1, 2!
In a large bowl, toss the mixed greens with the Fuji apple salad dressing. Divide the dressed greens between four bowls.
Top each bowl with apple chips, chicken, gorgonzola cheese, red onion, tomatoes, and pecans.
And there you have it! Your very own Panera Bread copycat Fuji Apple Chicken Salad is ready to be enjoyed for lunch or dinner!
Your Questions Answered
Is the salad gluten-free?
Yes! The Fuji Apple Chicken Salad is naturally gluten-free, including the salad dressing, apple chips, and grilled chicken.
How many carbs are in the salad?
The Fuji Apple Chicken Salad is low in carbs, with only 17 grams of total carbs and 15 net carbs per serving. If you want to further reduce the carb content, you can skip the apple chips, which account for 5 grams of carbs per serving.
How many calories are in the salad?
Each serving of the Fuji Apple Chicken Salad contains 497 calories. This recipe yields four servings.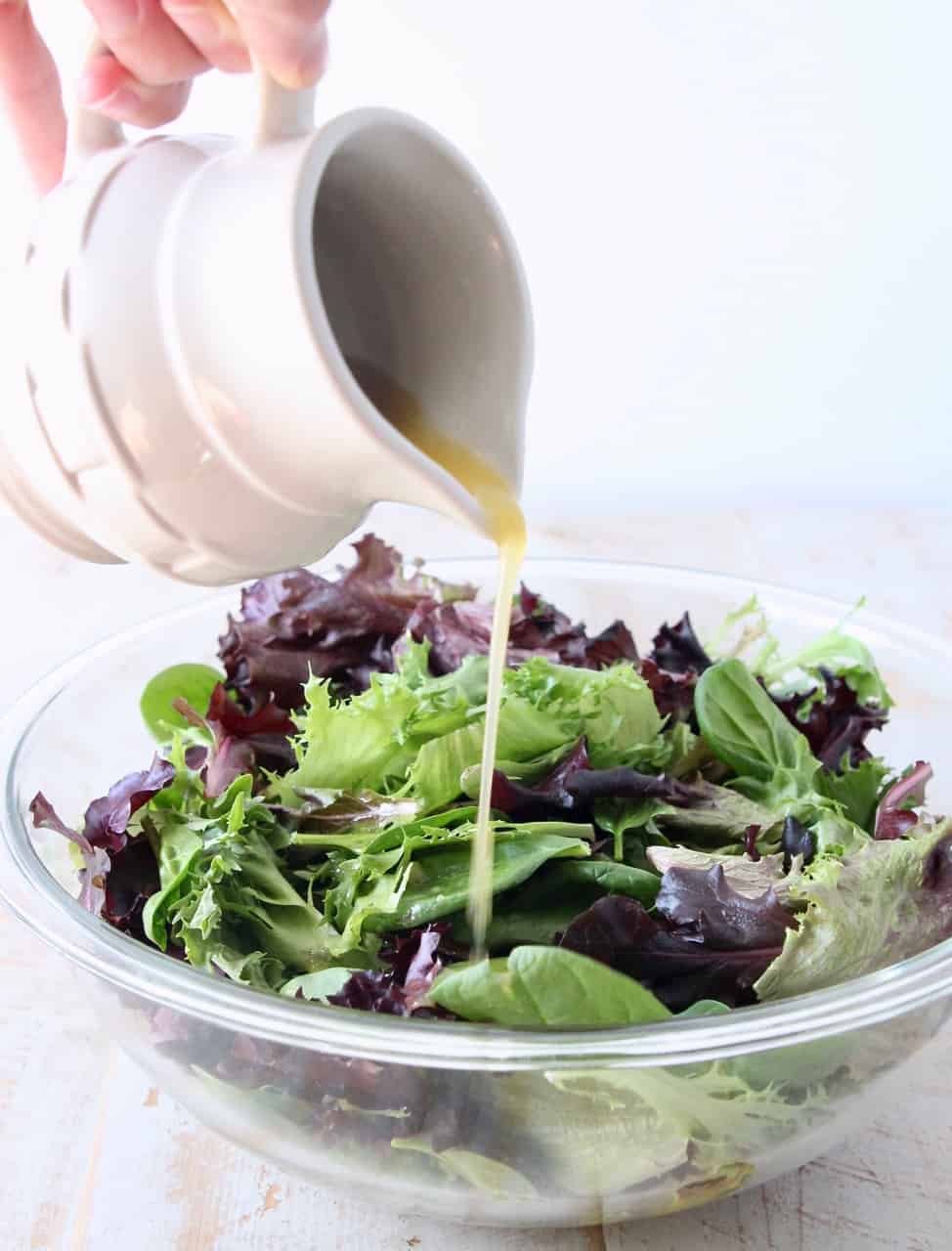 More Salad Recipes to Try
Looking for more delicious salad ideas? Check out these recipes:
Chicken Caesar Salad with Cashew Caesar Dressing
Healthy Cobb Salad
Steak Salad
Roasted Cauliflower Salad
Caprese Quinoa Salad
Pesto Chicken Avocado Spinach Salad
Crispy Goat Cheese Avocado Strawberry Salad
Remember, making your favorite restaurant-style dishes at home can be a rewarding and cost-effective way to enjoy your meals. So, why not bring the flavors of Panera Bread's Fuji Apple Chicken Salad to your own kitchen?
This article is brought to you by Family Cuisine, your go-to source for delicious, homemade recipes.