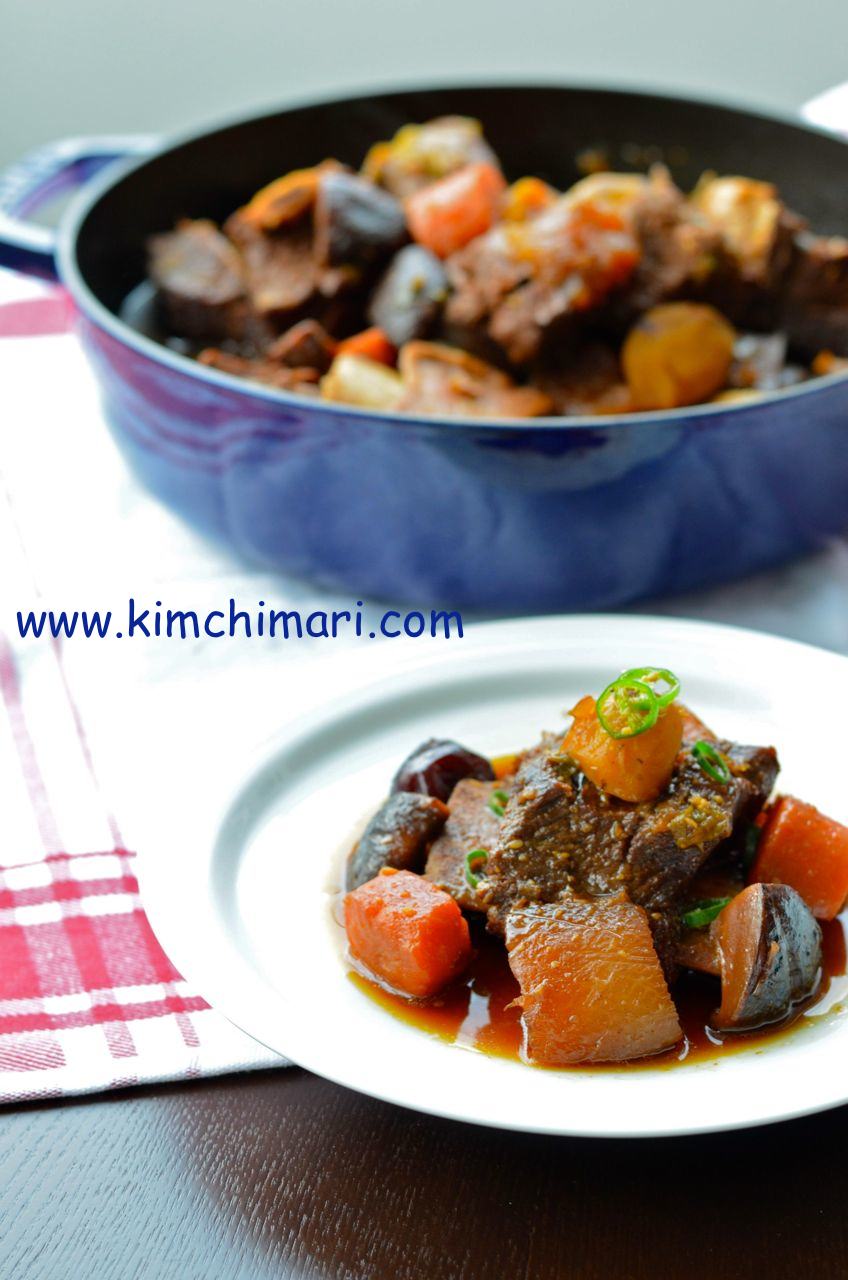 This is Korean food at its best. Galbi jjim(갈비찜) /Kalbijjim was certainly one of my favorites as a kid and is still very much at the top of my list to this day. As a kid, I loved to eat just Galbi jjim, rice and Kimchi. It was a perfect balance of flavors for me. The combination of sweet yet savory, juicy yet melt in your mouth tender beef ribs with a great depth of flavor and the crunchy, spicy cabbage Kimchi to break up that little hint of fat was simply just too delicious for my figure. haha.. Even when all the ribs were gone, I savored every last drop of the remaining Galbi jjim sauce by mixing rice and the sauce together.
Koreans traditionally make this dish for great holiday occasions such as New Year's and also for their most honored guests. So if you have visited many different relatives homes during the New Year's, you do kind of get sick of it towards the end. Sadly, very few Korean restaurants (both abroad and in Korea) serve this dish anymore so you may not have been able to taste this at all. If you like Korean BBQs like bulgogi or kalbi, then you must try making this dish.
Kalbijjim is also a great party dish because you can make ahead of time. You just reheat when guests arrive. Kalbijjim, rice, kimchi, lettuce salad and any kind of jeon makes a fabulous party menu anytime.
Among the various beef cuts, Korean beef ribs are perhaps the most expensive cut and is certainly not something average Koreans eat or make often. When I went shopping to buy beef ribs (갈비 Kalbi) from our neighborhood market, I was told that it's not a beef cut they normally carry because it's so expensive. The butcher told me to come back during New Year's or Chuseok holiday.
** Cool Galbi jjim overnight for best results.
Have an Instant POT? CLICK HERE for my IP recipe
Galbi Jjim (갈비찜) – Korean Braised Short Ribs
Servings 6 Time: Prep 15 min + Cook 2 hrs Difficulty: Moderate
Ingredients
4 lbs (1.8kg) beef short ribs (갈비)
5~6 large dried or fresh shitake mushrooms
10 oz (300 g) Korean radish (daikon also works) – about 1 1/2 C cut up
2 carrots
12 chestnuts, peeled (canned chestnuts is ok)
Ingredients for Galbi jjim sauce
3/4 C + 3 T (add later after tasting) dark soy sauce
1/2 C sugar
1/2 C mirin or sake
2 T honey (+ 1 tsp as a finish)
2 T sesame oil + 2 T (add right before finish)
1/2 tsp sesame seeds
1/8 tsp black pepper
2 ~ 3 T chopped garlic
2 T chopped green onion + 1/2 stalk for broth
Directions
Soak dried shitake mushrooms in warm water. Fully immerse mushrooms in water by adding weight on top. This will help reconstitute mushrooms quicker.


Shitake soaking in water for Galbi Jjim

Peel and cut radish and carrots into roughly into 1.5 inch pieces.


carrots and radish for Galbi jjim

Rinse ribs in cold water to get rid of any bone fragments. (I bought these short ribs from emart. They are imported from Canada.)


canadian beef short ribs for Galbijjim

Trim any excess fat and score center of the ribs so that the meat will cook faster and also absorb the sauce more readily.


cleaned and cut short ribs

Add cleaned and trimmed ribs to a large enough pot and fill with cold water. Bring water with ribs to a quick boil and flash cook the ribs for 3~5 min. This is to get rid of any gamey taste that beef ribs can sometimes have. This step is optional.
Turn off heat. Drain and discard all liquid.


flash cooked ribs

Make the sauce by mixing all sauce ingredients listed above EXCEPT for 3 T soy sauce, 1 tsp honey, 2 T sesame oil. You will be adding the additional soy sauce, honey and sesame oil to taste later on.


Galbi Jjim seasoning sauce

Add sauce to pot. Turn heat to med-high and cook ribs in sauce for 5 min.


Galbi jjim with sauce in pot

Add 5 C water and bring back to boil.
Add radish and additional green onion for extra flavor. Simmer for 30 min.


Galbi jjim boiling with green onions and radish

Mushrooms should be fully soaked by now. Rinse and quarter shitake mushrooms like so.


shitake mushrooms

If using canned chestnut, just drain. If not, you will have to peel your own.. 🙁 Nice thing about Korea, many markets peel raw chestnuts for you for free when you buy a bag. Here's how they look –


peeled raw chestnuts

After simmering for 30 min., add carrots and mushrooms. Continue to simmer.
After 20 min or so, add chestnuts. Optionally add dried jujube dates.
Simmer for another 1 hr or so (total 1:50 min~ 2 hrs) until the meat is fully tender. Best way to check the tenderness is to tear a little piece off and taste.


Galbi Jjim – testing for doneness

I am holding up this piece of Galbi with tongs after simmering for 90 min. You can see that it's not falling off which means it still has another 20~30 more mins to go.

When it's almost done, taste the meat to see how you like it. Add more soy sauce (up to 2 T) and touch of honey (1 tsp) to taste.
Galbi jjim produces a LOT of fat and you need to skim the fat before you serve. My tip for trimming off fat is to cool the stew in the fridge for several hours or in colder climates, leave it outside.


Galbi jjim cooled with fat

Now just break off fat pieces and discard them. You can easily remove fat from Galbijjim or any other stew or meat stock using this method without a lot of fuss.

Galbi jjim fat solids

Yup – that's quite a lot of fat…good thing we removed it all. 🙂

After removing the fat solids, add 2 T sesame oil and reheat Galbi jjim before serving.
So here is the final closeup of my yummy Galbi Jjim (Kalbi Jjim).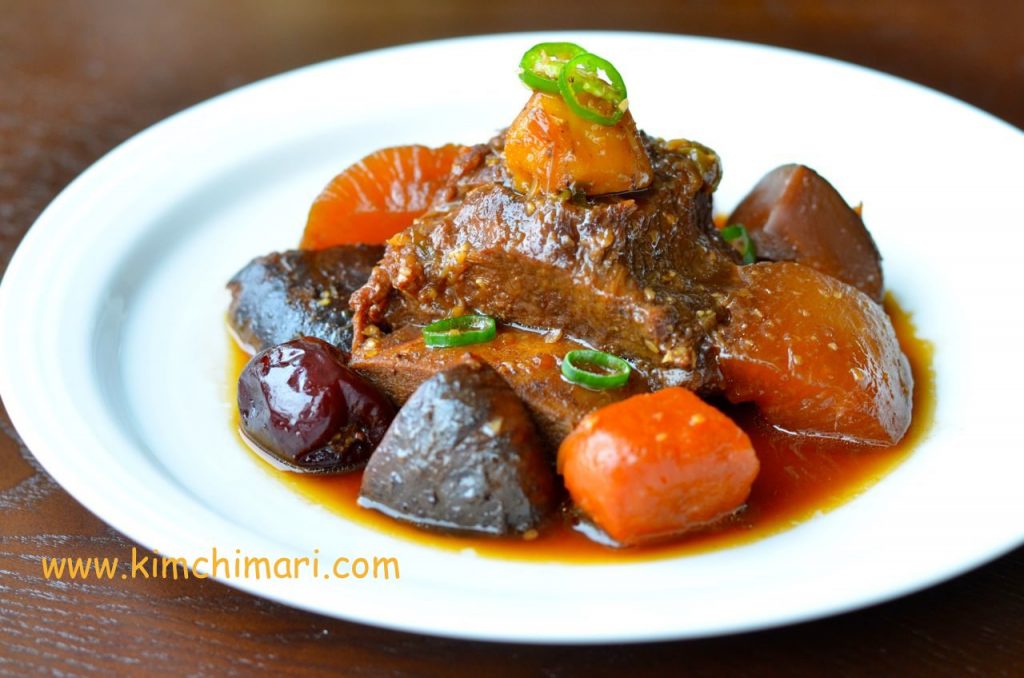 In my opinion..
Most Korean recipes will tell you to soak the beef in cold water and let it bleed out. Recipes say that the meat will smell bad otherwise. But in my opinion, you don't need to do it unless the beef is especially gamey tasting. I think this was the case in the old days because many beef in Korea was from cows that worked the field which means they had a lot of muscle and was grass fed. I never really followed the advice for the last 20 years in the US and never had a problem. And the same here in Korea so I think I can say it's safe to ignore it.
Some Galbi jjim recipes add gingko nuts. Personally I don't like the taste of it but you are welcome to try. It's supposed to be good for your brains!
Storage
Freeze leftovers for later. It will reheat nicely. Vegetables will be a bit mushy though.
Tip
Save every bit of leftover Galbijjim liquid and make Kimchi Jjigae with it. You will end up with a very hearty Kimchi Jjigae~
Enjoy!
Please see more list about Korean beef stew galbi jjim
Detail: 🔗