This Garlic Butter Baked Chicken Thighs recipe with potatoes is the juiciest, most flavorful one-pan dinner idea. Chicken thighs are cooked in the oven with potatoes, and mushrooms – all in one pan. It's ready in less than an hour and finger licking good!
One Pan Garlic Butter Chicken Thighs
Okay, I know you don't all LOVE chicken thighs. I get it, I really do. Chicken breast is leaner. But, is that really all we care about?
Give me a sec, I'm about to make a case for chicken thighs. Ready? Here we go. Chicken thighs are juicier, more flavorful, and cheaper! To me, it's a no brainer.
Also read: One Pan Chicken and Potatoes
Now, throw in garlic and butter and you've got this girl's heart. The only thing that could make this whole thing better is if it was a one pan meal. Oh wait. IT IS!
Don't like potatoes!? Grab this recipe for my Garlic Butter Chicken and Rice.
This garlic butter chicken thighs recipe is similar to a whole roasted buttered chicken. You know, the kind where you mix softened butter with lemon, garlic and herbs, then massage the mixture under the chicken skin before roasting.
Yeah, it's like that except just chicken thighs and they're cooked right on top of seasoned potatoes and mushrooms. Can't you just imagine what those potatoes taste like? Stop me, I'm drooling!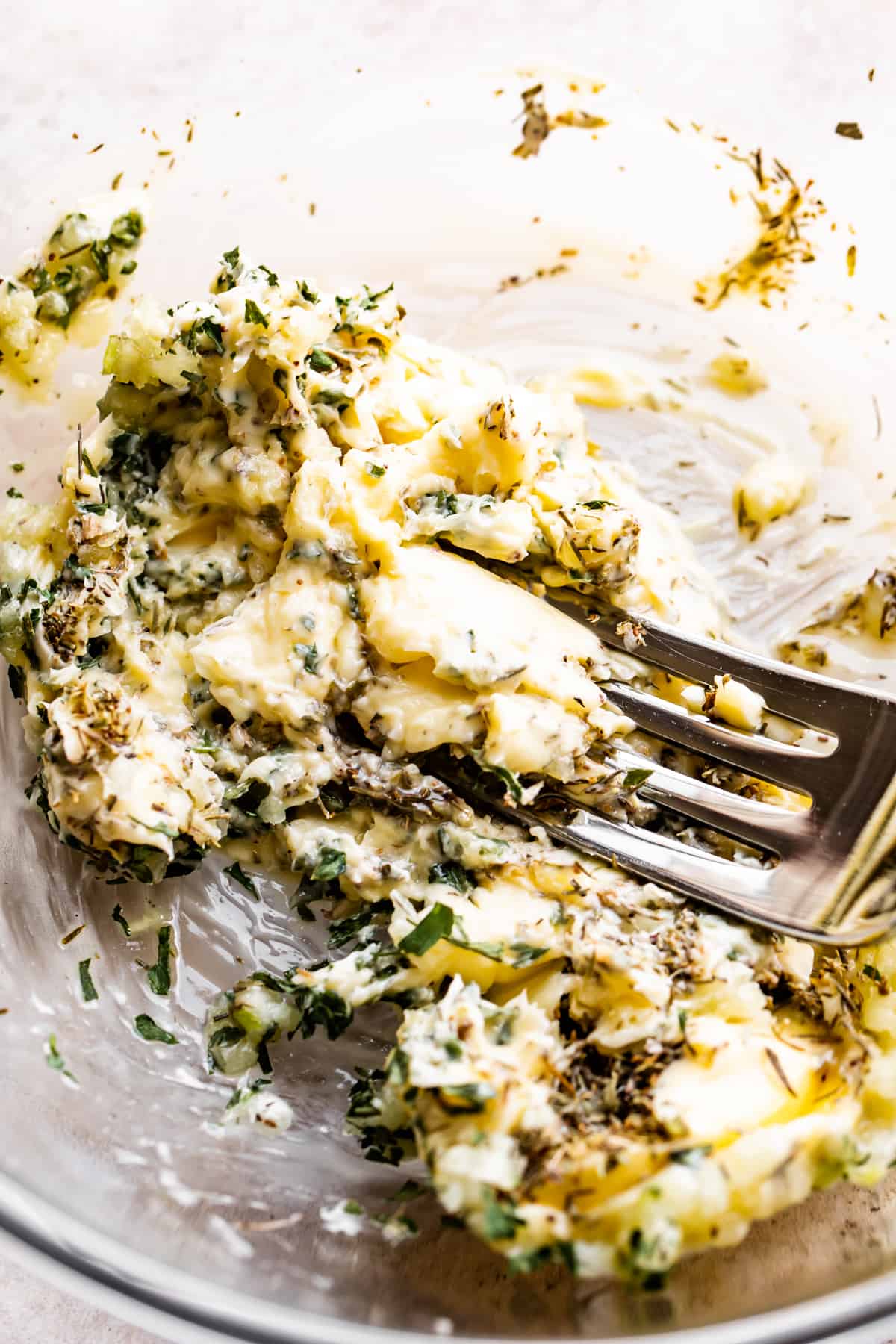 Recipe Ingredients
Also read: Roasted Chicken Thighs and Potatoes
I'll bet you can guess a few of our ingredients, like garlic, butter, chicken, and potatoes. You'll need a few more items but all are likely to be easily located in your pantry.
Here's what you'll need:
potatoes
mushrooms
olive oil
sweet paprika
salt and fresh ground black pepper
skin on, bone in chicken thighs
butter
garlic
lemon
dried parsley, oregano, and thyme
lemon slices and chopped fresh parsley, for garnish
How to Make This Baked Chicken Thighs Recipe
Prep: Preheat the oven to 425˚F.
Potatoes and mushrooms: Transfer the prepared potatoes and mushrooms to a 13×9 baking dish or this 👉 dutch oven. Add olive oil to the potato mixture and season with paprika, salt, and pepper; toss to coat and set aside.
Chicken: Pat dry the chicken thighs and season them with salt and pepper. Set aside. In a small mixing bowl combine the softened butter, garlic, lemon zest, parsley, oregano, and thyme. Mash it with a fork until thoroughly combined. Rub the butter mixture all over the chicken thighs.
Bake: Place the chicken thighs over the potatoes and mushrooms. Bake, uncovered, for 35 to 37 minutes, or until the chicken's internal temperature registers at 165˚F. Please use an instant read thermometer to check for doneness.
Broil: To crisp up the skin, near the end of cooking, broil on HIGH for 2 to 3 minutes.
Serve: Remove dish from the oven. Garnish with lemon slices and parsley. Serve.
Tips for the Best Chicken Thighs
Follow these simple steps to make sure your garlic butter chicken thighs are the best around!
You don't have to cook the chicken on top of the potatoes and mushrooms, but doing so will add so much juicy, delicious, herbed garlic butter dripping flavor to the potatoes.
Make sure to chop your potatoes into similar sizes to ensure they cook evenly.
If the chicken skin is loose, you can spoon some of the butter mixture under the skin, as well.
Pat your chicken thighs dry before seasoning them. This will help the seasoning to stick to the skin of the chicken thighs.
You could absolutely use boneless skinless chicken thighs or chicken breasts in place of the bone-in, skin-on chicken thighs. Just be sure you appropriately adjust your cooking time.
Serving Suggestions
Also read: Roasted Chicken Thighs with Potatoes and Carrots
This is a complete meal in one pan, which is one of my favorite things about making it. You've got chicken, potatoes, and mushrooms.
Sometimes, if I'm feeling super motivated, I make an additional green veggie to serve on the side. Something light (since everything else in the meal has been smothered in butter) like steamed broccoli, green beans, or roasted Brussels sprouts.
Another option to get big time veggie points is to simply serve a big mixed salad on the side. I'm thinking a light salad that's loaded with chopped veggies.
How to Store and Reheat Leftovers
To store your leftover chicken thighs and potatoes, first, let them come to room temperature. Then place them in an airtight container.
If you're going to freeze it, make sure your airtight container is also freezer safe. Then, you can store them in your fridge for 3-5 days or in your freezer for 3 months.
To reheat, simply place the chicken and potatoes in a baking sheet and heat in the oven until the chicken warmed through.
More Baked Chicken Thighs Recipes
Marinated Oven Baked Chicken Thighs
Glazed Broiled Chicken Thighs
Roasted Cajun Chicken Thighs
ENJOY!
Tools Used in this Recipe
For more information, please see more information about Chicken thighs and roasted potatoes