Bacon, apple cider vinegar, onion and sugar give this German potato salad a kick! Traditionally served warm, this potato side dish is a delicious combination of salty and sweet.
There are a few recipes that I remember well from my growing up years. Fruit Cake Bars, Cheesy Potatoes, Scalloped Corn…and this German Potato Salad recipe.
Reading: German potato salad apple cider vinegar
Although I've grown to like potato salad more in my grown up years, I'll be honest that my mom's German potato salad was not my favorite when I was young. There is a sweet vinegar aroma while it cooks and that smell just used to turn me off. I'm all about sweet and salty though, so I gave it another chance as an adult. I've come to enjoy this more over the years and if you remember it from your childhood, maybe you will too. And….bacon…so who can say no to that??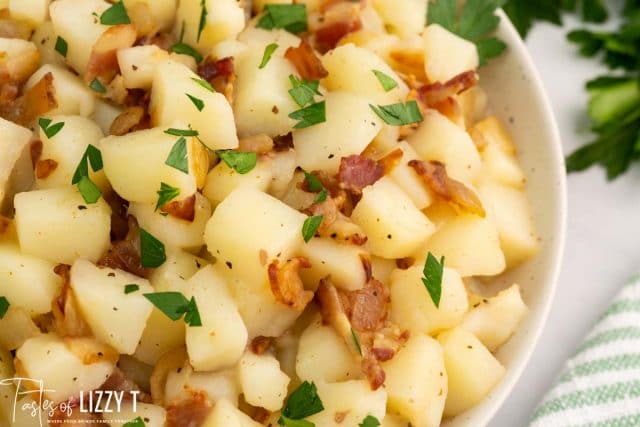 Why you'll love this recipe:
Traditional, old fashioned recipe
Sweet & tangy vinegar sauce
Served warm so no need to keep cold
Bacon!!
Is German potato salad really German?
Read more: Best lentil salad ever
According to Wikipedia, southern Germany makes potato salad with vinegar, bacon and onions. In northern Germany, the potato salad is mayonnaise based and is similar to United States potato salad.
You'll find that there are different variations of potato salad. My mom's German potato salad has potatoes, bacon and onion. It has a sweet and tangy sauce made of sugar, vinegar, flour and water.
What kind of potatoes are best for potato salad?
Low starch potatoes are best for salads because they hold their shape after boiling. For this salad, choose red potatoes and Yukon gold or yellow potatoes. Read our Complete Potato Guide.
How do you make hot German potato salad?
The first step to making the recipe is to prepare the potatoes. Get a large pan of water heating while you peel the potatoes and cube them. Allow the potato cubes to boil until they are soft enough to pierce with a fork.
While the potatoes are boiling, heat a skillet and cook the bacon and onion together until the bacon is as crisp as you'd like it. Remember that the bacon will soften some once it gets in the potato salad.
In a small bowl mix together the sugar, salt, pepper, vinegar and water.
Add a tablespoon of flour to the skillet with the cooked bacon and onion. Use a spatula or a whisk to mix it in well. This will help the sauce to thicken slightly.
Add the vinegar mixture and use a whisk to mix well.
Allow the sauce to thicken slightly.
Then add the bacon and onions to the drained, cooked potatoes and pour the hot sauce all over.
Mix well and serve warm.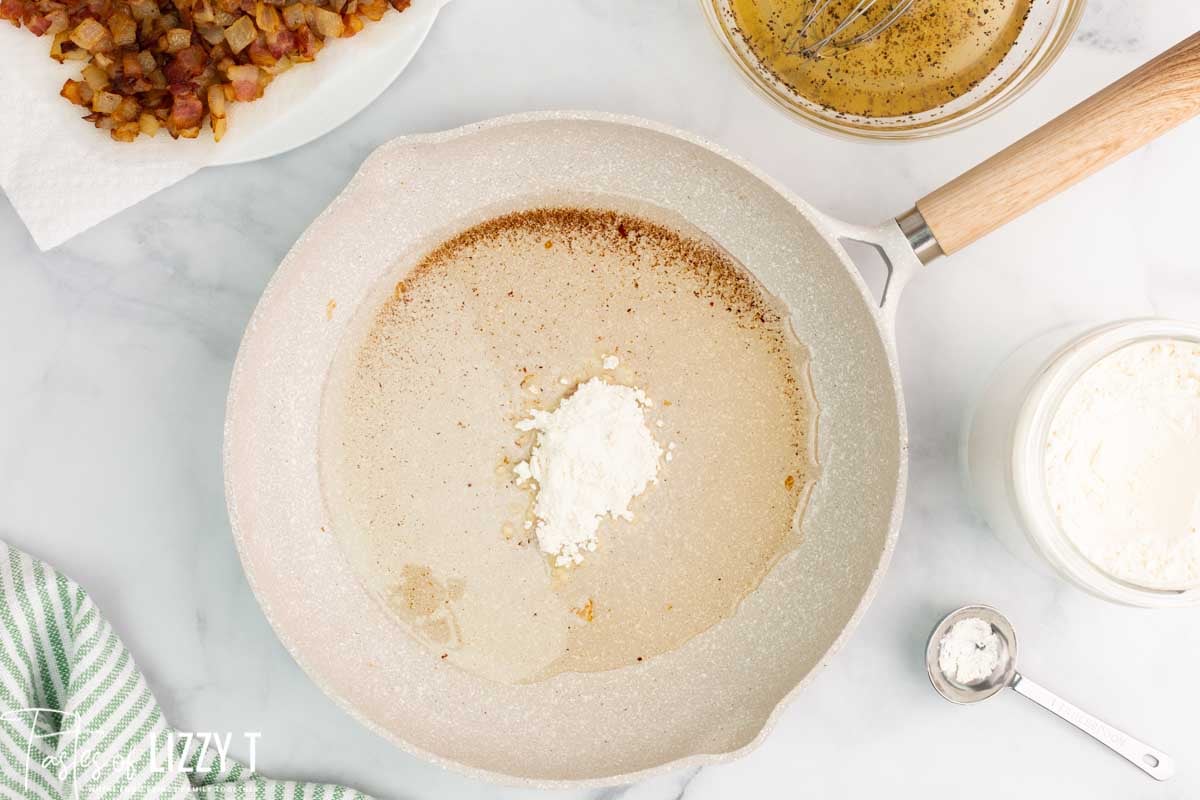 Does German potato salad have to be served warm?
Read more: Soba noodle salad with miso dressing – Lazy Cat Kitchen
In most cases German potato salad is served warm, but you can serve it cold if you'd like.
How long does potato salad last in the refrigerator?
This side dish should last about 3-4 days in the refrigerator if sealed in an airtight container.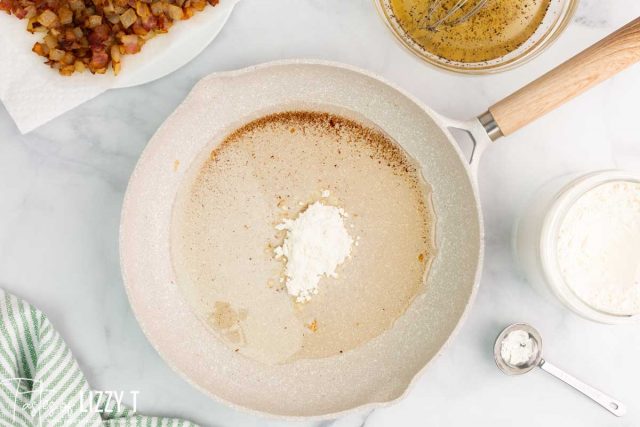 Can you freeze potato salad?
Because this salad does not have mayonnaise in it, you can freeze it. However, potato salad in general doesn't freeze the best. When it thaws, liquids from the potatoes can separate and the salad can become soupy. It's best to store it in the refrigerator.
What goes with this?
Brats and sausages are always good with a warm potato salad. It's also delicious with chicken, fried fish, pork chops or a hamburger.
Read more: Grilled Shrimp Pasta Salad | YellowBlissRoad.com
For more information, please see more information about German potato salad apple cider vinegar