I love using just a small amount of bacon to add BIG flavor to a recipe. The tangy mustard vinaigrette in this German Potato Salad is the perfect example. The bacon fat adds body and the perfect salty balance to the sweet and tangy dressing. This warm mayo-free German Potato Salad is light, but still every bit as comforting as creamy potato salads.
What Type of Potatoes are Best for Potato Salad?
Not all potatoes are equal. Russet potatoes, for instance, break down easily and are well suited for things like mashed potatoes. I used red potatoes here, which hold up slightly better than russets, but a waxy potato like Yukon Gold will hold their shape even better. Personally, I love the color contrast of the red skins, so I sacrificed some firmness for color.
How Long Does German Potato Salad Last in the Refrigerator
You can keep this salad refrigerated for about four days. The dressing will absorb into the potatoes as it refrigerates, so it may become slightly more dry as the days go on. You can either save some extra dressing to add just before serving, or make an extra batch.
Can German Potato Salad be Served Cold?
Absolutely! If you're not a fan of warm potato salads, simply chill the potatoes cool after cooking, then slice, and add the bacon and mustard vinaigrette.
What to Serve with German Potato Salad
German Potato Salad is a great side dish for any sort of meat. This week I served mine with my Glazed Pork Chops. It also goes great with sausage, like Bratwurst or Kielbasa! Just like creamy American potato salads, German potato salad also makes a great side dish for lunch items, like sandwiches.
Scroll down for the step by step photos!
How to Make German Potato Salad – Step by Step Photos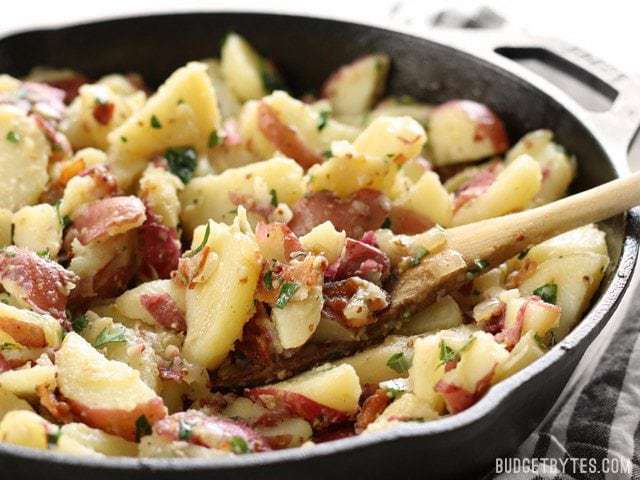 Wash 2 lbs. of small red potatoes well. Place them in a large pot and add enough water to cover them by one inch. Add about 1/2 Tbsp salt to the water to make sure the potatoes are well seasoned. Place a lid on the pot and turn the heat on to high. Bring the pot to a boil, then continue to boil the potatoes until they are tender enough to be easily pierced with a fork (about 15 minutes).
Meanwhile, prepare the mustard vinaigrette. In a small bowl stir together 1/3 cup apple cider vinegar, 1 Tbsp stone ground mustard (or Dijon, if you prefer that), 1 Tbsp white sugar, some freshly ground pepper (maybe 15-20 cranks of a pepper mill), and 1/2 tsp salt.
Slice 3oz. of bacon into one-inch strips. Cook the bacon in a large skillet over medium heat until it is brown and crispy. Remove the bacon to a paper towel lined plate, leaving the grease in the skillet.
While the bacon is browning, dice one small yellow onion. After removing the bacon from the skillet, add the diced onion and sauté it in the bacon fat until the onion is soft and transparent. Turn off the heat.
Pour in the prepared dressing and whisk it into the bacon fat. It will create a slight emulsion and get just a LITTLE bit thicker.
Once the potatoes are tender, drain them in a colander and let them cool for just a few minutes or until they are cool enough to handle. Slice the potatoes into 1/4-inch rounds or half moons. Add the sliced potatoes to the skillet with the dressing, along with the crisp bacon and about 1/4 cup of chopped parsley.
Finally, just stir everything together until it's coated in dressing! Ta-da!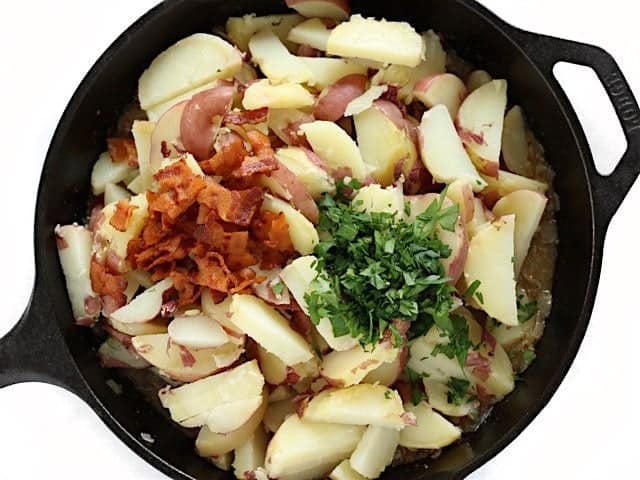 Make sure to serve the potato salad while it's still a bit warm… Oooh, it's the best! (disclaimer: I've eaten the leftovers cold and it's still awesome.)
Want a bite??
LOVE POTATO SALAD? TRY THESE POTATO SALAD RECIPES:
Classic Southern Style Potato Salad
Herby Potato Salad
Pesto Potato Salad
Please see more list about German potato salad recipe cold
Detail: 🔗