This delicious vinegar based German Potato Salad recipe is loaded with tender potatoes, crisp bacon, sautéed onions, and tons of flavor. Serve cold, warm, or hot – it makes an excellent side dish alongside sausages.
Different than traditional Potato Salad with a mayonnaise based dressing, this version tastes completely different!
Reading: German potato salad recipe cold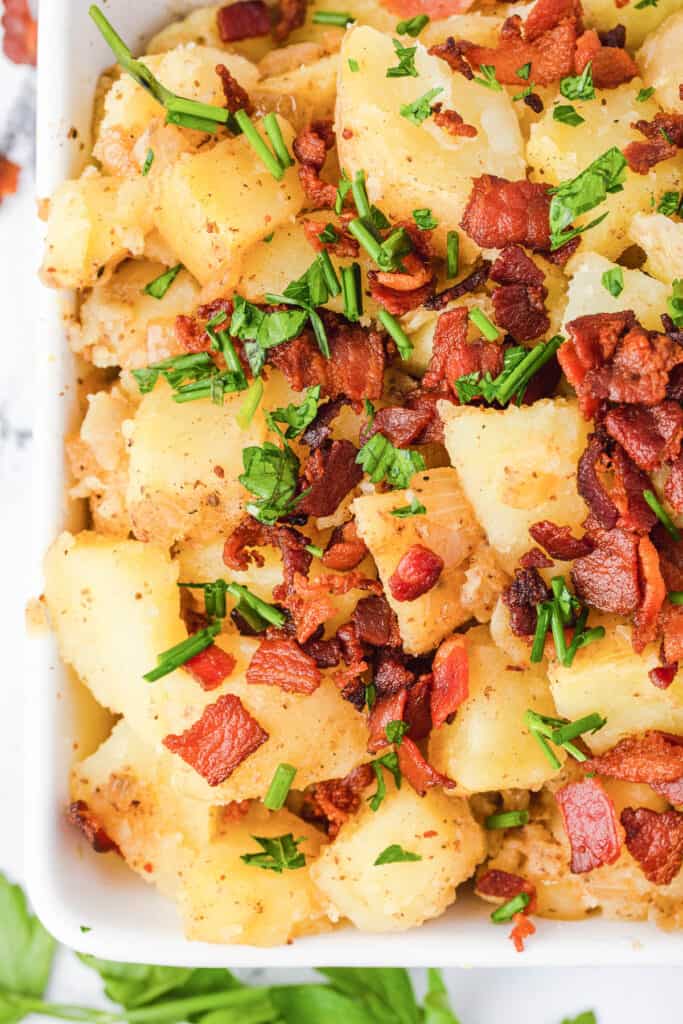 Why this recipe is so great:
Amazing flavor: Everyone knows salt and vinegar make an outstanding combination. The vinegar based dressing paired with the salty crispy bacon is a flavor match made in heaven. Combined with creamy tender potatoes, your taste buds will be thanking you.
Serve hot, warm, or cold: I prefer to eat this potato salad warm, but it tastes great at any temperature.
Tasty side dish: German Potato Salad is a fantastic side to sausages or pork tenderloin. It is also a great option to make for a potluck.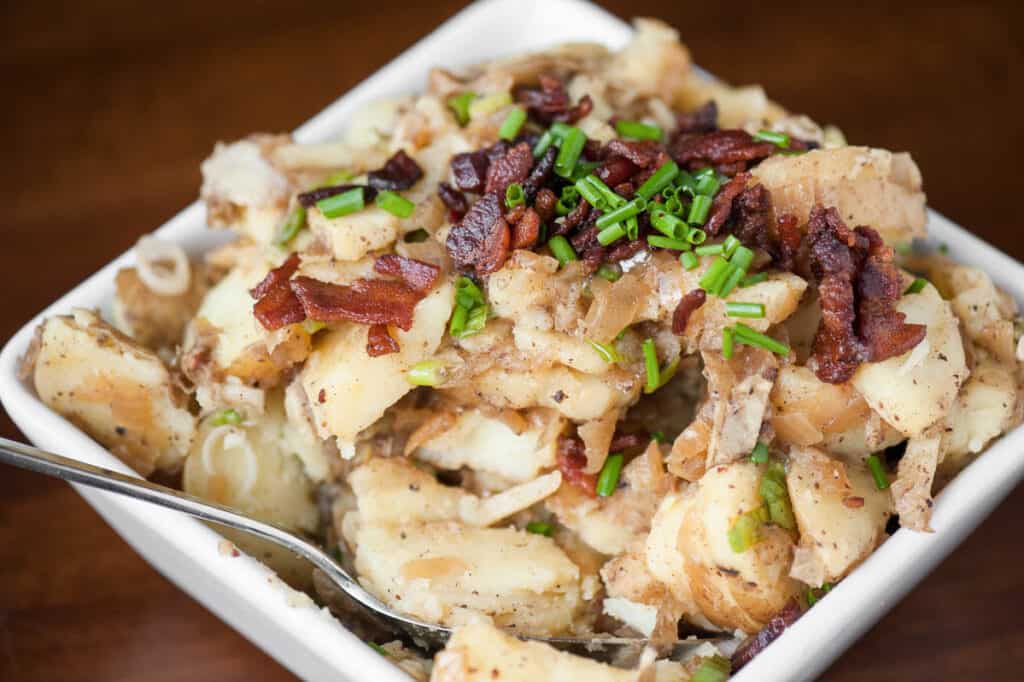 Ingredients needed:
Read more: Best Curry Chicken Salad with Grapes
Exact quantities are listed in the recipe card below.
Potatoes – I prefer Yukon gold but red potatoes work as well
Bacon – this is a great recipe to use bacon ends and pieces, otherwise slice bacon works
Onion – gets sautéed in the bacon grease
Dressing – made from white vinegar, water, sugar, spicy brown mustard, celery seed, salt & pepper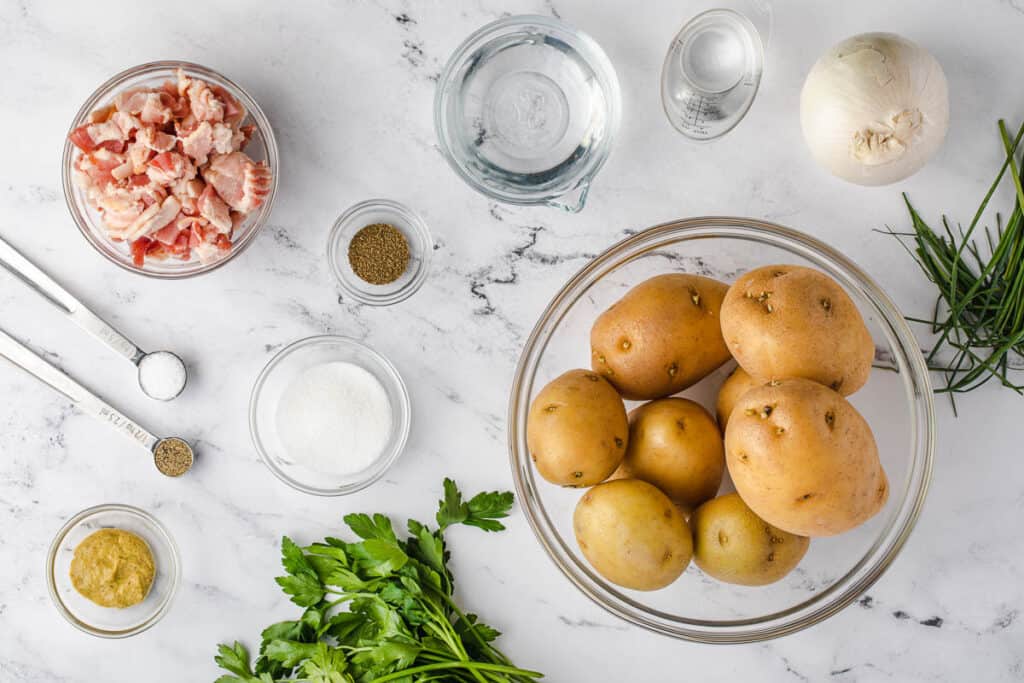 How to make German Potato Salad:
Detailed instructions are located in the recipe card below, but here is a summary.
Cook potatoes: Place potatoes into a pot and fill with enough water to cover them. Bring your pot to a boil and cook for about ten minutes. You will know the potatoes are ready when you can pierce them with a fork easily. Then drain the water and set the potatoes aside to cool.
Cook bacon: While the potatoes are cooking, cook the chopped bacon. Start with a relatively high temperature and slowly reduce the temperature as the grease bubbles to avoid burning. When the bacon is crisp, remove it from the pan. The reserved bacon grease will be used in the dressing.
Cook onions: Add the chopped onion to the bacon grease and cook until tender.
Make dressing: Add the vinegar, water, sugar, mustard, salt, celery seed, and pepper to the pan. Bring this mixture to a boil and then set it aside.
Mix potato salad: Cut the cooled potatoes into small pieces with the skin on and add them to a large serving bowl. Pour the vinegar mixture over the potatoes and toss to coat. Top the German Potato Salad with crumbled bacon as well as parsley and chives. Serve warm and enjoy!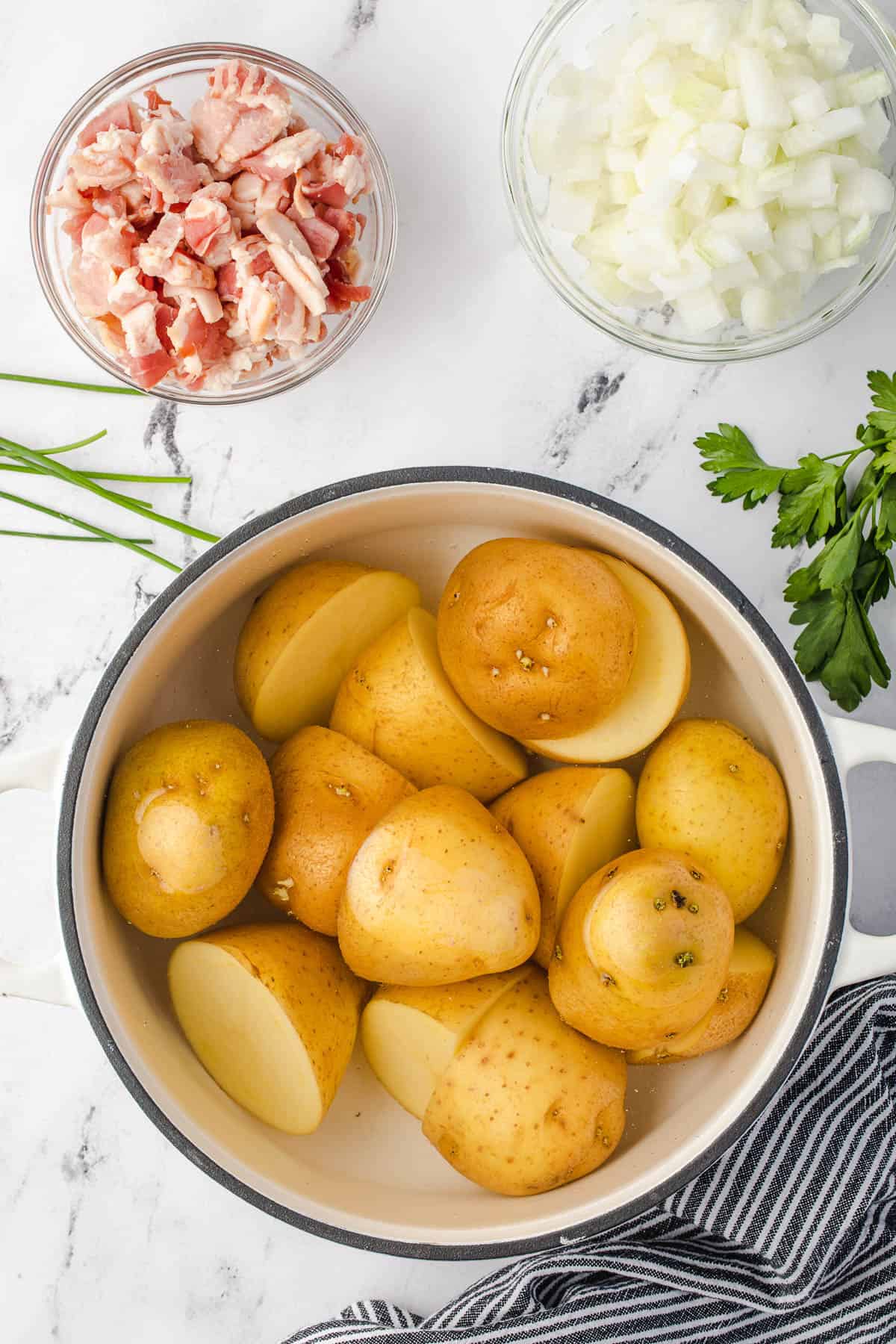 Love potato recipes?
You'll definitely want to try these:
Loaded Baked Potato Soup
Loaded Potato Skins
Pressure Cooker (Instant Pot) Baked Potatoes
Grandma's Potato Salad
Bite Sized Smashed Potatoes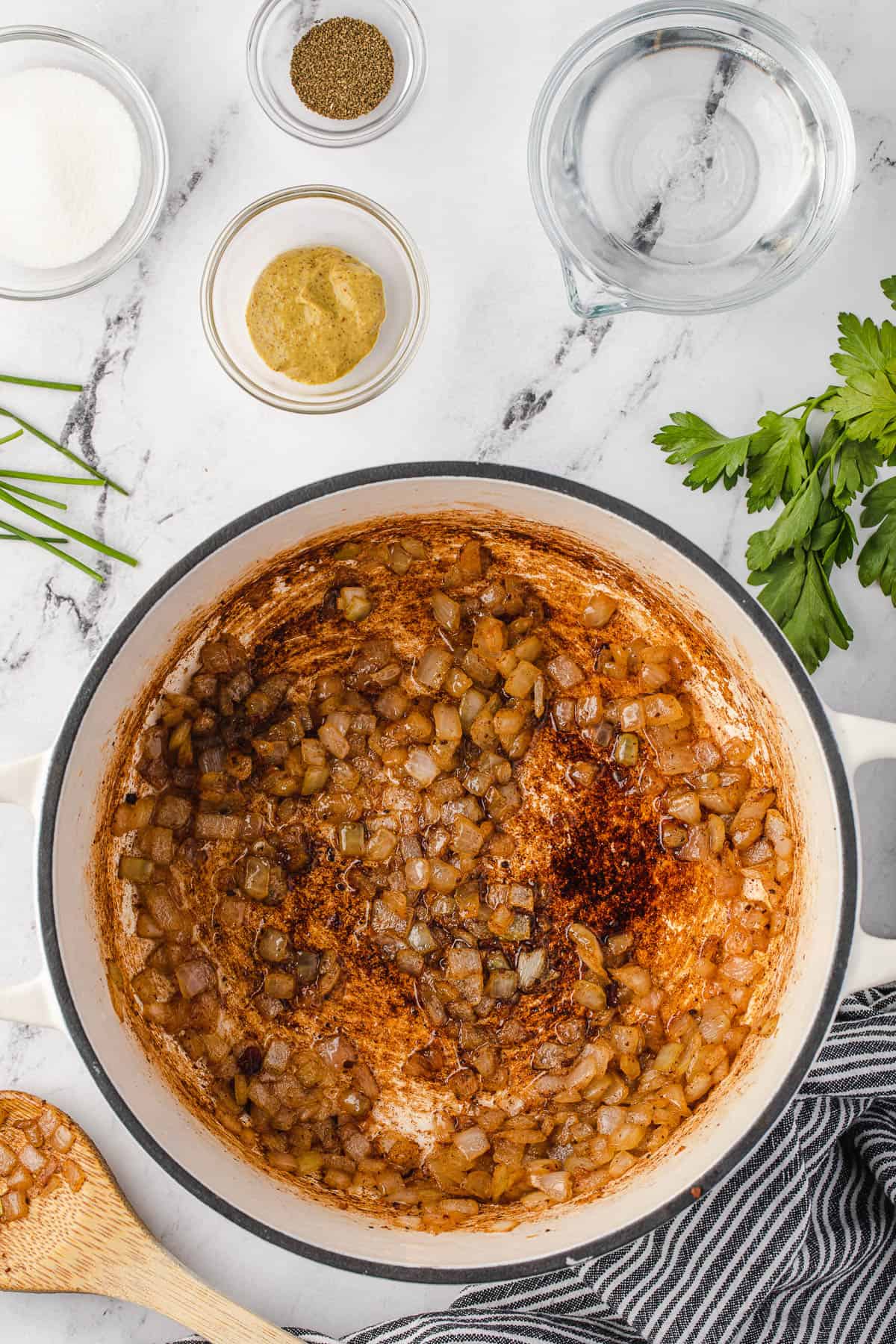 Read more: The top 14 joe's stone crab chopped salad recipe
If you've made this or any other recipe on my site, let me know in the comment section how it turned out. I love hearing from my readers!
You can also follow along on PINTEREST, FACEBOOK and INSTAGRAM to see more amazing recipes to satisfy any foodie craving!
This recipe was originally published in April 2019 and has been updated with helpful information, ingredient and process photos, as well as recipe tips. Don't worry – the recipe hasn't changed!
Read more: Costco Azuma Seaweed Salad Review
For more information please see the list of German potato salad recipe cold
Source: https://selfproclaimedfoodie.com/german-potato-salad/