If you're in need of a quick and easy Halloween dessert that will give you the chills, look no further than this Ghosts in the Graveyard Dessert. The kids will go crazy for it! Picture this – layers of fluffy chocolate pudding, crushed Oreos, and a spooky assortment of Halloween cookies and candy on top. It's a treat that will delight both young and old!
A Fun and Spooky Dessert for Halloween
Make these delightful dirt cups as a fun treat for your family or serve them at your next Halloween party. Whether you're a fan of dirt pie or simply looking for a festive dessert, these graveyard dirt cups are sure to impress!
Easy No Bake Ghosts in the Graveyard Dirt Cups
Indulge in the ease of this no bake dessert! Creamy chocolate pudding serves as the base, topped with cookie "dirt," chocolate trees, graham cracker gravestones, and adorable little ghosts. These Oreo dirt cups are equal parts spooky and cute, making them a perfect Halloween treat!
What's great about this recipe is that you can prepare certain components ahead of time, allowing for easy assembly when it's party time. Plus, the individual cups make serving and eating a breeze!
This recipe is also a wonderful opportunity to get the kids involved. Let them help make the pudding and decorate the cups with all the delightful treats. They'll have a blast!
If you're in search of fun Halloween desserts, these chocolate pudding dirt cups are definitely worth a try.
Ingredients for Halloween Oreo Dirt Cups
To create these delectable dirt cups, gather the following ingredients:
Instant chocolate pudding mix – You'll need two boxes of instant pudding.
Cold milk – Use whole milk or 2% milk to make the creamy chocolate pudding.
Whipped topping – Two tubs are required for both the pudding and the ghosts.
Oreo cookie crumbs – Crushed Oreos bring the dirt-like texture to the cups.
Milano cookies and Chocolate-covered graham crackers – These cookies serve as the headstones. You can use a mix of both or stick to one type.
Gummy worms – No dirt pudding is complete without creepy-crawly worms!
Chocolate Almond Bark – Optional for creating spooky trees.
Black writing gel and White writing gel – These gels are used for writing on the cookie headstones.
Candy eyes – Perfect for the Cool Whip ghosts.
Pro Tip: If you can't find edible writing gel, don't worry! You can easily make a thin frosting to use instead. Check out the recipe card at the end of this post for all the details.
Essential Tools
Before diving into the recipe, ensure you have the following tools on hand:
Mixing bowl
Whisk
Measuring cups and spoons
Disposable decorating bags
Parchment paper
Individual plastic cups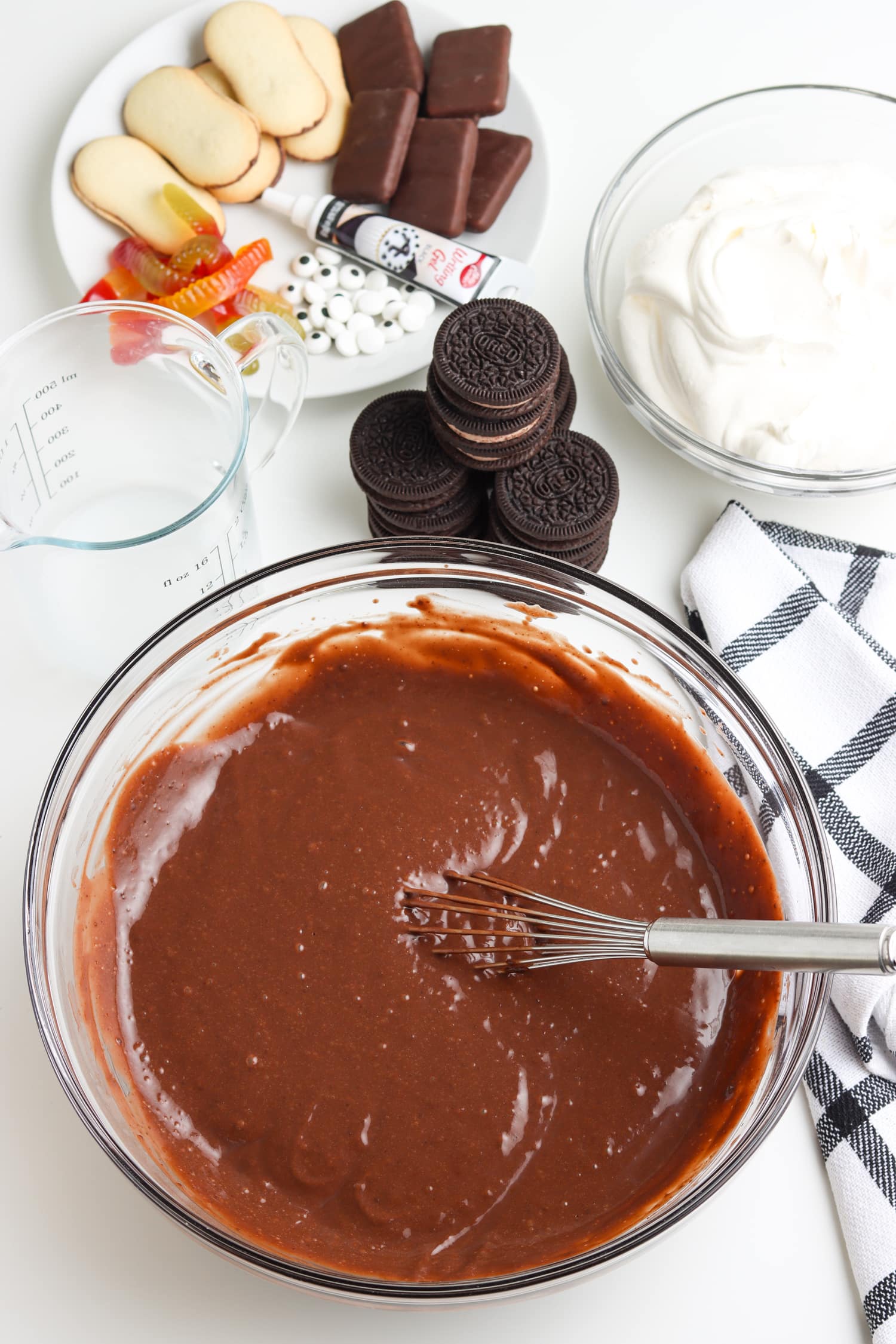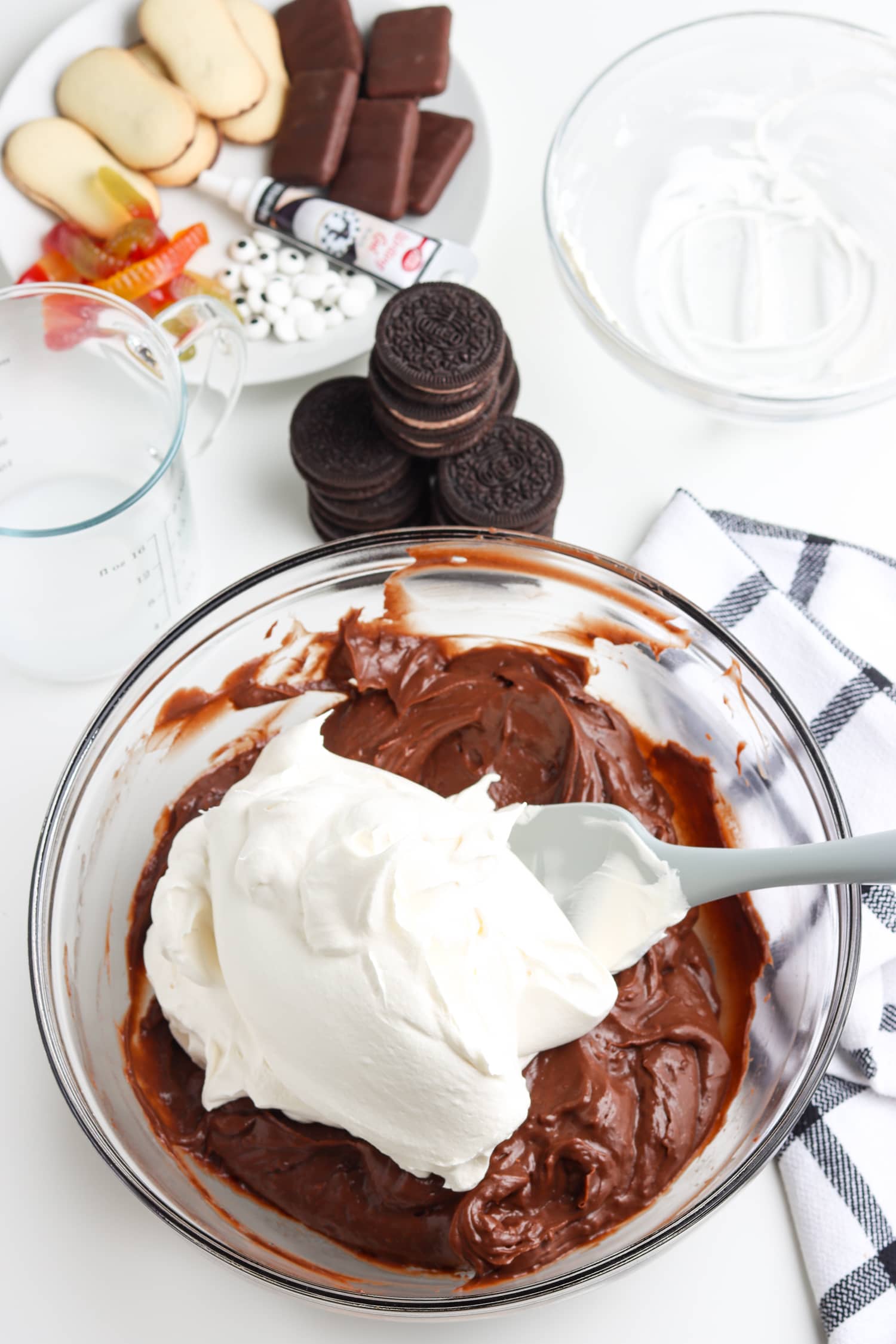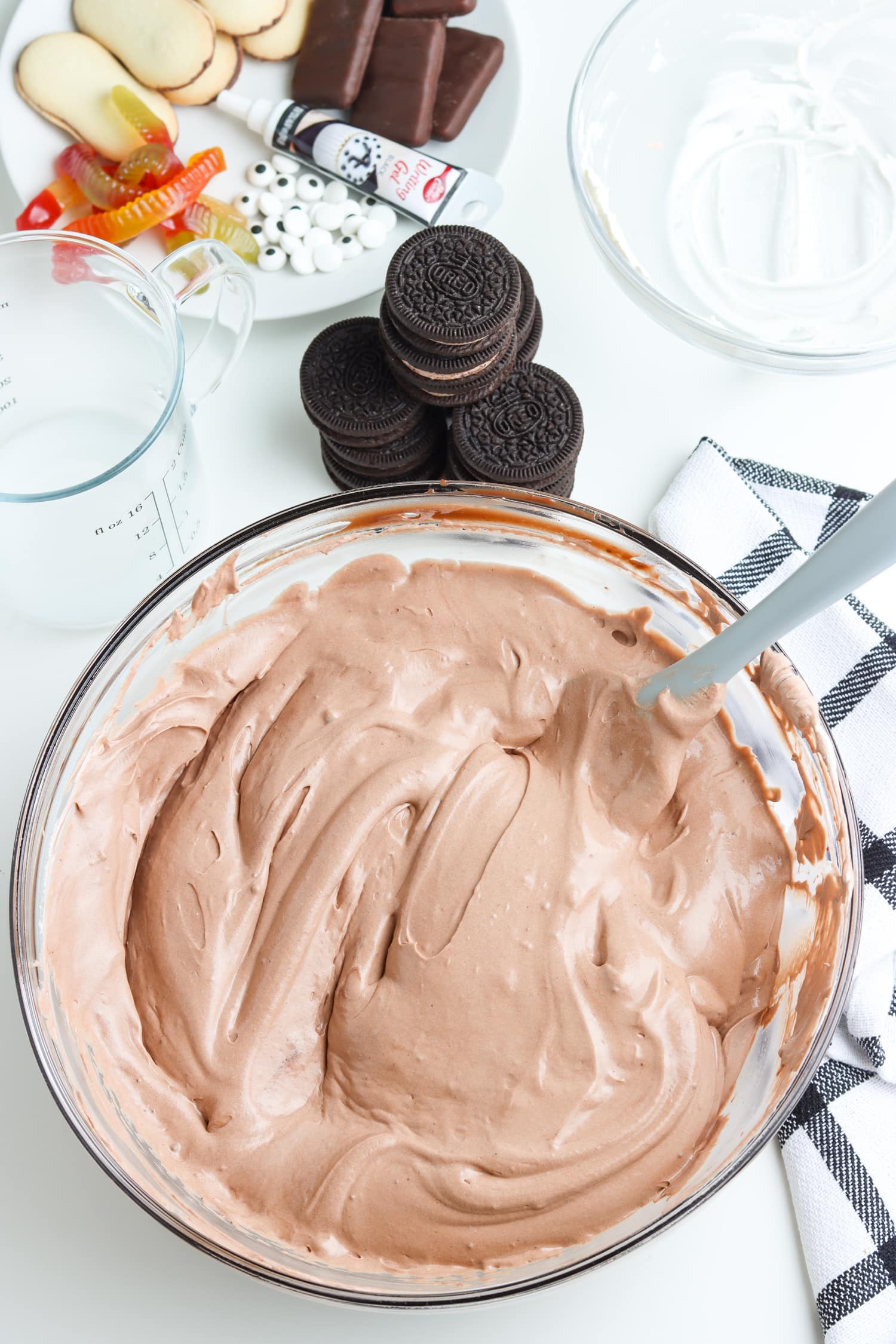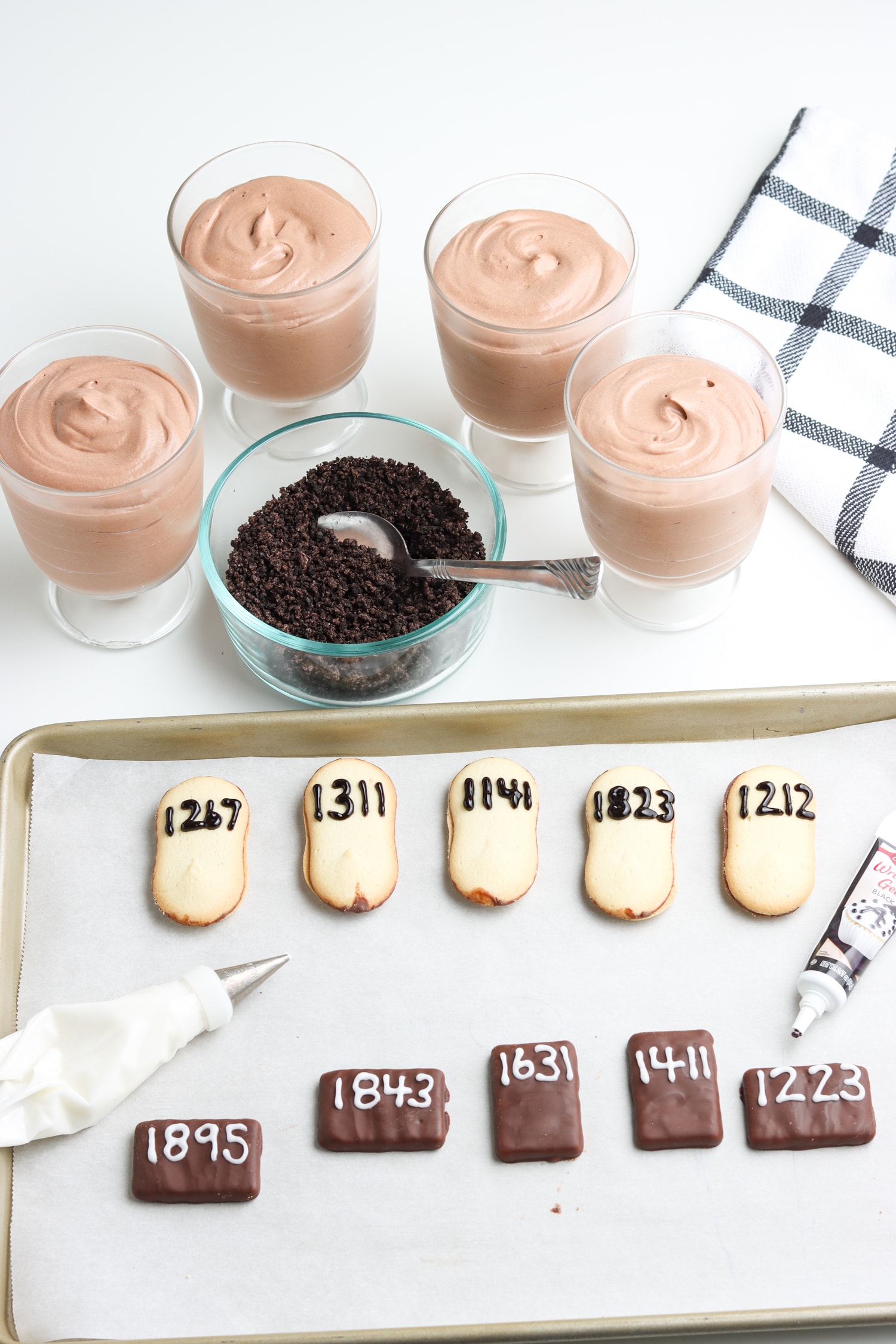 How to Make Dirt Cups for Halloween
Let's get down to the steps for crafting these wickedly delicious dirt cups:
Make the pudding: In a large bowl, whisk together the milk and pudding mixes. Let the pudding chill for around ten minutes until set. Once set, fold in the whipped topping and refrigerate the mixture for an additional 10 to 15 minutes.

Assemble the cups: Spoon the prepared pudding into individual cups and sprinkle the cookie crumbs over the top of each cup.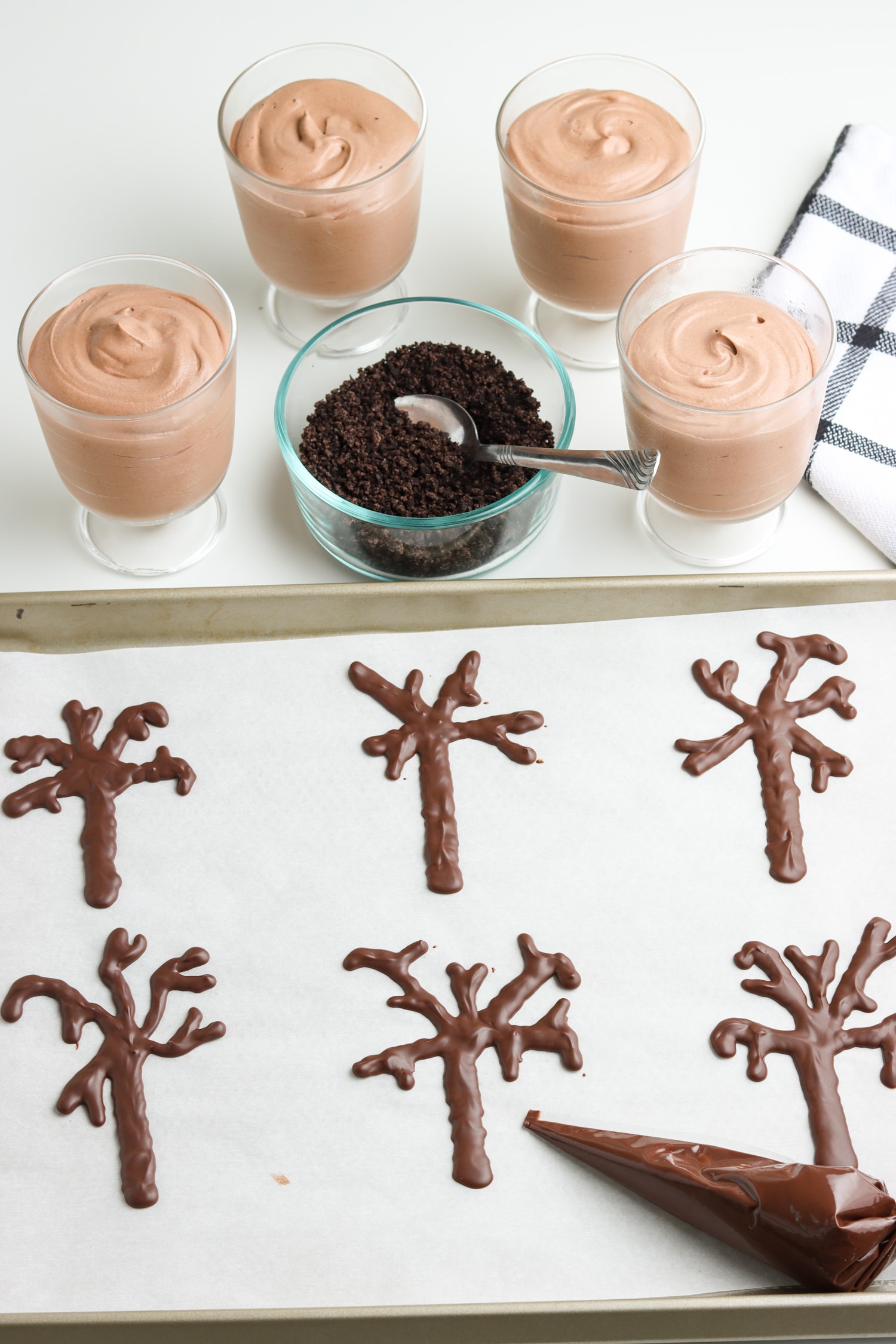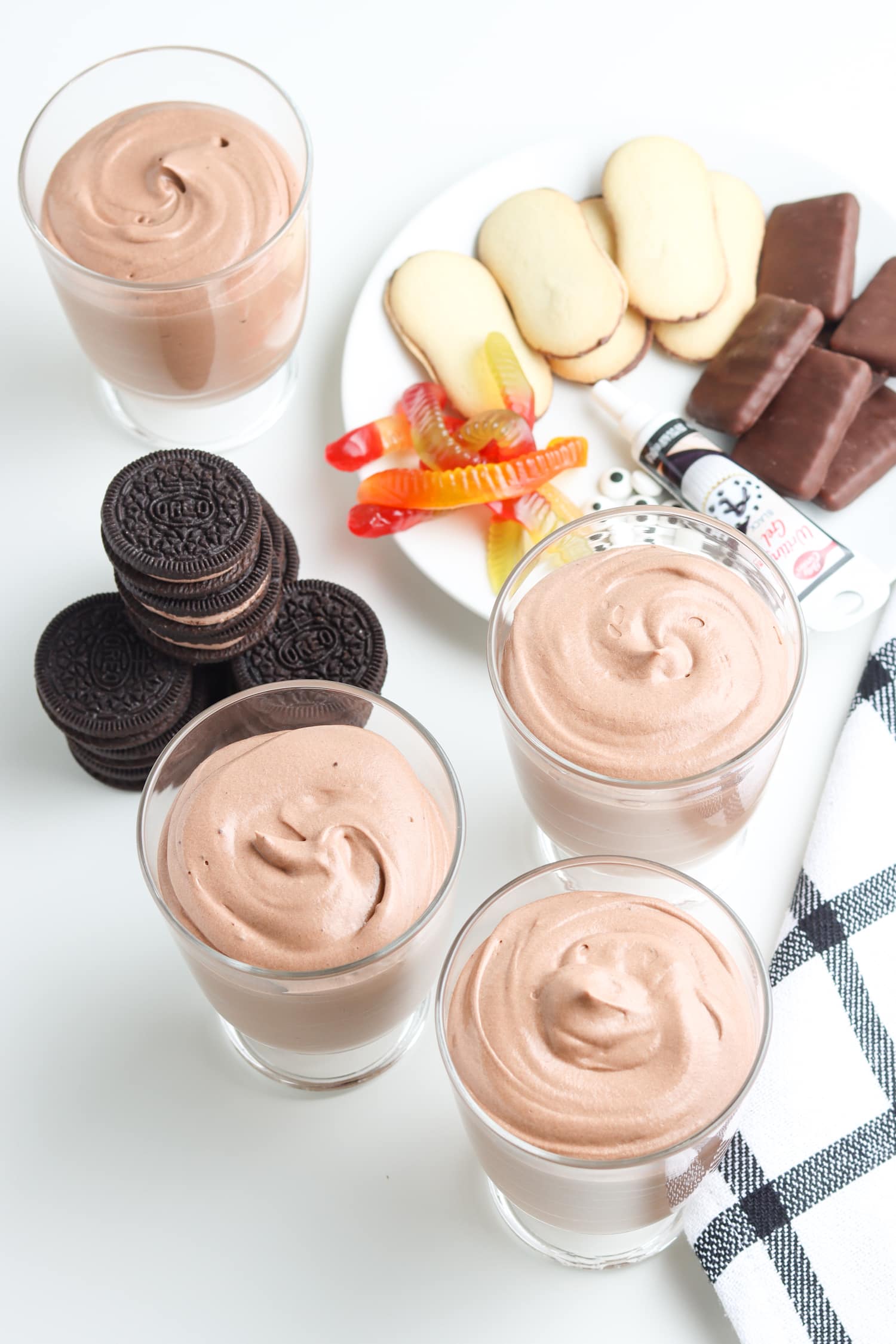 Get creative with the decorations! Use a variety of Halloween-themed treats to bring your dirt cups to life. Here are a few ideas:
Trees: Melt the chocolate almond bark and transfer it to a disposable decorating bag. Snip off one corner and pipe the chocolate onto parchment paper in the shape of spooky trees. Allow them to set for 10 to 15 minutes before removing.
Tombstones: Arrange Milano cookies and chocolate-covered graham crackers on parchment. Use the writing gel to add dates or "RIP" on each one.
Ghosts: Fill a piping bag with whipped topping and pipe it onto the top of the dirt cups, shaping it like a ghost. Add candy eyes to complete the adorable apparitions.
Additional candy decorations: Don't forget to add the gummy worms! You can also incorporate pumpkin candies or candy corn for extra Halloween flair.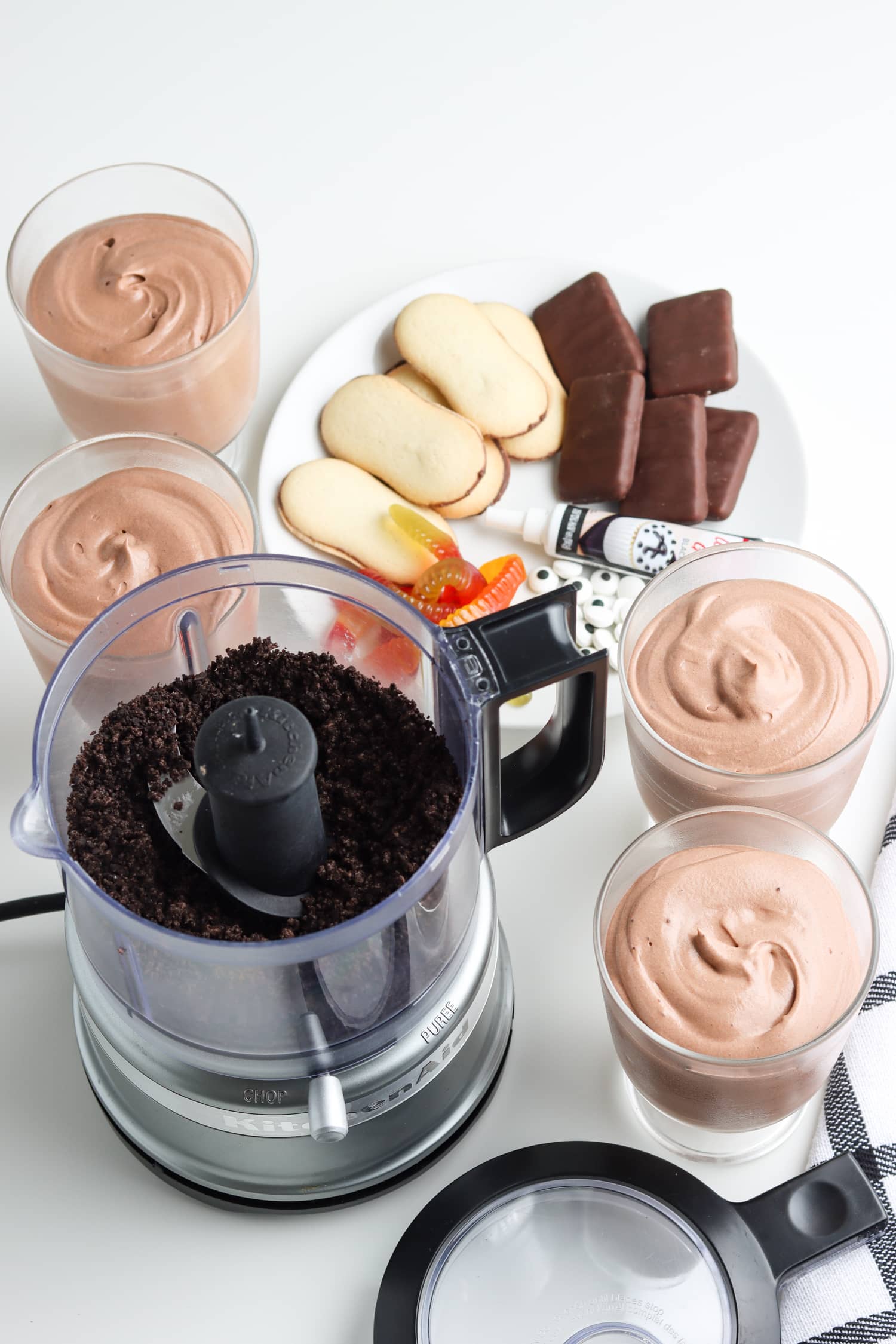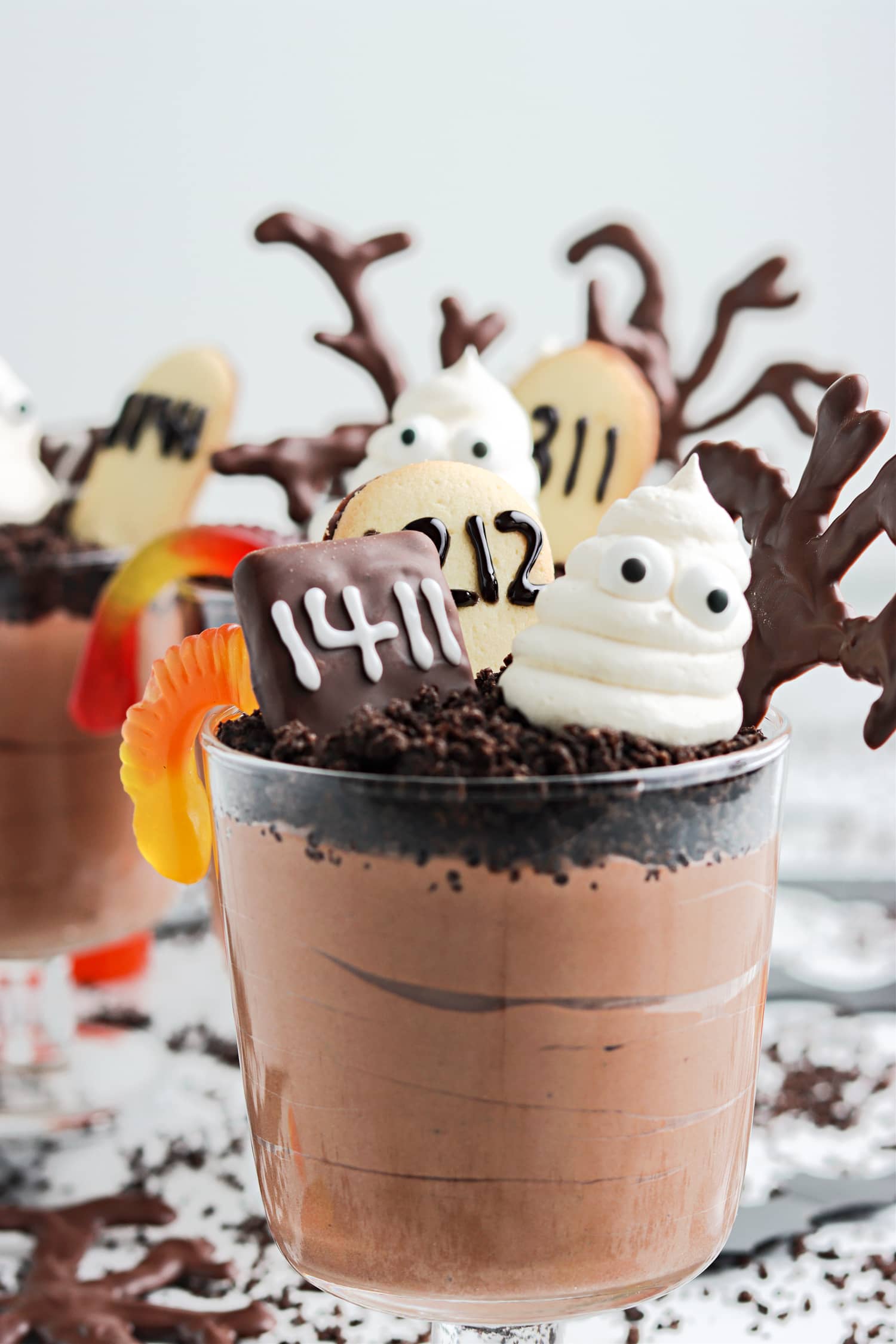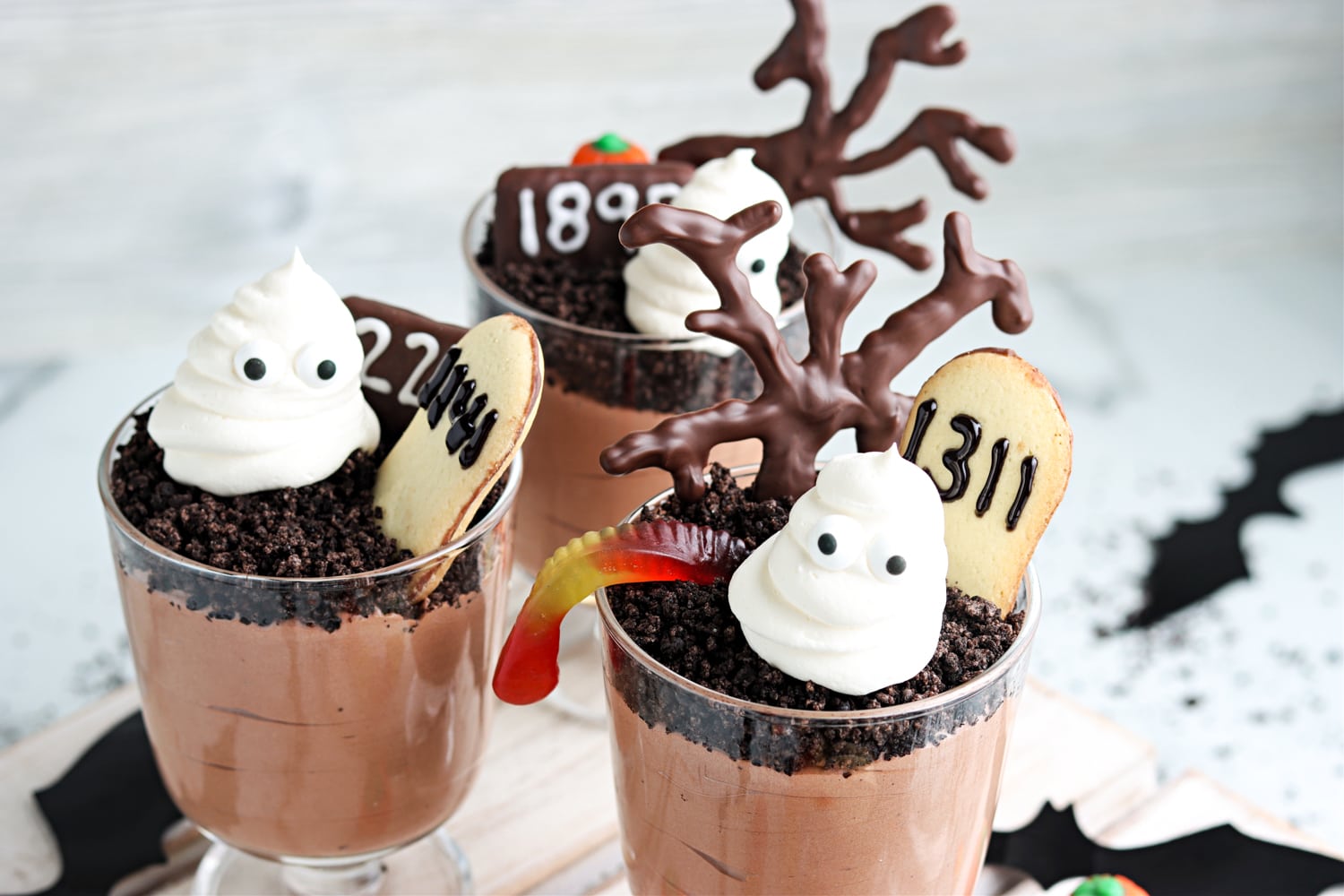 A Graveyard Dirt Cake Alternative
Yes, you can opt to make a graveyard dirt cake instead of individual cups. Simply spread the pudding mixture in a 9×13″ dish and sprinkle the crushed Oreos on top. Decorate the surface with all the delightful candy and cookies. When it's time to serve, use a large spoon to dish out scoops of this scrumptious treat!
Prepare in Advance
If you prefer to tackle some prep work ahead of time, you're in luck! You can prepare the pudding dirt cups without decorations a day ahead. Just cover them with plastic wrap. Additionally, you can create the chocolate trees and decorate the tombstone cookies in advance. Keep them stored separately at room temperature. When it's time to serve, add all the decorations for a spooktacular presentation!
Have a blast whipping up this Ghosts in the Graveyard dessert. It's incredibly simple, and everyone is sure to love it!
More Halloween Fun!
If you're craving more festive Halloween treats, check out these ideas:
Pumpkin Patch Dirt Cups: Another no-bake, easy-to-make Halloween dessert that's a real crowd-pleaser.
Mummy Brownies: Short on time? These super easy mummy brownies are a perfect last-minute treat. You can use a boxed mix or grab some brownies from the store. They're always a hit!
Dracula Dentures: Sink your teeth into these teeth-themed Halloween cookies. They're fang-tastic!
Halloween Bark: Get your kids involved in making this delightful bark. They'll love adding all the cute decorations, making it ideal for gifting.
If you take pictures and share them on Instagram, don't forget to use the hashtag #kidsactivityzone or tag us @kidsactivityzoneblog. We'd love to see your creations!