This delightful Gingerbread Cake with Cream Cheese Frosting is the ideal dessert for the holiday season. It evokes memories of the traditional gingerbread cakes made by grandmothers. Bursting with flavors of molasses, cinnamon, ginger, cloves, and nutmeg, this cake is both elegant for a holiday meal and simple enough for an office potluck.
Holiday Rush
Are the holidays keeping you incredibly busy? It feels like life moves in fast-forward mode right after Halloween and doesn't slow down until after New Year's. If you're attending multiple holiday parties or asked to bring a dish for a potluck, this scrumptious Gingerbread Cake with Cream Cheese Frosting is the perfect choice. It's quick to make, absolutely delicious, and looks beautiful with its silky cream cheese frosting. And if you're short on time, you can bake the cake one day and frost it the next.
Understanding Molasses
What is molasses?
Molasses is a dark, sweet syrupy byproduct obtained from refining sugar beets or sugar cane into sugar. It's a unique sweetener that adds a distinct flavor to dishes. Similar to how honey differs from sugar in taste, molasses offers its own unique flavor profile. It's hard to describe the taste of molasses, but once you smell it and mix it into this cake batter, you'll understand why it's so beloved.
Choosing the right molasses
Unsulphured versus Sulphured
When it comes to molasses, unsulphured molasses is the best choice for baking. It's made from sun-ripened cane that naturally sweetens the molasses and provides the best flavor. On the other hand, sulphured molasses is made from immature green cane that hasn't ripened fully. This type of molasses is treated with sulfur fumes during the sugar extraction process, resulting in a less sweet flavor and a slight chemical taste.
Light, Dark, or Blackstrap Molasses?
Light molasses is extracted from the first boiling of sugar beets or sugar cane. It's the most commonly available molasses in grocery stores and is perfect for baking. Light molasses adds sweetness to gingerbread cookies and cakes, making them softer and more enjoyable.
Dark molasses is obtained from the second boiling of sugar beets or sugar cane. It has a stronger flavor, is thicker, darker, and less sweet than light molasses. Dark molasses, also known as robust molasses, adds a deeper flavor to recipes, making it a great choice for gingersnaps or any dish that needs a little extra punch.
Blackstrap molasses is derived from the third boiling of sugar beets or sugar cane. It's the least sweet type of molasses and has a slightly bitter taste. It's much darker and thicker than other types of molasses. Blackstrap molasses is best used in recipes that call for it specifically and should not be substituted for light or dark molasses. It shines in savory dishes such as glazed ham, barbecue sauce, and baked beans.
To summarize, for this Gingerbread Cake, it's recommended to use unsulphured light molasses. This type is readily available on grocery store shelves and works wonderfully in this recipe.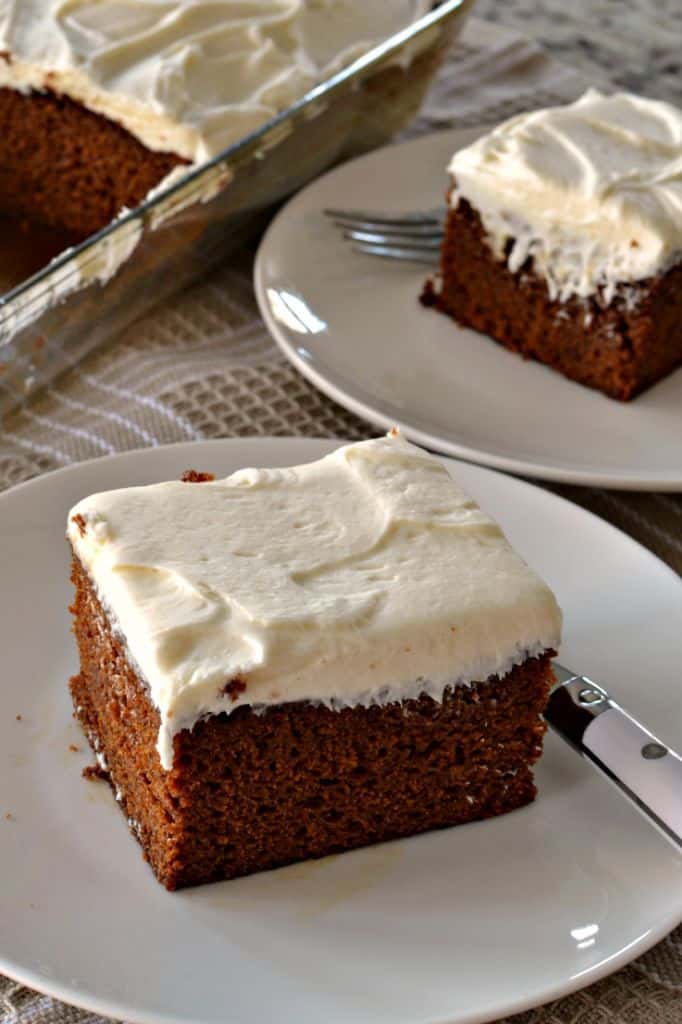 Making Gingerbread Cake with Cream Cheese Frosting
To make this delicious Gingerbread Cake with Cream Cheese Frosting, follow these simple steps:
In a medium bowl, whisk together the flour, salt, baking soda, cinnamon, ginger, cloves, and nutmeg. Set it aside for a few minutes.
Cream together the brown sugar and butter until smooth. Then, stir in the egg, molasses, and applesauce.
Gradually blend the dry mixture into the molasses mixture, working in intervals.
Stir in the hot water.
Pour the batter into a well-greased and floured pan and bake.
Let the cake cool completely before frosting.
For the cream cheese frosting:
Beat the cream cheese and butter until smooth and creamy.
Mix in a pinch of salt and the vanilla.
Gradually add powdered sugar, mixing well between each interval.
Frost the cooled cake and store any leftovers in the refrigerator.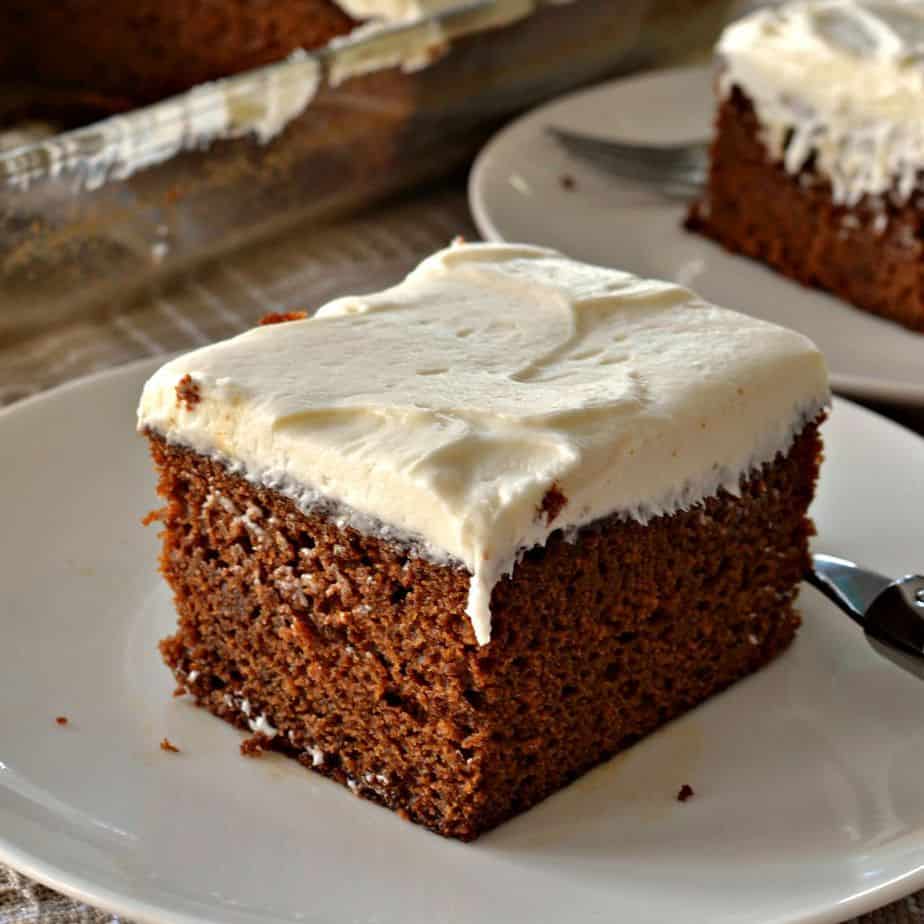 Recipe Tips and Notes
It's essential to properly grease and flour your pan. Consider using Baker's Joy spray, which combines baking spray with flour for easy application.
Remember to preheat your oven and position the cake in the center for even baking.
Opt for unsulphured light molasses for the best results in this recipe.
While you can use a mixer for creaming the butter and sugar, it's recommended to stir the rest of the cake batter by hand.
Check the cake at the 40-minute mark by inserting a toothpick into the center. If it comes out clean, the cake is ready to be removed from the oven.
Allow the cake to cool fully before frosting. Move it away from the hot oven and place it on a cooling rack to promote airflow underneath.
Other Delectable Cakes Worth Trying!
Quick and Easy Chocolate Cherry Cake
Easy Banana Cake with Cream Cheese Frosting
Icebox Cake
Peanut Butter Cake
Lemon Pound Cake
Easy Rum Cake
Print
On the hunt for more delicious recipes? Follow Small Town Woman on Facebook, Pinterest, and Instagram.