Preparing Glazed Ham in a Roaster is the best way to cook your holiday ham! The sticky glaze adds crazy-good flavor and keeps the ham moist – no dry ham here! Plus it leaves the oven free for all those delicious side dishes.
Skip to:
🍍Ingredients
🐖 How to cook ham in a roaster
⏲ Prep ahead instructions
🙋 Questions and Answers
👨🏼‍🍳 Tips & Tricks
📖 Other great recipes
👋🏻 Connect with us!
📋 Recipe
Whether it's Easter, Thanksgiving, or Christmas dinner we always have ham and turkey on the menu. Now don't tell Mr. Gobble, but Mr. Piggie is my favorite. Sometimes my in-laws spring for a Honey Baked Ham because they are convenient – and I will concede that they are tasty. But have you seen their price tag? Oh my! So expensive.
Luckily, this ham recipe is less than half the cost and solves the problems that arise when making a ham for the holidays.
So why should you use an electric roaster?
It frees up your oven space. In a way it's like having a second (or third) oven.
The ham stays moist.
It takes very little hands-on time for a fantastic result.
The cost is half (or less) than the name brand.
While the ham is cooking away, try loading up the oven with these make-ahead scalloped potatoes, this twice baked potato casserole, or these easy buttery dinner rolls. All amazing side dishes to complement the ham cooking in the roaster.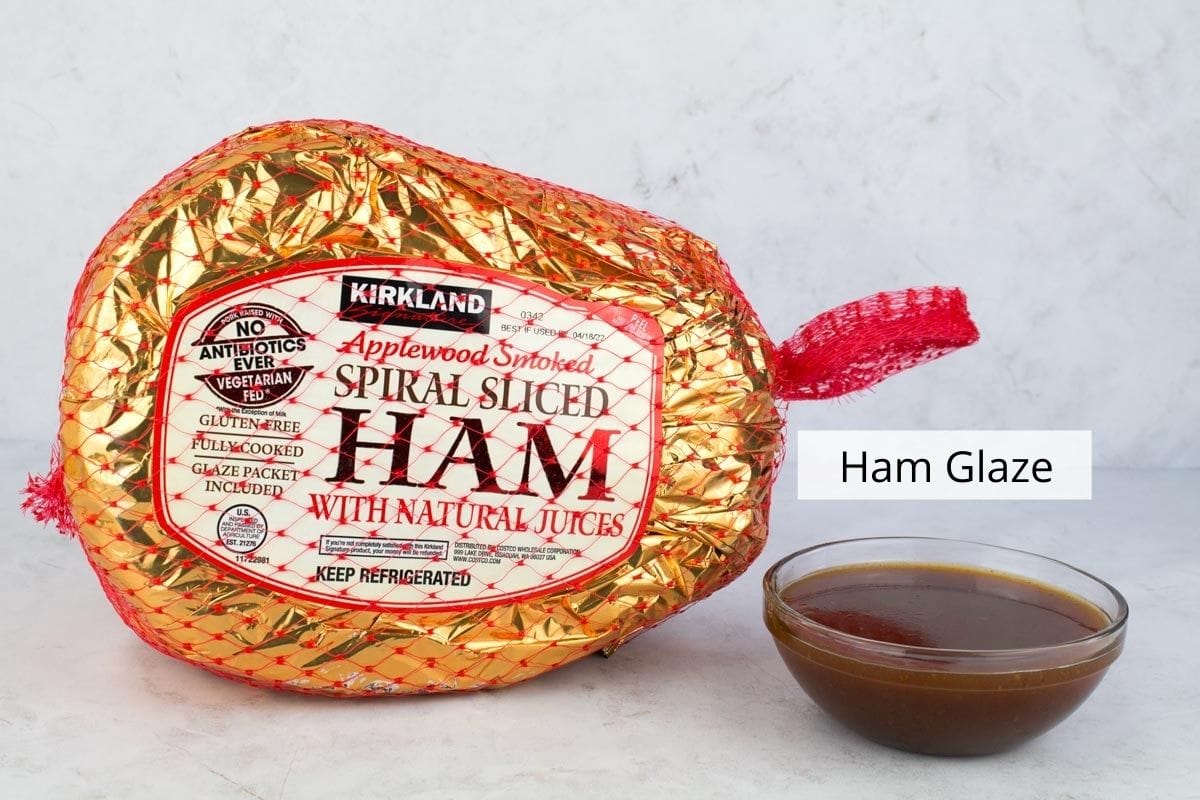 🍍Ingredients
For this recipe you only need two ingredients.Ham: Spiral cut hams are the easiest to cook and serve. However this method will work for any precooked ham. If you haven't chosen a ham before see the notes below on how to choose a spiral sliced ham.Glaze: If your ham comes with a sweet glaze packet, feel free to use it. Although this easy Pineapple Glaze for Ham takes only 10 minutes and is perfectly spiced with pineapple and brown sugar for deep flavor. We think it's better than Honey Baked Ham.
*Note: This recipe only requires two ingredients, but you will also need a disposable large roasting pan. I use a half size steam tray. Its dimensions are 13x11x2.5 inches.
How to choose a spiral sliced ham?
Spiral sliced hams come in various sized but are usually precooked with a bit of smoke for a delicious flavor. The only downside to spiral hams is that if they are not warmed correctly they will dry out. But no worries! We will help make sure that doesn't happen.
The best way to ensure a delicious ham is to start with a quality product from the grocery store. I have always had luck with Sam's or Costco brand hams. No matter where you purchase it, look for a product that says "with natural juices" for the best flavor and consistency.
While this cooking method can be used on different types of ham, it is only for precooked ham. This method is not for a fresh ham or uncooked ham.
🐖 How to cook ham in a roaster
The best way to keep a ham moist, yet flavorful, is to cover it in a glaze and cook it in a roaster pan. Some might say a slow cooker is an option, but a spiral ham doesn't fit well into a slow cooker.
First, make sure your roaster oven is large enough. I have a 20 quart Oster electric roaster oven. It is perfect for this. Any size of a roaster oven will work, as long as it is big enough to fit the ham in without the ham touching the sides.
Next, set the rack that comes with the roaster oven in the bottom of the roasting pan. Do not add any liquid. If too much liquid is added it will braise the ham instead of roasting it.
Remove the spiral cut ham from the packaging and pour package juices out. Then, spray the disposable pan with cooking spray. Place ham, either on the flatter side or the "face end" down, in the bottom of the disposable pan. In this picture we have the flatter side of the ham down, leaving the face exposed.
Brush the entire ham with half of the glaze. Gently separate the slices and allow the glaze to drip down in between. If you pull the pieces apart too far they won't have that tight spiral ham look.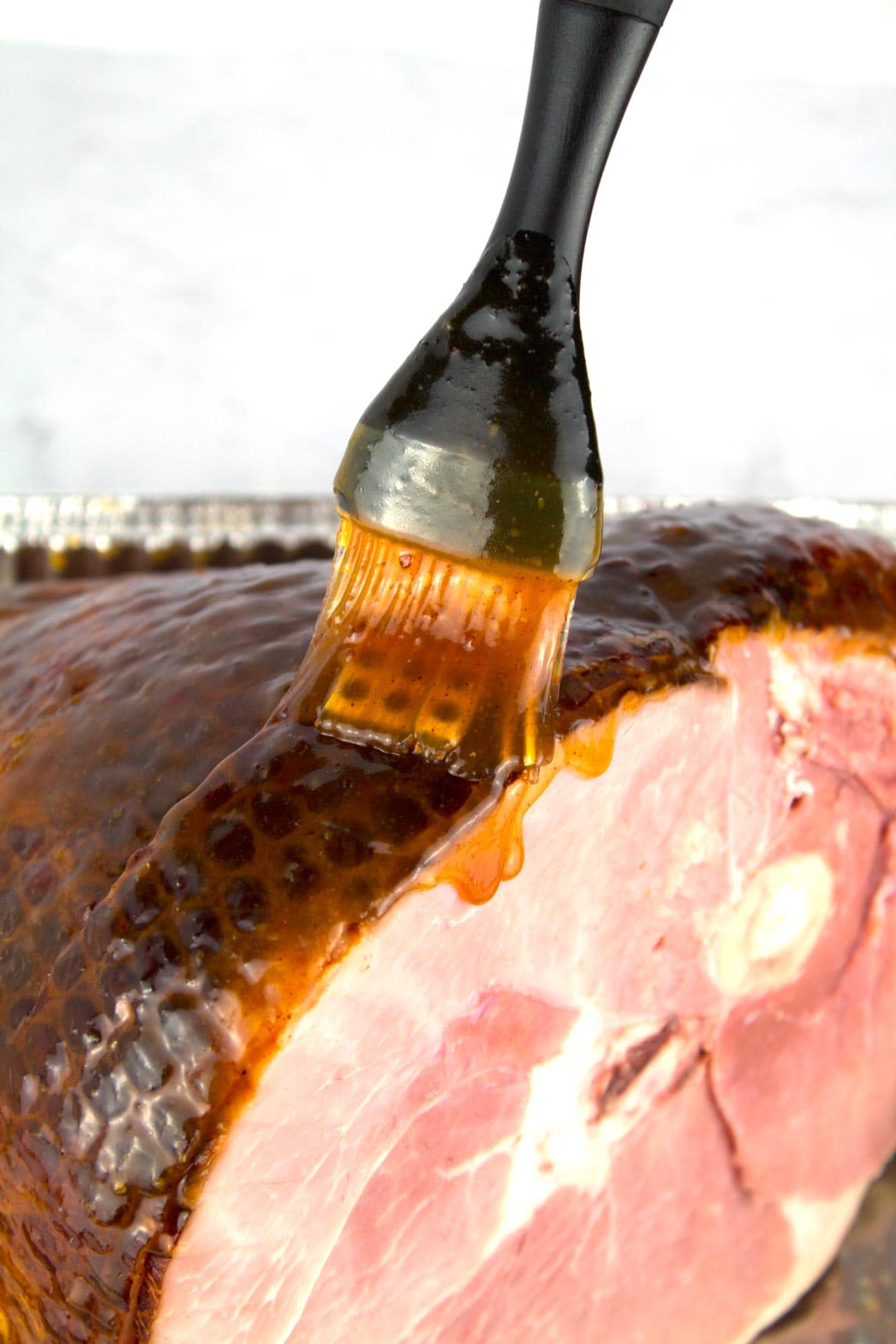 Set the disposable pan on the rack in the roaster. Set the roaster to 250º and cook the ham covered for 12-15 minutes per pound, or until ham reaches an internal temperature 140-145 degrees. The best way to test this is with a digital meat thermometer in the thickest part of the ham.
Once the ham is warmed through, pour off any accumulated juices. Then brush the outer layer with the remaining ham glaze. Place it back in the roaster, cover, turn off, and let the ham rest for 20 minutes.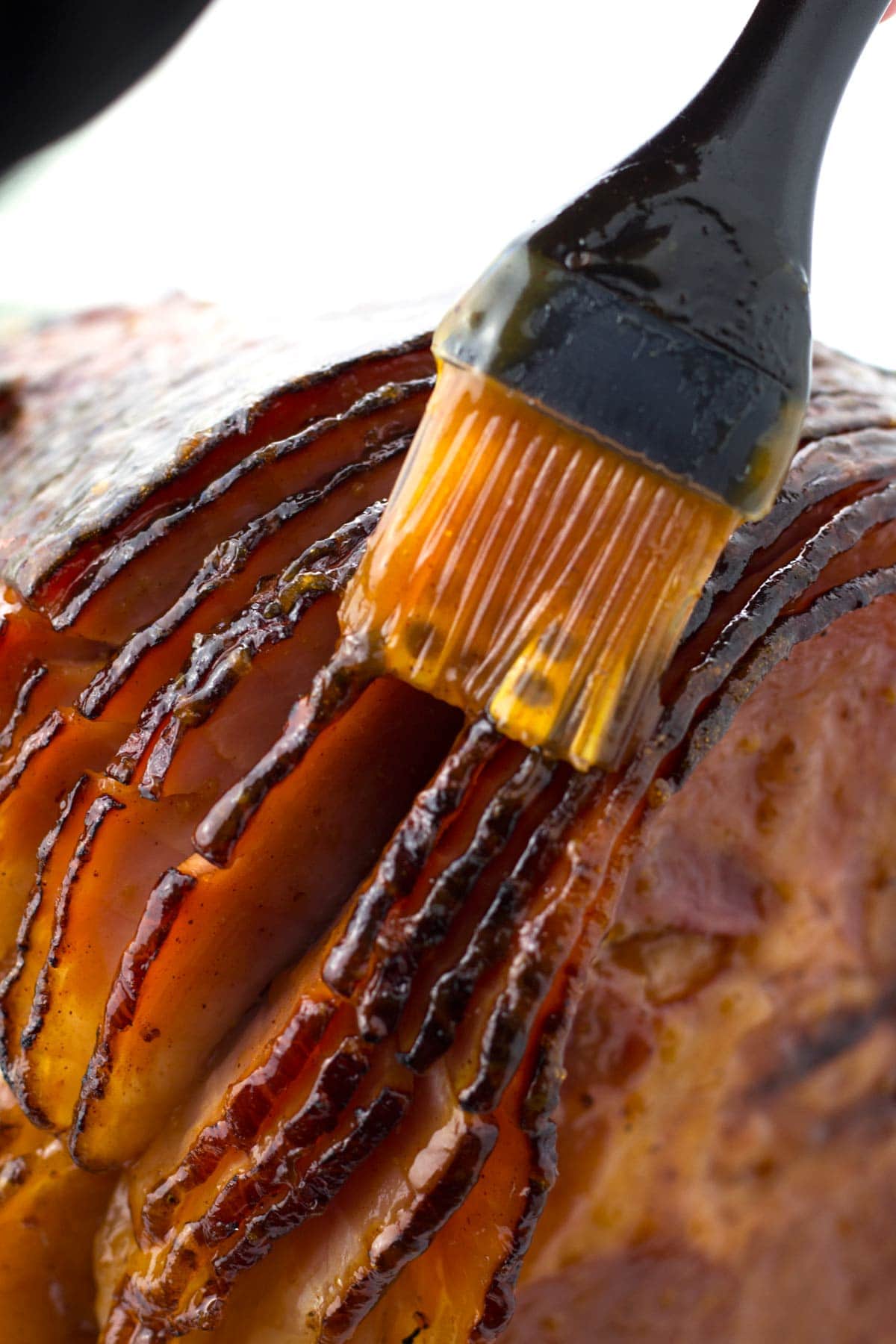 Optional but recommended: Place disposable pan on the middle rack of a conventional oven (be sure to support the bottom) and broil until golden and crispy like a honey baked ham. Alternatively, if you have a food torch carefully use it to caramelize the edges of the ham.
⏲ Prep ahead instructions
During the holiday season, special occasions, or even a big Sunday Dinner, the best thing a person can do is prep ahead. When making a ham, the glaze can be made ahead of time and the ham can be stored, ready to go in a disposable roasting pan in the refrigerator overnight.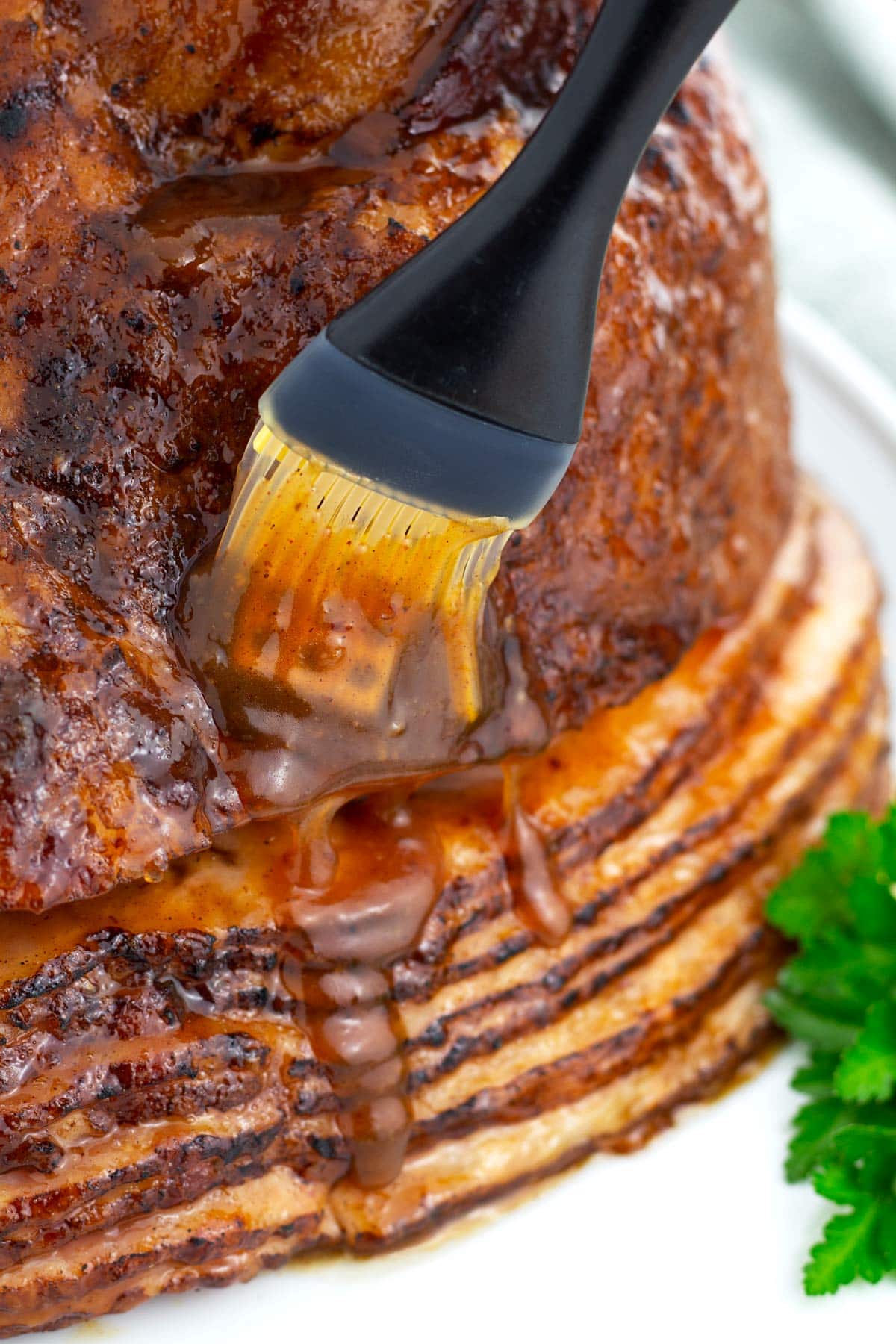 🙋 Questions and Answers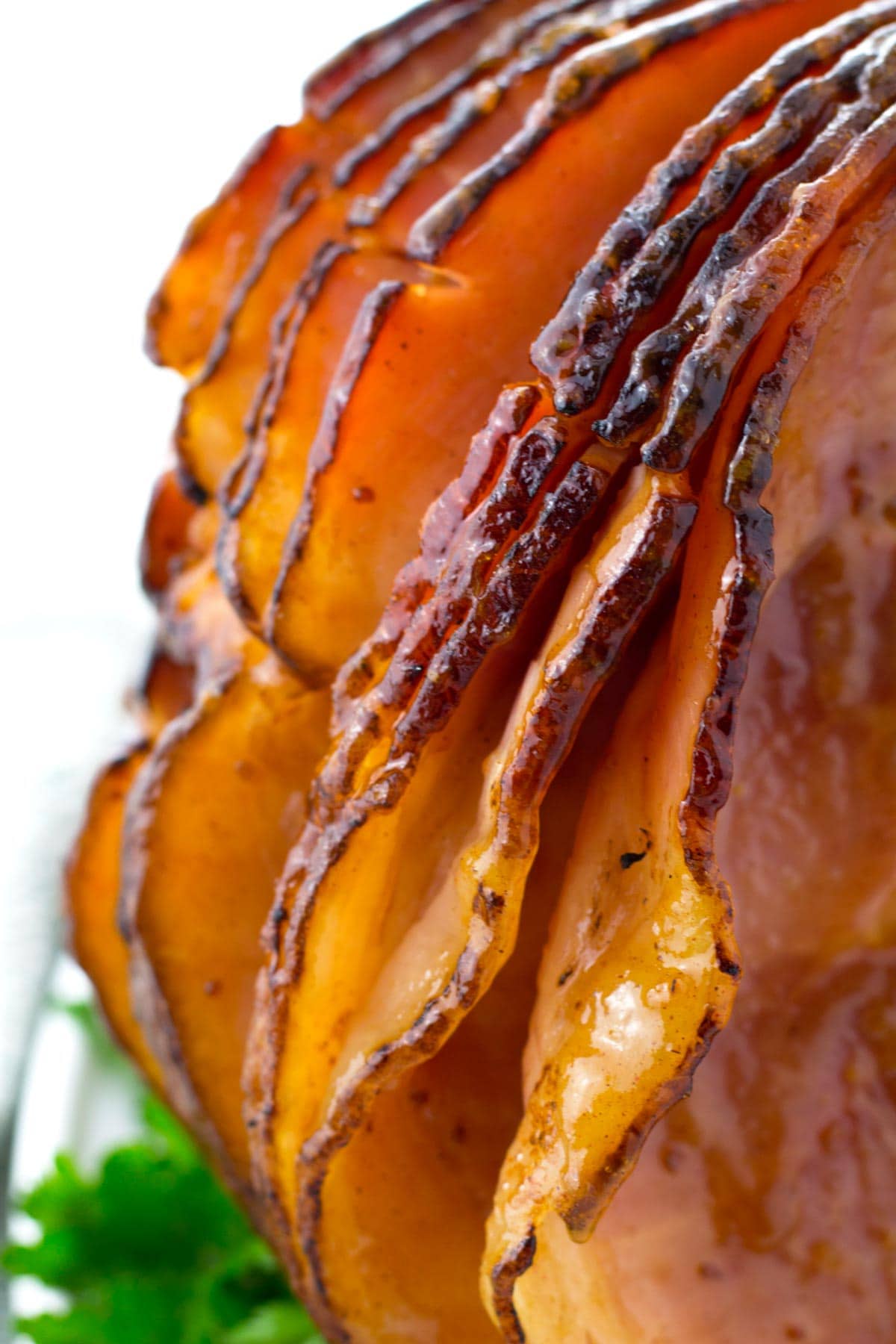 👨🏼‍🍳 Tips & Tricks
Broil at the end for best results.
Use a great tasting glaze. We recommend this Pineapple Glaze for Ham.
Cover the surface of the ham with glaze, all the way to the bottom and across the front.
📖 Other great recipes
This Carroll Shelby Chili (for a crowd) gets made in my roaster every fall for a pumpkin carving party. Another great use for your roaster oven.
This Carrot Cake with Pineapple and Coconut is the perfect way to end your ham dinner.
These Green Beans with Bacon and Onions show up at all our holiday dinners.
👋🏻 Connect with us!
If you try this recipe, please leave a comment and star rating to let us know how it is! We'd also love to connect with you on Facebook, Instagram, or Pinterest. Tag @borrowedbites or hashtag #borrowedbites to show us your food!
📋 Recipe
For more information, please see more information about Cooking ham in electric roaster
Detail: 🔗