Lightly sweetened with honey and banana, this healthy mango smoothie is perfect for a quick breakfast or snack. It's perfectly creamy and oh-so good!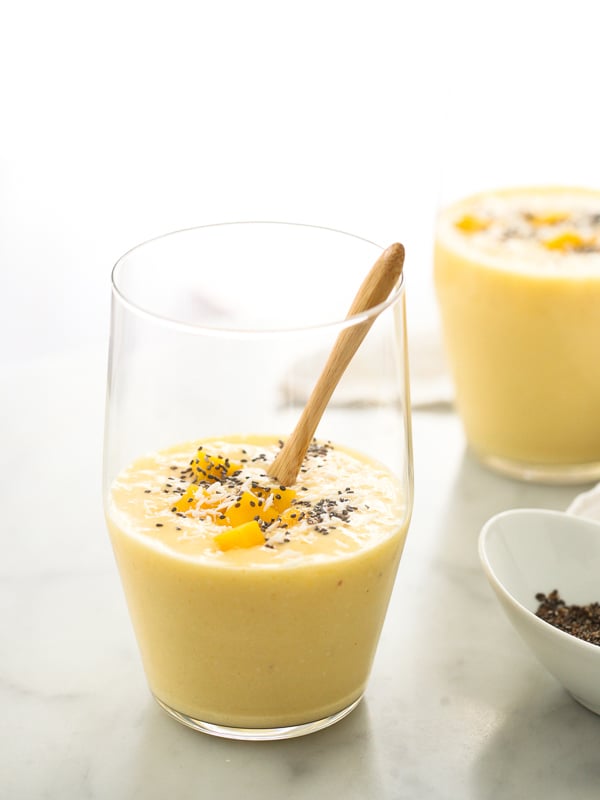 Reading: good smoothies with mango
Easy Fruit Smoothie Recipe
This week the internet exploded. Not because of political scandals, the return of Downtown Abby, or even because some guy raised a baby duck in his beard.
No, it's because with the new year comes new resolutions for better health and a plethora of new homemade smoothie recipes. It's a cool and refreshing domination of the www. and perfect timing to add mine to the pack with my tropical mango banana smoothie.
Back in the day when I would drag myself into the office after my morning torture weight training session with my trainer, I would somehow will my legs one. step. at. a. time. to the community kitchen, meagerly toss a handful of ice into the blender, peel a banana, add a dash of milk and pour in a packet of protein powder. In my post workout trance I'd refuel with a fantastic protein-powered shake that nourished my rebuilding-muscle tissue and keep me full and satisfied 'til lunch.
Since I don't work in the office anymore, I can invest a little more time and effort into my smoothie cravings. Sometimes I get a even get a little exotic. Okay, maybe more tropical than exotic. Ah hell, who cares. I'm going big, and going with exotic.
What's in This Mango Smoothie?
This truly is the best smoothie recipe. It's fruity, tropical, and oh-so refreshing. Here's what you'll need to make this mango smoothie:
Non-fat yogurt
Greek yogurt
Ice cubes
Banana
Mango
Unsweetened coconut
Vanilla extract
Honey
Chia seeds
What are chia seeds? They're teeny tiny nuggets of complete protein and do double-duty since they contain all of the essential amino acids your body needs.
Chia seeds are completely optional in this smoothie, it's your drink afterall, but if you haven't tried them, you really ought to give them a try. They're the perfect addition to this good-for-you smoothie blast.
How to Make a Mango Smoothie
This mango smoothie is super creamy, and unlike some smoothies it doesn't break up as it comes to room temperature thanks to the creaminess of the banana base. I think it should be a rule that all smoothies include a banana. Creamy, potassium fortified. They're a superfood for sure.
To make a mango smoothie, simply add all the ingredients into a blender and pulse until it's reached your desired consistency. For a thicker smoothie, add more ice or frozen banana. For a thinner smoothie, add more milk.
And yes, they're called smoothies for a reason. But I still crave a little chew in my taste. So I like to top my mango smoothie with a little extra coconut, some chunked up mango, and for another protein boost I sprinkle on whole-grain chia seeds.
Can I Use Regular Yogurt Instead of Greek?
Read more: How to brew regular coffee in a keurig
If you don't have Greek yogurt on hand, you can still use regular yogurt. It just won't be as creamy or as protein packed. Greek yogurt makes this smoothie taste more like a shake than a healthy drink. Boom! Fooled the naysayers on that one.
Tips for the Best Smoothie
When first figuring out how to make a fruit smoothie, the key to sweetening it up is using extra ripe fruit. They may not be as pretty, but those concentrated natural sugars lend a sweetness that can't be compared.
You're welcome to use fresh or frozen fruit in this homemade smoothie. If using frozen fruit, you may not need to use as much ice as the recipe calls for.
To make this even more protein potent, add a scoop or two of vanilla protein powder. I like this brand because it's the light version and has the same amount of protein but less calories.
More Easy Breakfast Recipes to Make
Immune Booster Sweet Green Smoothie
Gwenyth's Blueberry Muffins
Instant Pot Oatmeal
Peach Pie Smoothie
Acai, Pomegranate, and Raspberry Smoothie
If you make this recipe, please let me know! Bookmark this recipe and leave a comment below, or take a photo and tag me on Instagram with #foodiecrusheats.
More Healthy Smoothie Recipes You'll Love
Looking for more smoothie ideas around the www? Here are a few that blew up my RSS feed this week.
Sweet Spinach and Mango Smoothie from Katie at the Kitchen Door
Honey and Wild Blueberry Smoothie from Pinch of Yum
Orange Cranberry Smoothie from Crunchy Creamy Sweet
Read more: How to apply green tea on hair
Spicy Mango Mandarin Smoothie from Oh My Veggies
Blueberry Kale Smoothie from Skinnytaste
Raspberry Papaya Smoothie from Love and Olive Oil
Purple Resolution Smoothie from The Pioneer Woman Cooks
Drink Your Greens Smoothie from Gourmande in the Kitchen
Brain Power Smoothie (Blueberry Avocado Smoothie) from Gimme Some Oven
Craving more life balance, less stress, and better health? Check out my Nourished Planner, the daily planner to help create simplicity and under-schedule your life.
We send good emails. Subscribe to FoodieCrush and have each post plus exclusive content only for our subscribers delivered straight to your e-mail box.
Follow me on Instagram, Facebook, Pinterest and Twitter for more FoodieCrush inspiration.
As always, thank you for reading and supporting companies I partner with, which allows me to create more unique content and recipes for you. There may be affiliate links in this post of which I receive a small commission. All opinions are always my own.
Read more: how to make juice pouch wallets