Greek chicken pasta salad has fresh vegetables, chicken and pasta marinated in a Greek red wine vinaigrette with dill and feta cheese. Tangy, crunchy, cool and refreshing, it's perfect for a picnic, potluck or for meal prep.
Pasta salad is one of my favorite summery 'comfort foods'. We love a good kale chicken pasta salad, as well as an orzo pasta salad, but this Greek version has got to be my favorite!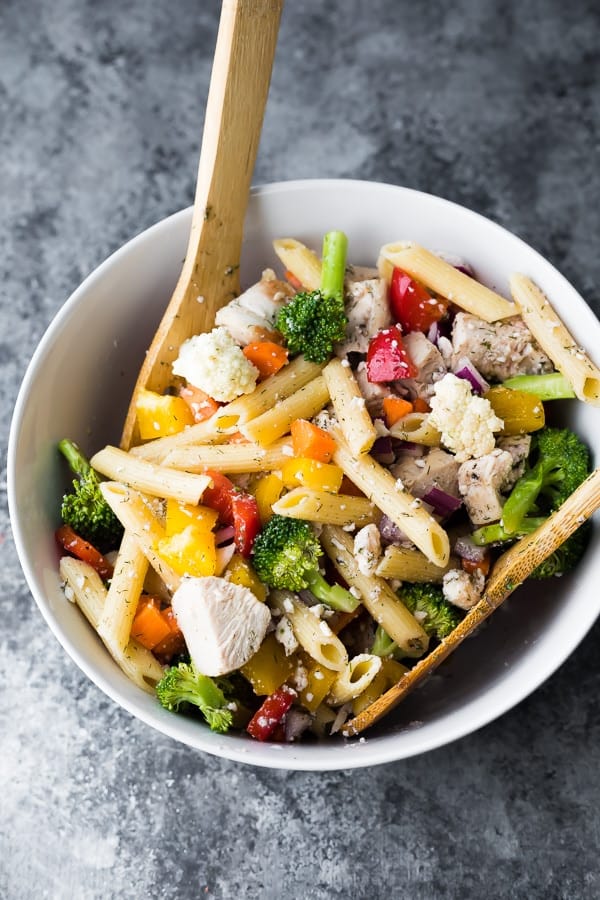 Pasta salad makes me think of summer, and of my Nana, because I remember helping my mom make a pasta salad very similar to this one while visiting my Nana one hot and super humid summer in Ontario.
With a tangy red wine vinaigrette, dill, and feta cheese, this salad has a distinctively Greek flavor. Served cold, it benefits from allowing the veggies and pasta to marinate in the dressing for a few days…which also makes it perfect for meal prep!
Recipe video
Watch the video below to see exactly how I prepped this salad. It's so easy! You can find more of my recipe videos on my YouTube channel.
Don't forget to pin this recipe to save it for later!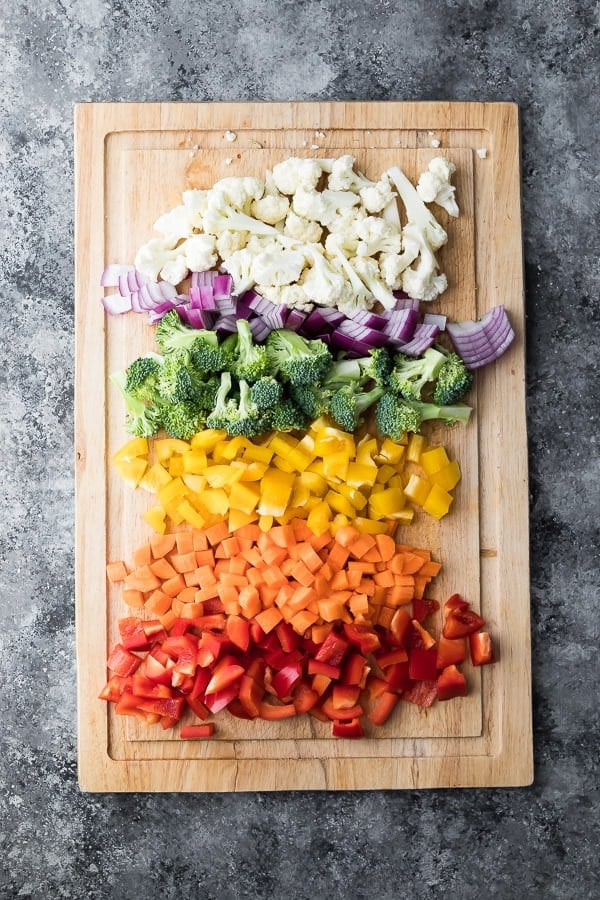 Choosing the right pasta shapes
You'll want to start by getting your pasta on to cook, and you'll need a full 8 oz. For pasta salad, I recommend a larger, sturdy pasta shape. Some great options include penne, rotini and bow tie. I would recommend avoiding orzo as it doesn't keep as well and should be consumed within 1-2 days.
You can use whole wheat, fiber-enriched pasta, or regular pasta. I have not tested chickpea, lentil, gluten-free or any alternative types of pasta. If you try them, I'd love to hear how they hold up in the vinaigrette!
Which veggies are best
As you can see from the image above, we are not being stingy with the vegetables in this salad! Just like for the pasta, I do recommend sticking to sturdier vegetables as well. Broccoli, cauliflower, carrots and bell peppers will keep well in the vinaigrette for up to 4 days.
You can swap these vegetables out for what you have in the fridge, but remember that cucumber and leafy greens will not keep. Cherry tomatoes keep surprisingly well in this salad (2-3 days).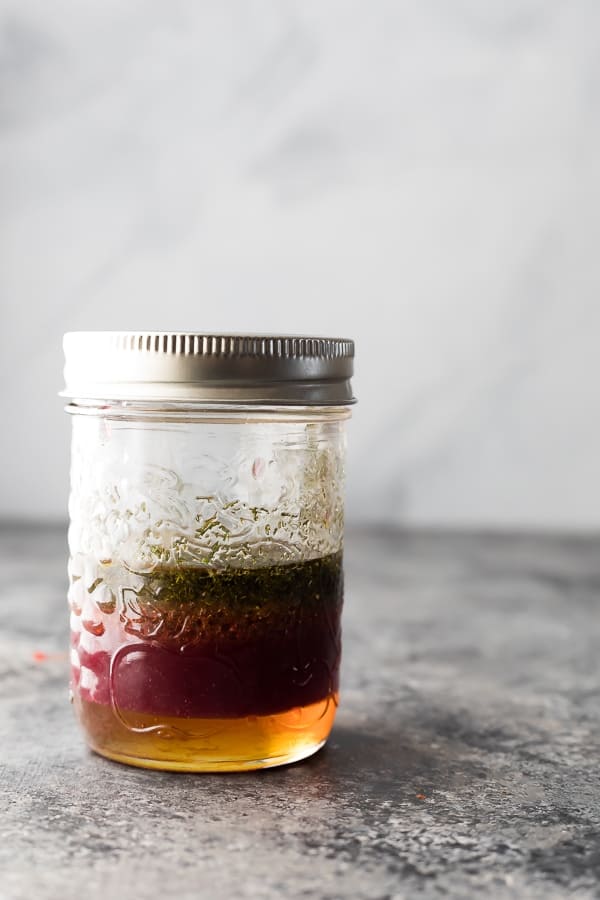 The vinaigrette
For pasta salad, I love an assertive dressing like a red wine vinaigrette. For this Greek version, we've added dill to my staple red wine vinaigrette recipe, and you can also add a clove or two of crushed garlic!
This dressing is really tangy and enhances the flavors of the vegetables, chicken and pasta, especially paired with the feta cheese.
The chicken
To make this a full meal, we've added some cooked boneless skinless chicken breast to the recipe. You can swap the chicken breast for boneless chicken thighs, which stay nice and juicy over several days.
Tip– cool your chicken completely before slicing, as this helps the juices settle and will help to keep the chicken breast from drying out.
If you are vegetarian, feel free to leave it out or replace with chickpeas.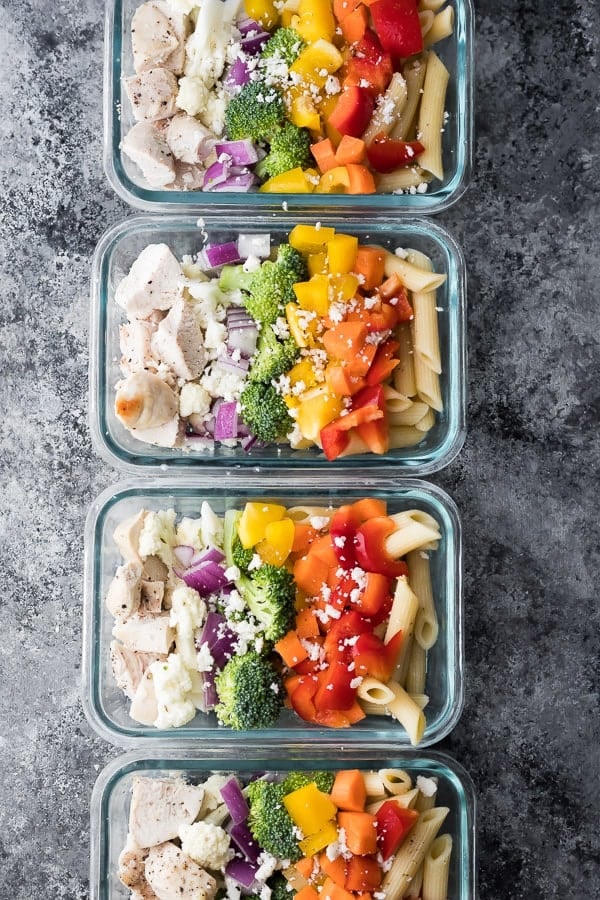 Storage and meal prep tips
Pasta salad is one of my favorite prep ahead meals because it can easily keep in the fridge for up to 4 days. I cap it at 4 for this recipe because of the bell peppers (which start to get slimy) and the chicken (which is only food safe up to 4 days).
And the best thing about this recipe is that it actually gets better with time. As all the ingredients sit and marinate, the red wine vinaigrette absorbs into the pasta and veggies and gives them so much more flavor!
You can portion it out into individual meal prep containers, or store it in a large container.
Find my favorite meal prep containers here!
Swaps and variations
vegetarian- swap the chicken for cannellini beans or chickpeas
low carb- you could totally leave out the pasta and use zucchini noodles or even cucumber noodles in this recipe. However it won't keep in the dressing so make sure to dress it just before serving.
side salad-leave out the chicken
meal prep- store in the dressing in 2 cup storage containers for up to 4 days
dressing: this creamy cilantro lime dressing would be great for a little southwestern change-up! You could add corn and black beans.

swap for a balsamic vinaigrette and add roasted vegetables
swap for this Asian sesame dressing and add slaw mix for an Asian twist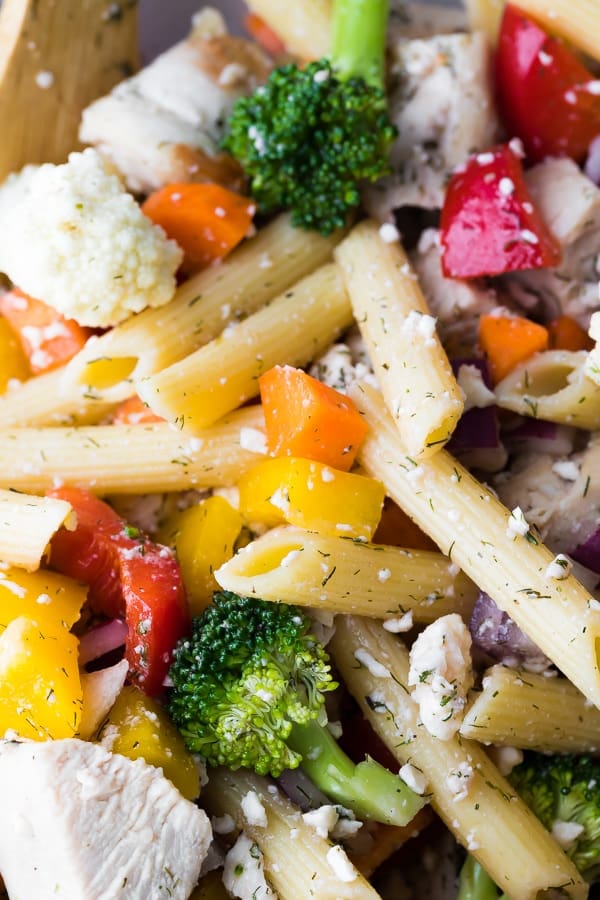 More prep ahead salads
Wild Rice & Sweet Potato Salad
Southwestern Sweet Potato & Lentil Jar Salads
21 Make Ahead Salads Perfect For Meal Prep
Chopped Chickpea Salad
Broccoli Salad with Almonds + Quinoa
For more information, please see more information about Greek pasta salad with chicken
Detail: 🔗