This simple Greek salad dressing recipe is loaded with Mediterranean flavor. Use a few ingredients right out of your pantry to create this bold and tangy dressing. Perfect drizzled on a salad, it also makes a wonderful marinade for chicken!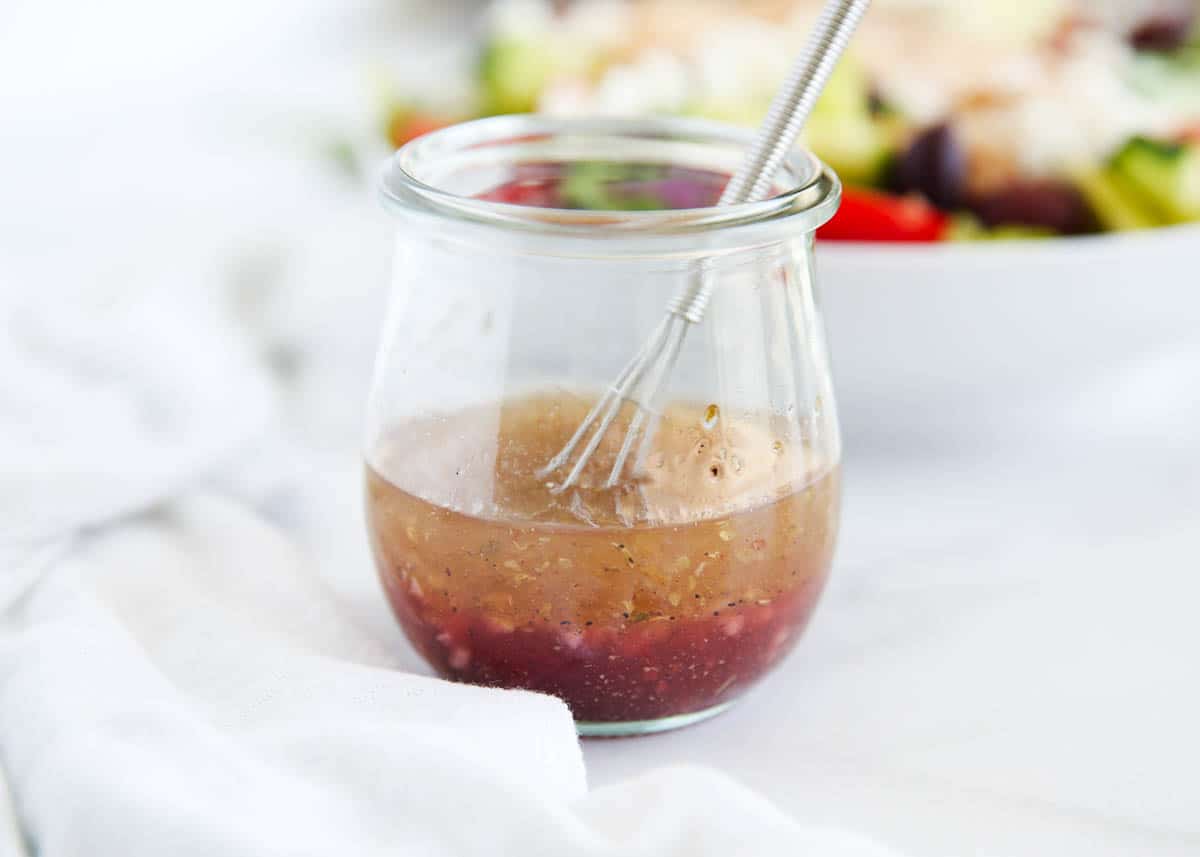 Best Greek Salad Dressing
When I think of Greek flavors, I think fresh and tangy, and this Greek salad dressing recipe delivers in a big way! It's a Greek spin on a classic vinaigrette dressing that I use all the time on various salads and to add flavor to meat.
I love making my own salad dressings at home because I can customize them to my own preferences, and I can control what ingredients I'm adding. The whole process takes me about 5 minutes, so it's also great when you're in a hurry!
I often double up the recipe, so I have it on hand for the whole week. In addition to drizzling it over my Greek salad, we often enjoy it stirred into Greek pasta salad, and sprinkled over Greek salad with chicken, or Mediterranean salad with chicken.
This Greek salad dressing recipe is one you'll find yourself making again and again. Add some Greek flavor to your meal tonight!
Why We Love This Greek Salad Dressing
Quick: With minimal prep, it's ready to serve in only 5 minutes!
Versatile: You'll find so many ways to enjoy this recipe. You can use it to dress homemade salads, add flavor to veggies, and as a marinade for meats.
Pantry friendly: You probably already have most of these ingredients at home.
Bold in flavor: Red wine vinegar, Dijon mustard, lemon, olive oil, and Greek seasoning combine to give this dressing a ton of fresh flavor.
Homemade Dressing vs. Store-bought Dressing
I totally see the appeal of store-bought condiments as they're convenient and a timesaver when you're in a hurry. The downside is that many of them are packed with artificial flavors and colors and often contain high sodium preservatives.
This is why I really love to make mine at home as it's budget-friendly and tasty, and I can be sure of exactly what ingredients are in there! Another bonus is that it only takes a few minutes to make the dressing, so I can whip it up just before serving.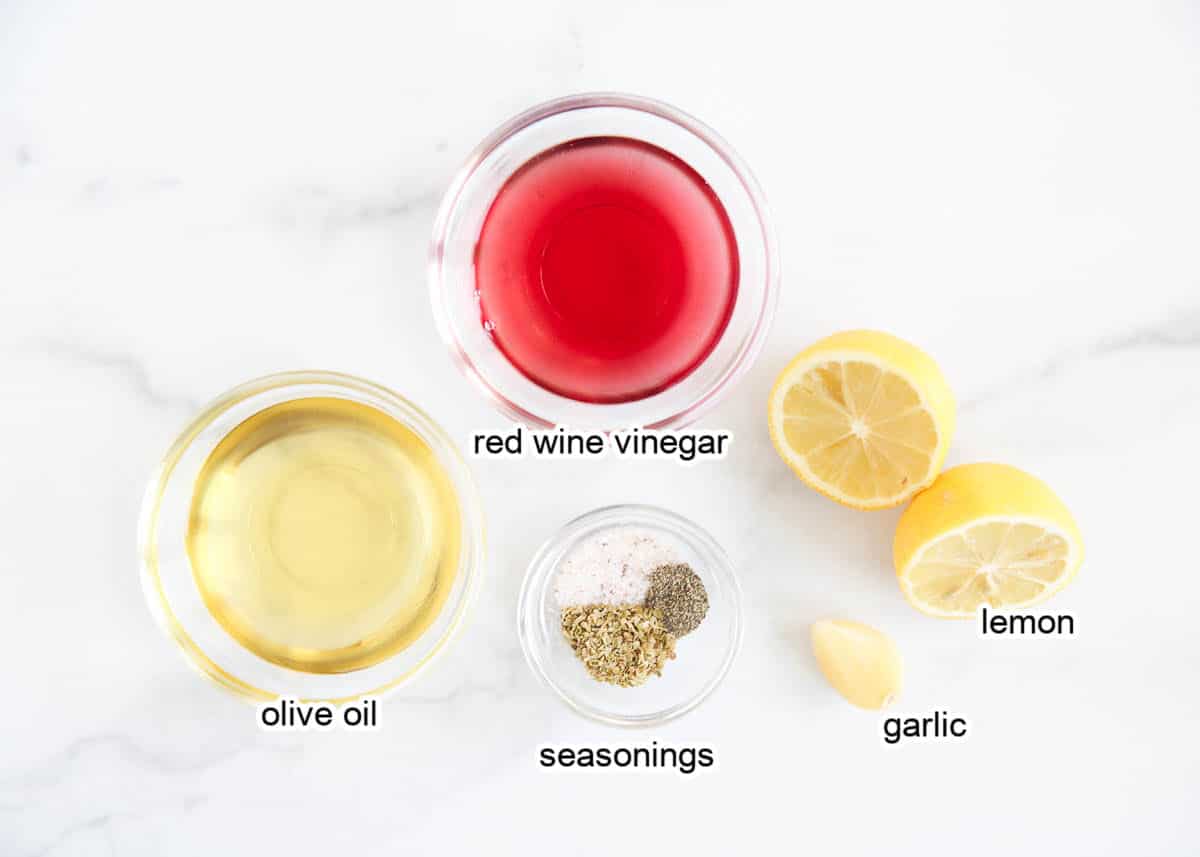 Ingredients
The ingredients in this Greek salad dressing recipe are simple but they all pack a flavor punch! Here's what you'll need to make your own:
Red wine vinegar: This vinegar is made from fermented red wine and has a tangy, slightly sweet flavor. It's the perfect option for this dressing.
Lemon: Brighten up the flavors with some fresh lemon juice.
Garlic: Greek dressing just wouldn't be the same without a hit of fresh garlic. Check out my tutorial on how to mince garlic for some great tips.
Dijon mustard: Not only does the mustard add a bit of spice and tang, but it also helps the oil and vinegar to emulsify together.
Olive oil: Use extra-virgin olive oil for the best flavor. This oil is made from pure, cold-pressed olives and has a bit of a peppery, herbal taste.
Seasoning: Use the classics – salt and pepper, plus some Greek seasoning or if you don't have that, dried oregano. Greek seasoning is a blend of Mediterranean spices like oregano, basil, parsley, and garlic and onion powders.
How to Make Homemade Greek Dressing
It's amazing how easy it is to make it at home. In just 5 minutes, your dressing is ready to drizzle over your favorite salad!
Whisk or shake: Grab a small bowl and whisk together the vinegar, lemon, garlic, mustard, and seasonings until combined. You can also do this step in a mason jar with a tight-fitting lid. Simply add all of the ingredients to your jar and shake, shake, shake!
Drizzle in olive oil: While continuing to whisk, slowly drizzle in the olive oil. Doing this slowly will help the mixture to emulsify (this is when the oil and vinegar combine). If you're using a mason jar instead, add the oil and shake vigorously. Taste test it and adjust your seasonings as needed.
Enjoy! Pour the Greek salad dressing over the top of your salad and toss until everything is combined.
Recipe Tips
Quality Ingredients. Since there are only a few simple ingredients in this Greek salad dressing recipe, using good-quality ones is the key to the best flavor.
Dried herbs. You might be tempted to use fresh herbs in your dressing, but the dried herbs are the way to go. They add a lot of great flavors and won't spoil before you have a chance to use it all up.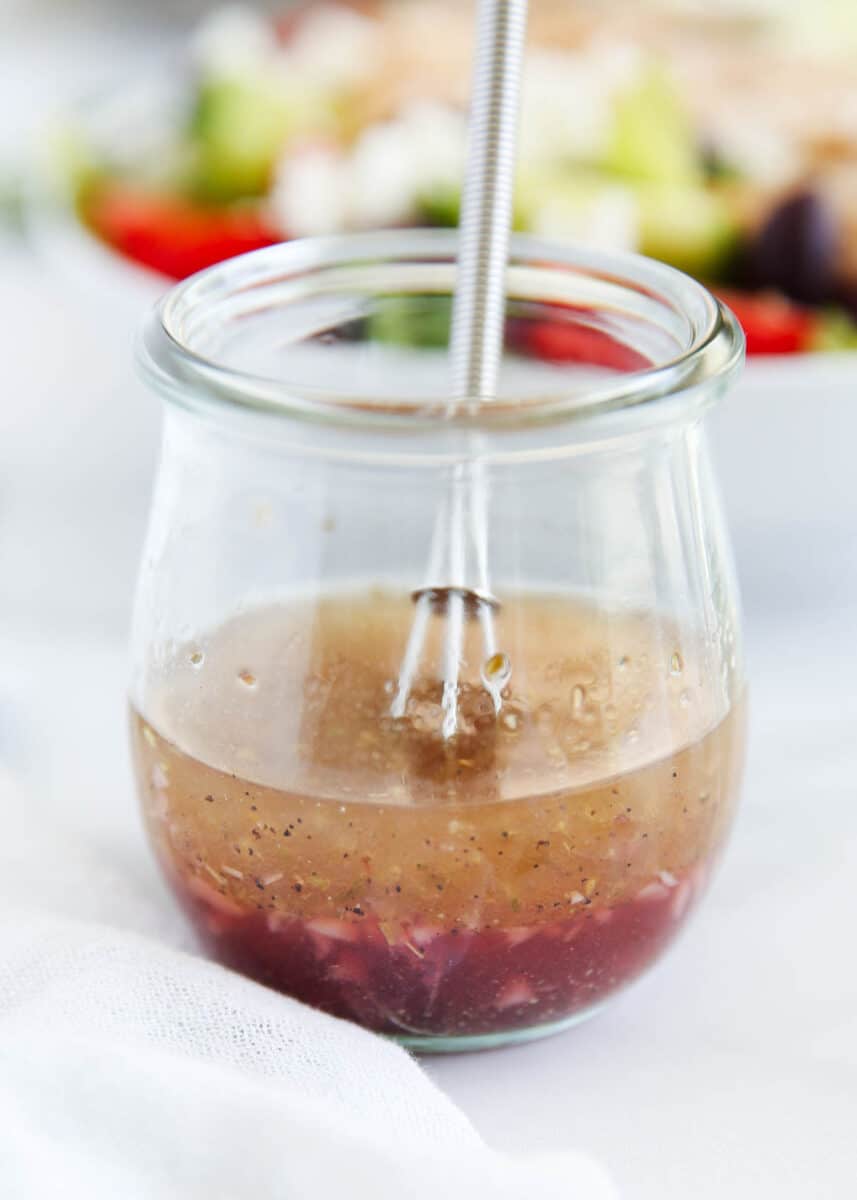 Ways To Use This Dressing
This Greek dressing is so versatile and tastes amazing on so many different things. Get creative and use it in many different ways. Here are a few of my favorite uses:
On salad: I love drizzling this tangy blend over my Mediterranean quinoa salad, chickpea salad, and orzo salad.
As a marinade: Of course, I always use it to marinate chicken in my Greek-inspired dishes such as Greek chicken kabobs or Greek sheet pan chicken.
Storage
You can store any leftovers in an airtight container in the refrigerator for up to 7 days.
You might notice that it separates after it has been sitting for a while. That's totally natural! Just give it a whisk or a shake again until everything is combined before serving.
Check out a few of my other favorite homemade dressing recipes that are easy, quick and delicious!
For more information please see the list of Best greek salad dressing store bought
Detail: 🔗