What makes this simple Greek Salad recipe a standout is using quality ingredients that are in-season complemented with a flavorful dressing.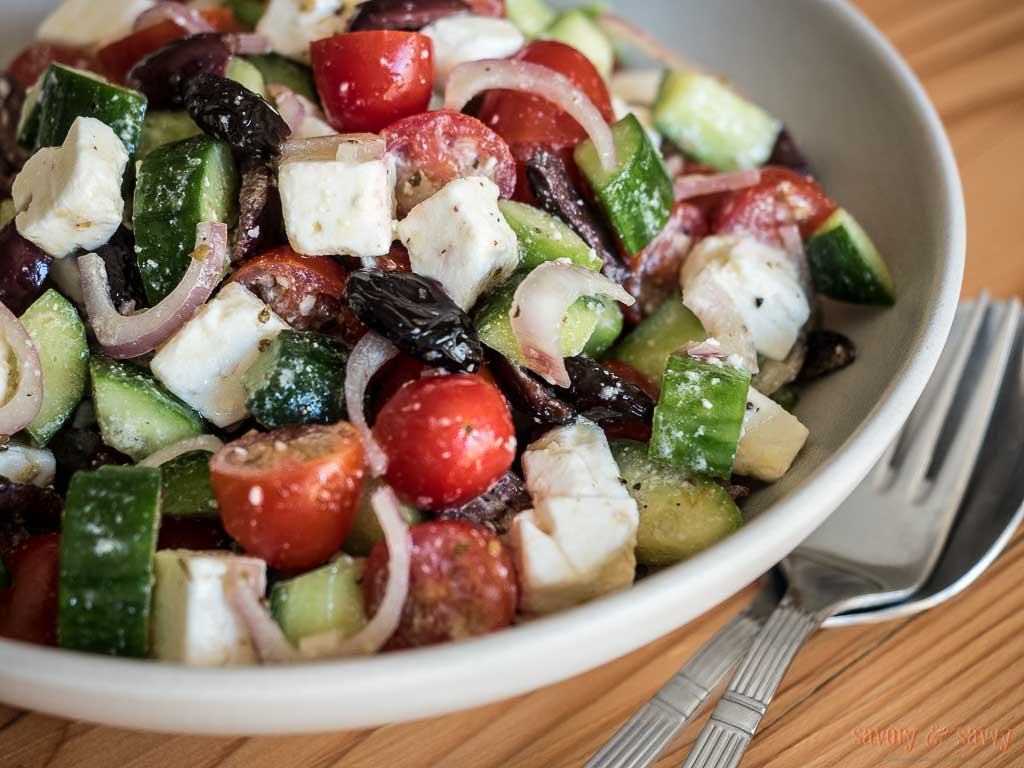 Backstory
It goes without saying that vegetables taste the best when they are fresh and in-season. It reminds me of our trip to Greece a few years ago where everything we ate was delicious and yet so simple because of this idea of seasonality. Furthermore, for many countries like Greece, seasonal cooking is more than an idea, it's a lifestyle. And one that I'm really embracing.
As we head into the season for cucumbers and tomatoes, now is the perfect time to make this salad. There's nothing like the flavor of sun-ripened tomatoes from your backyard or farmers market. In all my recipes, I encourage using in-season fruits and vegetables whenever possible because it tastes better and it's healthier. However, at the end of the day, use what's available to you and within your budget.
As I was searching for a Greek Salad recipe, I wanted something that had a simple vinaigrette that complemented all the flavors. This Greek Salad recipe is adapted from Ina Garten. It's pretty straightforward with a couple of callouts below.
Recipe notes
If you can, make the dressing ahead of time to allow for the seasonings to blend together.
I used sheep's milk feta in brine because I find it more flavorful than feta in block form without brine or any liquid.
A clarification on the 1/4 cup lemon juice + red wine vinegar ingredient. Ina's original recipe uses 1/4 cup red wine vinegar. I prefer lemon juice for this recipe because it brightens the salad. Since not all lemons will give you an exact 1/4 cup, I topped with red wine vinegar to get to that quantity. Feel free to use one or the other, depending on what you have available.
This makes a wonderful potluck salad. If you're traveling far or have several hours before you are going to serve, I recommend cutting all your ingredients ahead of time and storing them in separate containers. (Store the dressing in a small portable jar). This keeps the water from the cucumbers and tomatoes from drawing out and diluting the dressing. About 30 minutes to 1 hour before you're ready to eat, combine everything together with the feta and dressing last. It takes a bit more pre-planning but worth the extra effort.
In conclusion
Take advantage of in-season cucumbers and tomatoes with this Greek Salad recipe. It's easy to make and satisfies all your Mediterranean food cravings. The lemon and garlic from the dressing complement the briny saltiness from the olives and feta along with the crispness of the cucumbers and the acidity from the tomatoes. It's a truly satisfying salad. Don't be surprised if people ask you for the recipe. 🙂 Happy cooking and bon appétit!
For more Mediterranean-inspired recipes try our Spinach and Mushroom Spanakopita and Greek Chicken and Cauliflower Stew.
For more salad recipes try our Fattoush Salad with Heirloom Tomatoes, Watermelon Greek Salad and Melon and Cucumber Salad.
For more information please see the list of Greek salad dressing ina garten