Ready in 10 minutes, this simple green bean salad with cherry tomatoes, Parmesan and olives is fresh, crisp and full of crunch. It can be served as a side dish, too.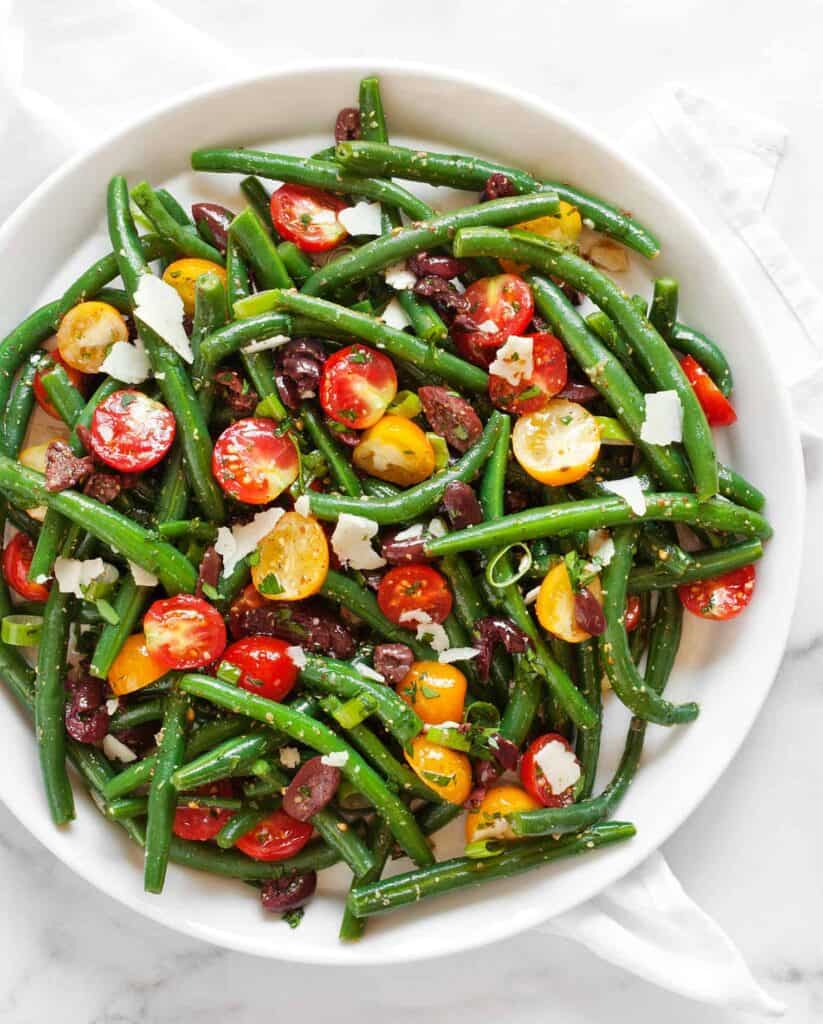 I'm happy to report that what started as a spring fling with green beans is still going strong even now that we're in the heart of summer. We've moved past the infatuation stage, and at this point, things are feeling pretty official.
But I have to admit that this relationship isn't all my doing. A big thank you goes to my weekly farm share box. For what seems like the last month and a half, I've ended up with a generous bag of green beans in my CSA. And with that has come the pressure to prep and cook them in different ways.
Always one to mix my beans, I've been making a green bean white bean quinoa that could be considered a salad or side. A dish you can serve in more than one way is always a huge bonus.
A Salad Without Lettuce
Lately, my favorite way to eat through my CSA surplus is to make green beans the main green in my salads, not even bothering with adding arugula or other lettuces. And that's how this green bean tomato olive salad happened the first time.
It was the end of the week, and I was short on leafy greens. I had just enough spinach for my morning smoothie, but not enough for that and a salad too. In my never-ending mission to consume a good amount of greens and vegetables each day, I decided to keep things simple and go with green beans only.
I can't tell you how great it was to have a salad base with that much crunch! For the rest, I kept the salad simple with olives, ripe cherry tomatoes and Parmesan and mustard vinaigrette.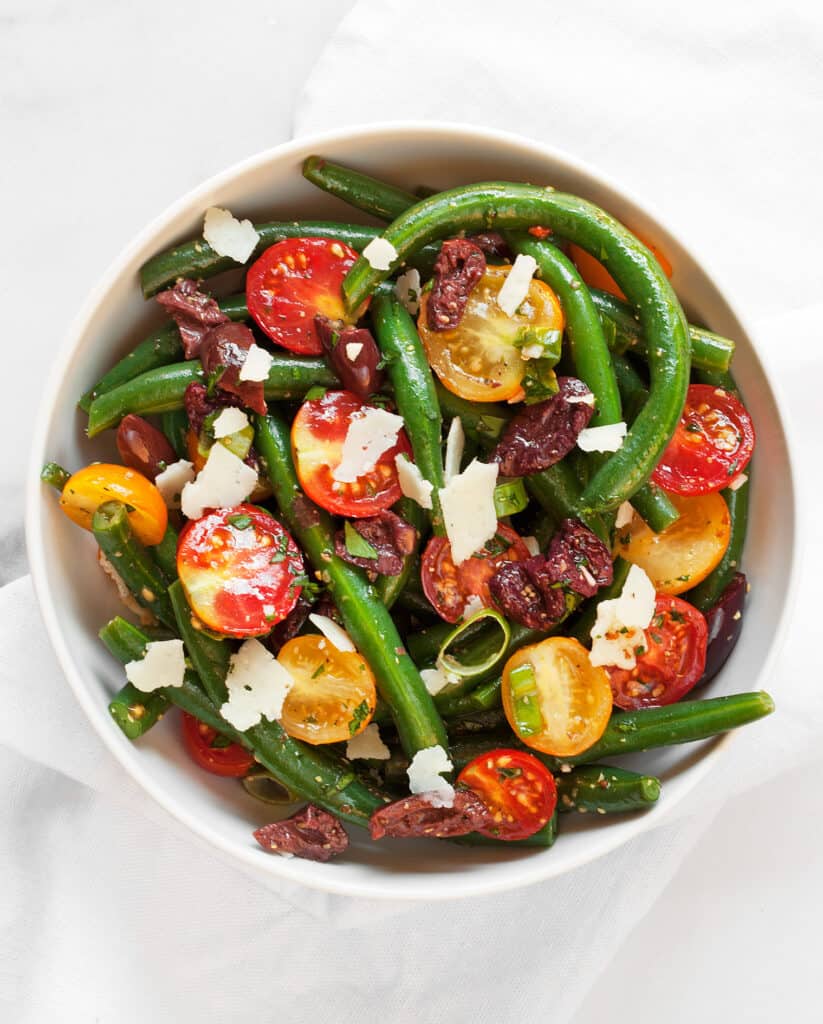 How To Buy Fresh Green Beans
Even though you can buy green beans at the grocery year round, the season technically runs from about May to October. You will always find the best veggies at the farmer's market. If you have access to one, I encourage you to shop there.
Green beans that are fresh will snap when you bend them. They shouldn't have any brown spots on them either.
How To Prepare Green Beans
Instead of trimming each green bean individually, you can arrange a group of them in a line on your cutting board and take your chef's knife to trim all those ends at once.
But don't do that in advance. Since you don't want them to dry out, wait to trim the green beans until you are ready to cook them.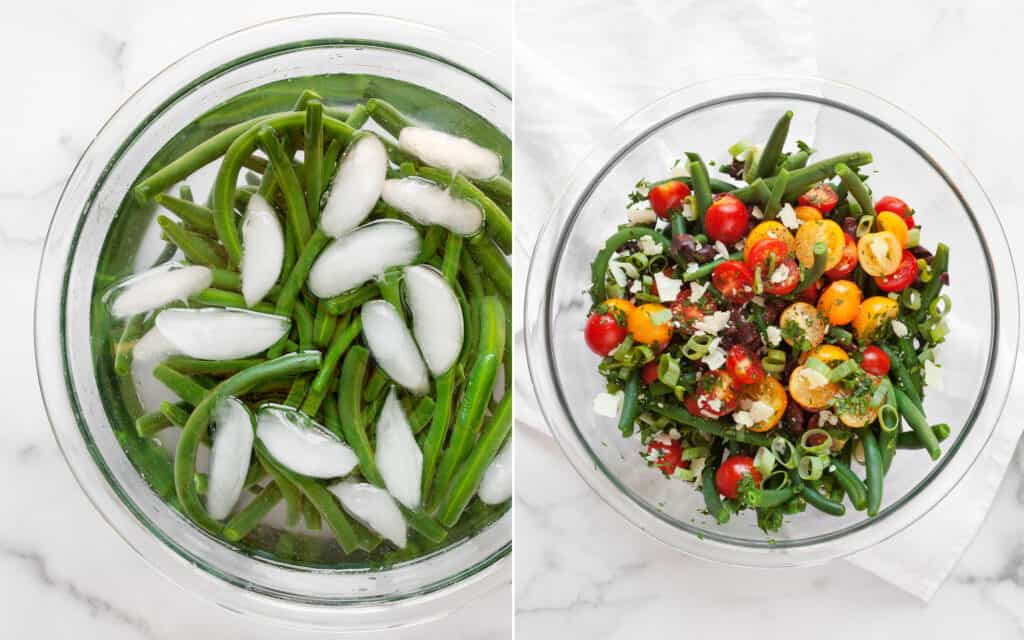 Ingredients & Substitutions
This is what you need:
Green beans: The recipe calls for one pound. Again, look for ones that are nice and green and have some good snap.
Tomatoes: I halve cherry tomatoes. They can be red or a mix of red, orange and yellow. What's most important is that they are ripe.
Olives: A half-cup of roughly chopped pitted Kalamata olives give the salad bites that are a little bit briny and salty.
Scallions: Sliced, these green onions are mild and crisp. You can swap them for thinly sliced red onion.
Parmesan: To get those thin shavings, I use my vegetable peeler on a block of Parmesan cheese. Pecorino would be a great substitute. If you want to keep the salad vegan, you can sprinkle it with nutritional yeast.
Parsley: For this salad, I like chopped parsley, and if you happen to have fresh basil in your kitchen tear some and add that too.
Mustard: Whole grain Dijon mustard helps to emulsify the dressing and hold it together. It also adds flavor.
White wine vinegar gives the vinaigrette acidity. You could also use champagne vinegar or white balsamic vinegar.
Olive oil: Extra virgin olive oil is best!
Salt & pepper season the vinaigrette.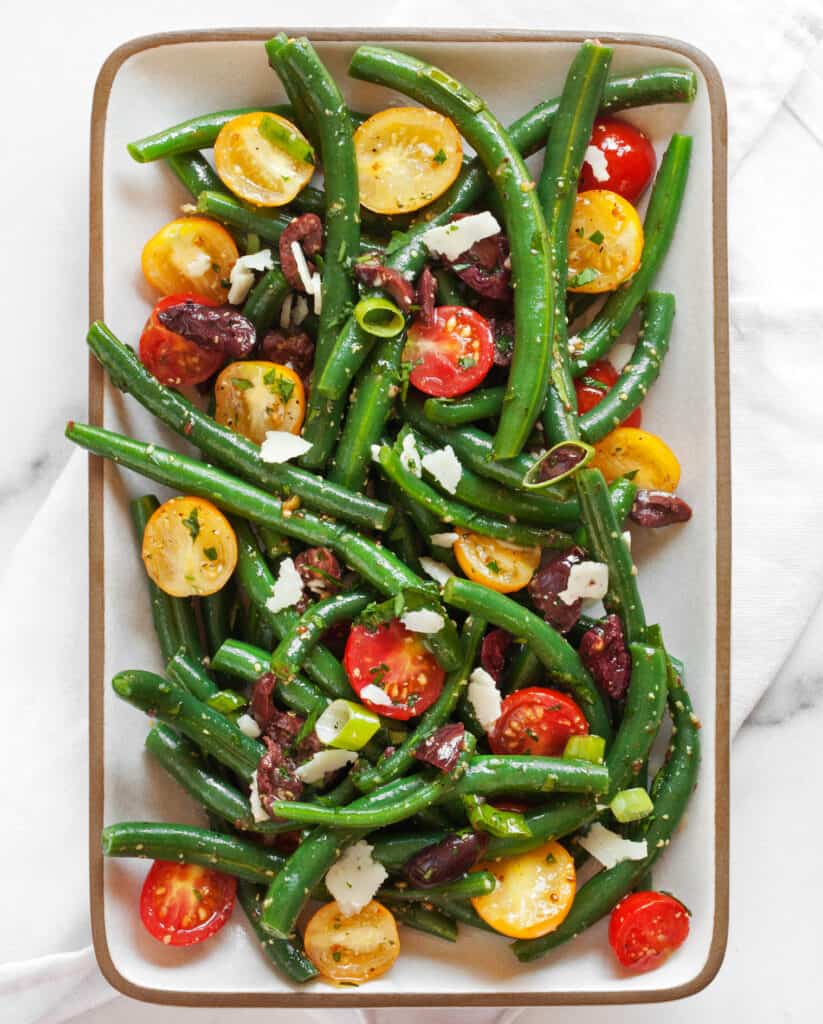 How To Make This Green Bean Salad Recipe with Tomatoes & Olives
Cook the green beans. Bring a large pot of salted water to a boil. Add the trimmed green beans. Simmer them for just a few minutes until they are crisp-tender and still have some bite. Then use a slotted spoon to transfer them to a large bowl of ice water to shock them and stop the cooking. The salt in the water keeps them bright green.
Combine the salad ingredients. Pat the green beans dry with a paper towel and put them in a big bowl with the tomatoes, olives, scallions, Parmesan and parsley.
Make the vinaigrette. In a small bowl, whisk together the mustard, white wine vinegar, olive oil, salt and pepper.
Drizzle the vinaigrette into the salad, tossing to coat.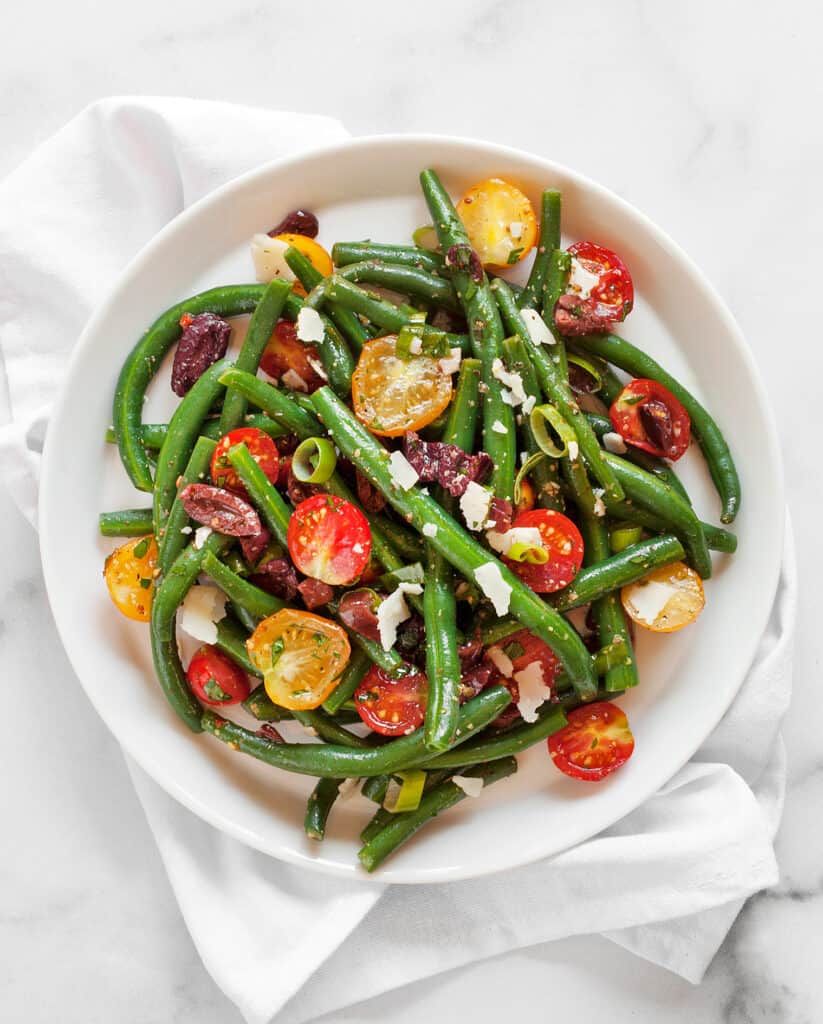 Serving A Green Bean Salad
As mentioned, this salad can be thought of as a side too. It's great for lunch or dinner with something like roasted Mediterranean vegetables and halloumi, grilled tofu shawarma or barbecue veggie tofu skewers.
Leftovers
Since this salad doesn't involve lettuce, it's great for leftovers and won't get soggy. I do like to let it sit out at room temperature for about 10 minutes before serving, so it's not as cold as it would be straight from the fridge.
You can also stretch what you have left into another meal by combining it with cooked grains like quinoa, Italian barley or farro.
More Green Bean Recipes
Minestrone SoupRoasted Green Beans with Almonds, Breadcrumbs and Feta
Print
For more information please see the list of Salad with green beans and tomatoes
Detail: 🔗